Activities.aliexpress.com – the result of potentially unwanted program infiltration that generates redirects to ad-supported sites

Activities.aliexpress.com appears to be an adware program that installs together with other software

Activities.aliexpress.com appears to be an adware program that installs together with other software
Activities.aliexpress.com is the online shopping website that is misused by malicious actors for gathering revenue and page views. The potentially unwanted program is released to reroute users to rogue sites and other advertising services that collect views, page visits, and can even gather some personal information about users' time online. This adware-type intruder comes from other pages or gets installed during insecure freeware installation processes when you rely on the untrustworthy sources or skip through important steps.
Activities.aliexpress.com ads are rogue content that appears on your web browser due to a secret installation of adware. In most cases, these ads are shown in a form of pop-ups and banners while one of your browsers such as Google Chrome, Mozilla Firefox, Internet Explorer, Microsoft Edge, or Safari is hijacked by the potentially unwanted application. Additionally, there also is a possibility to see these advertisements injected into full pages or in highlighted in-text pages hyperlinks.
The main purpose of Activities.aliexpress.com pop-up ads is to drive traffic to Aliexpress and, therefore, increase sales. Thus, on each of the advertisements, you will see a slogan of Aliexpress and the list of items that are on the sale right now. Therefore, naturally, clicking on such ads will lead to redirects to this third-party online shop or additional sites like Alibaba, which might become an irritating experience.
Name
Activities.aliexpress.com
Type
Adware
Sub-type
Potentially unwanted program
Possible dangers
Adware redirects might take you to potentially dangerous sites where malware is distributed. Also, PUPs can easily lead to direct installations of useless tools or even dangerous programs. These intruders are known for collecting non-personal information that relates to browsing history and habits. Such behavior can easily end up in privacy issues or problems related to identity theft
Ads related to this adware can be indicated by
Waiting for activities.aliexpress.com, Looking up activities.aliexpress.com, Read activities.aliexpress.com, Transferring data from activities.aliexpress.com, Connected to activities.aliexpress.com
Browsers affected
Chrome, Firefox, Edge, Explorer, Safari, Opera. The intruder can inject content on any of the web browsers and lead to issues with your machine and speed of the performance
Symptoms
Redirecting to affiliate websites, advertising content occurring during browsing activity and on pages where advertisements are not commonly found
Distributing on the web
Potentially unwanted programs such as adware are usually spread through bundles of freeware, by the PUPs themselves since those can install browser-based applications without asking for permissions
Elimination
Remove Activities.aliexpress.com with anti-malware tools by fully scanning the machine and cleaning all PUP-related programs or files automatically
Repair
Use a computer scanning tool such as

Reimage

Reimage Cleaner

to detect all content in your computer system that PUP managed to damage and affect behind your back
Such sites will not resemble an online shop or something similar. They may contain fake software update installers, offers to check the system for viruses, to call for remote tech support, and so on. Such and similar proposals may cause issues like online scams or infiltration of other freeware. As you can see, Activities.aliexpress.com virus might not bring danger directly but this suspicious app can definitely take you to an infected network.
If your device got infected by Activities.aliexpress.com adware, you will spot that the advertising activity is becoming more and more intense, no matter how effectively you are closing all those annoying pop-up notifications. Continuously, rogue advertising posts might start appearing with indications such as:
Waiting for activities.aliexpress.com;
Transferring data from activities.aliexpress.com;
Looking up activities.aliexpress.com;
Read activities.aliexpress.com;
Connected to activities.aliexpress.com.
Therefore, if your web browser starts generating ads by Activities.aliexpress.com, we recommend you run an anti-malware tool and remove the adware that causes them right away. Keeping this rogue program on your system might lead to browser struggles due to the increasing number of adverts that you will be receiving in the upcoming future. If you prefer shopping on Aliexpress, you can always access it directly and find needed items there.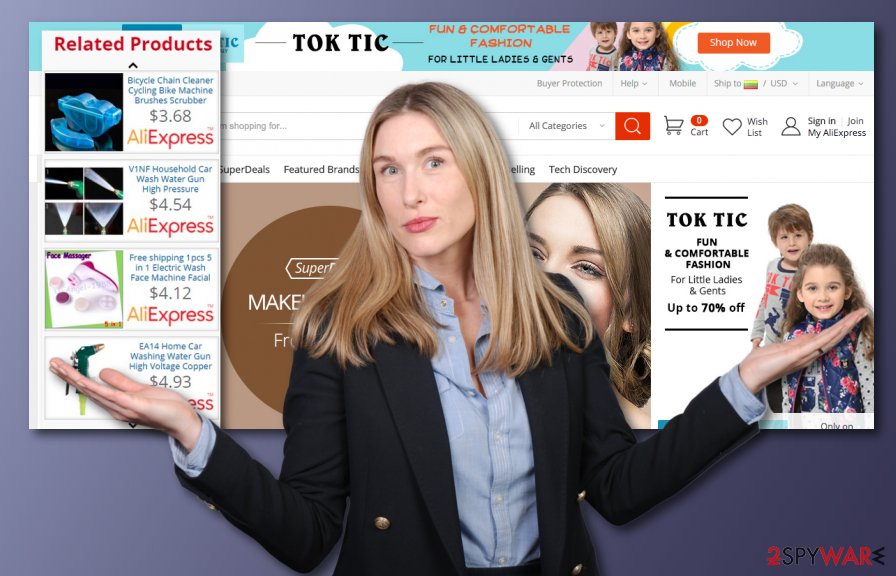 Activities.aliexpress.com adware is a potentially unwanted program that might redirect to malicious websites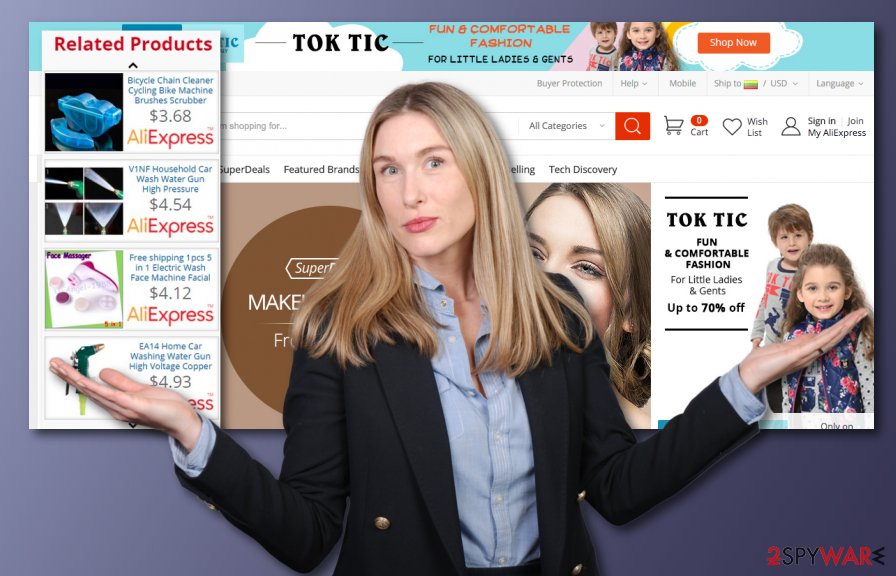 Activities.aliexpress.com adware is a potentially unwanted program that might redirect to malicious websites
According to security experts, advertising content usually carries more than just regular offers and information about upcoming sales. Activities.aliexpress.com ads may also contain links to affiliate websites or pages filled with malware-related content. Unfortunately, on some rare occasions, this ad-supported program might take the user to fishy sites that belong to the affiliates seeking to spread malware.
Another reason why you should remove Activities.aliexpress.com ads from your web browsers and get rid of the additional applications from your computer system is that adware programs are capable of collecting data that relates to the user's browsing experience and habits. For example, information such as links clicked, pages viewed, bookmarks saved, IP addresses, and even geolocation.[1]
Such information is later used for malvertising purposes and in various campaigns focusing on more personalized commercial content creation. When advertisers know you most used sites, items that you often search for pop-up ads attract you more and Activities.aliexpress.com developers can be sure that you are more eager to click on such material.
In addition, such information is delivered to other parties for more income and can be misused by third-party advertisers or malicious actors. However, the biggest income source for Activities.aliexpress.com adware developers is via advertising. This activity brings great benefits through the pay-per-click technique. Such a technique is used by all PUP makers as it brings success very easily.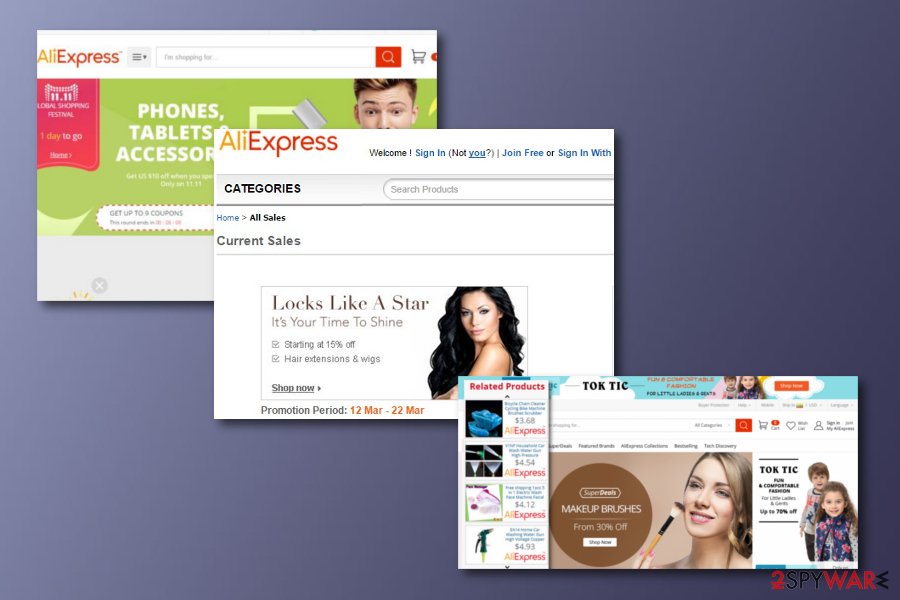 Activities.aliexpress.com ads are rogue content that is placed on computer screens due to an adware infection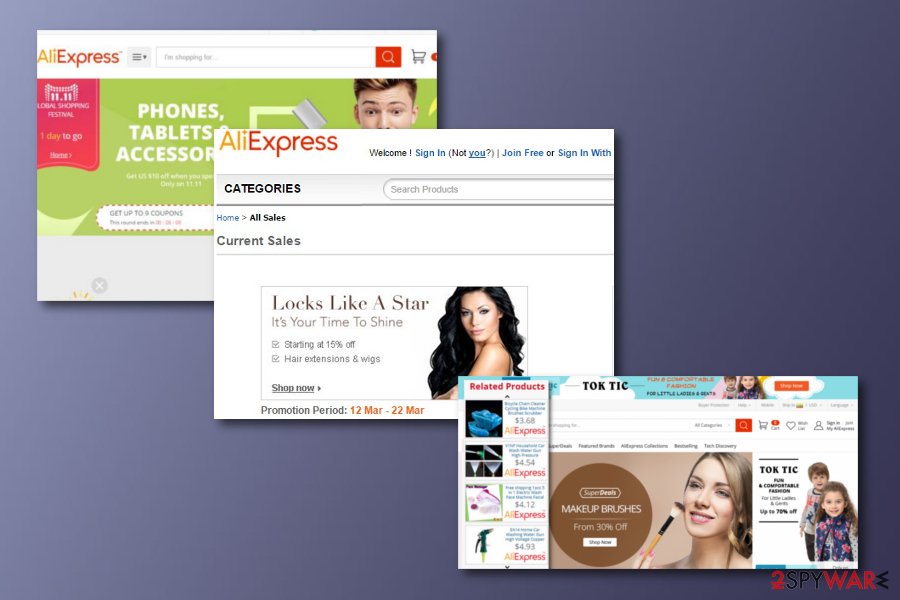 Activities.aliexpress.com ads are rogue content that is placed on computer screens due to an adware infection
Due to all beforementioned reasons, including redirecting to malicious websites, advertising during browsing sessions and gaining income from it, hijacking popular web browser applications, and collecting browsing history-related information, you should strongly consider the option of Activities.aliexpress.com removal. If you are likely to, take a look at our manual elimination guide or use reputable anti-malware to carry out the process in a faster way.
Some users have already been complaining about Activities.aliexpress.com pop-up ads showing during browsing activity. One person mentioned that those suspicious-looking advertisements kept appearing on web browser applications such as Google Chrome, Opera, and Internet Explorer.[2] However, we want to notify all users that sometimes it is enough to get an adblocking tool if the ads are bothering you just on particular websites.
But continuous redirects and advertisements filing up your screen indicate that the machine is infected with a PUP that you need to terminate using proper anti-malware. If so, Activities.aliexpress.com PUP can also damage system files, affect performance by disabling od adding functions in the background. This is why you should relate on Reimage Reimage Cleaner or a similar system optimization tool that allows checking for damage and repairing registry entries or similar files.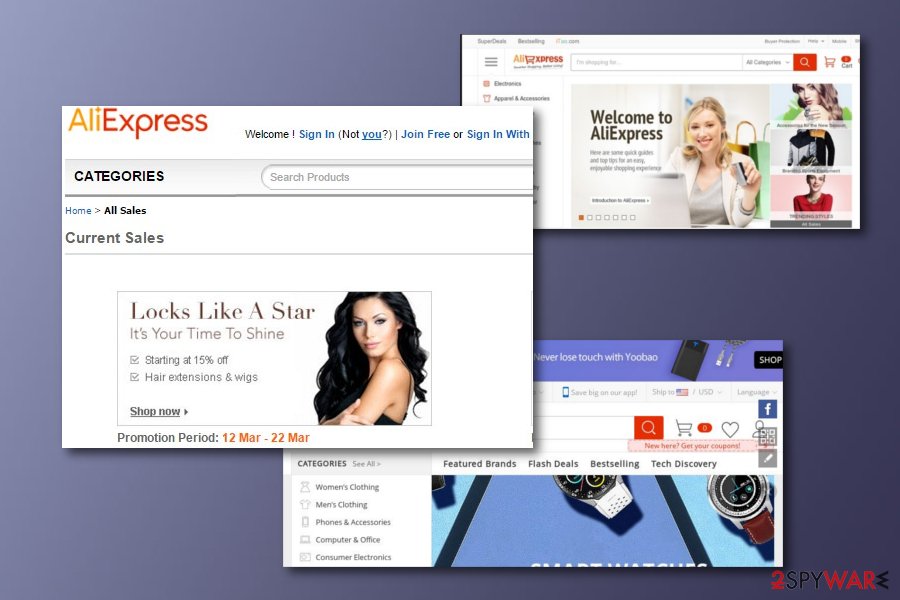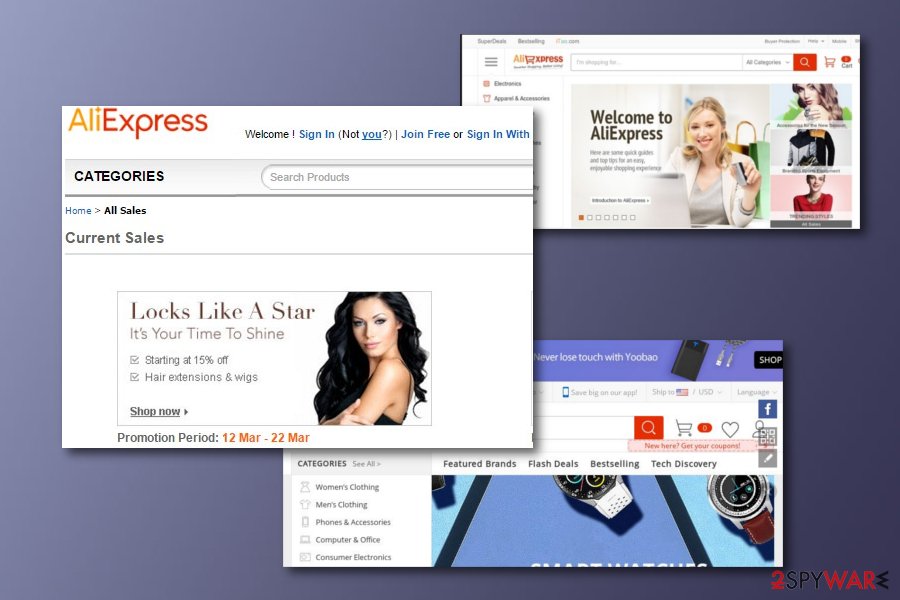 Distribution techniques of adware and potentially unwanted content
According to computer specialists from Virusai.lt,[3] adware programs and other potentially unwanted applications are usually promoted via software packages. Therefore, there is no need to say that it's a must to check each freeware/shareware before installing it. To monitor the installation correctly, you should check the Advanced or Custom installation option and analyze information give on the checkboxes.
Continuously, adware programs can be injected into dubious hyperlinks on unprotected pages. If you like clicking on everything that you overcome during browsing, you should prevent yourself from performing such activities in the future. Especially keep a distance from third-party websites, e.g. peer-to-peer networks[4] as you risk catching some type of infection by entering these types of pages.
Antivirus installation will also increase your computer's safety level. Make sure to choose a truly reliable program and keep it updated. Such software is very beneficial as it can offer you a wide range of abilities such as threat protection and removal, safe browsing function, system optimization, etc.
Removal guide for Activities.aliexpress.com pop-up ads from web browsers and computer
Potentially unwanted programs, unlike viruses, can be removed from computers manually. For this purpose, it's a must to stop all questionable processes via Task Manager, remove Activities.aliexpress.com and all unknown apps from Add/Remove Programs list. Then disable irrelevant extensions from each web browser separately or reset them to default by following the guide below.
Unfortunately, but in some of the cases, adware removal may not be that easy because they may have additional components or helper objects that don't allow users to perform the removal. Luckily, there is always a better solution. It's the usage of anti-malware. In fact, think of the fact that the Activities.aliexpress.com virus is an adware program that typically gets spread in a bundle, which means that it may have supporting files.
Thus, to succeed in the Activities.aliexpress.com removal once and for all, we would recommend running a full system scan with anti-malware.[5] These tools are created to suit all of the user's needs which means fast elimination only just in a couple of minutes, dealing with the cyber threat effectively, and cleaning different types of locations on the infected machine.
You may remove virus damage with a help of Reimage Reimage Cleaner . SpyHunter 5Combo Cleaner and Malwarebytes are recommended to detect potentially unwanted programs and viruses with all their files and registry entries that are related to them.