ZoNiSoNaL ransomware is the threat that demands at least 0.14 Bitcoin for the alleged file decryption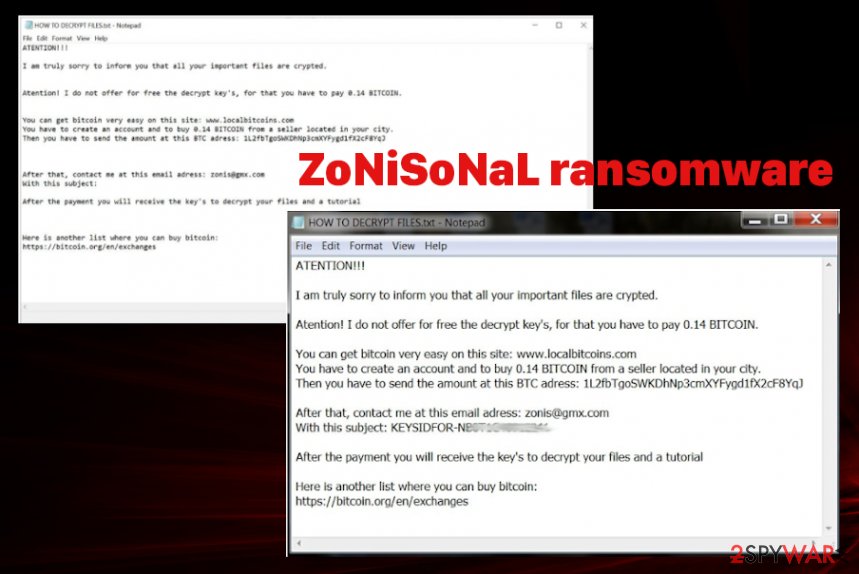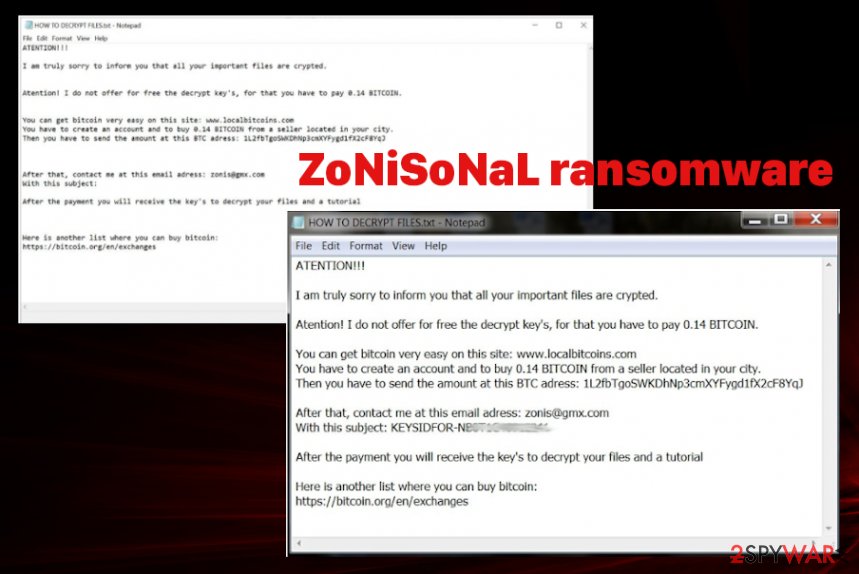 ZoNiSoNaL ransomware – cryptovirus that marks files with this random .ZoNiSoNaL file extension and claims to have a tool supposedly recovering all those encoded files for the payment. Money demands are the way that criminals behind the threat can make a profit, so blackmailing message in the form of a HOW TO DECRYPT FILES.txt appears once the encryption[1] is done. This process relies on army-grade algorithms that allow locking files by changing the original coding. This way data like images, documents, archives, databases, audio, and video files get unopenable. Victims think that the only solution for this is the decryption tool that criminals claim to have. However, there is no need to trust criminals, especially the ones who aim to get cryptocurrency from people all over the world.
This ZoNiSoNaL ransomware virus is a version of the shady Xorist ransomware threat that has a family of crypto-malware programs build on a powerful base borrowed from other threat actors. It is common for the family to use randomized file appendixes and rely on Xor or Team cryptography methods, demand amounts that go from 0.3 to 2 Bitcoin per victim. Based on previous versions, this last one that came out in May 2020 shouldn't be the last one, and decryption tools less likely will get made in the near future. It is a powerful malware, and researchers should get decryption IDs, or obtain all the coding, terminate the activities of this ransomware in general.[2]
You can expect to get the tool developed and store some of the encrypted files, other data related to this threat on an external device before it gets released. But you still need to fully remove the virus from your system if you want to use this machine again. It is not possible while the ZoNiSoNaL ransomware malware runs in the background and affects every function of the operating system.
Name
ZoNiSoNaL ransomware
Family
Xorist ransomware
File marker
.ZoNiSoNaL
Ransom note
HOW TO DECRYPT FILES.txt
Amount demanded
0.14 Bitcoin
Danger
The threat involves blackmailing and demands for money, so there is a risk of getting your files damaged permanently if the ransom is paid, but files remain encrypted. Also, malware of various types can get injected during the installation of ransomware
Distribution
Files attached to emails with malicious scripts, torrent sites where malware hides the payload as a common file in the bundled with cheatcodes or licensed software versions
Contact information
[email protected]
Elimination
To remove ZoNiSoNaL ransomware, you should get a proper anti-malware tool and run the full system check with it, so all threats and associated files get deleted automatically
Repair
The system needs additional attention after the termination because background malware activities can cause issues with the performance due to registry corruption or affected files. Run

Reimage

Reimage Cleaner

Intego in addition to AV tools and repair files and functions
ZoNiSoNaL ransomware is the type of virus that encrypts files once it manages to gain access to the targeted machine. Then it appends all the data using the .ZoNiSoNaL as typical ransomware, so people can see encrypted files and not affected data. Such a type of malware is not encoding system files, but folders in the system get damaged and affected when malware runs other processes on the machine. Typically, in the background ransomware triggers alterations in the registry folders.
Also, since ZoNiSoNaL ransomware is affecting files various functions that could be used to terminate malware or restore data get disabled or damaged. This is why victims have fewer options for file restoring and falls for the claims that paying is the only solution. Unfortunately, criminals cannot be trusted, no matter how convincing the ransom message is:
ATENTION!!!

I am truly sorry to inform you that all your important files are crypted.

Atention! I do not offer for free the decrypt key's, for that you have to pay 0.14 BITCOIN.

You can get bitcoin very easy on this site: www.localbitcoins.com
You have to create an account and to buy 0.14 BITCOIN from a seller located in your city.
Then you have to send the amount at this BTC adress: 1L2fbTgoSWKDhNp3cmXYFygd1fX2cF8YqJ

After that, contact me at this email adress: [email protected]
With this subject: KEYSIDFOR-NB0T******

After the payment you will receive the key's to decrypt your files and a tutorial

Here is another list where you can buy bitcoin:
hxxps://bitcoin.org/en/exchanges
This short message from ZoNiSoNaL ransomware creators states about the solution option that includes contacting them and paying the particular Bitcoin amount. However, even writing the email via [email protected] can lead to system issues or further malware infiltration when instead of the decryption tool you will get the script of trojan or keystroke logger.
It is common that ransomware runs a secondary infiltration and uses trojans to gather some data, logins, passwords, or sensitive information from the computer directly. ZoNiSoNaL ransomware may want to blackmail directly you for bigger payments and other gains.
You need to remove ZoNiSoNaL ransomware as soon as possible, to avoid any further damage that may await in the future. The sooner you do this, the better because ransomware may focus on encryption first, and system folders remain untouched when you terminate the threat completely yourself.
However, it is not that easy to spot the infection when ZoNiSoNaL ransomware main infects the machine silently and only displays the ransom note on your screen. The amount of demanded cryptocurrency can go up or down depending on the value of encoded data and the number of particular files, so once you write these criminals they can ask for more. Do not fall for these claims and recover the security of your device as soon as possible with proper AV tools.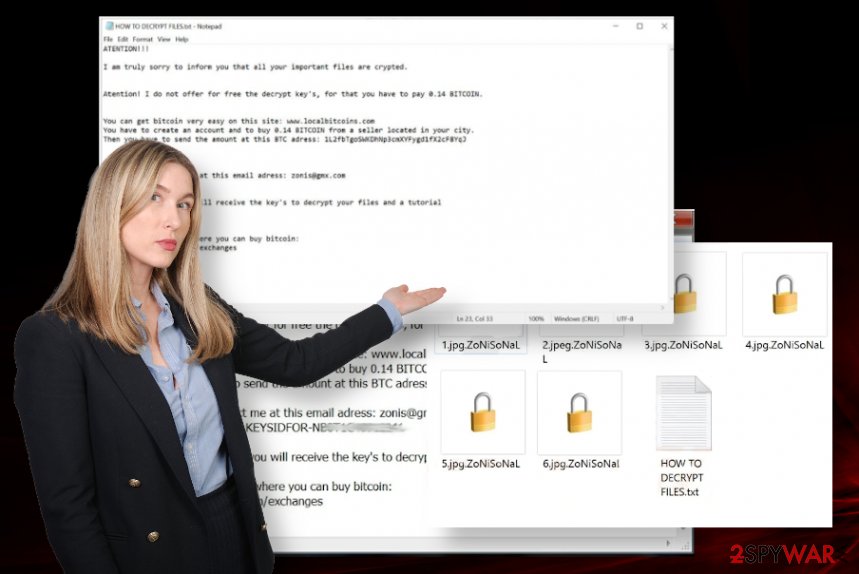 ZoNiSoNaL ransomware – a virus that is considered one of the more dangerous because it involves money demands.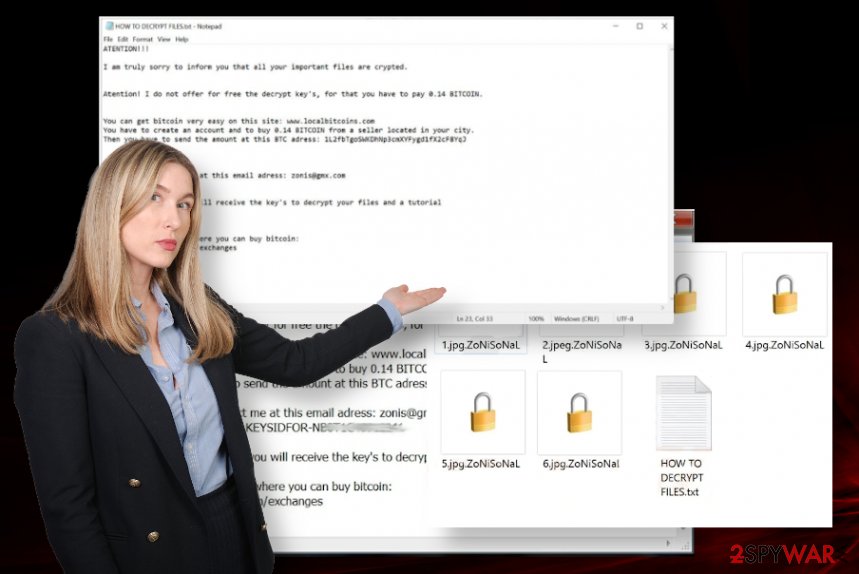 ZoNiSoNaL ransomware – a virus that is considered one of the more dangerous because it involves money demands.
ZoNiSoNaL ransomware also shows the pop-up window that looks like an error and delivers a similar message to the ransom note file with all the indications about encryption and asks for the cryptocurrency transfer. This message is a one-time thing, but the text file is placed all over the machine and gets copied in various folders with encrypted data.
ZoNiSoNaL ransomware removal should be quickly launched, so you need to decide what option you going to use for file restoring. When cryptovirus is removed, those files that can be used for decryption get deleted or damaged. You need to collect as much of that data on an external device and store that until the official decryption tools get released.
Even though that is less likely to happen, so we recommend terminating ZoNiSoNaL ransomware without this step and then rely on backups or third-party software that can possibly work for such infection and encrypted files. We have a few alternatives below the article that you can use, and there are tools listed as file restoring applications. Third-party data recovery programs can help you and
ZoNiSoNaL ransomware launches additional programs and disables functions on the system that can affect either file restoring or malware termination processes. Ransomware is known for evading detections and achieving persistence once on the machine. Reboot the PC in Safe Mode and then run the AV tool, so your system can be thoroughly checked.
To fix ZoNiSoNaL ransomware virus damage that is left behind even after the cleaning processes, you should employ a PC repair tool or a system optimization program like Reimage Reimage Cleaner Intego. This app can find, indicate, and sometimes even fix issues with files, corrupted software, or affected Windows Registry entries.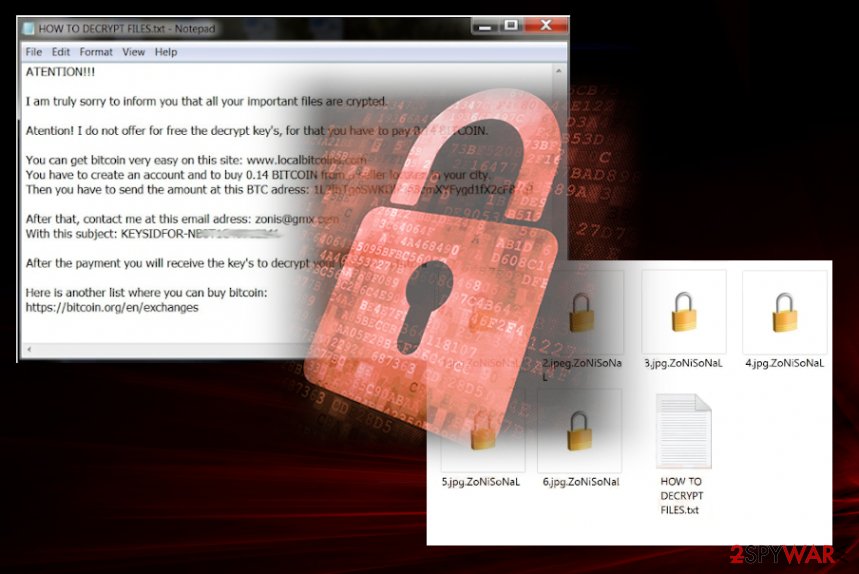 ZoNiSoNaL ransomware – file locker virus that claims to have a decryptor that may not even exist at all.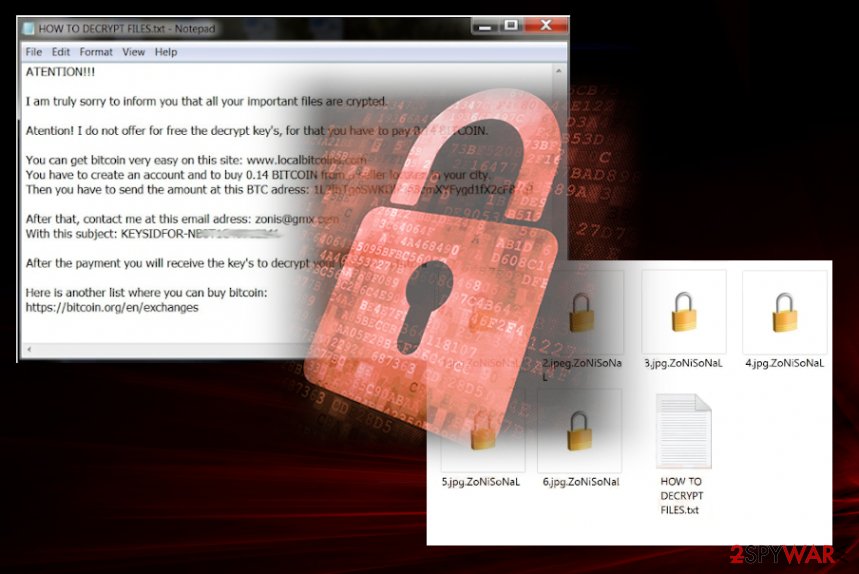 ZoNiSoNaL ransomware – file locker virus that claims to have a decryptor that may not even exist at all.
Beware of malicious file attachments
Ransomware threats spread using payload droppers that initiate malicious file injections on targeted devices and direct malware attacks. This file can come in a commonly found format when the user installs questionable software cracks or pirated programs, cheats for various games.
Also, malicious macro viruses trigger the content that can install either the trojan or worm that later installs cryptovirus or the ransomware itself directly. These scripts get injected on Microsft files like word documents disguised as financial documents, order information, invoice details, and attached to emails with well-known company names that trick people into believing that notification is from them directly.
Once any of these techniques get used and triggers the drop of the ransomware payload, the machine is infected immediately, so when you cannot notice or stop the infection the only thing that is going to be noticed – ransom demands after the encryption. Make sure to keep your device up-to-date and use reliable anti-malware tools to detect the malware at the earlier stages and avoid any questionable emails with links or file attachments, as experts[3] always note.
Make sure to delete all files associated with ZoNiSoNaL ransomware virus
Since there are not many options for ZoNiSoNaL ransomware removal, you should take all the functions and possible risks associated with this threat into consideration while choosing the method. Of course, manually finding all the traces and files of the malware is too difficult, even for tech-savvy people.
The best way to remove ZoNiSoNaL ransomware is anti-malware tools, security programs, or applications based on good AV detection engine. SpyHunter 5Combo Cleaner or Malwarebytes can help you with cleaning the machine. Run your AV program and make sure to set it for the full system scan, so all hidden parts get deleted.
After this procedure, you should see the list with all the possible threats and malware-related programs or files. Then there are only a few steps until you completely forget about ZoNiSoNaL ransomware virus. Double-checking after the malware cleaning is a good tip, as well as the file repair. Use Reimage Reimage Cleaner Intego when you are sure that the threat is no longer active and recover system functions that may help with the file recovery later on.
This entry was posted on 2020-05-19 at 08:45 and is filed under Ransomware, Viruses.