Zlob.zipcodec is a suspicious AV detection that may be a sign of a Trojan infection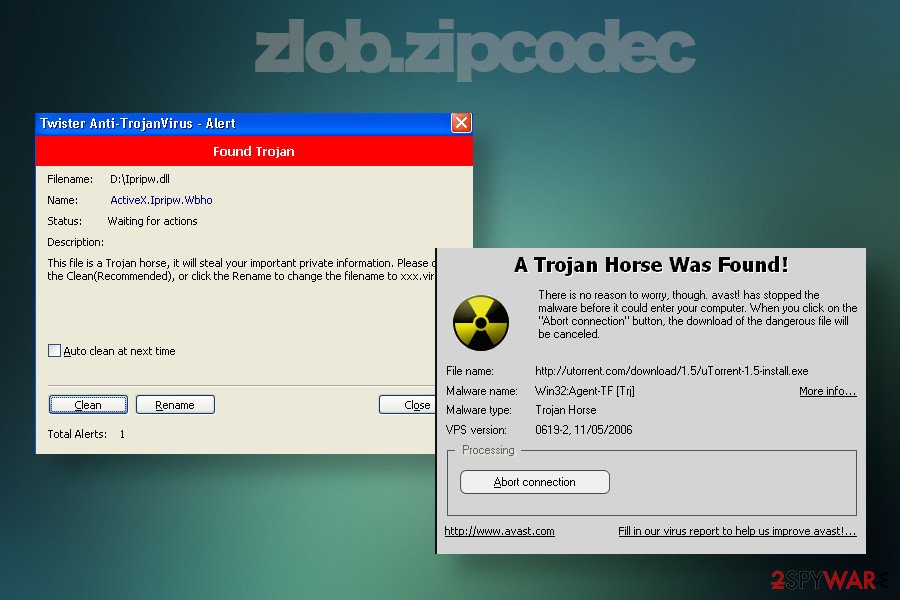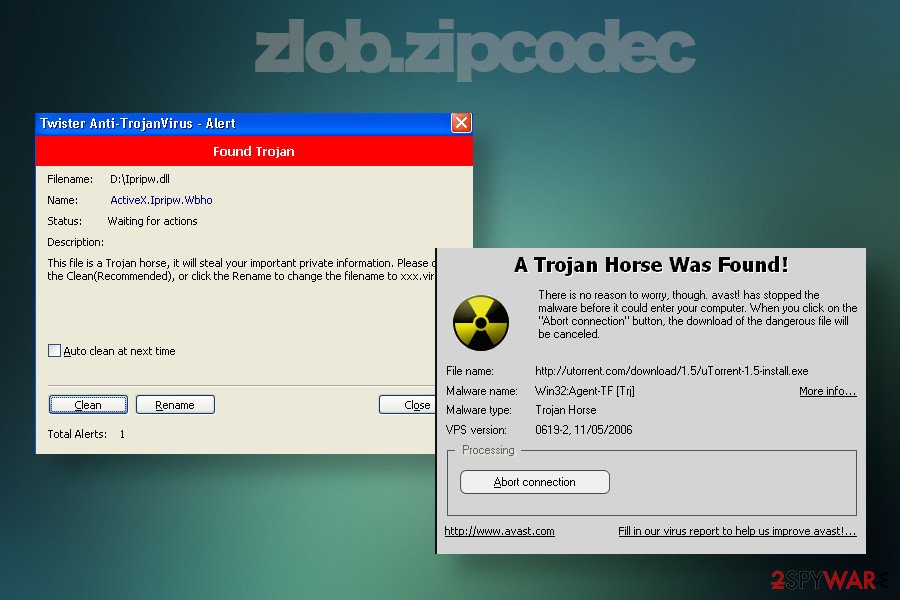 Zlob.zipcodec is a generic name that can be a false positive[1], software problem or denote a highly dangerous Trojan Zlob infection. Many people reported the issue on different cybersecurity-related forums and point to the Spybot as a culprit. The zlob zipcodec detection normally indicates that the AV engine detected and terminated a malicious or potentially dangerous activity on the system. AV programs contain a database of behavioral scrips that are used to scan files on the system. If a program or file exhibits suspicious, unusual, or dangerous traits, security software blocks it. However, commonly security programs run into software incompatibilities or lack virus definitions, thus leading to false positives.
Zlob.zipcodec.exe is the initial detection by Spybot. According to users[2], when running Spybot Search and Destroy, the scan freezes upon detection of the mentioned executable file. The security program can neither be stopped, not closed, thus users have to terminate its task via Task Manager or reboot the system completely. Spybot has been dealing with the issue for some time and explained that the software had a bug, which damaged the file leading to Zlob.zipcodec detection. The issue has been fixed in 2016, though many people are asking how to remove zlob.zipcodec up till now. Therefore, it can be presumed that this name might have been misused for malicious activities, namely Trojan[3] known as Zlob.
Name
Zlob.zipcodec
Type of malware
A software-related file that can indicate a Trojan infection on the host machine
Causes
AV engine may freeze upon detection of this entry due to the following reasons: the file is damaged and triggers software crash; the file exhibits malicious activities and terminates AV engine to prevent Trojan removal
Detection
The issue typically happens when the system runs Spybot
Symptoms
In the case of false positive, there should be no other symptoms except reports during AV scan or AV freezes during the scan. If, however, a Trojan is the culprit, the system may become sluggish, software crashes, high CPU consumption can be noticed, etc.
Recommendations
Those who face the issue on Spybot should navigate to the official website of the software and download the installer that fixes the issue. Nevertheless, if the problem occurs with other AV engines, we highly recommend initiating a full system scan to remove malware
Elimination
Zlob.zipcodec removal may be disrupted by malicious Trojan entries. Thus rebooting into Safe Mode with Networking may be required to run a scan
Post virus removal procedure
If the system has been infected with a Trojan, use a repair tool to fix the damage with

Reimage

Reimage Cleaner

Intego tool
How to remove zlob.zipcodec virus appears to be the most common question in security-related forums. Most of the entries contain the mentioned file, which triggers continuous failures of AV scans. However, the same file is said to appear interchangeably with the following AV detections:
Trojan-Downloader.Zlob.Media-Codec
Trojan-Downloader:W32/Zlob
Zlob.Farm
In this case, an immediate scan with a professional anti-virus program is required to terminate Zlob Trojan or another dangerous virus that belongs to this family. This infection is one of the oldest cyber infections, which is infamous for malicious activities, such as data harvesting and downloading of other viruses.
Zlob zipcodec removal should solve the problem with freezes, slowdowns, and similar system malfunctioning. Even more, the elimination of this infection is the only way to prevent the loss of personal information or identity theft. Trojans are extremely dangerous and persistent in removal. Initially, the virus initiates multiple system changes within registries and processes at boot, thus weakening the system's security.
If the system is infected with zlob.zipcodec Trojan, it may open the backdoor to other infections, such as malware or ransomware. Connecting to remote control servers, it may download malicious executables in the background, consume CPU, contaminate the system with advertising material and lead to various security issues.
There is no way to remove zlob.zipcodec from Windows without a professional anti-virus program. You can run a scan while in Safe Mode as explained at the end of this article. Nevertheless, the elimination process can hardly fix the damage that the virus might have caused. Registry entries, temporary files, compromised folders, or software can be fixed with Reimage Reimage Cleaner Intego repair tool.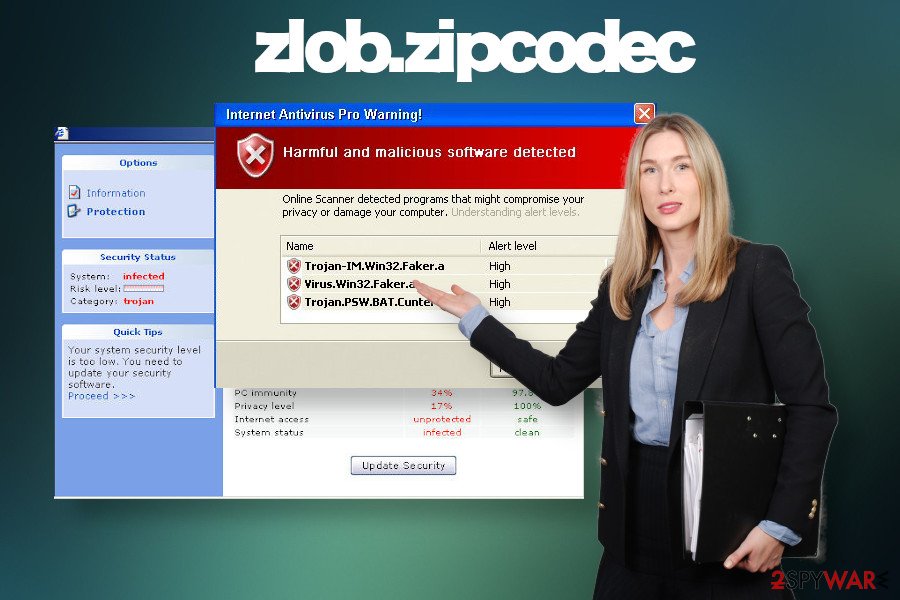 Zlob.zipcodec detection may point out to a Trojan that can be used for credential stealing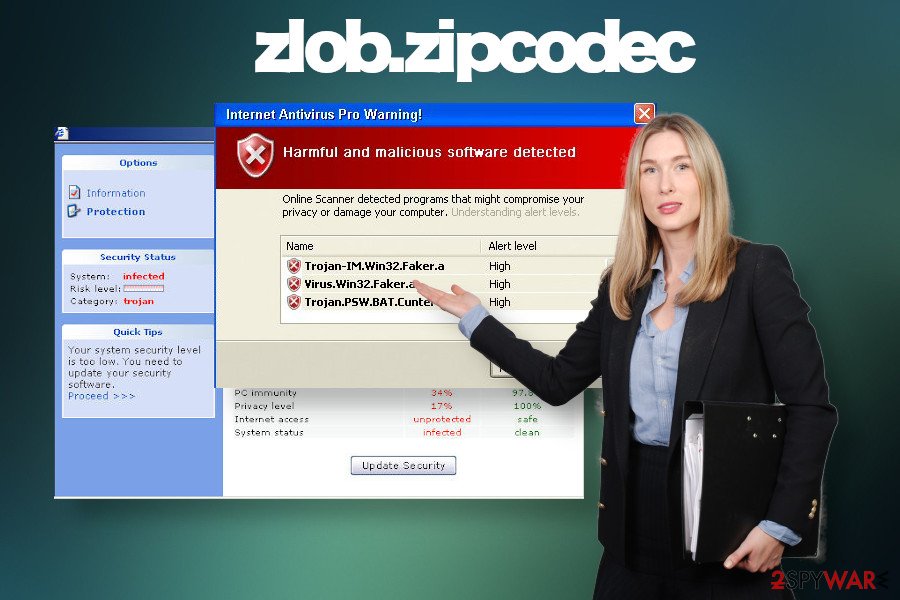 Zlob.zipcodec detection may point out to a Trojan that can be used for credential stealing
Before you remove zlob.zipcodec virus or related files and software, try to find out if it's a virus, false-positive detection or AV bug. As we explained above, Spybot software engine had a bug related to this file, so if you are using this security tool, we recommend updating it to the latest version and check if the issue has been resolved. Alternatively, we recommend disabling this software temporarily. Download an alternative security program, for example SpyHunter 5Combo Cleaner or Malwarebytes, and set it to run a full system scan.
AV freezes during the scan is often a sign of a Trojan
Regular system scans with the anti-malware program should become every user's routine. This way, the system will be protected from dangerous viruses and malware. However, if the scan is disrupted or freezes upon finding a suspicious file, it may be a sign of a Trojan or another dangerous virus.
Malicious software often contains files that can block anti-virus, thus preventing removal and ensuring a longer period for data stealing, malware download, keylogging, and other activities. The only way to terminate such viruses is to restart the system into Safe Mode with Networking because this environment is programmed to terminate all processes that are unnecessary for the system's performance.
You should also be very conscious when browsing the web to protect yourself from malicious infections. Trojans, ransowmare, spyware, and similar entries can be installed on the system after clicking on online ads positioned on rogue websites. Besides, do not rely on pirated software, cracks, or keygens as they are a perfect medium to execute malicious files.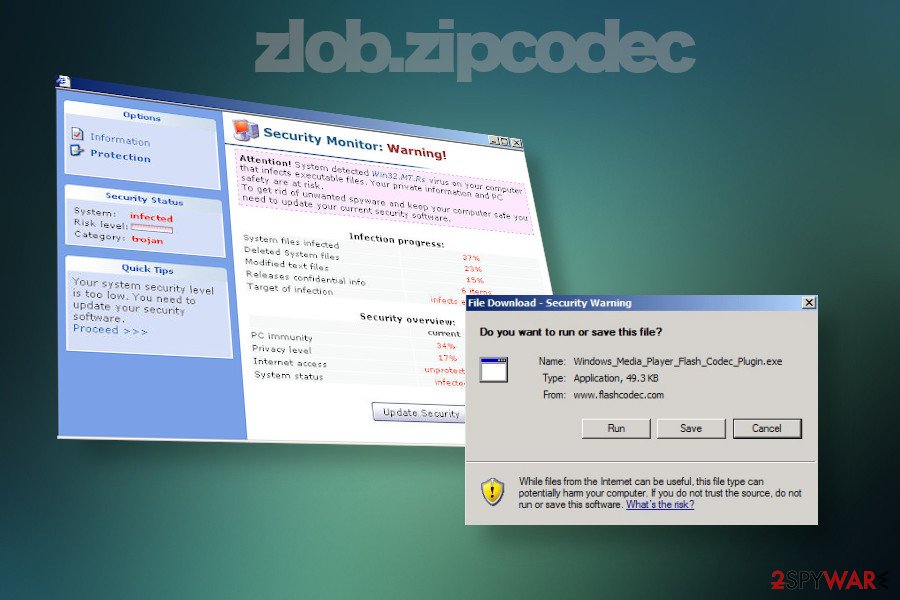 Zlob.zipcodec removal is recommended with an AV tool to protect the system from damage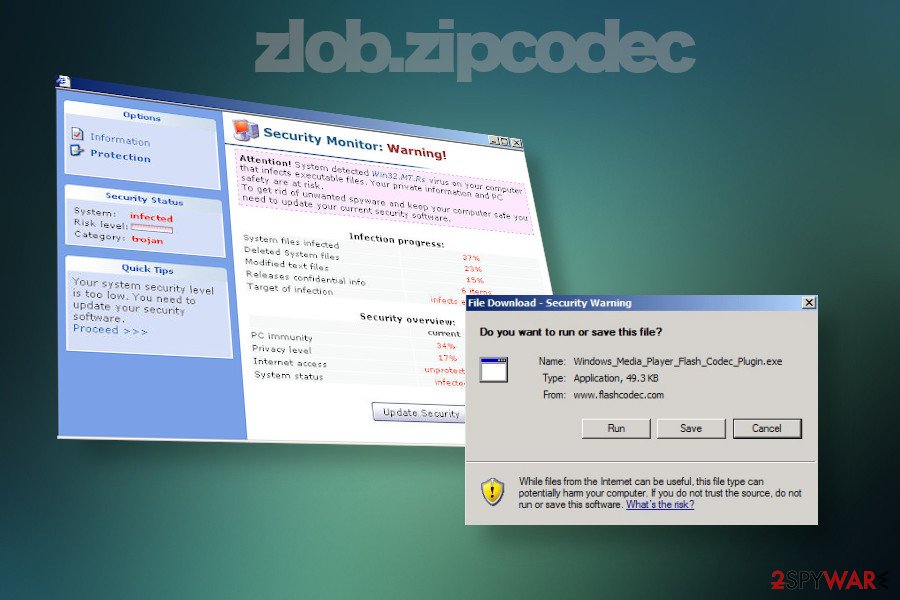 Zlob.zipcodec removal is recommended with an AV tool to protect the system from damage
Last, but not least, do not underestimate the danger of spam emails. Criminals are really professional in terms of mimicking reputable companies, such as FedEx, Red Cross, SBA, and many others. Rogue emails typically contain a relevant topic and the body text may also be convincing. However, if the message contains an attachment, we highly recommend double-checking the sender, looking for mistakes, or other suspicious indications that may sign a fraud. Anyway, it is possible to scan e-mail attachments before opening them because one reckless click can lead to a virus attack.
Fix problems by eliminating zlob.zipcodec and related malware
Zlob.zipcodec freezes may be a software-related problem, but can also point to a breached system's security. Before getting scared, evaluate the possibility that your system may be running an outdated Spybot version, which has a bug causing scan freezes and another malfunctioning. In this case, you can navigate to this website and download an installer provided by Spybot developers to fix the bug.
If, however, the issue is not related to Spybot, but another AV engine that flags the Zlob.zipcodec.exe as a malicious entry, reach accordingly. First of all, try to finish the AV scan and set the program to remove all malicious entries. If, however, the security program cannot finish the task because the virus blocks it, restart the system into Safe Mode as explained in the instructions below.
Zlob.zipcodec removal may require disabling multiple procedures and changing back the settings of the computer. Thus, there is no way to eliminate it manually without the help of an automatic tool. Also, do not leave the system damaged. Trojans are capable of affecting various settings and functions of the PC, so a full repair is required. For this purpose, we recommend using Reimage Reimage Cleaner Intego utility.
This entry was posted on 2020-04-29 at 03:34 and is filed under Trojans, Viruses.