WisePCDoctor is the system tool labeled as the PUP due to false claims about cleaning and protection features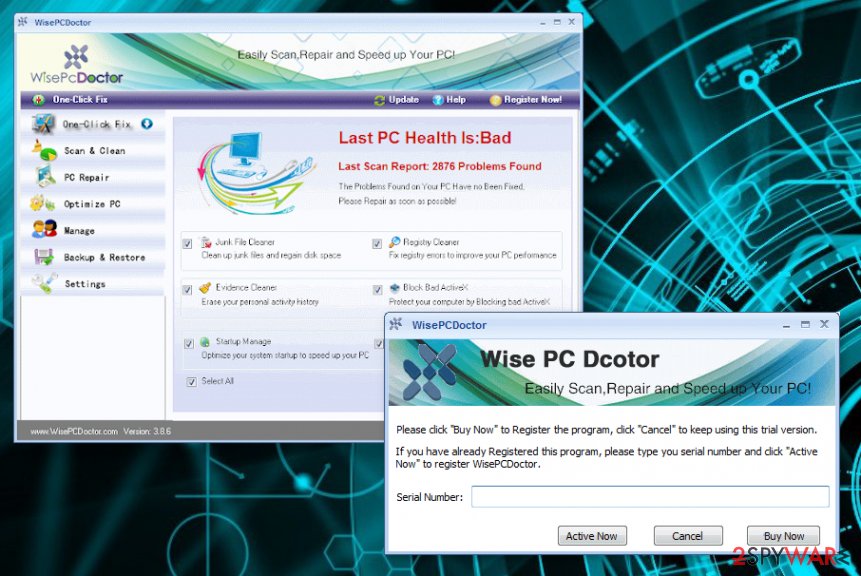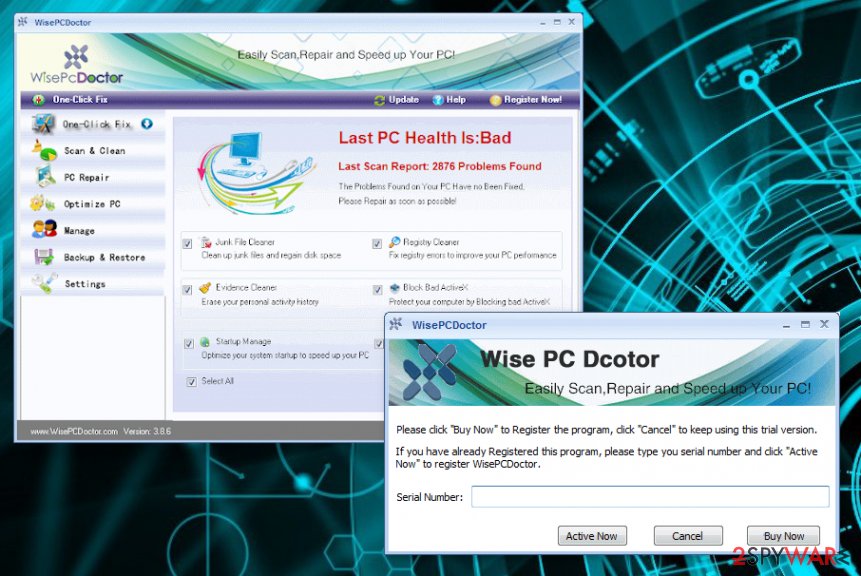 WisePCDoctor is the system tool that shows intentionally false positives to convince users that machines have problems, and the only solution is to buy the license key. This is the method of pushing software and selling useless tools for gullible people. This tool is advertised as a program that allows scanning, repairing, and improving the performance of the computer. It even should increase the speed and protect the device from intruders or even malware. However, this is nothing more but a potentially unwanted application that relies on deceptive methods and promotional websites, advertisements with false claims about repair functions.
Unfortunately, WisePCDoctor virus is nothing but a shady tool that cannot even clean junk files or registry, startup items. This optimizer delivers various claims on those promotional ads, but there is nothing that can improve the performance of your machine when you use this useless application. It comes on the machine for free because it uses shady techniques that PUP developers normally rely on. But this is not a free application since it asks for payments and license purchases when those false scan results appear. Offers and discounts may appear on the site and promotional pop-ups and redirects, but there is no need to pay anything for the program. The price for the optimizer can go up to $29.95 or even $70 for a license of a few years. Do not fall for any of these claims and supposed approval badges from Microsoft or other companies.
Name
WisePCDoctor
Type
Rogue system optimizer
Tactics
Social engineering techniques[1] allow PUP developers to post false claims about a tool that does nothing as promised and doesn't improve the performance at all
Symptoms
The machine gets allegedly scanned and checked for any issues or problems with the performance. Results that appear after that are listing false names of malware to trick people into paying for the full license tool that is promoted with claims that only the full version can help fix those errors and security or even malware issues
Distribution
The official WisePCDoctor.com site promotes this tool, other promotional material online triggers redirects to this or any other sites that claim about all the optimization functions, other freeware installations can easily end in the infiltration of this tool
Danger
There is no reason to pay for the license because the free version and the full program does nothing for the system
Elimination
WisePCDoctor removal should rely on professional anti-malware tools, so all traces of malware get deleted
Repair
Rely on PC recovery or optimization software that is reliable to tackle the damage of this or any other virus. We recommend

Reimage

Reimage Cleaner

Intego that can check for affected files or damaged settings
WisePCDoctor is working as a deceptive application that lists all the functions that users may need, so the program resembles a useful piece of software and decides to purchase the tool willingly. However, in many cases, the PUP acts like a cyber threat and manages to enter the system silently. This is the more intrusive and annoying way because users cannot understand where the tool came from when the program claims about system issues and scans the machine.
WisePCDoctor allegedly scans the system and shows the list of results that include names of errors or even threats that may exist, but not on your machine. The software delivers intentional false positives to convince that users need to solve problems with their devices. The only way, according to those pop-ups, is to buy a full license of the optimizer.
WisePCDoctor scans results deliver alerts about bad PC health and offer to clear junk files, fix registry errors, or erase history or outdated files. The program states that such startup managing and optimizing features can improve the performance or even security of the system. This is a complete lie because system optimizer cannot even fix those errors and tampering with the registry or other parts of the system may cause more issues instead of improving the security.[2]
Once the rogue tool gets on the machine willingly or not, it adds the icon on the taskbar and shortcut on the desktop, so people can notice the program installed. However, during the installation of WisePCDoctor, the wizard states various things and warning about changes that this tool wants to make on the PC.
You should remove WisePCDoctor as soon as possible because it can alter serious parts of the system and cause permanent damage. This PUP can include other programs in the package and install additional useless apps without asking for permission from you.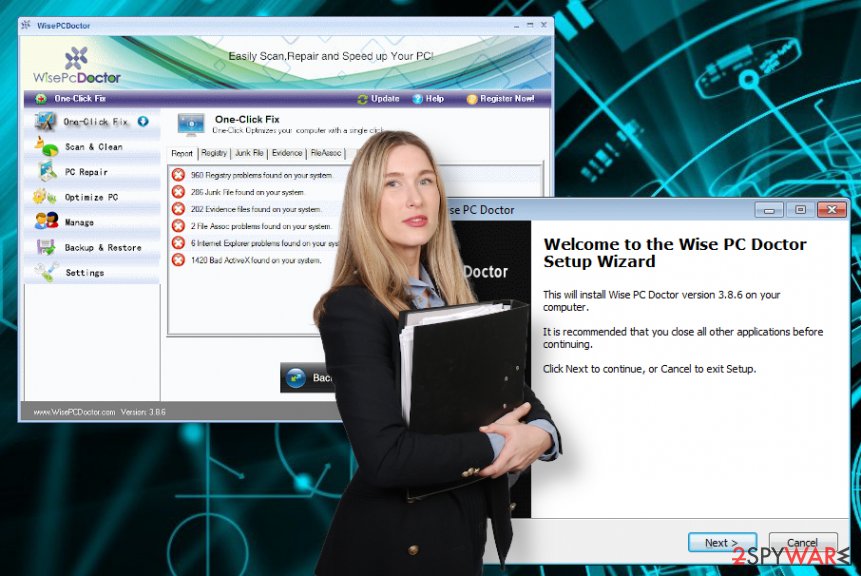 WisePCDoctor is the software that includes various steps during the installations and when people skip through them their get additional apps installed without the additional notice.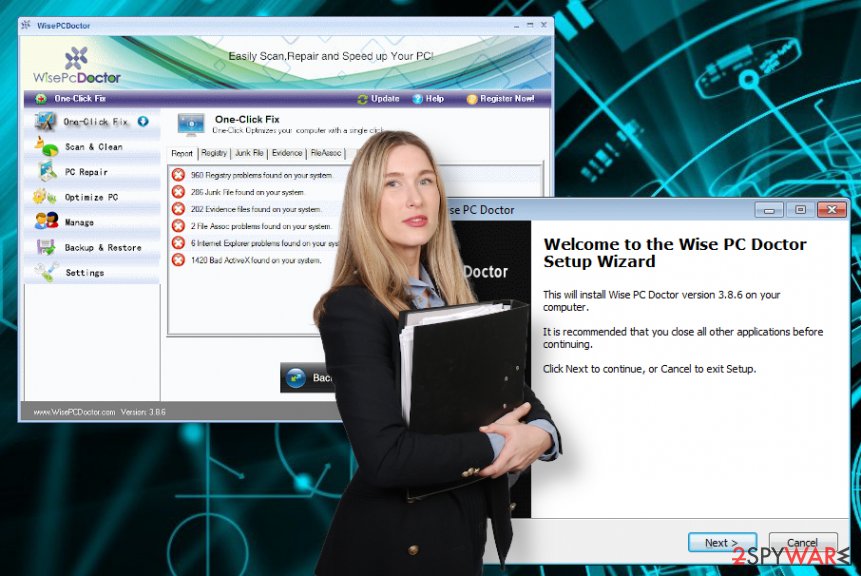 WisePCDoctor is the software that includes various steps during the installations and when people skip through them their get additional apps installed without the additional notice.
WisePCDoctor is a shady tool that relies on social engineering methods that allow tricking people into installing tools or purchasing software like this on purpose. The tool states about all the processes it is running on the computer to improve the performance and repair the supposed issues. But these operations are not happening in reality.
Registry problems or junk files may be deleted, but this program cannot fix any issues with software or drivers, especially remove any cyber threats. You shouldn't trust the program and perform the proper WisePCDoctor removal instead. Since the application may have added other files and apps on the machine automatically, you need help from professional anti-malware tools.
Even though the tool can find and list all those issues, WisePCDoctor free version is not capable of cleaning anything off of the machine, so you are offered to buy the license for the program and activate the optimizer. This so-called system optimizer cannot clear anything and fix any issues with your machine even when you pay for the license key or activation. The only thing the paid version does is cleaning the list of issues, so you think that there are no problems.
WisePCDoctor lists backup and restore, repair, and cleaning operations as functions that users can use, but the program is useless in many ways. Remember that when the PUP appears out of nowhere, there is nothing trustworthy about it, especially when the program promotes other tools and tries to gather money.
Experts[3] always note how these programs can damage the machine, especially when it comes to altering settings and system folders like registry or startup. Anything done wrong there can cause permanent issues and lead to a system corruption. Manage these alterations by repairing the machine with Reimage Reimage Cleaner Intego or a reliable optimizer.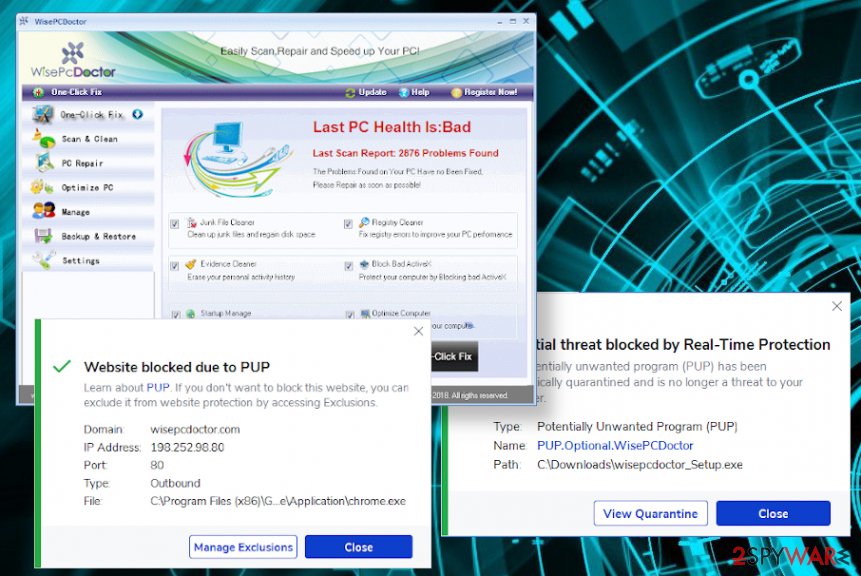 WisePCDoctor is the rogue tool that gets detected by AV tools, so you shouldn't trust the program at all.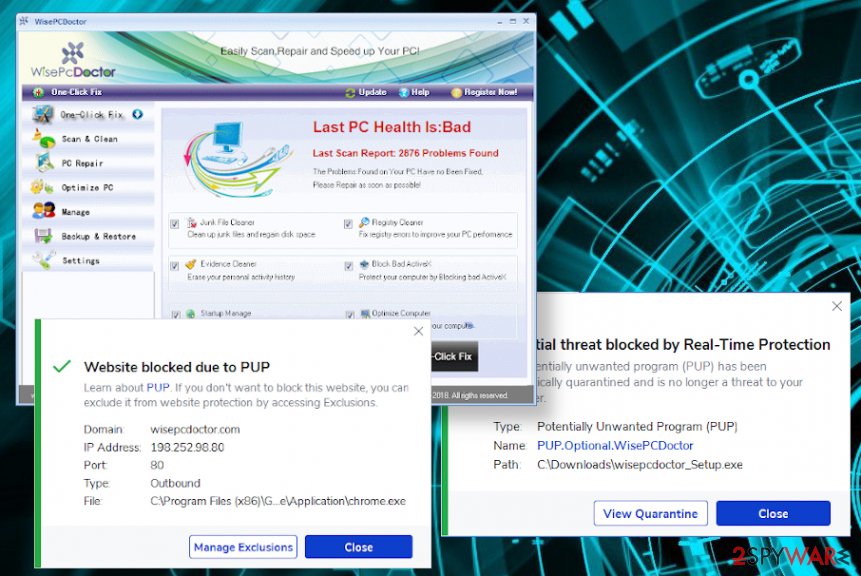 WisePCDoctor is the rogue tool that gets detected by AV tools, so you shouldn't trust the program at all.
Misleading advertisements and download sites promote useless software
These optimizers and system performance improving tools can be downloaded from the official sites that PUP developers set up online. There are all the lists about functions and alleged functions that are useful and incomparable with other optimizers or system apps. People may download this program directly from there and trust all the claims.
However, this is the potentially unwanted program that makes its way on the machine stealthily because it can interfere with freeware installations and be added in the bundle with other programs and tools, so once you skip through some steps during the process, you automatically allow the shady programs to get downloaded.
This infiltration can happen when you don't pay attention to details, choose Recommended or Quick options, and trust unreliable online sources. Choosing Advanced or Custom installations can help you see and select what to install finally, even when the software bundle is included.
Get rid of the useless WisePCDoctor tool
This potentially unwanted application otherwise known as WisePCDoctor virus is not improving the performance nor security of your computer. There is nothing valuable or useful about the application, so you shouldn't keep it on the machine, especially pay for the alleged full version.
Even though there is a program that you can try to uninstall and delete the PUA this way, you also should go for more automatic WisePCDoctor removal methods. Since there are many files that get added during the installation of the rogue tool, any leftovers can trigger intrusive symptoms and content delivery or even PUP installations.
When you properly remove WisePCDoctor using anti-malware tools and security programs that check more than application folders and more common parts of the system, you can ensure that PUP is not going to return. You also need to take system setting alterations into consideration because some of the changes can affect the performance significantly. We recommend double-checking with system repair utilities too.
You may remove virus damage with a help of Reimage Reimage Cleaner Intego. SpyHunter 5Combo Cleaner and Malwarebytes are recommended to detect potentially unwanted programs and viruses with all their files and registry entries that are related to them.
This entry was posted on 2020-05-07 at 01:36 and is filed under System tools, Viruses.