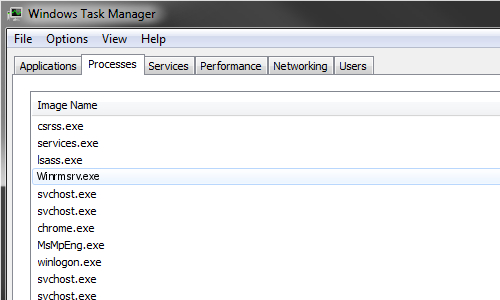 Winrmsrv.exe is a legitimate executable created by Microsoft but might also indicate crypto-mining malware infection
Winrmsrv.exe is a background process that users might find running on their Windows computers once they open the Task Manager. The executable was developed by Microsoft Corporation, and its usual location is in C:\Windows\system32\ folder. Nevertheless, many users started to complain[1] that their Firewall is blocking the incoming connection from Winrmsrv.exe – it asks for permission to gather information. Thus, because the developer is shown as Microsoft, users are confused about whether the file is legitimate or not.
The truth is that Winrmsrv.exe can be either harmless or a Trojan[2] that operates as a cryptomining malware on the affected device. Users who encountered the Firewall prompt should disallow the connection immediately. However, if Winrmsrv.exe is running in the background already and causing system lag or other issues, you should take your time to ensure that the file is not malware-related.
Name
Winrmsrv.exe
Type
Windows system file (legitimate); Trojan/cryptominer (malicious)
Infiltration
Trojans are typically downloaded from malicious websites that host pirated applications/software cracks or via booby-trapped email attachments/hyperlinks
Symptoms
Legitimate Windows executable should not cause any issues. Malware version of the file is a component of crypto-mining activities, which can cause high CPU usage of certain background processes, a slowdown of the computer operation, system crashes, BSODs, etc.
Signature
The original file is signed with Microsoft's certificate; malicious version has no digital signature
Associated malware
Trojan:Win32/CoinMiner.C!rfn, IDP.Generic.5b85ceb558ba.3.2, Win64:Trojan-gen
Termination
To get rid of malware, you should scan your computer with reputable anti-malware software
Recovery & optimization
Malware might damage several Windows components or alter settings. To revert the changes and fix virus damage, you can scan your machine with

Reimage

Reimage Cleaner
We would like to note that Winrmsrv.exe removal or termination of the process should not be performed if the file is legitimate and signed by Microsoft. In case you shut down a necessary file that is required for normal Windows operation, you might face system instability, errors, lag, crashes, and other issues. If you are in doubt, please check whether the file is digitally signed and is located in Windows32 folder:
Right-click on the Winrmsrv process and pick Properties
In the General tab, check file's location – it should be C:\Windows\System32
Select Digital Signatures tab at the top
Click on the provided signature and select Details
Pick View Certificate
If the three latter steps cannot be performed because there is no entry under the "Signature list," there is a high chance that you are dealing with the Winrmsrv.exe virus. As evident, malicious actors are using Microsoft's name in order to prevent users from being suspicious, although there is nothing legitimate about the fake file.
While there might be many different malware types associated with Winrmsrv.exe Trojan, the most likely type is a cryptominer[3] – this malware illegitimately abuses computer resources to mine cryptocurrency for threat actors. In most cases, the virus utilizes CPU or/and GPU power to perform mathematical calculations, which makes the hardware run at almost its full capacity. Due to this, users might suffer from increased electricity bills, incapability of using the PC for any CPU or GPU-heavy tasks such as gaming or even HD video viewing.
The worst part is that Winrmsrv.exe virus could disable Windows defenses (for example, one user notices that Windows update service has been terminated), uninstall anti-malware software, and download other malicious software in the background. Consequently, users might unwillingly disclose sensitive details to cyber attackers or have their files encrypted by ransomware.
Thus, to remove Winrmsrv.exe Trojan from your computer, you should scan it with reputable anti-malware software, such as SpyHunter 5Combo Cleaner or Malwarebytes. Note that malware can also damage several Windows files, consequently resulting in system crashes, errors, app malfunction, lag, and other issues. If you are having problems after you get rid of the Winrmsrv.exe virus, you should use a PC repair tool Reimage Reimage Cleaner to remedy the machine.
Trojans can be distributed in a variety of methods
A Trojan is a type of malware that can represent a variety of threats – its name stems from the way it is installed on the targeted system. The name originated from an ancient Greek story when Odysseus arranged a plan to access Troy city while hiding inside a wooden horse. Similarly to this story, a Trojan is disguising as some type of harmless application or an attachment which, once opened, infects the machine with malware. However, the payload might vary greatly, and Trojans can be programmed to do different things on the machine, including logging keystrokes, taking screenshots, directing users to malicious sites, mining cryptocurrency, etc.
To protect yourself from Trojans, you should be aware of tricks that malicious actors use to deceive users and make them install malware instead of the desired application. Here are the two most common Trojan distribution methods:
Watch out for phishing emails. Threat actors typically utilize an already existing botnet to send out phishing emails to thousands of users. Typically, a booby-trapped, macro-embedded document is attached, or a malicious link inserted directly into the email. With the help of social engineering, many users fall for opening the attachment or clicking on the hyperlinks, which triggers the infection process of the PC. Thus, never allow macros to run if asked (predominately, "Allow Content"), or click on embedded links.
Do not download illegal software. Cracks, loaders, repacked installers, pirated programs, and similar tools are often loaded with malware – one of the most prominent ransomware families, Djvu, is using this method as is extremely successful. While some of such downloads might install what you expected, the additional payload will be inserted in the background, without you noticing. If no anti-virus is running on the system, such Trojans can run for months or even years before being detected.
Ways to get rid of Winrmsrv.exe virus
While Trojans can represent a vast variety of malware and its function might differ, the main malware type associated with the Winrmsrv.exe virus is a cryptojacker.[3] Not only will it slowdown the operation of the machine so that usage of it becomes intolerable, but it might also result in the installation of other malicious software. To remove Winrmsrv.exe from your machine, you will have to scan your device with anti-malware software which could locate all the malicious components and terminate them at once.
Note that Winrmsrv.exe removal should not be performed if the file is legitimate (i.e., signed by Microsoft), as it might result in Windows OS malfunction. If you are having doubts about whether the file is legitimate, you should rely on security software. Nevertheless, you should not allow the Winrmsrv.exe through the Firewall, as it is unusual to make such request by a legitimate Windows file.
Reimage Reimage Cleaner has a free limited scanner. Reimage Reimage Cleaner offers more through scan when you purchase its full version. When free scanner detects issues, you can fix them using free manual repairs or you can decide to purchase the full version in order to fix them automatically.
This entry was posted on 2020-02-11 at 04:19 and is filed under Files, System files.