Winferno Registry Power Cleaner – rogue system optimization software that has been developed for Windows XP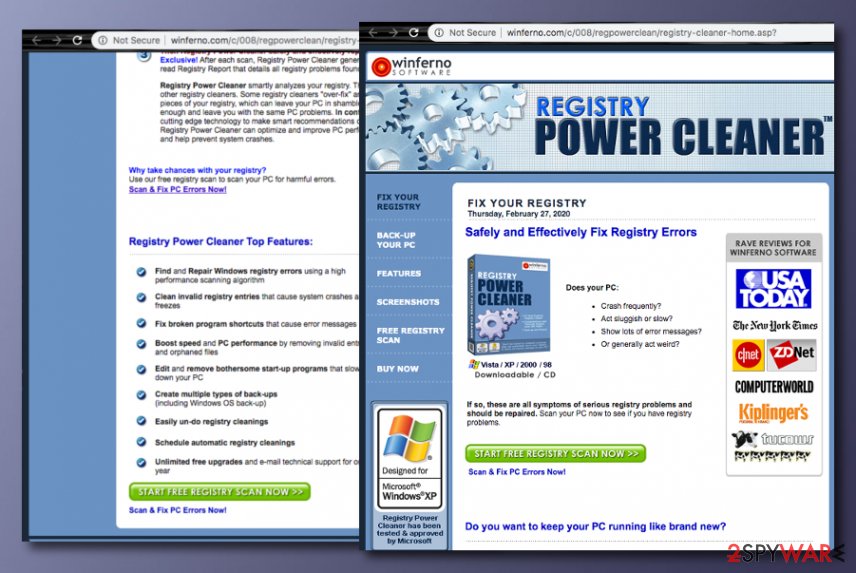 Winferno Registry Power Cleaner – a potentially unwanted program that can be downloaded from its official website winferno.com and popular online shopping platforms such as Amazon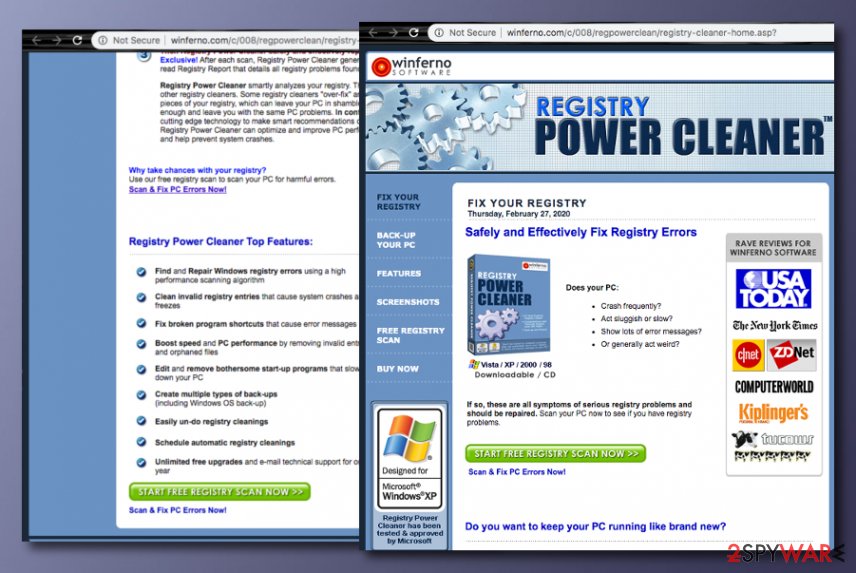 Winferno Registry Power Cleaner – a potentially unwanted program that can be downloaded from its official website winferno.com and popular online shopping platforms such as Amazon
Winferno Registry Power Cleaner, produced by Winferno Software, is a questionable computer system utility that can be downloaded from its official website winferno.com or from other e-shopping platforms such as Amazon. However, this does not make the program a reputable tool as its functionality was found questionable by many users since its appearance in 2006. The product was firstly developed for Windows XP version but it can be installed on newer Windows versions now. What Winferno Registry Power Cleaner virus truly does is scanning the entire computer system and providing hundreds or thousands of non-existing errors that are claimed to get fixed by purchasing the license key for the advanced program version for $39.99 per year.
Name
Winferno Registry Power Cleaner
Type
System tool/potentially unwanted program
Target
This suspicious software is compatible with various Windows versions such as Windows XP, Windows Vista, Windows 7, Windows 8, Windows 10
Functionality
Even though the app promises to enhance the computer's performance, clean invalid registry keys, repair system errors, and boost up computer speed, it truly imitates a full system scan and provides a list full of non-existing system problems that can be "fixed" with the help of the advanced tool version
Price
The license key for the program is offered for $39.99 per year
Spreading
You can find the product promoted on its official website winferno.com and also advertised on popular e-shopping platforms such as Amazon. However, users are much more likely to receive this type of software through unsecured downloads that include packages of bundled software
Elimination
If you have discovered this fake cleaning app on your Windows computer system, there is no need of keeping it there as all it does is taking space on your PC. You should take action against the program and download a reliable optimizer. For the removal, employ trustworthy antimalware software
Fix tip
If the app has somehow altered some of your system areas, these locations might possibly be fixed with the help of software such as

Reimage

Reimage Cleaner
Winferno Registry Power Cleaner is promoted as a tool that helps to repair Windows registry errors, clean invalid keys, enhance the computer speed and performance, etc. However, this type of functionality is provided to attract users to use this product and get interested in its licensed version that can be purchased for $39.99.
Despite its nice promotion, this is the only positive thing about Winferno Registry Power Cleaner as it truly acts as a fake and questionable system utility. When it appears on the computer system, it initiates a system scan and generates misleading scan results that reveal hundreds or thousands of errors that truly do not exist.
However, some users can get frightened that their computer state is very bad and not even think that Winferno Registry Power Cleaner might by trying to trick them. As a result, they can end up spending money on a completely useless product (the licensed version) that will only imitate the fix but truly do nothing on the system.
Furthermore, Winferno Registry Power Cleaner possibly collects outdated registry keys, cache,[1] and other small files to provide them as big threats. The cleaner can even manage to eliminate some type of registry entry but this might bring damage to the computer system as the product might wipe out a needed key.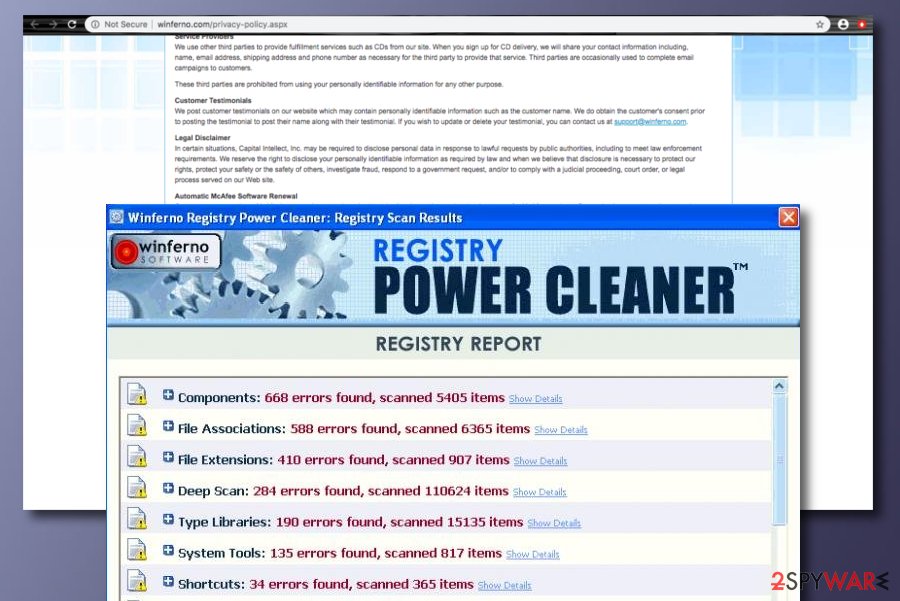 Winferno Registry Power Cleaner is a system tool that collects various outdated registry keys and provides them as major system problems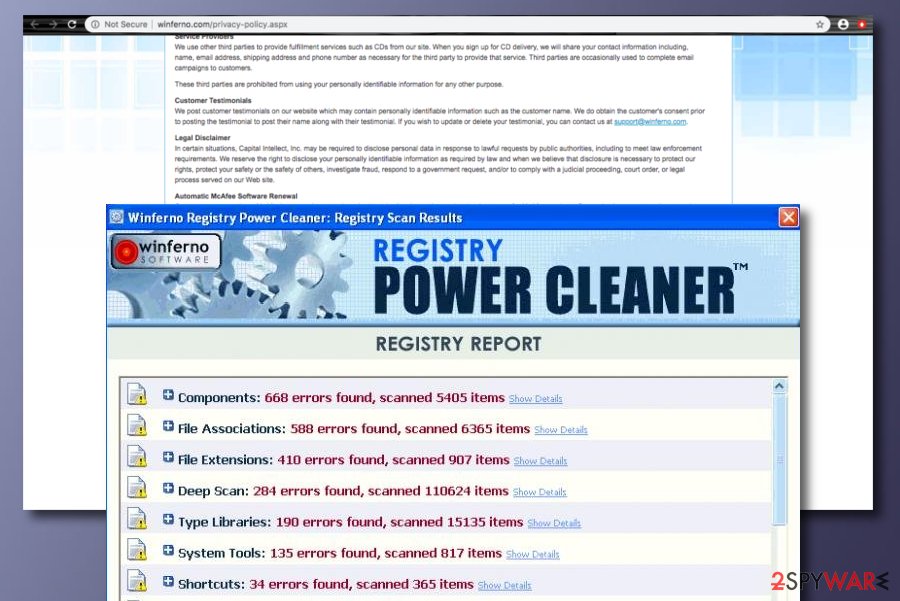 Winferno Registry Power Cleaner is a system tool that collects various outdated registry keys and provides them as major system problems
All that Winferno Registry Power Cleaner does is taking space on the user's Windows computer and dropping fake virus alerts that should be ignored. Nevertheless, you might discover that the rogue security utility brings potentially unwanted products to the computer system that might include other cleaning tools, adware, browser hijackers, etc.
If you are still not convinced that Winferno Registry Power Cleaner is just a fake tool and nothing that it provides has true value, you should download a reliable computer scanning tool and check the real state of your computer. Afterward, you can measure the results that are provided by your software with the rogue product and should not find any similar problems and errors.
Winferno Registry Power Cleaner removal is the best thing to do while dealing with this questionable software.[2] You can wipe out the rogue product with the help of a reliable antimalware program or by completing the manual step-by-step instructions that have been included at the end of this article.
You should know that Winferno Registry Power Cleaner might install some entries or processes that would let the app boot itself within every computer startup process. Regarding this fact, you should terminate not only the virus but also every single component that it has brought to the PC, otherwise, the program might easily show up again.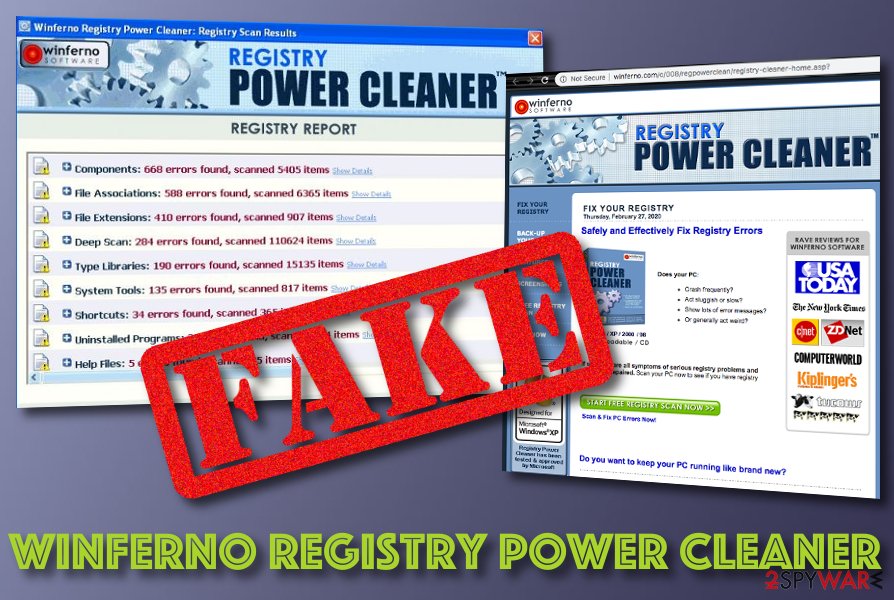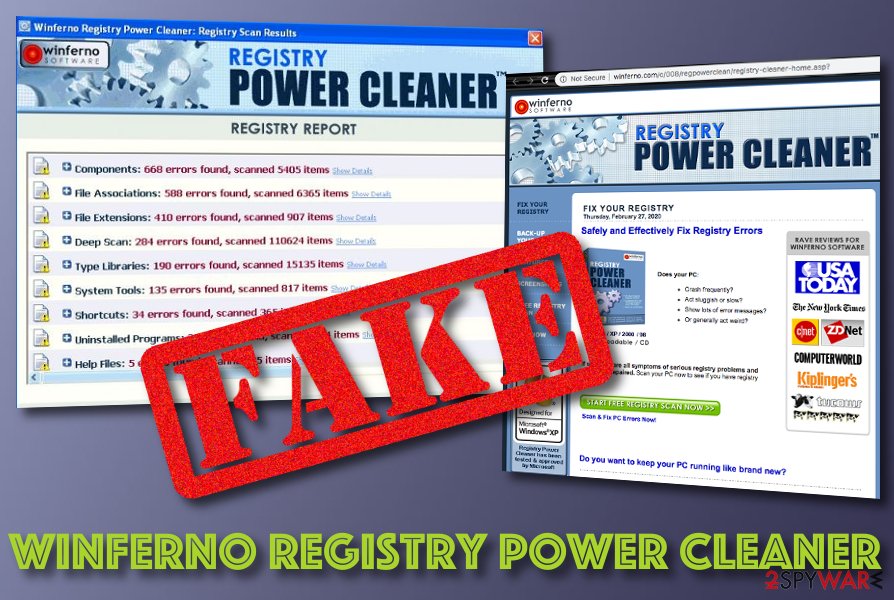 PUPs are located in bundles of freeware and shareware
Potentially unwanted programs, including rogue security and optimization utilities, sometimes have their own downloading websites. However, these sources receive lesser downloads than wanted so the developers often think of other techniques of how to place their products successfully on users' computers.
The main way of installing some type of product secretly is by including it in an entire package of software and putting up for download on popular secondary websites such as softonic.com and cnet.com. The PUP usually arrives at those computer systems that have set the Quick or Recommended download mode as default.
If you also have chosen this regime, you should go and change it right away. We suggest opting for the Custom or Advanced variant as here you will gain more control over your downloads. You will be able to deselect all suspicious-looking add-ons, toolbars, and products that are ready for downloading to your machine.
Another thing you should do is purchase a reliable security utility that will show you the real state of your computer security. Keep this type of software regularly updated and it will drop you warnings when something malicious is trying to invade your machine and will prevent you from visiting deceptive websites.
Removing Winferno Registry Power Cleaner virus from Windows
Winferno Registry Power Cleaner removal should become your priority when you deal with this product. There is no reason to have such a utility on your computer as all it does is taking space and providing fake system scan results. Our recommendation would be to download and employ a reliable tool for elimination.
Trustworthy software will help you to remove Winferno Registry Power Cleaner from your Windows computer safely and within a few minutes of time. Of course, you can choose to complete the process with the help of the below-provided step-by-step guidelines but they will take more of your time and will be a little bit more complex.
Remember that Winferno Registry Power Cleaner virus can scatter potentially unwanted content all over the device and it is important to get rid of it too if you do not want to experience unexpected activities in the future. Besides, according to NoVirus experts,[3] you should completely eliminate every component that is related to the primary virus, otherwise, it might be able to launch itself again the next time you turn on your computer.
You may remove virus damage with a help of Reimage Reimage Cleaner . SpyHunter 5Combo Cleaner and Malwarebytes are recommended to detect potentially unwanted programs and viruses with all their files and registry entries that are related to them.
This entry was posted on 2020-02-27 at 10:02 and is filed under System tools, Viruses.