Win32:Dropper-gen is the detection name that supposedly indicates a serious threat on the PC, but can also be falsely positive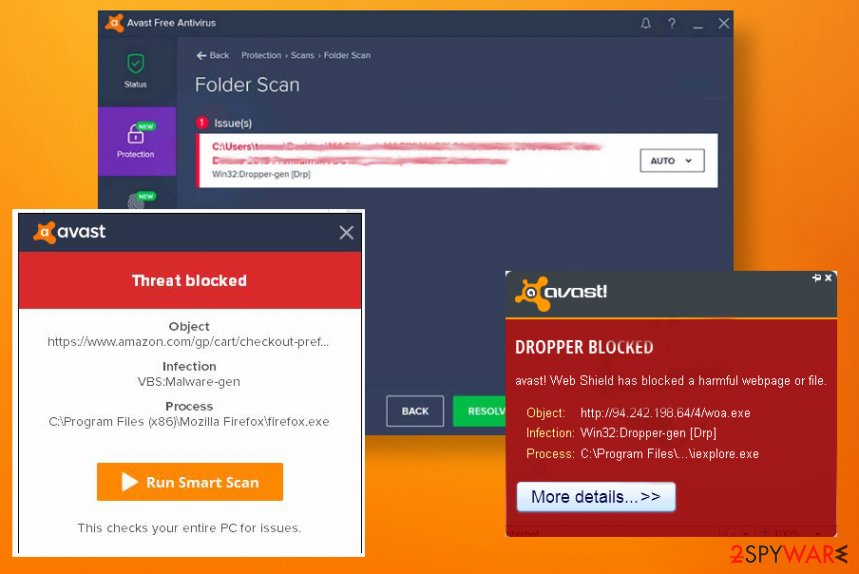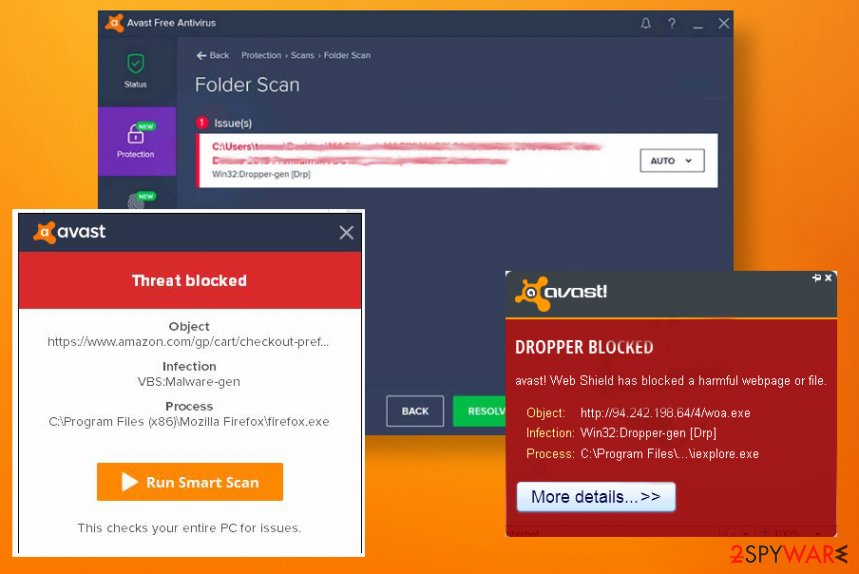 Win32:Dropper-gen is the generic malware detection tool result when the program or file causes any suspicions. The name shows up when the AV detection engine scans the machine and finds a deceptive or malicious application on the system. In many cases, such background files that do not appear on the machine at all can cause various issues by running behind your back because there are not many symptoms that people may notice, but the damage is real. Various backdoor trojans and other malware act in the system changing settings or allowing access to your device for more severe threats like ransomware. Such malicious scripts can provide remote access to attackers and direct hacker campaigns too, so the risks can vary.
Even though Win32:Dropper-gen virus can create many issues and even damage your device, there is a bigger possibility of getting the falsely positive detection result due to things like incompatible programs or tools and inaccurate installations of some software. Also, some AV tools and security programs are not working well when there is another app of the same type, so the clashing results in such things as positive malware detections when there is nothing dangerous on the computer at all. As Win32 indicates, this issue appears on Windows operating system running machines, but you shouldn't feel calm and safe if you use the macOS machine or mobile phone. Such issues are universal besides the particular detection name.
Name
Win32:Dropper-gen
Type
The detection can indicate spyware, trojans, or other malware
Causes
The heuristic detection comes up on the list of found threats or the AV tool directly delivers the alert with one name as the suspicious cause frustration. The initial reason why the warning is shown can be the real infection of malware, the infiltration of the virus. Other reasons can be related to incompatibility issues or AV tools clashing
Distribution
Such malicious files that allow malware to run unnoticed come to machines using spam email campaigns and other techniques that involve silent infection that is not requiring to get users installation permission
Possible danger
If the detection is related to malware, the intruder can steal data, banking information or infect the machine with secondary threats like ransomware or allow the hacking
Elimination
Win32:Dropper-gen removal is achievable with the program that showed you the alert or a warning or the different anti-malware program
Repair
You need to go through settings manually if you want to change all the alterations done by the threat in system folders. However, editing some parts of the machine can cause additional damage. You do not want that, so try to rely on PC repair tools or system optimization apps like

Reimage

Reimage Cleaner

Intego
Win32:Dropper-gen detection is possibly indicating a threat that opens access to your device and allows the remote attacker or malware on the computer in the background. Such silent infections can be designed to only infiltrate the system with other threats and infect the machine even more. This way criminals can achieve their goals and infiltrate the system, steal data, and damage the machine.
If the Win32:Dropper-gen is designed to act as a trojan horse,[1] you may not notice anything that the intruder does on the system. It means that the file runs in the background and can be old even when the alert comes up. You shouldn't panic at the moment you receive the alert or a result of the detection.[2]
Win32:Dropper-gen can indicate various threats with different purposes or any at all. You need to double-check before you do anything. The best tool for that is the anti-malware program. Any security tool that works as an AV detection engine can show all the possible infections and dangerous files of any sort. When a few tools show this particular detection and associate the malware with a file or program, you can go through with a removal procedure.
You definitely need to remove Win32:Dropper-gen when it is indicated as malicious by separate tools. It means that databases of malware have this threat included. Such detection can show that malware on your device can be set to:
download or install malware or shady programs;
use the computer to perform click fraud;
record keystrokes or use other tools for capturing data;
send information to remote attackers;
collect data about your device, browsing history and so on;
give the remote access to your device to a hacker;
show commercial content;
cause redirects;
install adware, PUPs, or useless tools that take the attention from background processes.
Win32:Dropper-gen removal can become difficult when you try to find and delete the file or a program yourself, so functions like Safe Mode reboot or System restore can provide you additional help. These processes become less possible when malware affects things like a startup, registry, and other functions. But you can repair these affected parts with tools like Reimage Reimage Cleaner Intego or PC optimization programs.

Win32:Dropper-gen is the trojan that runs in the background and can damage crucial system functions without causing any symptoms.

Win32:Dropper-gen is the trojan that runs in the background and can damage crucial system functions without causing any symptoms.
When you are sure that you need to remove Win32:Dropper-gen, get the proper anti-malware tool and make sure to use a reliable source for any programs you install from the internet. It is advised by many experts[3] that choosing a paid version is better, so you can terminate any intruders that come up on the screen as suspicious.
Files reported with the alert of this Win32:Dropper-gen detection can be not malicious too. You need to determine if the reported file or program is really dangerous before you disable the program. You may cause additional issues without notice. Try to upload the file or program in the VirusTotal system or check with more tools. Finally, you may need to update the AV tool that you use, and the system stops showing those deceptive messages.
Malicious files deliver threats of many kinds
Spam email campaigns seem intrusive and annoying alone, but links that get included on the notifications and files attached to such emails often transfer malware on devices automatically when the message is sent for gullible users. These messages can pose as legitimate emails from companies like shipping services or shopping sites. Subject lines stating about order information and invoices don't raise enough questions when users tend to get such messages more often nowadays.
In this day and age, we receive tons of different emails, and one slip can trigger the malicious script, unfortunately. You should delete any received emails that you were not expecting to get because one click on the included hyperlink or macro enabling on the document attached as a file can trigger payload drop of the malware. Malicious sites can even resemble the official site for the company. Be suspicious every time you receive any message or end up on a questionable page.
The guide for Win32:Dropper-gen removal
Since the Win32:Dropper-gen virus detection appears on particular AV tools or warnings get delivered after the system scan, you can use the same program to clear the infection off of the machine. However, some of the threats need to be fully removed with anti-malware tools after the double-check.
You can remove Win32:Dropper-gen and double-check to see what purpose the threat has with programs like SpyHunter 5Combo Cleaner or Malwarebytes. Security tools and anti-malware applications can show all potential intruders and terminate them automatically when you chose to clean the machine.
Win32:Dropper-gen removal, unfortunately, can get difficult due to malware caused alterations in settings and functions. If that happens, you can rely on Safe Mode with Networking and make sure to change those preferences and corrupted files back to normal using Reimage Reimage Cleaner Intego, for example.
This entry was posted on 2020-04-29 at 05:38 and is filed under Malware, Viruses.