Wetransfer virus is the malicious email campaign that sends malware via WeTransfer platform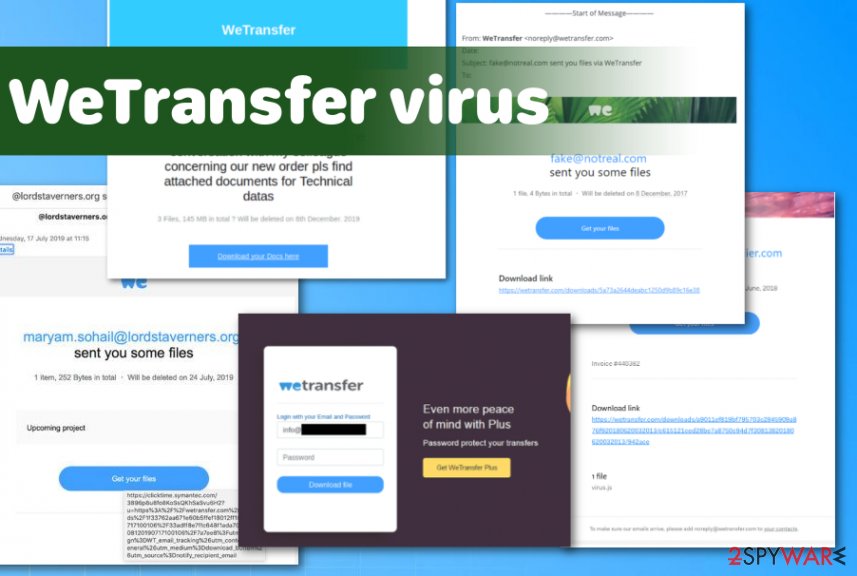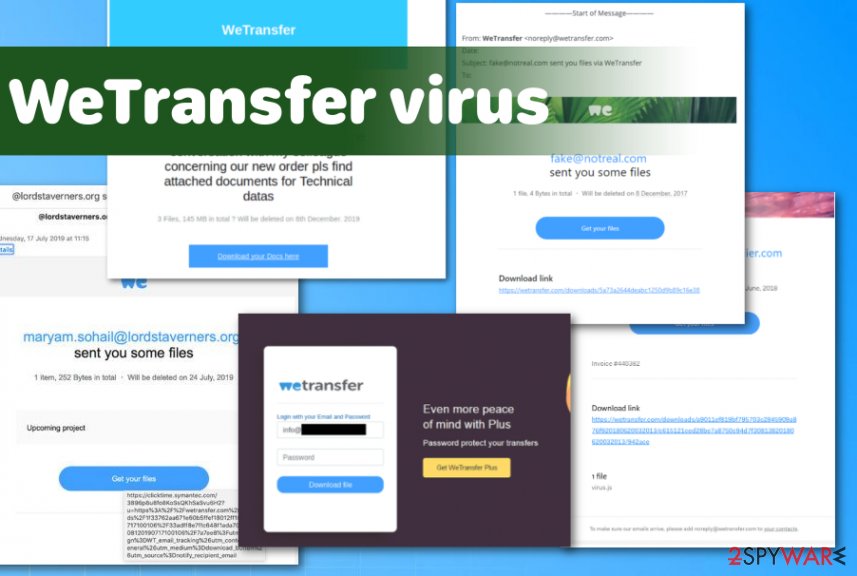 Wetransfer virus – the campaign that involves deceptive emails designed to spread various malicious programs. Links to file downloads and even files attached to the email notification itself trigger the installation of Kryptik trojan. Text presented in these emails can go from purchase details or letters from companies or organizations, claiming about confidential business documents, contracts or legal documents and financial records, that can be commonly passed between recipients via email, so it is not causing suspicions initially. Links that supposed to lead to bundles with important documents lead to the infection Download link states "Our company profile as requested" or "Purchase Order_PDF.cab", so people launch the download of a malicious executable or an archived file. The whole WeTransfrer service is completely legitimate and safe to use, but this phishing campaign[1] ruins the name for the whole industry of cloud services.
The most important thing to note about this WeTransfer Email virus is that anything can be sent to you via those file transfer links, so opening any of them and following with download can lead to trojan infections and even more serious issues regarding the personal privacy and security of your device. The trojan that is, reportedly, distributed with the help of these spam campaigns is a password-stealing trojan that also can be considered banking malware because the most valuable credentials are the ones linked to online banking sites. This high-risk malware can possibly have a wide range of abilities and be set to take control of your device and exfiltrate data or damage the machine entirely. You need to be cautious and react to this infection as soon as possible, so crucial damage can be avoided.
Name
WeTransfer virus
Type
Malware delivering email campaign/ Trojan
Tactics
Emails with claims about purchase details, company messages, and other requests get sent to random people and include links to file transfer platform where the people get to download archived data or an executable file malware payload
Spreads
It is known for delivering the payload of Kryptik trojan
Distribution
Social engineering campaigns allow malicious actors to obtain email addresses of people, data leaked during some security incidents and other deceptive methods allow to access such details, so various random users online receive these malicious emails with malware delivering links and file attachments
Danger
This phishing campaign[2] can easily spread various malware and lead to hacker attacks or campaigns of data exfiltration and so on. Viruses that spread via these stealthy methods can be set to damage machines and perform other background processes
Elimination
WeTransfer virus removal is not the easiest procedure, but you can get the best results with anti-malware tools that manage to find and remove all kinds of files and applications that may get placed all over the machine during the infection
Repair
You should also think about the damage that virus causes on an affected system, so get

Reimage

Reimage Cleaner

Intego or a similar tool that repairs files or at least can help with system performance and optimization
WeTransfer Email virus message can include banners, logos, and other identifiable information that resembles the legitimate platform to fake the secureness and legitimacy and trick people into downloading attached files this way. The email itself is a brief text about the file that is included in the download link.
Recipients who click on the provided link are led to the login page of the WeTransfer platform, and this is where phishing begins because this landing page is the form where you fill in the information and trigger the malicious installation.
Users who encountered the Wetransfer virus message stated that once the information is put in the message states about incorrect password and the phishing stops here. The message looks like this:
Click 'Download images' to view images
********
sent you some documents PDF
2 item, 768 KB in total ・ Will be deleted on 30 October, 2019
Our company profile as requested and Purchase Order.pdf

Get your files
Download link
hxxps://kingsdoggy.blaucloud.de/index.php/s/*****
2 items
Company profile.pdf
Purchase Order.pdf
700 KB
To make sure our emails arrive, please add [email protected] to your contacts.
About WeTransfer ・ Help ・ Legal ・ Report this transfer as spam
Additionally, the Wetransfer virus relies on other methods that help to look like genuine notifications. High-quality graphical elements, branding, and logos allow them to mimic the popular file-sharing platforms and take advantage of more gullible people. The email intrigues and tells receivers that a new file is arriving after the phone conversation or additional exchange of emails. Driven by their curiosity, people follow the suggestion to click on the provided link.
You need to remove Wetransfer virus infection possibility by deleting the email as soon as you receive it, so there is no opportunity for the malicious payload to get triggered and dropped on the machine. If that happens you will need more powerful tools to tackle the malicious infection. Trojans malware and even ransomware can get installed like this, so the only way to get back the machine in your control is anti-malware programs.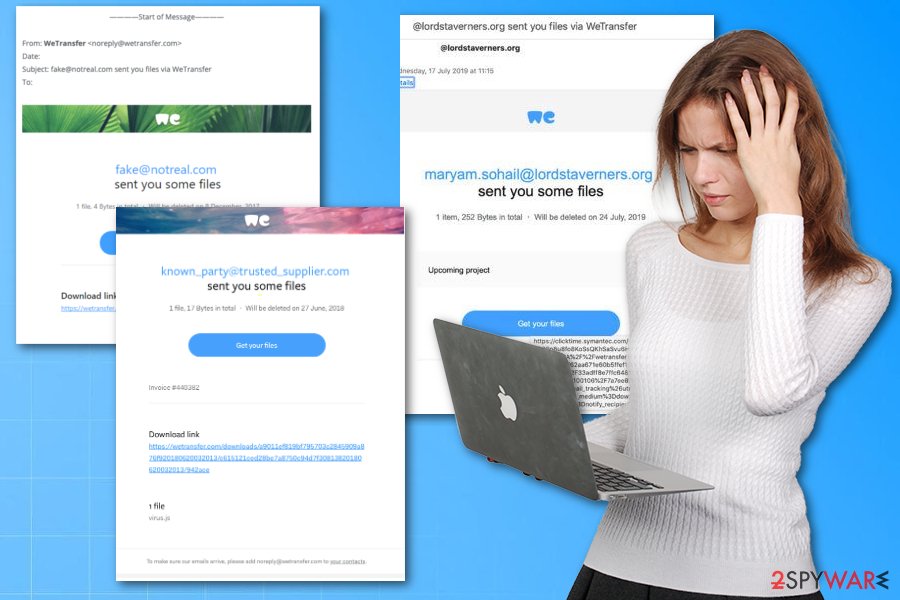 Wetransfer virus is the email malware that delivers banking trojan when the person gets tricked into downloading the attached file.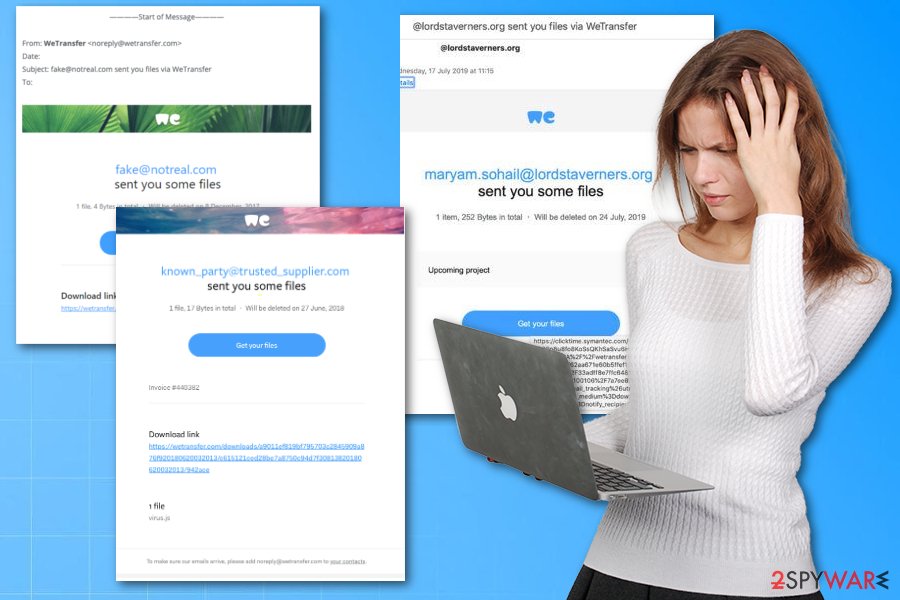 Wetransfer virus is the email malware that delivers banking trojan when the person gets tricked into downloading the attached file.
Wetransfer virus involves various campaigns that even the officials have noted.[3] These platforms and services are not viewed as potentially dangerous bu email security gateways, so malicious campaigns are possible, unfortunately. These attacks start as phishing campaigns and similar social engineering-based events but lead to stolen credentials directly from the person and target machines with malware.
WeTransfer Email virus removal can get difficult if your device gets affected further by the malware delivered from the download link. Experts comment on these issues and possible phishing ploys helping to get users' attention:
Here, the threat actor will often write a note stating that the file is an invoice to be reviewed.
When WeTransfer Email virus campaign results in the trojan, banking malware or another virus infection, you need to get involved in serious malware-fighting procedures with tools that can detect[4] this malicious software. The various analysis may show that the file ad link can be detected by AV tools before it goes on the machine, but you need to keep your anti-malware tools up-to-date, so the program is properly working. This is not the case for many people.
Keep the machine safe and avoid anything related to WeTransfer virus removal by using system optimization tools, security software like Reimage Reimage Cleaner Intego that can indicate suspicious emails, sites, and links for you before you trigger any infections. These spam emails can deliver anything and everything, and there are many versions of emails, notifications, links, and file transfer forms.
WeTransfer virus baiting techniques are trendy among malicious actors, and several active campaigns employed such methods to target sensitive information. HTML elements may get used to hiding malicious URLs from the antispam features of security software. You may encounter advanced techniques and malware that show no symptoms, so rely on AV tools that are reliable and scan the machine fully to clean the system and get rid fo the virus damage.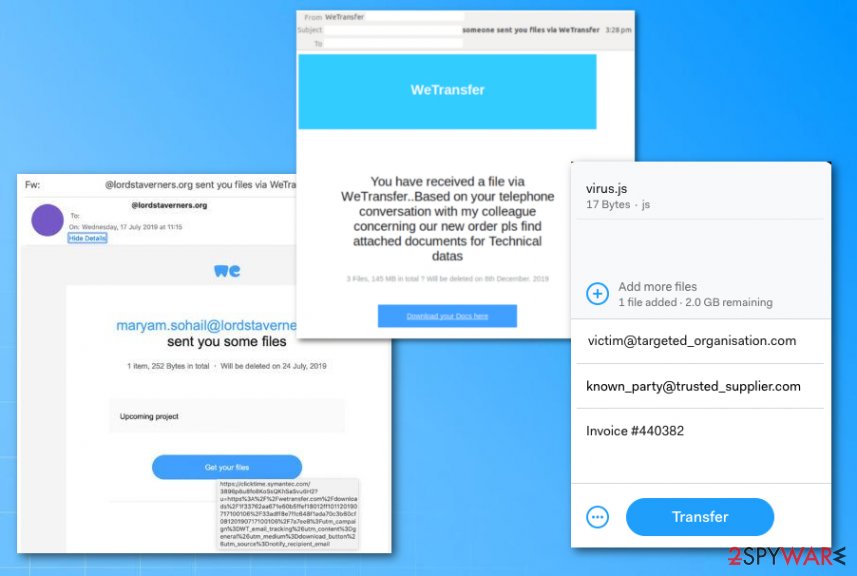 Wetransfer virus is the email campaign that delivers infected files via platform WeTransfer to random people online.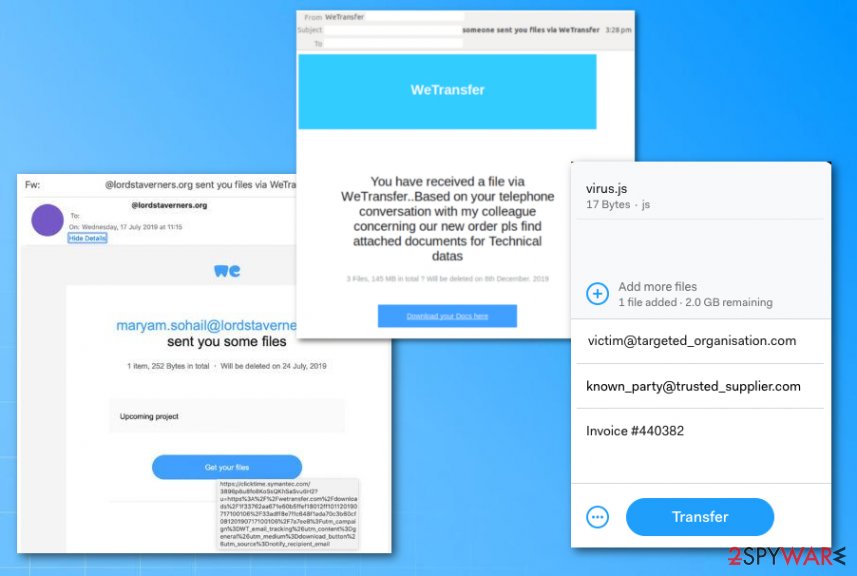 Wetransfer virus is the email campaign that delivers infected files via platform WeTransfer to random people online.
Spotting the difference between legitimate and phishing emails
If you are communicating with any services like this platform, you may fall for the phishing campaign and install the malicious program without considering to look out for red flags. Opening the suspicious email notification alone can trigger the drop of the trojan or virus, so pay attention to:
the layout of the email and differences with previous emails;
typos, grammar mistakes;
what domain is on the link that you got redirected to;
senders' address;
attachments, links, and other active buttons on the email itself.
You need to defend your inbox by practicing good common sense and keep these scammers in mind every time you receive a suspicious email. Keep proper security tools on the machine and run it occasionally on the system, so any possibly dangerous files get blocked in advance.
Remove Wetransfer virus with proper tools, so all trojans get terminated
You need to take this WeTransfer Email virus seriously and clean the machine from any possible intruder or malicious file, so there are no risks of getting hacked or lose data from the machine directly or by getting on phishing sites and providing your personal details to malicious actors.
To remove Wetransfer virus properly, you need to clear any suspicious emails from the inbox and make sure to delete them from the trash too. Resetting the browser may be optional, but also helpful when some of the redirects include PUPs and shady methods of exposing the user to dangerous sites.
Wetransfer virus removal gives better results, however, when you clean the whole machine. Get Reimage Reimage Cleaner Intego, SpyHunter 5Combo Cleaner, or Malwarebytes and run a full system check to find and eliminate all possible threats. Some of the trojans and malware can block these apps, so rely on Safe Mode first and then run the anti-malware program.
This entry was posted on 2020-03-25 at 05:38 and is filed under Malware, Viruses.