View Live News Promos – adware that feeds users with interruptive ads after the extension is downloaded to the browser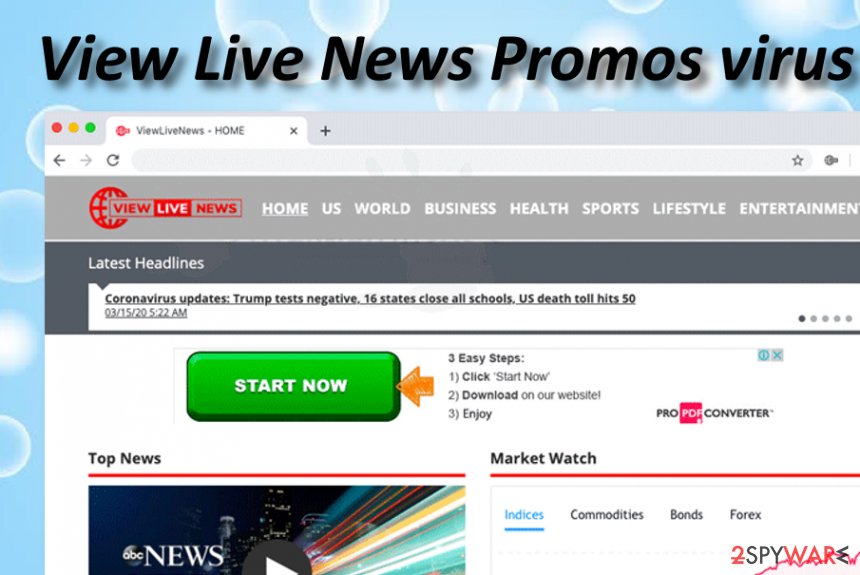 View Live News Promos is an adware app that claims to provide live videos of current news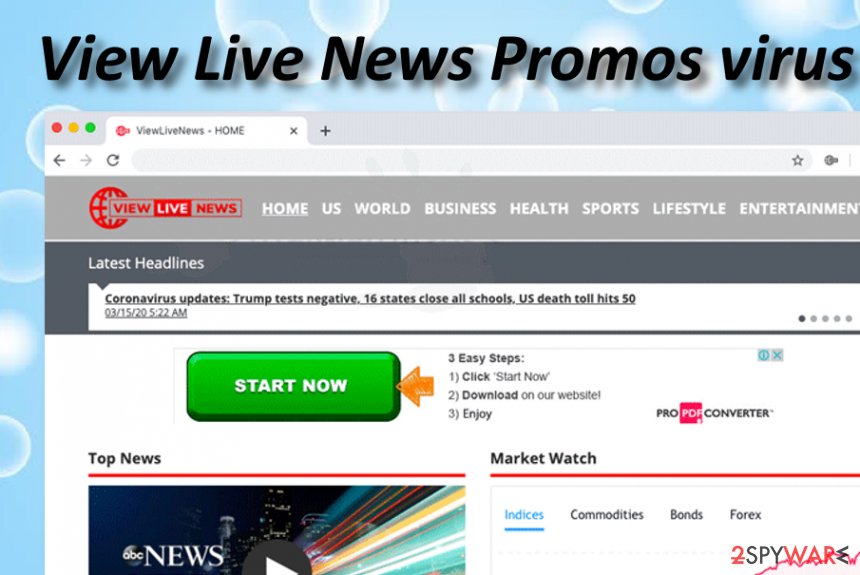 View Live News Promos is an adware app that claims to provide live videos of current news
View Live News Promos is an adware[1] application that claims to provide relevant news-watching features. However, this might be the only positive thing about this PUP as more unwanted activities are yet to come. You can get this extension from the official Google Chrome web store but it mostly comes bundled through free downloads and places itself on a browser app unknowingly. When View Live News Promos virus infiltrates your PC and browser, you are very likely to start receiving an entire load of incoming advertisements that bring you misleading offers and deals, even fake prize claims, and scams. However, this is not the only thing that you will likely have to deal with when infected with this PUP. View Live News Promos can also initiate redirects to affiliate sources, start tracking your browsing sessions and online experience, sharing the collected details with other parties, modifying your browser apps on the homepage, new tab section, etc.
Name
View Live News Promos
Type/sub-type
Potentially unwanted program/adware app
Website
viewlivenews.co
Distribution
You can find the View Live News Promos extension for download on the Google Chrome web store. However, it most often comes bundled with other freeware and shareware that is downloaded from secondary sources
Activities
This app claims to provide live videos of the current ongoing news. However, it is known that after installation the extension starts loading users with intrusive advertisements and redirecting them to affiliate sources
Danger level
Even though this PUP is not considered to be as dangerous as ransomware or trojans, it still is interruptive, unpleasant, and might cause indirect harm. For example, if you are redirected to a potentially malicious website, there is a big chance that you will catch a malware infection there
Removal tip
If you have been dealing with this potentially unwanted program lately, you can get rid of it with the help of reliable antivirus products or by using our manual step-by-step guide that has been added to the end of this article
Fix software
If you have discovered any compromisation on your computer system and do not know how to fix it, we recommend trying a repair tool such as

Reimage

Reimage Cleaner

Intego
Since View Live News Promos is an adware app, it is not a secret that such potentially unwanted programs collect non-personal information based on the user's browsing experience, Internet history, and online activities. Usually, this type of data refers to visited websites, hyperlinks and adverts clicked, search query results, saved bookmarks, the user's IP address, geographic location, and web browser type.
In some cases, View Live News Promos might collect some more personal information such as contact details regarding the user's provided ones, e.g. mobile phone number, email address. So, be careful what you reveal to unknown developers as you might start receiving scams and misleading offers on your phone or by email. After all the mentioned data is collected, it is usually shared with other parties for monetary income even though the developers might try to state differently. However, even the Privacy Policy claims that the gathered information can be shared with others:
We may share your Information with our principals, employees, consultants, officers, directors, members, agents, subsidiaries, or affiliates, or our parent company and its principals, parent company, employees, officers, consultants, directors, members, agents, subsidiaries, or affiliates ("collectively, "Related Companies") to use such Information for the purposes described in this Privacy Policy.
However, data collection is only one feature from the View Live News Promos functionality and it is not the most common one. A very intrusive thing you will likely have to deal with when attacked by this adware is a never-ending flow of advertisements. These pop-ups might not seem to make a difference at first but, later on, you will start struggling to get rid of them and experience frequent browser struggles that will diminish your browsing quality.
Nevertheless, View Live News Promos adware will spam you with various bogus offers and deals that should not be taken for granted. You might get tricked into purchasing some useless computer utility or waste your money by subscribing to an unneeded service. Furthermore, the ads might try to convince you to participate in various scams such as fake prize claims where the developers might be able to swindle some of your personal, contact information.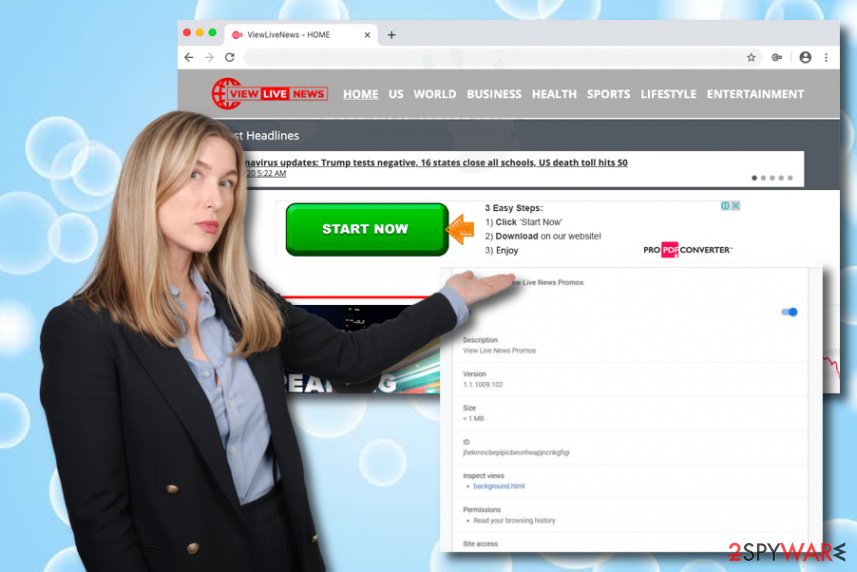 View Live News Promos – a bogus extension that can be downloaded from the official Google Chrome web store but usually arrives at computer systems through software bundling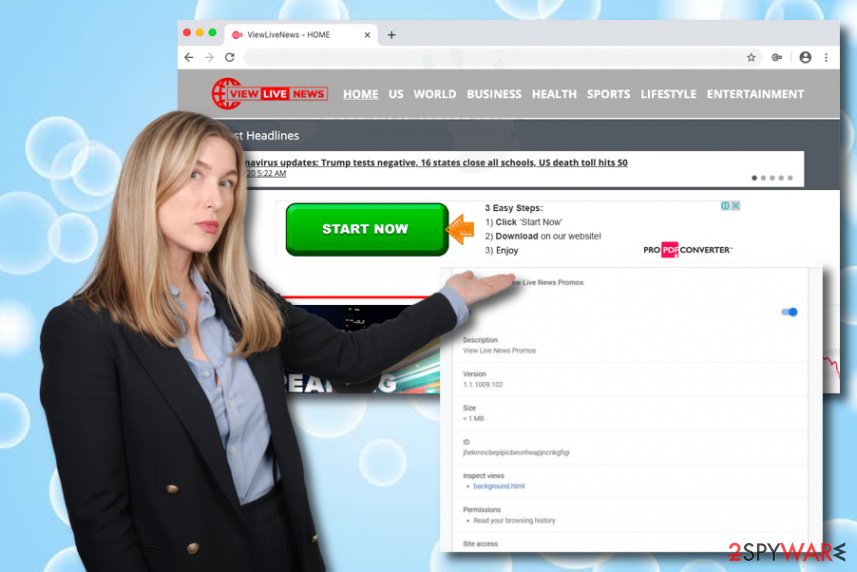 View Live News Promos – a bogus extension that can be downloaded from the official Google Chrome web store but usually arrives at computer systems through software bundling
If you do not know how to recognize ads that come from View Live News Promos, they will probably be marked as something like "Ads by View Live News Promos", "View Live News Promos advertisements", "Brought to you by View Live News Promos", Sponsored by View Live News Promos", "Ads powered by View Live News Promos". If you see any of these notifications, try to avoid clicking on them and start searching for adware traces on your PC.
View Live News Promos can make you deal with interruptive redirecting activities too. The main goal of such task is to take the user to affiliate domains where more sponsored material would be found. However, reroutes can also start slowing down your browsing sessions and might relate to landing on a potentially malicious location where you are very likely to catch a dangerous malware infection such as a ransomware virus, spyware,[2] or trojan.
The only way to stop all of the unwanted activities from reappearing on your computer screen is to remove View Live News Promos permanently. If you have been meeting ads from this app only occasionally, downloading an adblocking tool such as AdBlock[3] should do the trick and fix things. However, if this product is not helping, there probably is a potentially unwanted program hiding on your computer system that you should detect and terminate.
View Live News Promos removal can be completed in two ways. You can either get rid of the PUP with the help of antimalware software or terminate the app by using our step-by-step guidelines that have been added to the end of this article. Do not forget to clean web browser apps from suspicious extensions and other bogus content. Also, if your system has experienced any compromisation, try repairing the affected directories with a tool such as Reimage Reimage Cleaner Intego.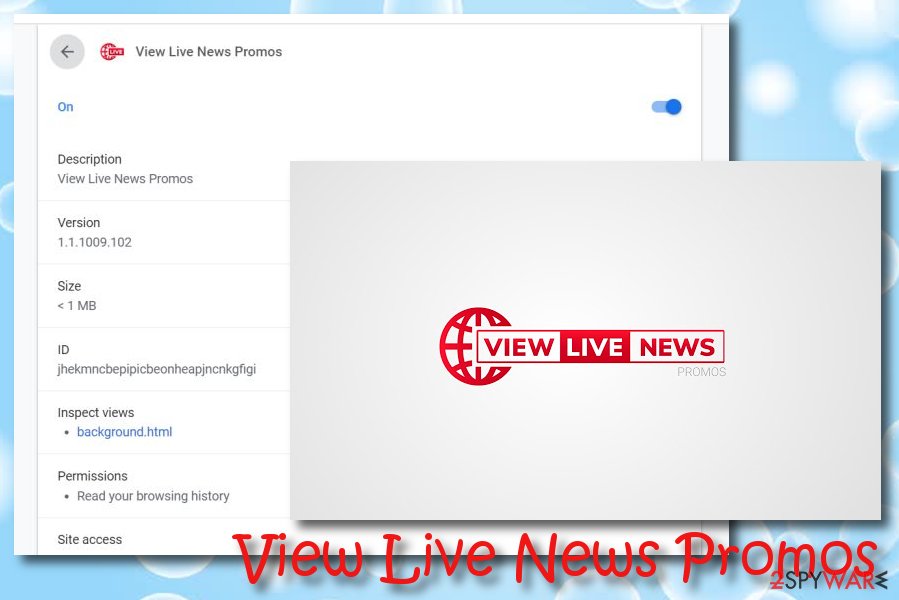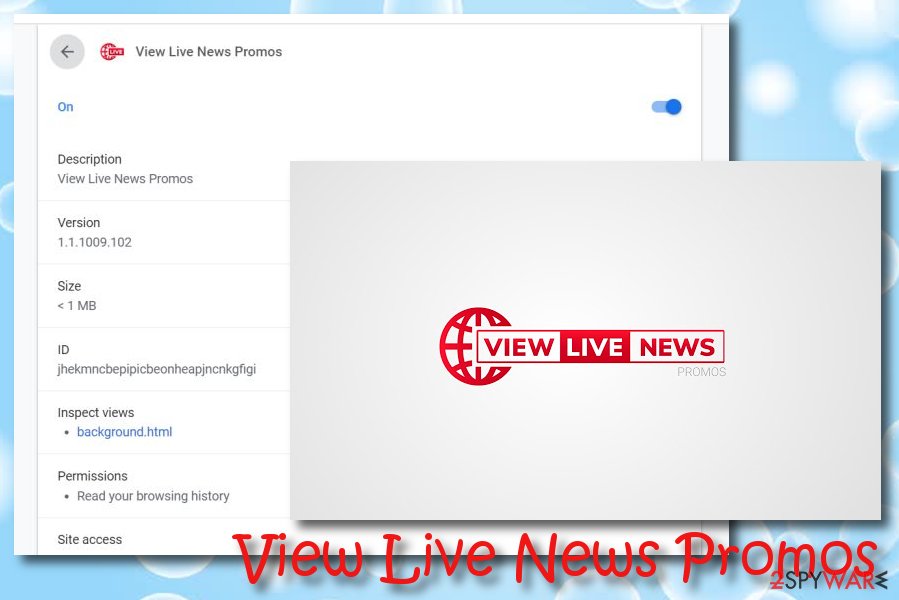 Learn about PUP distribution and take precautionary measures to avoid these threats
Cybersecurity experts from LosVirus.es[4] want to outline the importance of PUP prevention. Even though these threats are not as dangerous as real malware, they still pose some computer and privacy risks. To avoid all the activities that are related to adware and similar content, you have to learn about their distribution tactics first. Carefully read through and memorize the following adware spreading places:
Bundled software. If you are likely to download your wanted products and services from secondary websites such as softonic.com, cnet.com, and soft32.com, you are likely to receive an entire package of software that includes the potentially unwanted content.
Fake software updates. Some developers spread fake Adobe Flash Player updates as a way to install unwanted content on users' computer systems. The urge to upgrade usually pops out when you are visiting an unsafe and unreliable domain.
Infectious links and ads. There is a lot of third-party content lurking on unsecured webpages such as advertisements and hyperlinks that might aim to infect the user with a PUP once clicked on.
When you have read about adware distribution places, you are ready to learn how to avoid them. First of all, choose only reliable software installers and opt for the Custom downloading mode where you will be able to track all incoming downloads and deselect all of the checkmarks that are placed next to unknown content.
Furthermore, you should complete only those updates that you are sure about. If you have any concerns about a particular upgrade, you should go to the software's official website and check for released updates there. To continue, skip any unknown links, ads, and install an adblocking program to prevent misleading notifications.
Cleaning your PC from View Live News Promos virus and other suspicious content
If the adware app has been bothering you for some time, were are here to help you to get rid of it. You can complete a non-complex and fast View Live News Promos removal process by employing automatical software. These tools are programmed to help the user terminate the unwanted application within a few minutes of time.
However, if you think of yourself as an advanced computer user and you have the right skills for manual PUP removal, you can definitely try eliminating the unwanted app with the help of our below-provided step-by-step guides. Just remember that this task might take a little bit more time but you still can successfully remove View Live News Promos.
Also, do not forget that View Live News Promos virus can infiltrate your web browsers too. It can fill apps such as Google Chrome, Mozilla Firefox, Internet Explorer, Microsoft Edge, and Safari with unwanted extensions and changes. You have to get rid of every adware-related component, otherwise, the modifications might stay.
You may remove virus damage with a help of Reimage Reimage Cleaner Intego. SpyHunter 5Combo Cleaner and Malwarebytes are recommended to detect potentially unwanted programs and viruses with all their files and registry entries that are related to them.