Videovor.com ads – the program that should provide the service of video converting online but is related to shady advertisers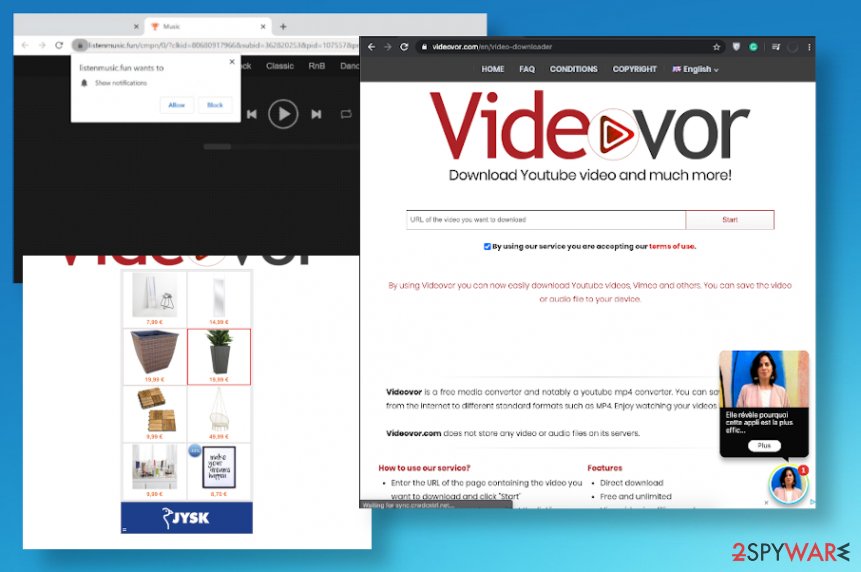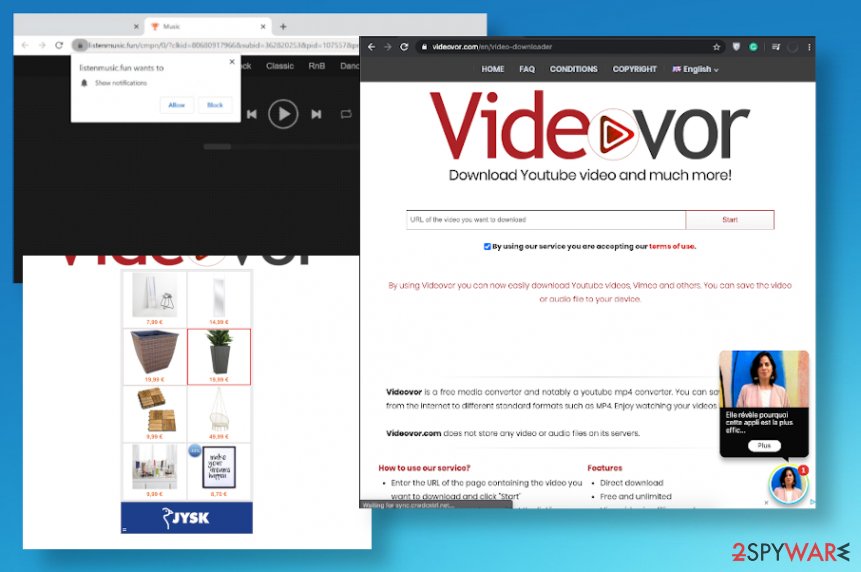 Videovor.com is the PUP related to ad-supported sites and commercial content creators that push their products and rely on revenue generation, online traffic redirects. This site provides you a service of downloading YouTube videos by uploading the link. However, when you want to download the video that has been converted, you need to click the button, but once that is done, redirects get triggered to shady sites, advertising services, and pages where revenue gets generated automatically from clicks and page visits. It is generally, illegal to download videos from such platforms as YouTube and other external websites. Besides this fact, rogue advertisements trigger unwanted installs of PUPs or even cyber threats, and possibly harmful content delivery.
Those rogue Videovor.com ads can lead to networks that try to trick users into clicking on ads, pop-ups, banners, and creating views, visits, and revenue. Pay-per-click[1] scheme is common for such an intruder that falls into the category of adware or general potentially unwanted programs. When you encounter redirects, pop-ups, and unwanted banners constantly, you should be aware that the PUA is most likely is installed on the machine and some of the web browser settings may be changed to keep the threat more persistent or trigger promotional material delivery to the screen. PUPs also are responsible for data tracking that can easily lead to privacy issues and even identity theft.[2]
Name
Videovor.com
Type
Adware/ Shady online video converter
Symptoms
Suspicious advertisements start appearing on the screen and banners or pop-ups injected on sites that normally do not have any commercial material. Redirects keep rerouting the traffic to questionable, or even possibly malicious domains, so you may get easily exposed to malware
Distribution
Freeware installations trigger the drop of PUPs, and other similar sites can redirect you to the suspicious domain
Damage
Potentially unwanted programs can track information about you and your browsing habits, preferences online. Also, anything related to third-parties is not controlled by the PUP developers, so you may get exposed to malware unknowingly
Elimination
Videovor.com ads removal should be performed using anti-malware tools, so the system is fully cleared from any threats
Repair
Machine gets affected when PUP manages to alter the system settings or functions. Rely on PC repair tools like

Reimage

Reimage Cleaner

Intego, so these alterations get repaired fully for you
Videovor.com ads start appearing on the screen soon after the initial adware infiltration. It may also go after particular changes in the settings of the web browser or the system itself. There are a few parts of the machine that PUPs can easily alter and ensure proper persistence. For example, the adware may trigger alterations on startup preferences or Windows Registry, so you may need to go through those settings and clear damage caused by the intruder by repairing system functions.
Videovor.com virus is the term that possibly gets used by users and victims to describe these symptoms caused by the shady adware. There are not many other names that could be used for the redirecting program because, in general, this is not a malware program or a harmful domain. The worst feature is the thrid-party involvement since web portals can often be occupied with malicious content.
Videovor.com ads and banners, redirects also trigger tracking features that allow shady services to access and collect details like IP addresses, most viewed or searched items, pages that you visit the most or settings of the web browser that are important. Often details about your social media activities can be accessed too, so data about your preferences, in regards to online advertisements, can be used to generate more personalized content.
You need to take the fact that third-party involvement is dangerous when you are dealing with Videovor.com ads and other symptoms of the adware, even other intruders and viruses. Due to the presence of this PUP you are exposed to annoying ads and pop-ups, push notifications that disrupt your time online, and keep from accessing the normal content on any pages.
Unfortunately, until you fully remove Videovor.com, there is no way to get rid of these pop-ups, banners, and reroutes to shady services or domains. Any traces of the program or changes made to particular settings can affect the behavior of your system and keep the machine affected for a while.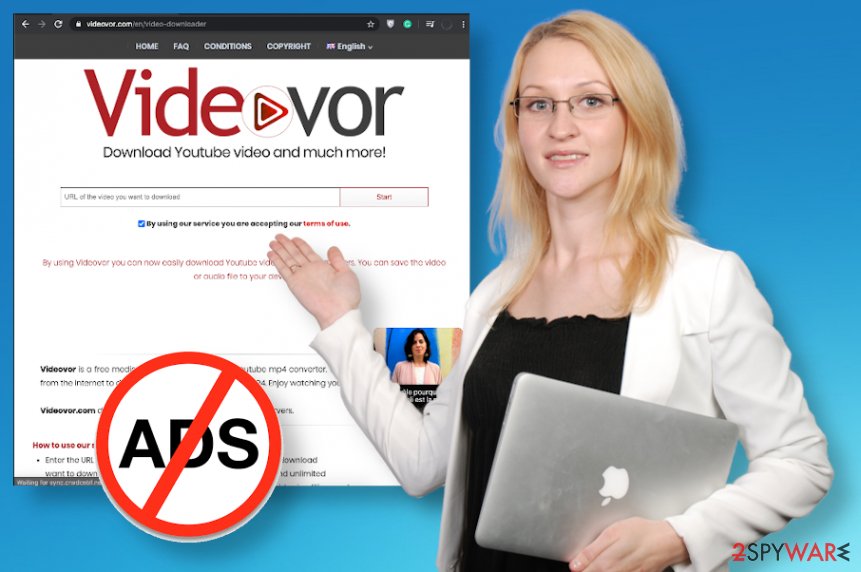 Videovor.com is a service that should help to get videos from the internet, but there are many issues regarding advertisements and pop-ups.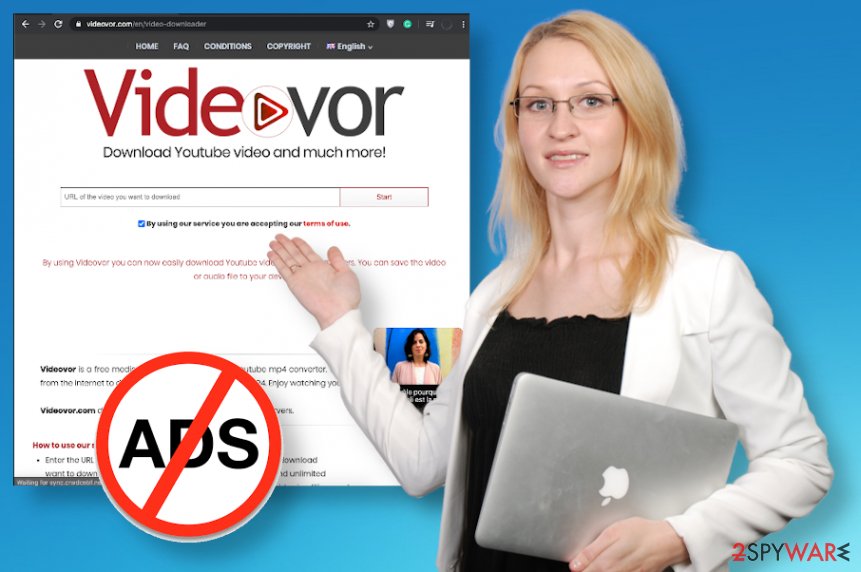 Videovor.com is a service that should help to get videos from the internet, but there are many issues regarding advertisements and pop-ups.
Videovor.com redirects to promotional sites, other ad-supported services, adware pages that trigger push notifications can appear on the screen for a long time. This is why these infections are annoying. PUPs come stealthy and can trigger all the activities without showing the program itself on the computer or in any application/ system file. This is the reason why it gets difficult to get rid of the PUP too.
To avoid any damage that malware can cause on the PC, you need to perform the Videovor.com removal as soon as possible. It is achievable when you run the automatic anti-malware tool, so it scans the system and finds all PUPs, or even silent malware that triggers damage in the background.
Videovor.com ads trigger redirects to PUA promotional sites that advertise, push, and distribute PUAs and other unwanted, possibly dangerous domains. Rogue pages can show pop-ups and browser windows with Allow or Agree forms that automatically make subscriptions to notifications, additional content, so you receive advertisements with foreign language information, news site redirects, and other material related to shady third-parties.
You should remember that anything downloaded from the internet can trigger issues with the system, make the difference in the general performance of the machine and lead to additional installations besides the Videovor.com PUP. Especially, when promotional pop-ups or banners show offers, deals and tries to trick you into purchasing or at least downloading anything it is a major red flag.
Avoid anything that is possibly related to Videovor.com ads virus or any other PUP, adware, a browser hijacker. You cannot know what happens after you click on the banner, button on the site, or the pop-up ad. Rely on professional security tools, anti-malware programs, and clean the machine. Then, make sure to recover or at least check for affected files, corrupted system functions with Reimage Reimage Cleaner Intego, as many experts[3] recommend.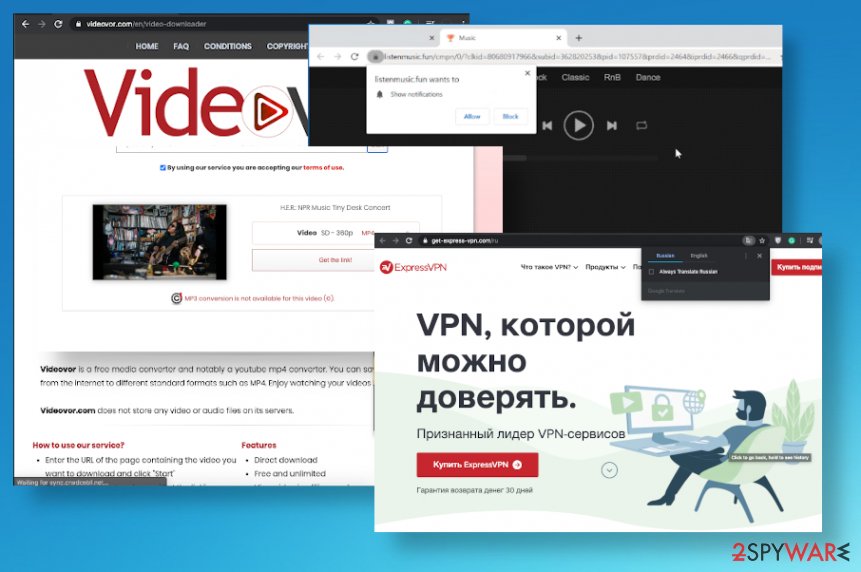 Videovor.com ads – content that continuously shows up on the screen when you want to access anything useful. This is why the PUP is considered intrusive and annoying.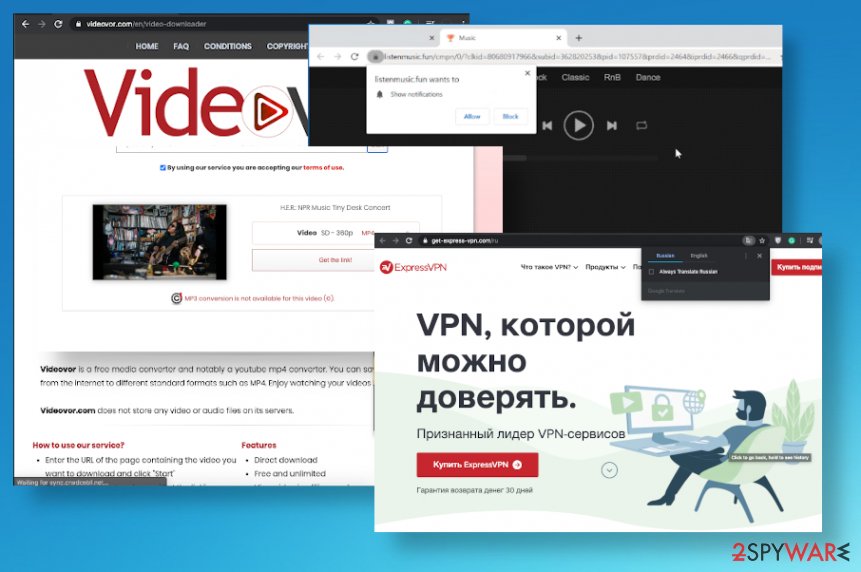 Videovor.com ads – content that continuously shows up on the screen when you want to access anything useful. This is why the PUP is considered intrusive and annoying.
PUP infiltration happens during freeware installations
These programs can infiltrate the machine when users visit deceptive sites or get exposed to possible dangerous material on the internet. However, the quickest way to spread these unwanted applications is to include them as additional parts of the software bundle. Once that is done the only thing PUP developers and distributors need is users' interaction.
It is achieved when promotional ads get clicked, and the person agrees to download the rogue tool or a program. Skipping through any steps during the process like this can also automatically allow all the installations included on the bundle that is pre-packed in advance.
You need to rely on Advanced or Custom options during the installation, at least. But the best thing to do is relying on official providers, creators of the software. When you get programs from App Store or the official distributor, a website that belongs to the initial company, you can trust the product or check Terms of Use or Privacy Policy yourself to be sure that there are no risks.
Make sure to terminate Videovor.com ads virus or any other PUP that triggers unwanted activities
You need to focus on Videovor.com ads removal as soon as you notice the suspicious activity and encounter the commercial material on the screen that keeps you from accessing the needed content. There is no need to keep browsing on these sites or even keep the PUP on the system since there is nothing valuable regarding this service.
Videovor.com virus, in general, is not the proper term for the potentially unwanted program, but when the adware is running in the background and creating all the changes in system settings, you may get extremely frustrated. It is completely normal, but besides being intrusive and annoying this PUP that causes ads is not malicious.
The best way to deal with the infection like this is to perform the Videovor.com ads removal procedure and clean the system by running a full system scan using a security tool or the proper anti-malware program. This procedure should also be followed by a system check using PC repair tool that finds affected or damaged functions and settings, so the registry is repaired, and other settings run smooth.
You may remove virus damage with a help of Reimage Reimage Cleaner Intego. SpyHunter 5Combo Cleaner and Malwarebytes are recommended to detect potentially unwanted programs and viruses with all their files and registry entries that are related to them.