TrickBot – a modular banking malware employed by criminals in different campaigns to steal sensitive data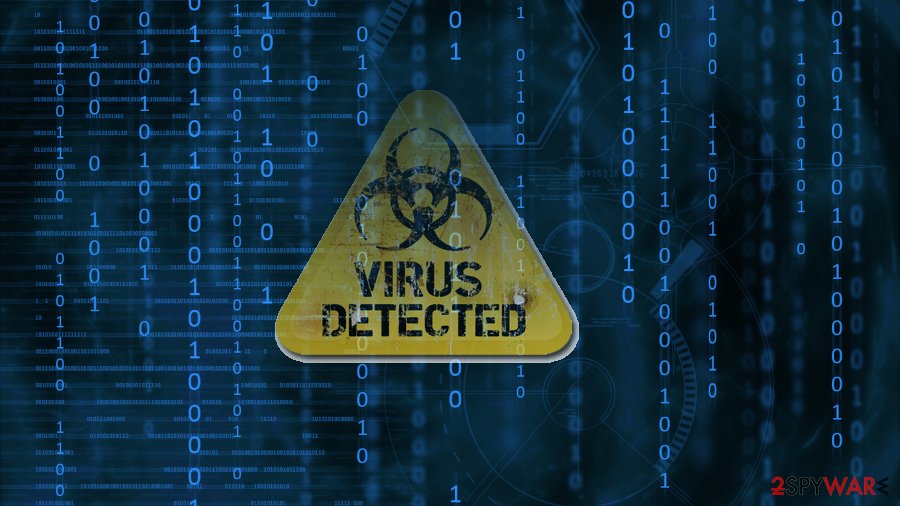 TrickBot – the infamous financial trojan that used by many cybercriminals' groups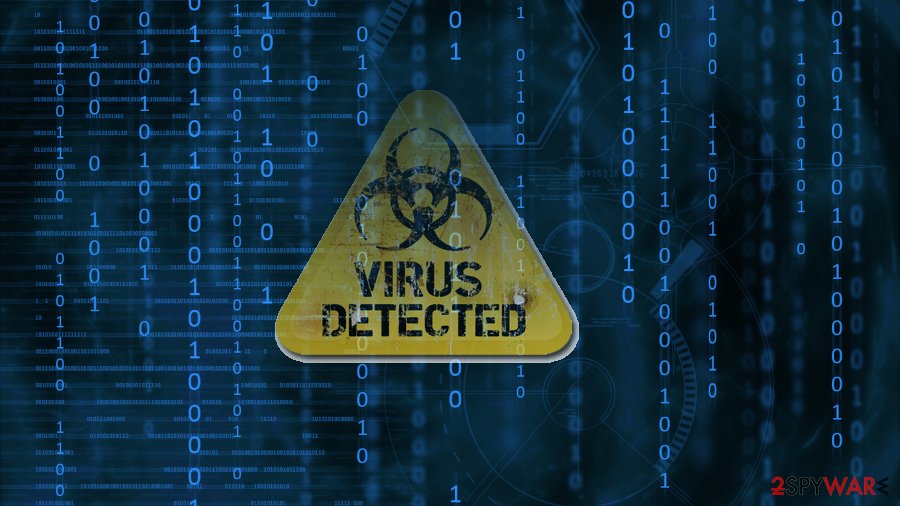 TrickBot – the infamous financial trojan that used by many cybercriminals' groups
TrickBot is a financial Trojan first discovered in 2016 and targeted customers of leading banks in the UK, US, Australia, and other countries. The virus is well-known for its ability to mimic online banking windows and steal personal information, such as log-in names and passwords, with the help of the post-exploitation tool Mimikatz. It is also capable of stealing information from Bitcoin wallets, acquiring access to email accounts and stealing network/system data to proliferate laterally. Additionally, the compromised system might start sending spam emails boobytrapped with Trickbot's payload.
Analysts revealed that this malicious program was invented and released to the cyberspace after cybercriminals noticed the significant success of Dyre trojan[1], and began using it as malware-as-a-service.TrickBot was actively performing attacks on CRMs (Customer relationship management) and Payment Processors, and over the years, has seen a variety of malspam campaigns.[2] In 2019, malware managed to hijack 250 million email accounts to increase its operations.[3] During the coronavirus pandemic, cybercriminals behind Trick bot virus employed medical advice and testing lures to make users click on attachments and execute malicious macro commands.[4]
Summary
Name
TrickBot
Also known as
Trojan.Trickbot.e, Trojan.Trickbot, Trojan:W32/Trickbot, and many others
Type
Banking Trojan
Distribution
Malspam, botnets
Operation principle
Malware-as-a-Service (MaaS)
Symptoms
Some users might experience increased CPU usage, inability to access certain websites, slowdown in computer response, errors, crashes, and similar. However, Trojans rarely exhibit any symptoms
Functionality

TrickBot possesses a wide array of capabilities:

Steals logins and passwords by mimicking online banking sites
Harvests Bitcoin wallet data
Hijacks email accounts to send malspam with the help of "TrickBooster" module
Downloads and installs other malware, such as Ryuk ransomware or Emotet stealer[5]
Updates itself with new features
Employs botnet-like capabilities
Uses EternalBlue exploit to spread laterally, etc.

Danger level
High. While the infection of malware remains the biggest threat to corporation networks and businesses, regular computer users can be victims as well
Associated risks
Companies and consumers might suffer significant financial losses, sensitive data compromise, identity theft, customer data exposure, and other devastating ramifications
Programming language
C++
First appearance
August 2016
Elimination
To get rid of malware, a network-wide scan with anti-malware should be initiated. In some cases, Safe Mode access might be needed – we provide the instructions below
System fix
Virus damage and system remediation can be performed with the help of

Reimage

Reimage Cleaner

Intego
Analysis revealed that this banking Trojan employs similar encryption techniques and hijack strategies as Dyre (alternatively known as Dyreza). Malware can bypass some security applications and infiltrates the system when users click on the malicious link or download a fake program.
After the invasion, TrickBot injects its malicious scripts and codes into banking websites. In other words, the cyber threat switches the original version of the site with its malignant substitute. In order to enforce this technique, C encryption language is used. In this regard, the newly detected Trick Bot malware also uses the improved version of the algorithm – C++.
What is more, the technique is supplemented with Microsoft CryptoAPI algorithm unlike AES and SHA256, previously employed by Dyre. Unlike the previous version of the virus, Trojan.TrickBot executes COM and TaskScheduler commands to maintain the computer under control.
The first campaigns were targeted Australian banks only. However, on April 2017 TrickBot Trojan has been spotted attacking banks in The United States, Canada, United Kingdom, Ireland, Germany, France, Switzerland, and New Zealand.[6]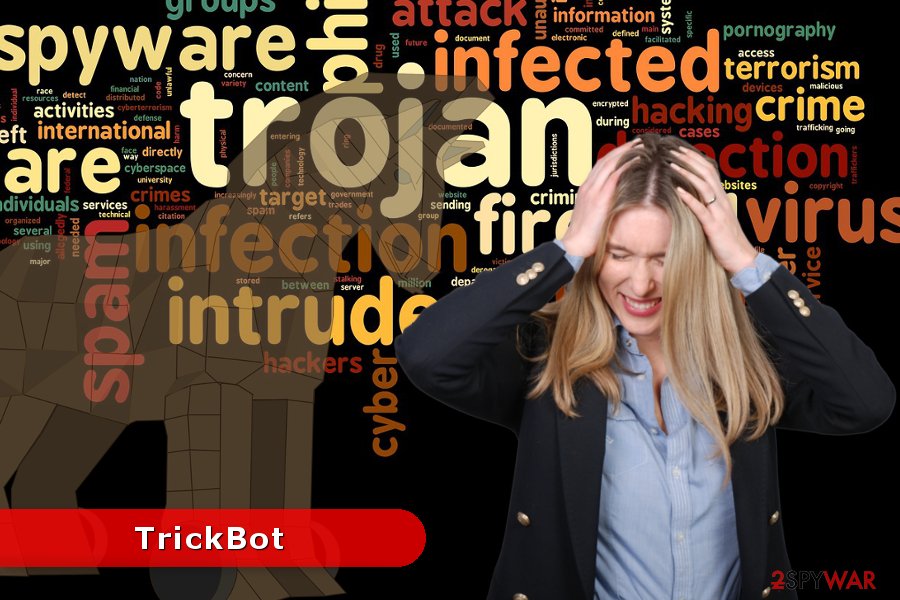 TrickBot is a banking Trojan that targets financial institutions in the entire world.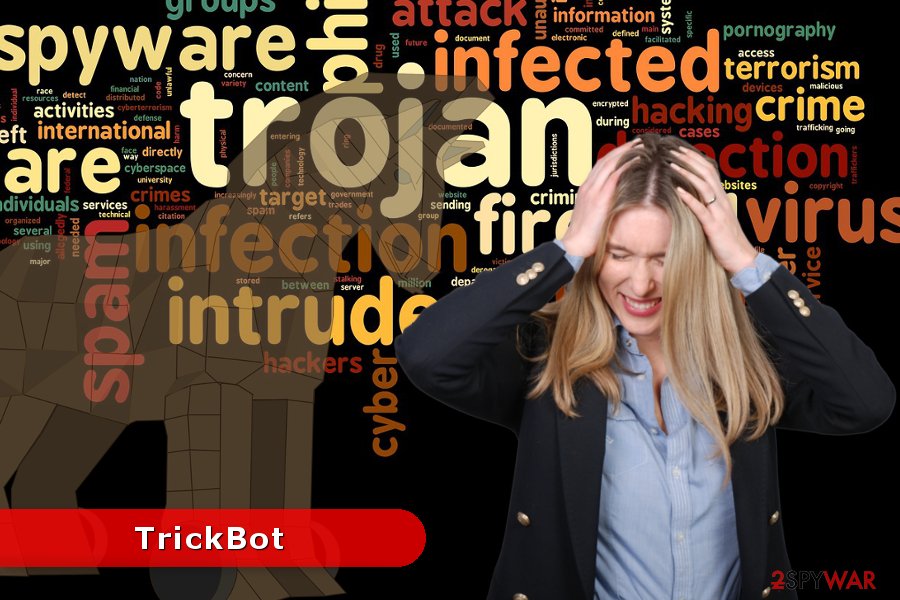 TrickBot is a banking Trojan that targets financial institutions in the entire world.
While TrickBot Trojan mainly targets corporate networks and businesses, regular users might encounter it as well. In case of the attack, you need to run a full system scan with a reputable malware removal program, such as SpyHunter 5Combo Cleaner or Malwarebytes. It will help to remove TrickBot from the system entirely.
Due to excessive malware's capabilities, systems that the infection occurred on might struggle to operate properly, even after TrickBot removal. In such a case, the affected machines can be remediated with the help of repair tool Reimage Reimage Cleaner Intego.
Fake Lloyd's bank emails help to distribute Trick Bot
Experts have recently spotted a new way which was employed to distribute TrickBot trojan. The malware was spreading inside the email letters from fake Lloyds Bank[7]. It was disguised as an attachment holding confidential account documents. Note that official Lloyds Bank is not related to this malspam campaign in any way, except that its name was used for malevolent purposes.
Victims report receiving an email from <[email protected]> on December 6, 2017, which contained Protected32.doc attachments. Obviously, the letter was designed to look extremely genuine and has convinced many people to believe its legitimacy.
The email briefly explained to the recipients that it is an automatically sent message which does not require a reply. It simply encouraged the gullible people to check the attachment and included the following instructions:
To unlock/view your documents, follow the instructions below.

1. Look for an attachment (Protected.doc) ( typically at the top or bottom; location varies by email service).
2. Your Authorization code is: 430SJAOPS982XXS.
3. Enter the authorization code when prompted.
Remember, that you should not open any email attachments which look suspicious or unrelated to you. We want to remind you about the previous techniques which hackers used to spread TrickBot malware. The hackers have tried to employ a similar malspam campaign in June 2017 which was almost identical to the one spreading Jaff ransomware.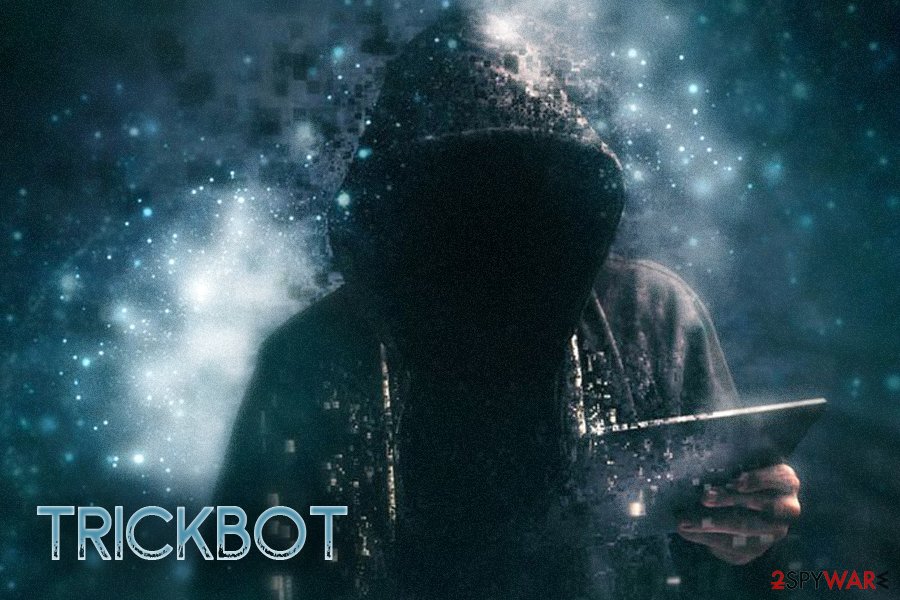 Cybercriminals collaborate to create persistent and even more dangerous malware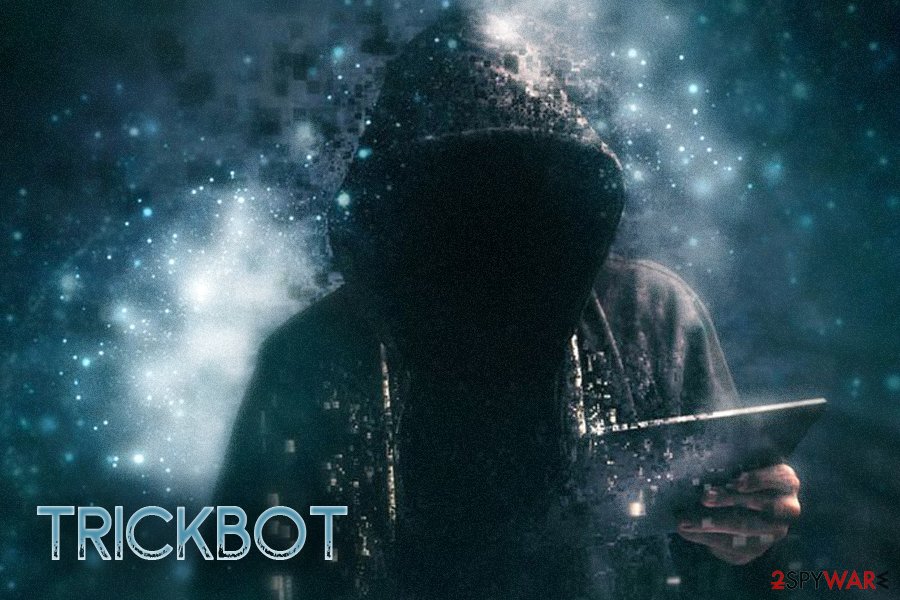 Cybercriminals collaborate to create persistent and even more dangerous malware
Cybercriminals used social engineering techniques to trick users into opening a malicious email attachment. They included an obfuscated PDF file that opens a Word document. This file asked to enable macro command in order to see the content. Clicking "Enable Macros" button executes Trojan on the system. New victims of TrickBot were banks in India, Singapore, Netherlands, and Bulgaria. [8]
However, financial institutions were not the only ones who have been suffering from TrickBot Trojan. Now it is also targeting two Customer Relationship Manager (CRM) SaaS providers and PayPal users. In May security researchers discovered two malware distribution campaigns that targeted 210 URLs.
Latest TrickBot's appearances
TrickBot's update came in March 2018, when hackers improved the code by making its detection and defense more complicated. It has also been utilized to provide screen-locking capabilities, working similarly to ransomware. However, it seems that this aspect of the virus is not fully developed yet, as the module that is meant to encrypt files does not accomplish its goal.
In May same year, security researchers[9] noted a collaboration of two viruses – TrickBot and IcedID. While most Trojans would usually remove previously installed malware, authors of these malicious threats decided to work together and share profits. Apparently, computers infected with IcedID were also injected with TrickBot, making the operation of malware much more efficient.
In June 2018,[10] TrickBot targeted UK citizens, sending them spoofing HM Revenue & Customs emails, which claimed that there is an outstanding amount of money that victims need to pay back. Users were then prompted to click on a malicious link or on the attachment, which delivered TrickBot malware.
In 2019, Trickbot was seen in several campaigns that were also infecting users with such threats as Ryuk ransomware or Emotet. In summer, more than 250 million email accounts were compromised by the malware, sending out malspam to other targets worldwide. Additionally, security experts also noticed several updates to TrickBot during 2019, including its "TrichBooster" module that allows the exploitation of SMB (Server Message Block) vulnerability in order to send spam and avoid detection from deleting sent emails from the outbox.[11]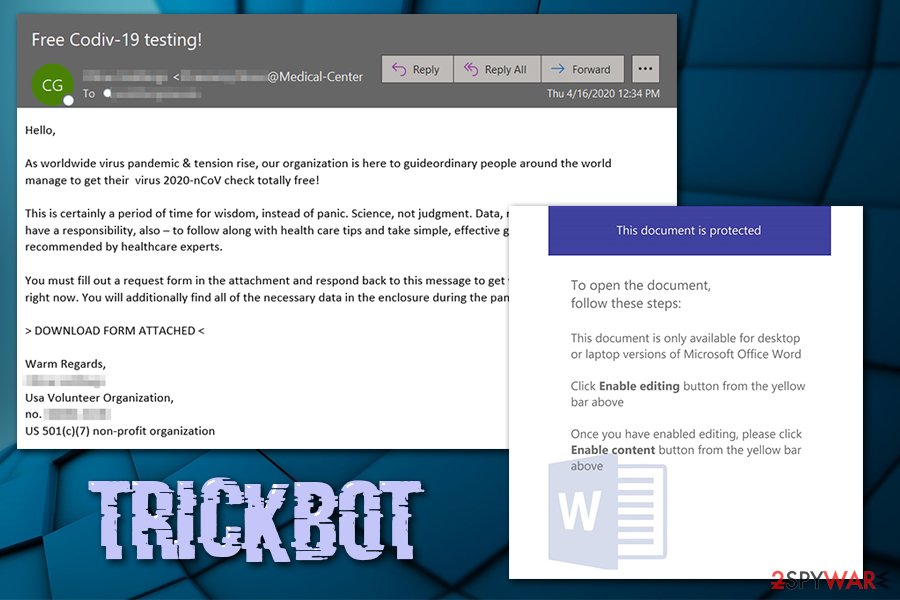 During COVID-19 pandemic, hackers behind TrickBot launched a new campaign that tries to abuse fears and anxiety surround coronavirus.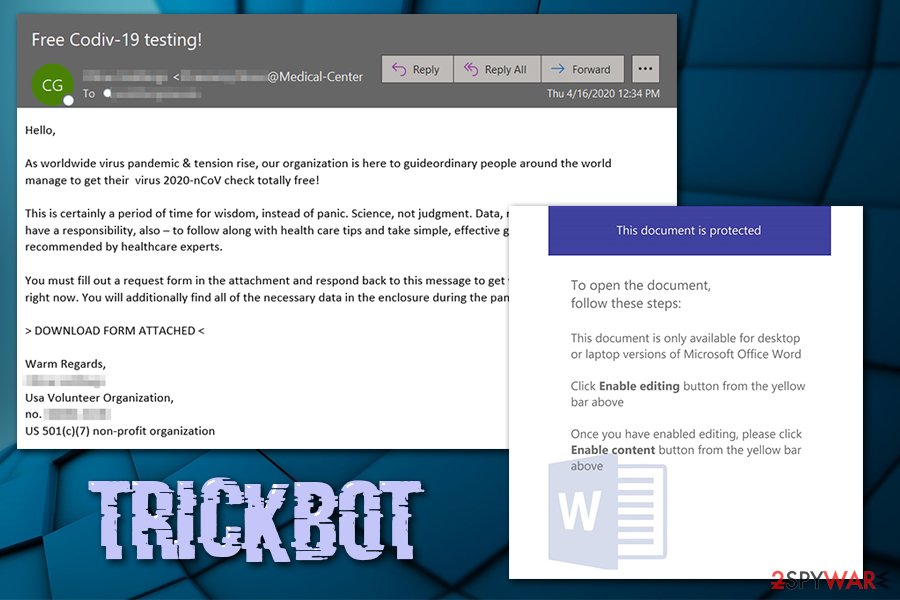 During COVID-19 pandemic, hackers behind TrickBot launched a new campaign that tries to abuse fears and anxiety surround coronavirus.
During the 2020 COVID-19 pandemic, TrickBot was also employed in malicious coronavirus-themed spam emails, where the attackers use WHO (World Health Organization) and other entities. Security experts are warning organizations that more variations of phishing emails are targeting companies and businesses with TrickBot and other malware:[12]
Attacks/campaigns using COVID-themed lures has continued to increase over the last week. We continue to observe increasing amounts of malicious messages and websites preying on the fear and uncertainty around the pandemic.
Trojan has mostly been spread via phishing emails
Experts have detected that phishing emails are still the primary distribution method used by hackers to infiltrate TrickBo[13]. They might disguise under genuine looking PDF or DOC documents and contain Invoice or Private Details subject line. People are easily tricked to open malicious attachments since criminals imitate well-known companies.
Malware also aims at PayPal users. Thus, if you receive an email from PayPal about suspicious activities in your account or reporting about other problems, you should login into their website directly instead of clicking provided links or attached documents.
The crooks develop different techniques to access personal information. Thus, such emails are usually very convincing. Do not fall into their trap even if they ask you to review suspicious invoice documents or tax reports.
Furthermore, the Trojan can attach itself to a free application. So you should give it a second thought before installing even a new media player. The latter often happens to be the carrier of more malicious cyber threats. By exercising additional caution, you will reduce the probability of TrickBot hijack.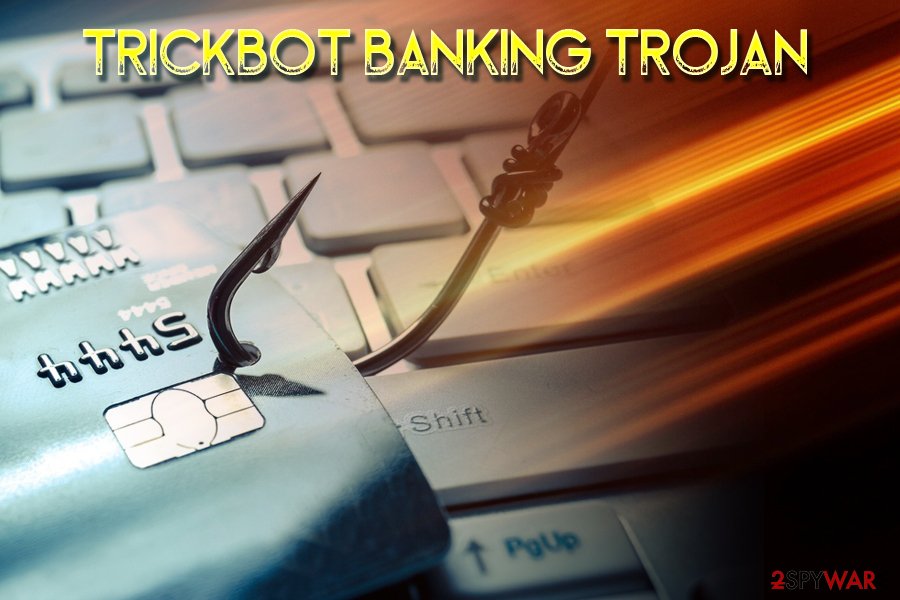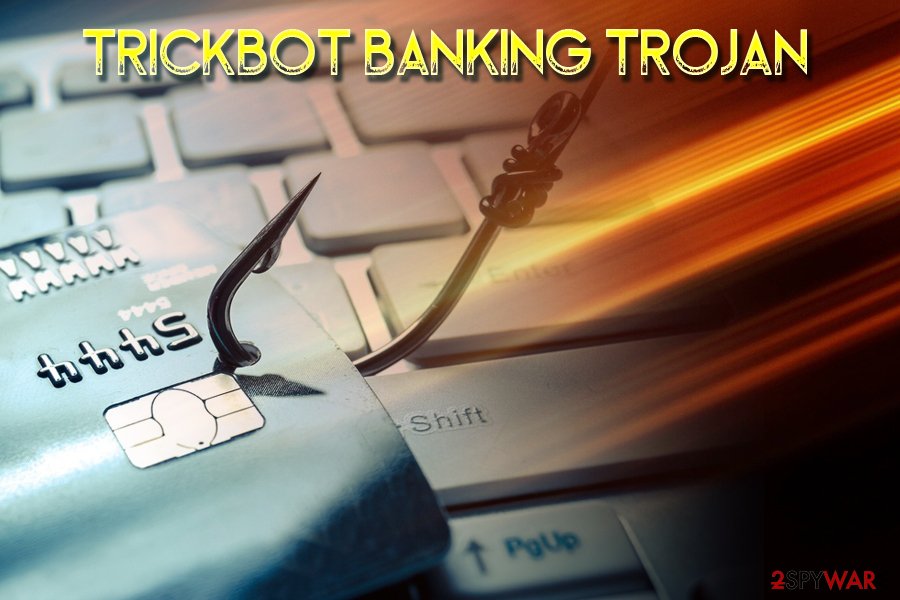 Terminate TrickBot virus using trusted security software
The only way to clean your system from Trojan horse is to employ a reliable security software for TrickBot removal. This malicious program has the ability to imitate legitimate computer processes or files.
Therefore, trying to find and eliminate all malware-related files from the computer is a difficult and complicated task that might lead to irreparable damage to the system.
We highly recommend installing powerful anti-malware software and running a full system scan. In case the malware managed to affect the whole network or a server, appropriate scans should be executed. We want to remind you that you have to remove TrickBot immediately because this data-stealing trojan might lead to money loss and other serious privacy-related issues.
It is also important to change all the server/system-related passwords and tokens (if such were used) in order to avoid future compromise.
This entry was posted on 2020-05-04 at 06:48 and is filed under Trojans, Viruses.