Theappsparty.net is a rogue search engine that rendered sponsored Yahoo search to promote affiliate websites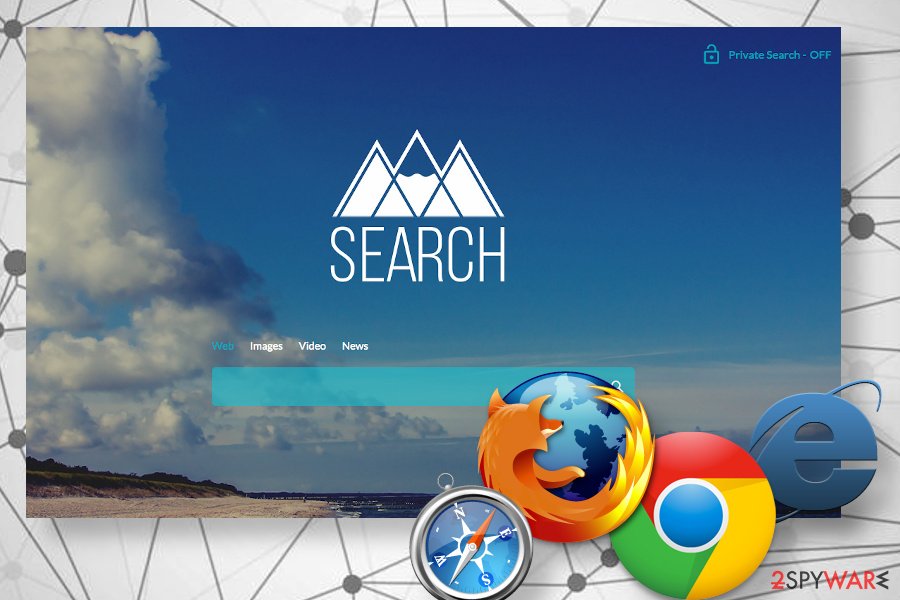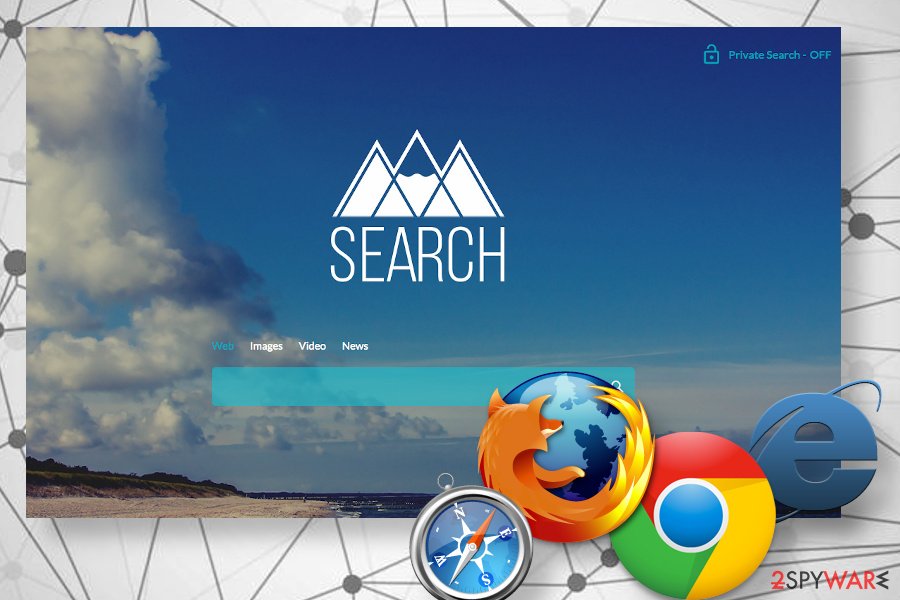 Theappsparty.net is a potentially unwanted application (PUA)[1] that is infamous for aggressive modifications of the web browser's settings. It is also dubbed as a browser hijacker as it can change the start page, search provider, and a new tab window without asking for the user's permission. Usually, it is distributed in one pack with freeware and, since the user is not directly warned about the bundle, the theappsparty.net extension gets installed by default.
Although referring to this site as theappsparty.net virus is not appropriate, the potential risks that it poses should not be underestimated. The search may be involved in affiliate marketing, meaning that its main goal is to redirect people to the domains of its sponsors and generate pay-per-click revenue[2] from advertising.
In short, people who get tricked by this PUA start experiencing unpleasant activities within the web browser. An attempt to open any preferred website end up with theappsparty.net redirects to Yahoo search or other unwanted domains. Random sites exhibit many ads, pop-ups, banners, and in-text links that once clicked reroute you to potentially dangerous websites, rogue online surveys, and other potentially dangerous content.
Name
Theappsparty.net
Category
Browser hijacker / Potentially Unwanted Application (PUA)
Distribution
The malware spreads bundled with freeware and shareware via third-party download websites
Targeted OS
Windows and Mac OS
Symptoms
Altered start page, search engine, new tab window, toolbars. Besides, it may be the culprit of an excessive amount of ads, and regular redirects to theappsparty.net related websites
Risks
The search site is not dangerous as such. However, the content that it is programmed to deliver may be potentially dangerous, i.e. promote malware, display rogue prize giveaways, or reroute to phishing sites
Affected web browsers
This search site can settle on any web browser, including but not limited to Google Chrome, Mozilla Firefox, Internet Explorer, Safari, Microsoft Edge, etc.
Removal options
You can select to eliminate this browser hijacker with the help of a professional AV program or follow the step-by-step tutorial submitted by our technicians. You can find the instructions down below this post
Optimization
The optimization process is an imminent procedure after a malware attack. Programs like adware or hijacker tend to affect system files and registries leading to intrusive error messages. To prevent that, use a tool like

Reimage

Reimage Cleaner

Intego
Advertising marketing is vast. Third-parties get affiliated with an intention to promote their products and services and sometimes don't mind the techniques used for advertising. Therefore, if you got stuck with Theappsparty.net redirects, contacting the people behind the [email protected] is a waste because all they seek is to receive their revenue.
Besides, the developers of the theappsparty.net virus hurry to prevent themselves from being accused of potentially dangerous activities and include suchlike statements on their End User License Agreement:[3]
Links to Other Web Sites

Our Site includes links to other Web sites whose privacy practices may differ from those of theappsparty.net. If you submit Personal Information to any of those sites, your information is governed by their privacy statements. We encourage you to carefully read the privacy statement of any Web site you visit.
In other words, they reject responsibility that people are forced to visit by theappsparty.net redirects. They do not check or monitor the content that their sponsors seek to promote, so no one can guarantee that landing on the suspicious third-party website you won't be tricked into downloading malware or a malicious ransomware virus.
Apart from redirects, theappsparty.net hijack poses difficulties in terms of removal. In order to help itself in keeping persistent, the malware initiates the following alterations on settings:
replaces start page to theappsparty.net (simple search with an appealing background image)
alter homepage and new tab window
installs extensions
inserts tracking cookies to collect search queries, IP address, geolocation, and similar information
sets web browser to display commercial content on random websites
commands the search to redirect to the sponsored https://search.yahoo.com/ search site
installs related keys in Windows registries
can be downloaded with other malware programs
diminish PC's performance
causes the web browser's freezes, etc.
Therefore, even though programs like theappsparty.net virus cannot steal user's credentials, encrypt files, take screenshots, remotely connect to C2 servers or perform other highly dangerous tasks, they pose a potential danger of redirects to malicious domains where you can get a really malicious cyber infection. Besides, browser hijackers are intrusive due to advertising campaigns and can cause an extremely negative browsing experience.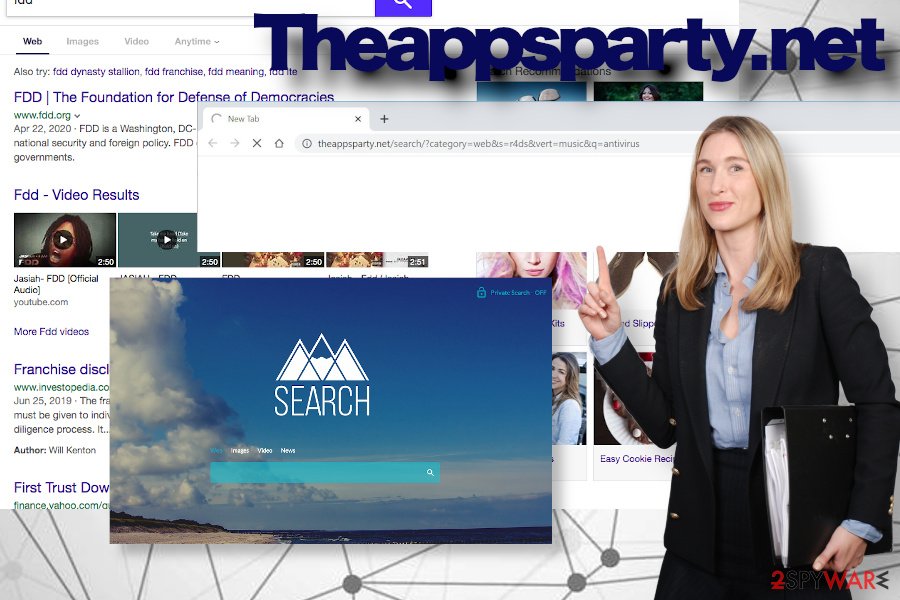 Theappsparty.net is a misleading search site that can replace web browser's settings in order to display sponsored search results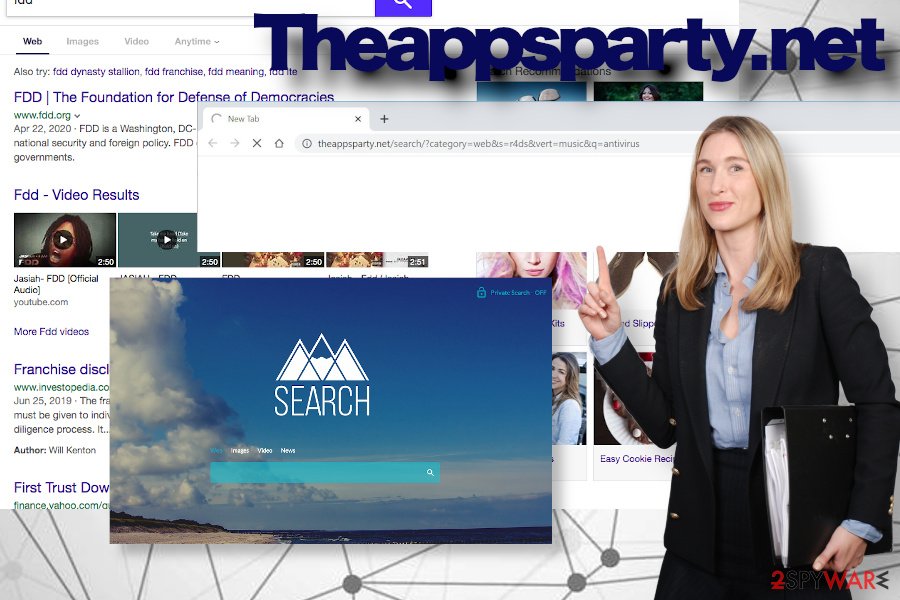 Theappsparty.net is a misleading search site that can replace web browser's settings in order to display sponsored search results
Theappsparty.net removal is the thing that you should start thinking as soon as your web browser gets hijacked. Do not postpone the elimination of programs that stealthily infiltrate your PC because they may initiate potentially dangerous activities behind your bank. Besides, scan the system with a professional optimization tool, such as Reimage Reimage Cleaner Intego once PUA is removed to recover the system to the previous state.
Shady websites are not recommended visiting due to possible malware installers
PUPs, namely adware and browser hijacker, are seldom installed by users' choice. Usually, they get installed without being noticed via software bundles, deceptive third-party websites, or freeware installers with pre-selected malware entries. Third-party download websites contain many popular freeware programs that have add-ons or extensions as pre-selected attachments, so people download freeware consciously without realizing that it has additional features.
However, third-party download sources are not the only place to get malware. Often well-known applications distributed on reputable sources, including official websites can have unwanted applications aside or misleading ads may trick into downloading unwanted tools without realizing that. No matter how a PUPs manage to get installed, it is important for you to know what precautionary measures you can take to avoid suchlike infiltration. Experts from losvirus.es[4] claim that these measures would help to avoid PUPs in many cases:
Try to stick to the most reputable freeware download sources;
Read the comment section of the app that you have selected for download and make research on it online;
Select the Advanced or Custom option during any installation. Keep in mind that Express or Quick option automatically gives permission for additional apps to get installed without notifying you in an explicit way;
De-select all extensions, add-ons, toolbars, and whatnot appended to freeware because such tools are usually used for advertising and marketing purposes.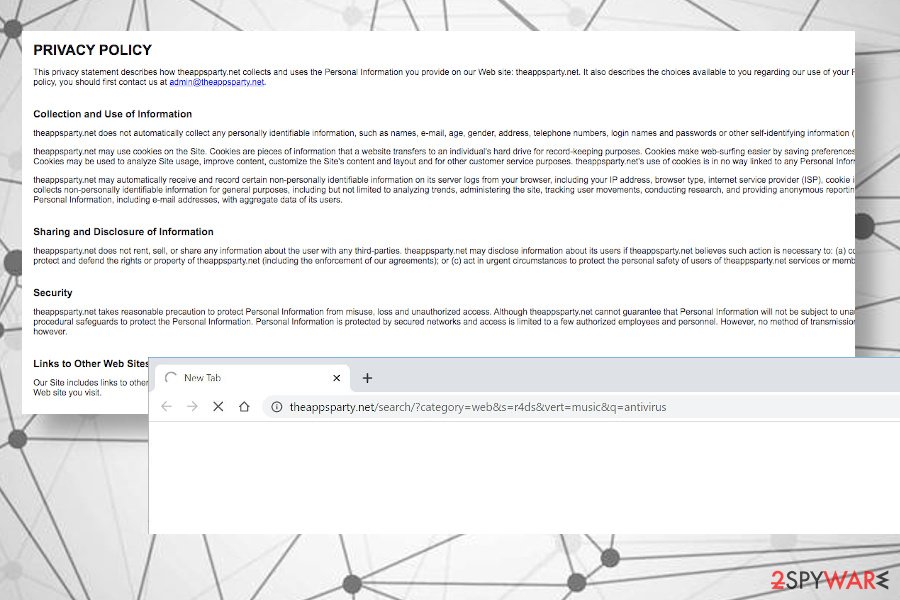 Theappsparty.net virus uses tracking cookies and other material that can collect some pieces of PII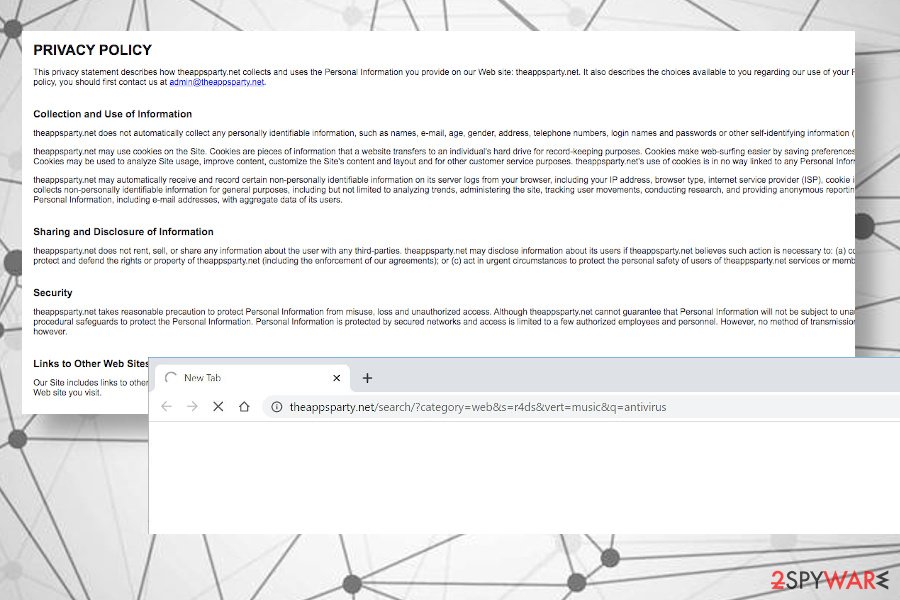 Theappsparty.net virus uses tracking cookies and other material that can collect some pieces of PII
Get rid of Theappsparty.net virus from the system to prevent damage
Since browser hijackers alter various settings both on the web browser and the system itself, you have to remove Theappsparty.net as soon as possible, to prevent any damage that it may trigger. Continuous redirects to questionable websites, tricky ads on random websites, and data harvesting cookies are just a few examples of the symptoms when having a browser hijacked.
Those who do not think of Theappsparty.net removal may start noticing additional symptoms when browsing the internet, for example, the type of ads displayed may get more aggressive (various rogue online surveys, phishing websites, x-rated domains, etc.). Consequently, you may get tricked into installing additional malware on the system, thus affecting PC's performance, web browsing experience, and expose your PC in real danger.
It is possible to remove Theappsparty.net virus with a tool like Malwarebytes or SpyHunter 5Combo Cleaner. Both programs are powerful to deal with malicious cyber infections, so malware elimination is not a big deal. Automatic malware elimination is recommended to make sure that all potentially dangerous programs have successfully been removed.
Nevertheless, you can also opt for manual Theappsparty.net removal. The guide submitted below can help you. The first thing you should do is to remove the malware. After that, restore your web browser's settings by disabling extensions or resetting the default settings. Finally, optimize the system with Reimage Reimage Cleaner Intego to fix any damage that malware initiated to the system directly.
You may remove virus damage with a help of Reimage Reimage Cleaner Intego. SpyHunter 5Combo Cleaner and Malwarebytes are recommended to detect potentially unwanted programs and viruses with all their files and registry entries that are related to them.