SysWOW64 is a legitimate file used for handling 32-bit programs on 64-bit Windows version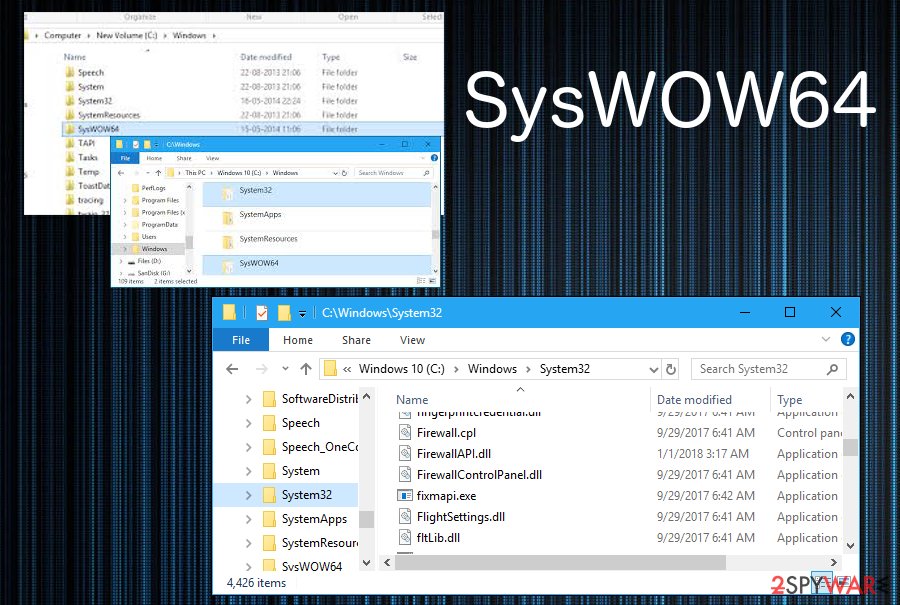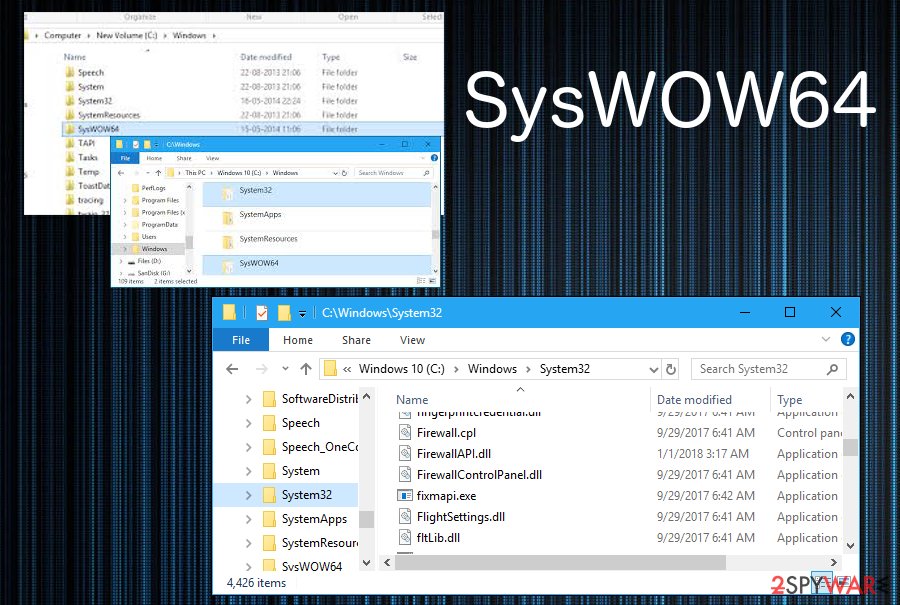 SysWOW64 is NOT a virus. It is a legitimate folder filled with system files and used to make the use of 32-bit programs on Windows 64-bit version possible. This process goes along with System32 Microsoft Windows directory which is responsible for managing 64-bit files. The main reason why users have been calling SysWOW64 virus because sometimes it takes lots of system's memory (40 GB or so).[1] However, we do NOT recommend removing this folder from the system because that's why you can run 32-bit applications on 64-bit Windows version. If you have serious doubts about this folder, make sure you double check your computer system with reliable anti-spyware to see what is hiding on it. There is a chance that malware developers decided to misuse SysWOW64's name to hide their malware, e.g. crypto miners,[2] on the system.
Name
SysWOW64
Type
Library directory
Belongs to
Microsoft Windows operating system
related files and folders
System32, cmd.exe, odbcad32.exe, Svchost.exe
Causes attention because
Sometimes takes up a generous amount of system's resources
Can be found on
Windows Vista, Windows 7, 8, 8.1, and Windows 10
misused for
Malware developers might find this file name useful to hide malicious programs such as cryptocurrency miners
Problem fix
Use

Reimage

Reimage Cleaner

for general system check if you're not sure whether SysWOW64 is related to malware or not
In short, the main purpose of SysWOW64 subsystem is to create a 32-bit environment that helps 32-bit applications run on 64-bit Windows without modifying anything. It contains .dll and .exe files that are pointed to needed directions without user's interruption. For this procedure, Windows is using file system redirector.[3]
WOW64 uses several DLLs to implement various features:
wow64.dll – the core interface that translates between 32-bit and 64-bit calls;
wow64win.dll – provides entry-points for applications;
wow64cpu.dll – helps to switch the process from 32-bit to 64-bit mode.
However, as we have already mentioned, people tend to complain about the size of the SysWOW64 folder. While in most of the cases it takes only a few gigabytes of the PC's memory, several users have complained that C:\Windows\SysWOW64 is up to 40GB. As a result, the computer can start running slow or sometimes even crash down.
There is a possibility that malware developers have misused the name of this system's component to help their malware to stay undetected. However, a full system scan with a reliable anti-spyware or anti-virus program will help you determine the real intentions of this component. However, you should NOT remove SysWOW64 from the system if a full system scan with Reimage Reimage Cleaner or another security software claims that there is no malware on the system.
SysWOW64 removal might be dangerous for the system's normal functionality since this is a legitimate folder used by the Windows operating system. If the scan comes up with a list of viruses, take care of them at first, reboot your computer and check your computer's state. If you can still find this folder after letting the anti-virus take care of malware hiding on your computer, you can be sure that it is safe.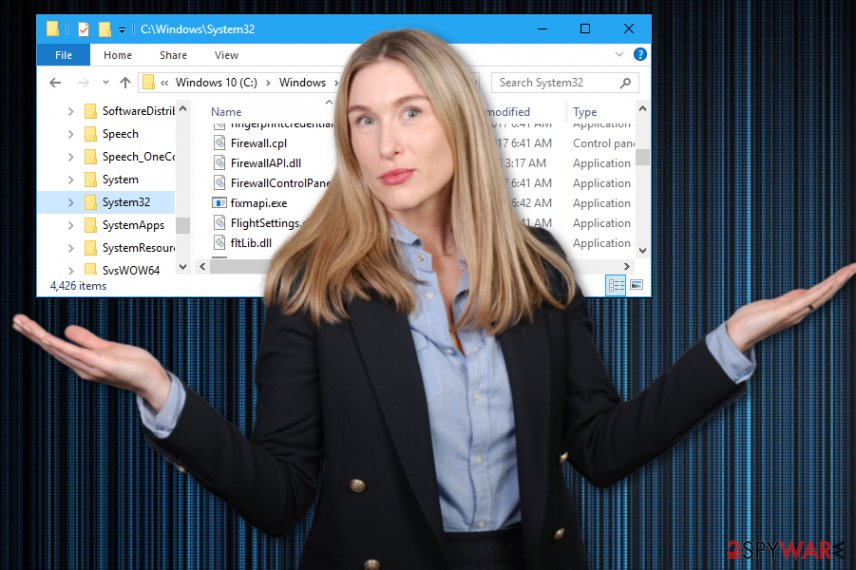 SysWOW64 is a process that runs on Windows and is legitimate, so cannot be easily deleted. But you need to examine the folder and process further if you have CPU or memory issues because of it.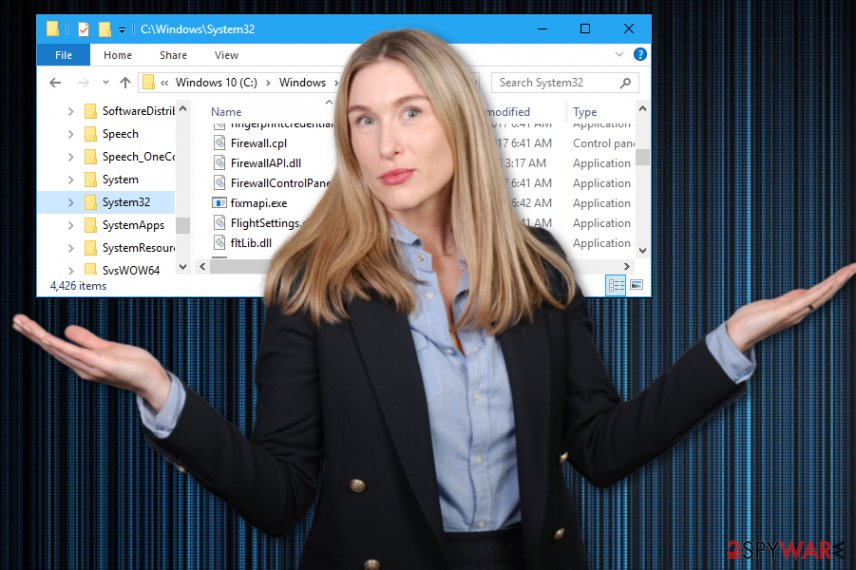 SysWOW64 is a process that runs on Windows and is legitimate, so cannot be easily deleted. But you need to examine the folder and process further if you have CPU or memory issues because of it.
Usually, Trojan horses are one of the most common malware forms that are distributed throughout original-looking files. If such infection has been misusing the name of SysWOW64, be aware that you might experience some unexpected changes in your computer system such as other rogue processes running, system and software sluggishness, etc.
Furthermore, if its SysWOW64 virus that has been bothering you lately, you will supposedly experience high usage of your5 system resources. For example, when a crypto mining trojan is working on the infected machine, the CPU[4] level might go over even 90% of its power level. This might be disruptive for the computer and software in it.
Nevertheless, malicious programs such as SysWOW64 virus might cause even more damage and losses. For example, if there is ransomware hiding under this folder name, then be ready to face file encryption and ransom demands. Also, many types of malware are capable of overrunning all security systems and software on the targeted PC/laptop.
However, identification of SysWOW64 is always necessary as this folder might not be the cause of all of your troubles after all. You should investigate the entire system before taking any actions towards the removal. If anti-malware says that this file is malicious and if you see two of the same processes running in the task manager, then you should put the elimination process of SysWOW64 folder as your first priority.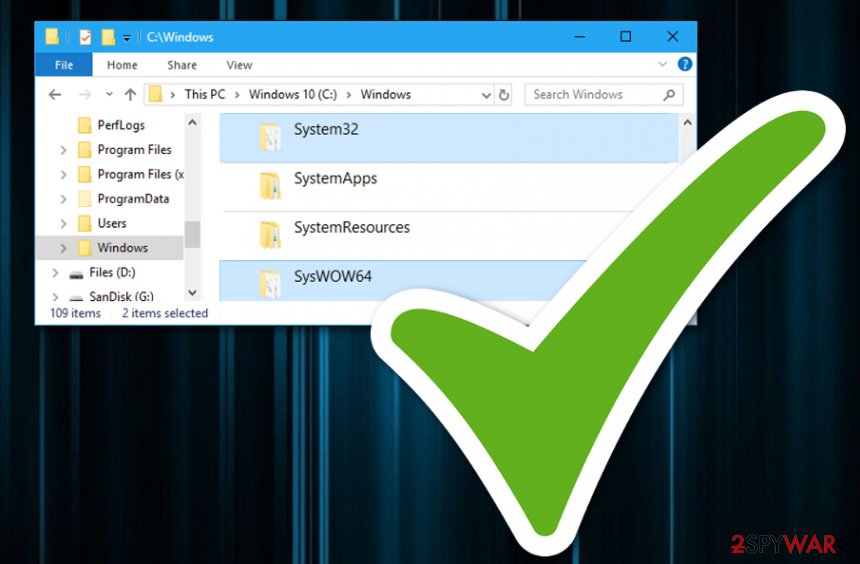 SysWOW64 is a non-harmful system file, however, if compromised, it might be misused to hide dangerous malware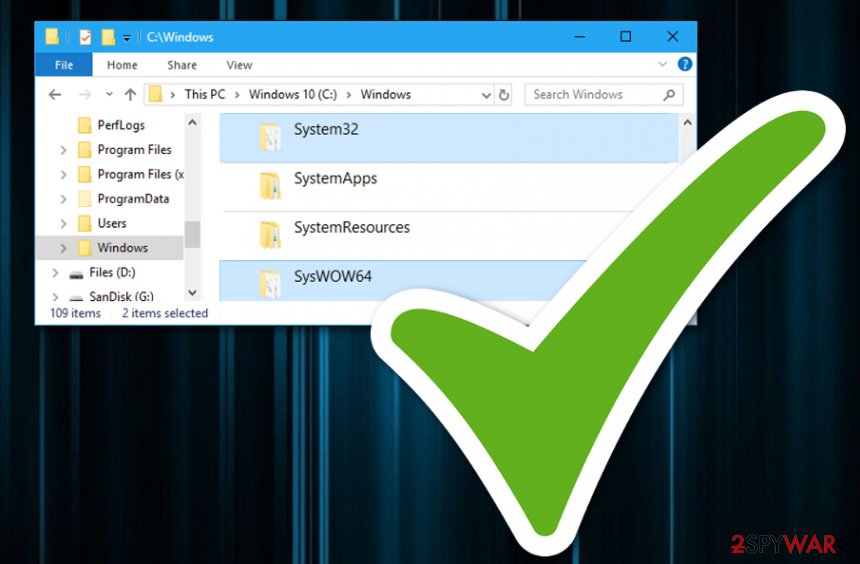 SysWOW64 is a non-harmful system file, however, if compromised, it might be misused to hide dangerous malware
Malicious actors misuse names of legitimate files to hide their malware
Since the executable files and DLLs can be found running in the background, users can spot the malicious program, e.g., crypto miner, on their computer. To prevent this from happening, cybercriminals have started using the names of legitimate files to help their viruses masquerade and avoid the termination.
Researchers[5] note that not every process running on the Task Manager is safe and you need to be concerned if the file takes a lot of space or uses a visible amount of your computer's CPU. It is highly advisable to scan the system with updated anti-spyware to check the trustworthiness of the file.
Most often, these files infiltrate systems unnoticed after tricking the victim into clicking the malicious link or ad. Additionally, the system can be infected thru spam email attachments which are typically presenting themselves as business reports or important notifications from financial/governmental authorities. Once downloaded, these files launch a certain code responsible for downloading the threat to the system. Keep your anti-malware tools up to date and try to scan every downloaded file before opening to prevent unexpected infiltration!
SysWOW64 elimination can be harmful to the OS. Don't do that!
Do NOT remove SysWOW64 from the system if you want to avoid issues related to your Windows OS functionality. Typically, Windows uses several guards to prevent users from doing that. If you are having issues without your PC system, you need to scan the device fully with Reimage Reimage Cleaner , SpyHunter 5Combo Cleaner or Malwarebytes and see what is hiding there.
If there is any malware on your computer, it is probably using an almost identical name to this folder because it is seeking to hide from your eye and prevent removal. In this case, remove all components reported after the scan but don't touch the original SysWOW64 folder. Otherwise, you can run into serious issues regarding the whole performance of your PC.
If you are still thinking about SysWOW64 removal, you can try performing a clean boot via system configuration.
This entry was posted on 2020-03-04 at 03:30 and is filed under System tools, Viruses.