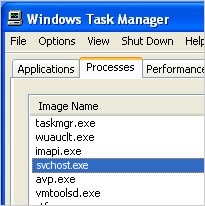 Svchost.exe is a legitimate executable file developed by Microsoft Corporation
Svchost.exe is an executable file which is responsible for hosting one or many Windows services. Additionally, it is closely related to shared services processes which helps reduce computer resource consumption. You can find Svchost.exe or Svchost.exe (netsvcs) running in the Task Manager. However, be aware that Svchost.exe high CPU usage might indicate a malware infection as cybercriminals often exploit the names of legitimate system processes to disguise their malicious programs.
Name
Svchost.exe
Type
System file
Danger level
Low. Although, malware might use the similar name as a disguise
Symptoms
You can locate the process running in the Task Manager. However, it does not display any visible window
Potential dangers
Malicious programs, like Scvhost.exe, might use similar or identical name of the legitimate system process to persist on the computer
Distribution
This system file is a pre-installed component of the Windows OS. Nevertheless, the malicious version might get into the system via unprotected P2P networks
Removal
Experts do not recommend you to remove Svchost.exe if you are not sure whether it is dangerous. In case it is, install and run a full system scan with

Reimage

Reimage Cleaner
Even though in most cases, Svchost.exe is safe, there is a strong risk that hackers can infiltrate the system with the malicious version of the process if you are used to downloading software from suspicious peer-to-peer (P2P) websites. In this case, your computer might be infected with the following cyber threats disguising as Svchost.exe process:
Trojan horses;
Cryptocurrency miners;
Spyware;
Etc.
If you notice that Svchost.exe is using an excessive amount of CPU which can be identified in the Task Manager, your computer might be exploited for cryptocurrency mining. Additionally, keep in mind that hackers often try to connect the affected computers into a botnet to generate even more illegal profits.
Therefore, in case you have any doubts about the legitimacy of Svchost.exe, do not hesitate and get help from the professionals. For that, you can download and install a reliable security tool which would scan your computer files for malicious activity.
Note that Svchost.exe virus might cause the system to act sluggish, or prevent some programs from loading. Likewise, if you notice any suspicious activity which might be potentially caused by this process, remove Svchost.exe immediately. Reimage Reimage Cleaner is a perfect tool for malware elimination.
However, our experts want to warn you that Svchost.exe removal is only necessary if the process or its name is being exploited for malicious purposes. Otherwise, terminating a legitimate system process might lead to other computer-related problems.
The dangers of P2P networks: criminals upload malicious files disguising as essential system processes
Usually, people search for places to download software cracks, movies, or music illegally. Likewise, cybercriminals take advantage of such actions and create malicious programs which appear to look innocent and legitimate. Commonly, they are uploaded on peer-to-peer (P2P) file-sharing sites to trick users into downloading them.
Therefore, security researchers suggest refraining from downloading applications from unverified sites. Instead, get software only from authorized developers and use a direct link if possible. Additionally, it is wise to avoid clicking on commercial content online as it might also contain malicious scripts programmed to infiltrate malware.
Svchost.exe removal procedure
As we have already mentioned, Svchost.exe is not malicious unless its name is being used to hide malicious programs. Likewise, before you start Svchost.exe removal, make sure that the process is actually dangerous to your PC. For that, we suggest running an entire system scan with Reimage Reimage Cleaner , SpyHunter 5Combo Cleaner or Malwarebytes.
Additionally, be aware that the security tool with remove Svchost.exe along with other potentially unwanted programs (PUPs) or viruses if necessary. Thus, the best option is to ensure the elimination for professional antivirus to avoid any damage to your computer.
Nevertheless, if you notice svchost.exe high CPU usage on your computer, you can disable the service that is responsible manually. For that, follow these steps:
Open the Task Manager by clicking Ctlr+Alt+Del at once;
Go to the "Processes" tab and select "Show processes from all users."
Right-click the svchost.exe process that you can see to cause a high usage of CPU and select "Go to Service(s)."
Here, you should pay attention to services that are highlighted. They are the ones that run under the svchost.exe process;
To stop a service, right-click on it and select "Stop Service".
Reimage Reimage Cleaner has a free limited scanner. Reimage Reimage Cleaner offers more through scan when you purchase its full version. When free scanner detects issues, you can fix them using free manual repairs or you can decide to purchase the full version in order to fix them automatically.
This entry was posted on 2020-02-17 at 05:44 and is filed under Files, System files.