Secure surf is a browser hijacker that pretends to care about users' privacy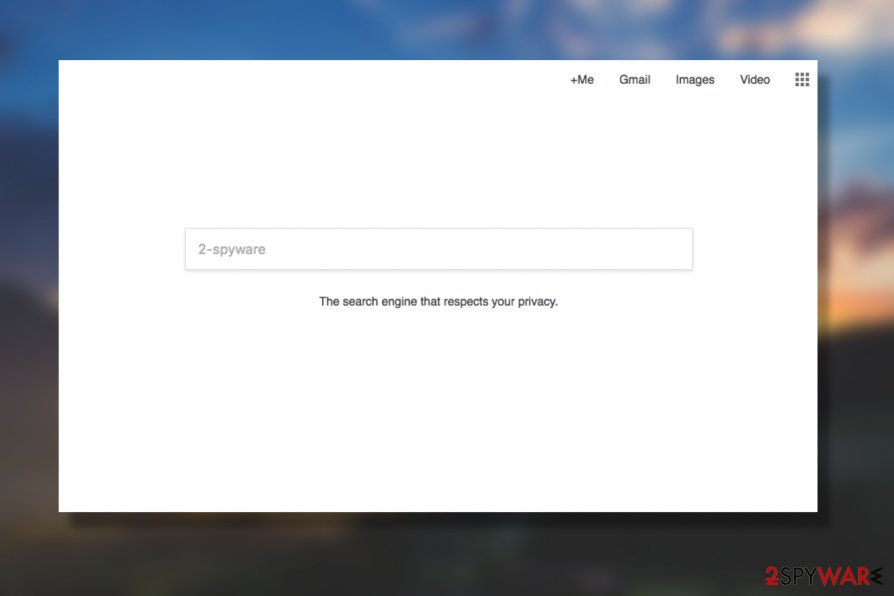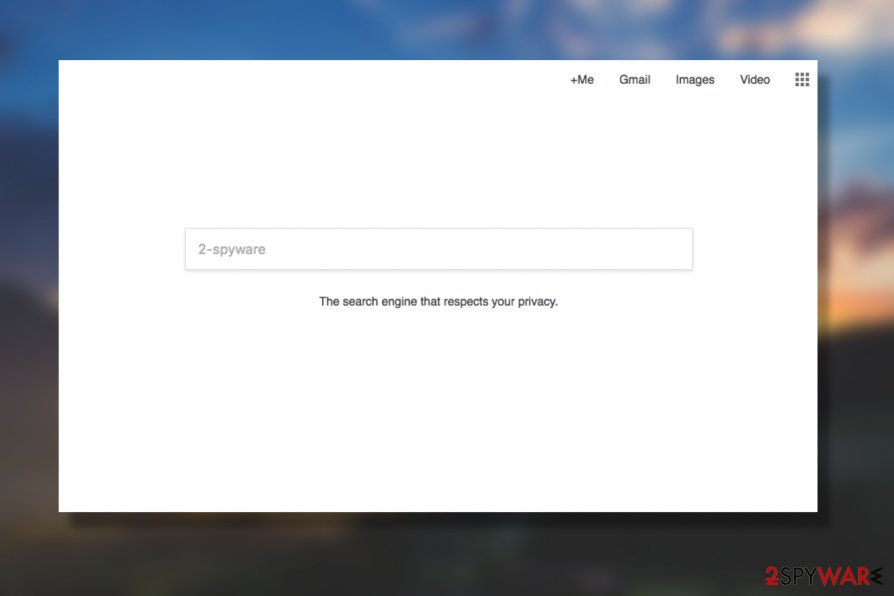 Secure surf is a browser hijacker that uses deception to make users believe that it is a great alternative to reputable search providers such as Google or Yahoo. However, the application is usually installed along with freeware and shareware hosted on the third-party sites, so users rarely install it intentionally.
Soon after the infiltration, Secure surf hijacker takes of Google Chrome, Safari, Mozilla Firefox, Internet Explorer or another installed browser, and sets its new tab address along with the homepage to hxxp://secure-surf.net. The plain-looking startup page is then used to present users with alternative search results that are filled with sponsored links.
Besides, users who are infected with Secure surf virus will also experience an increased amount of pop-up and other types of ads on all sites that they visit and sometimes might even get redirected to potentially dangerous ones. Finally, the PUP does not provide any type of documentation that relates to its usage or users' privacy, so the gathered information might be used for nefarious purposes. If you noticed Secure surf hijack, you should immediately get rid of it by using our instructions at the bottom of the article.
Name
Secure surf
Type
Browser hijacker
Homepage set to
hxxp://secure-surf.net
Related hijacker
Secure-surf.com
Infiltration means
Software bundling, malicious ads, third-party sites, etc.
Potential risks
Installation of other potentially unwanted software, malware infiltration, sensitive information disclosure to cybercriminals, etc.
Symptoms
Hijacked search engine, new tab URL and homepage, redirects to suspicious sites, sponsored links at the top of the search results, etc.
Termination
To get rid of the hijack quickly, scan your computer with anti-malware software like

Reimage

Reimage Cleaner

Intego; alternatively, you can use manual removal guide below
Secure surf is a type of a potentially unwanted software focuses on ad-revenue,[1], so its main purpose is to expose users to various online advertisements to as many users as possible -for each click made, the PUP authors generate revenue (a scheme is called pay-per-click).
For that reason, Secure surf authors use software bundling technique to deploy the unwanted program to as many users as possible and hijack their browsers immediately after the infiltration. Unfortunately, many developers of deceptive programs also resort to obfuscation, preventing most of the users of performing an easy Secure surf removal.
Nevertheless, as soon as the victims open their browsers, they can see the difference right away: their preferred search engine is gone and replaced with a customized one which looks extremely poorly made, and that no effort was even put into it (even the search button is missing?!). What users are presented with, however, is a cheap slogan saying:
The search engine that respects your privacy
The statement is quite bold for a browser hijacking application that does not even provide a Privacy Policy for users to view – something that is mandatory to every legitimate program. Thus, it goes without saying that you should not trust Secure surf and all it is trying to represent, as it is fake. There are plenty of other search engines that focus on privacy and are legitimate, so we highly encourage you to avoid this one.
Here's what Secure surf virus might harvest while the program is installed on your device:
IP address
ISP
Geolocation
Technical details
Links clicked
Ads interacted with
Bookmarks
Cookies,[2] etc.
Besides, Secure surf might even steal personal information you enter when using the browser – so be warned and do not disclose your email, name, credit card details, etc., as it might get stolen by cybercriminals. What is more, the connection to the site is marked as not secure by Google, meaning that it uses the frail HTTP connection instead of the safe HTTPS.[3]
After being added to a web browser, Secure Surf net redirects you through a bunch of different domains until it finally lands on us.search.yahoo.com. This feature is becoming very popular and keeps affecting hundreds of users.[4]
In other words, every time the users try to look up something online, they are forced to briefly visit at least 4 different websites before they are presented with the search results. We can only speculate what nasty malware such redirects may lead your device to pick up.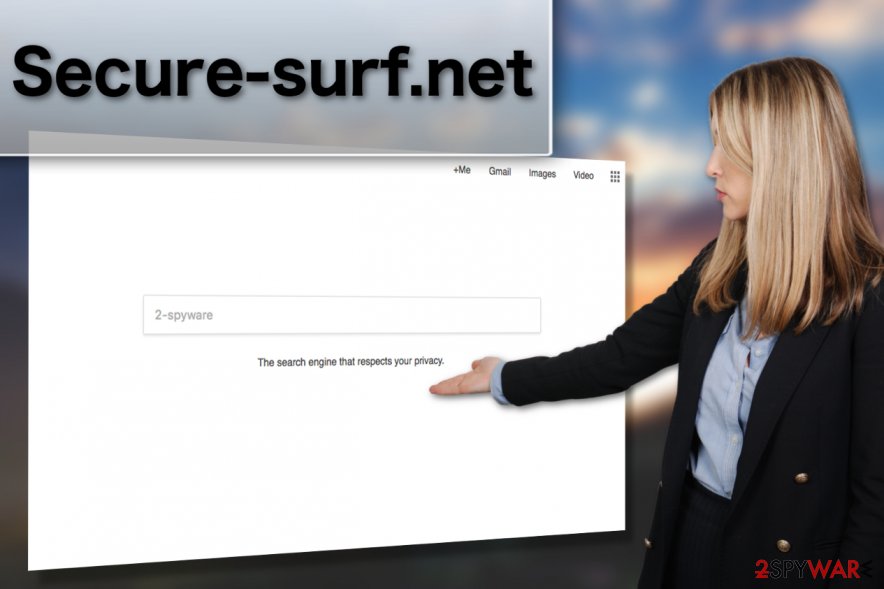 Secure-surf.net is PUP designed to infiltrate computers and take over web browsers, so that users would click on sponsored content and generate the creators some ad-revenue. The image above shows the main page of this hijacker website.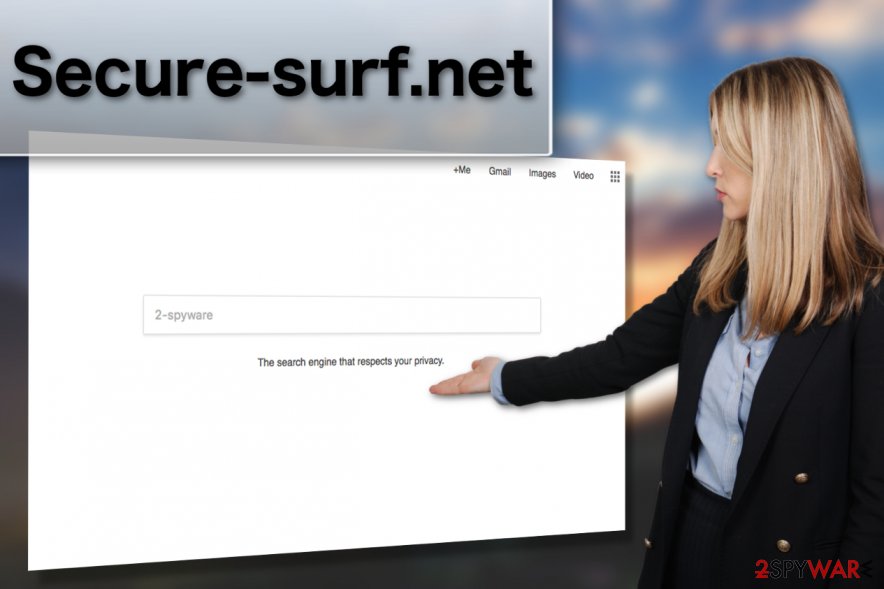 Secure-surf.net is PUP designed to infiltrate computers and take over web browsers, so that users would click on sponsored content and generate the creators some ad-revenue. The image above shows the main page of this hijacker website.
To prevent unexpected viruses and similar issues related to the use of this malicious search engine, you should waste no time and get rid of it. To remove Secure surf virus from the infected device, jump to the end of this page to find its manual removal guide. Also, you can start its elimination immediately by running a full computer scan with Reimage Reimage Cleaner Intego.
Unfortunately, but the questionable activity of Secure Surf virus does not end just there. The hijack of the system is followed by corrupted search results that are displayed for the user with the intention to earn the money from advertising.
Browser hijackers,[5] adware-type programs and similar PUPs modify their search results to display sponsored links and advertisements in the top positions, while the information which may be relevant to you is left at the bottom or is omitted completely. That is basically the opposite of what the regular search engines typically do and presents us yet another reason why you need to get rid of Secure-Surf.net.
On top of it all, malware may inject advertisements and links on sites that aren't even accessed through this search provider. There is virtually no way to escape the nasty symptoms of the hijack. Unless of course, you perform Secure surf removal and dispose of all the virus components. You may do that now or after you are done reading this article which we highly suggest you do if you want to learn how to prevent similar malware from breaking into your PC again.
Protecting your PC from unwanted search engines
One does not need to be especially tech-savvy to prevent computer threats from sneaking into the computer. Computer defense can be reinforced by following 3 simple rules:
Running legal and updated antivirus software with advanced real-time protection while browsing the web;
Regularly updating installed applications and enabling automatic system updates;
Downloading software from legitimate and reliable sources and installing it via Advanced mode in order to disclose additionally attached components.
If you remember theses rules and apply them when browsing the web, you will be much less likely to get your PC infected with potentially unwanted programs.
Basics of Secure surf removal
If you have been suffering from unexpected redirects for a while, you should check your Mac or Windows OS for this hijacker. Browser hijackers and similar PUPs can show up on your computer when you don't expect that. Thus, it is useful to have at least a few Secure surf removal options prepared in advance.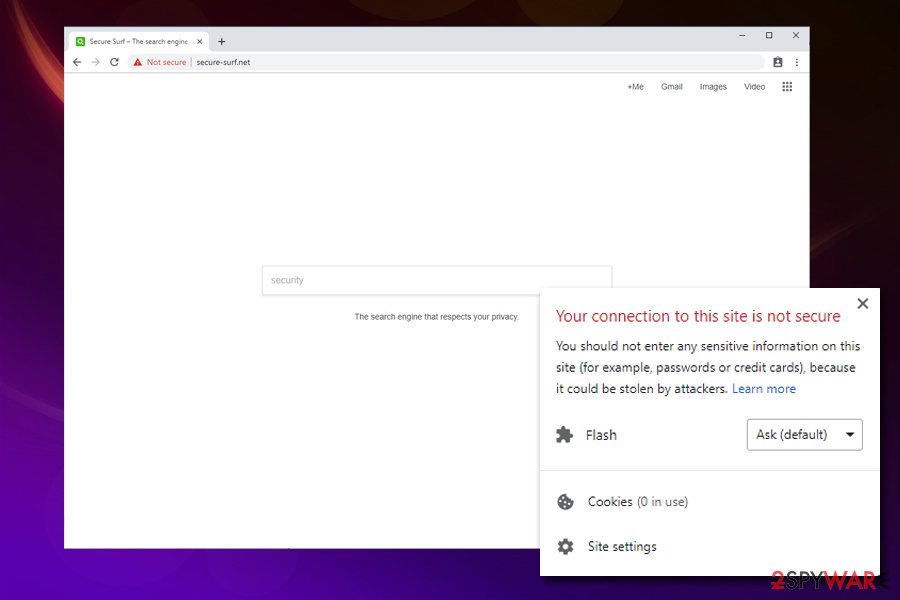 The main page of the Secure surf hijacker does not provide any information about Privacy Policy or Terms and Conditions of using the software – an immediate red flag.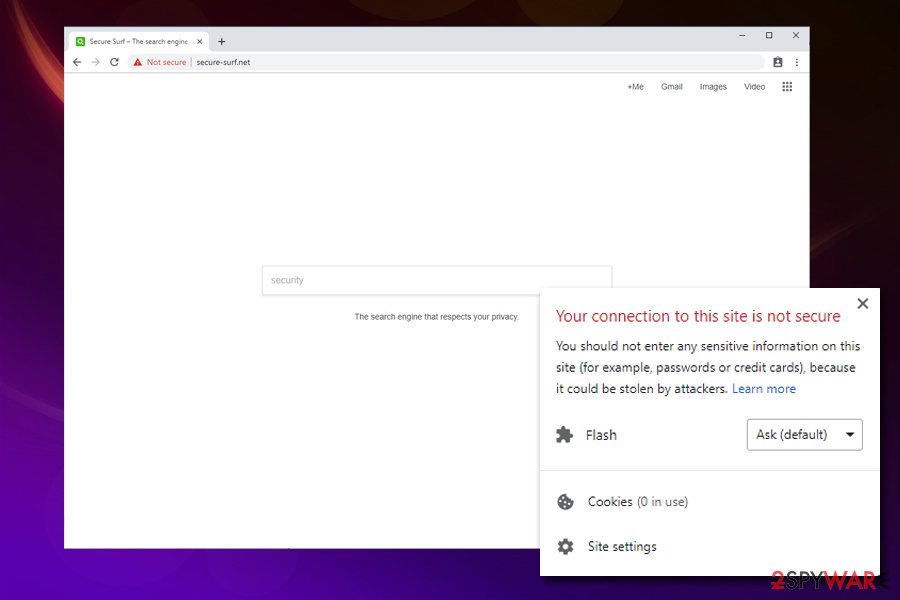 The main page of the Secure surf hijacker does not provide any information about Privacy Policy or Terms and Conditions of using the software – an immediate red flag.
One of the ways you can use to get rid of this redirect virus involves running an automatic system scan with some reliable anti-malware product. This method is recommended for everyone who doesn't want to waste time tailing after the viruses.
The second option you can use for eliminating unwanted redirects is manual virus elimination. Our experts developed professional instructions that are designed to help users remove Secure surf from the computers without employing additional software.
You may remove virus damage with a help of Reimage Reimage Cleaner Intego. SpyHunter 5Combo Cleaner and Malwarebytes are recommended to detect potentially unwanted programs and viruses with all their files and registry entries that are related to them.