Secret-video.online is a push notification virus that directs users to phishing sites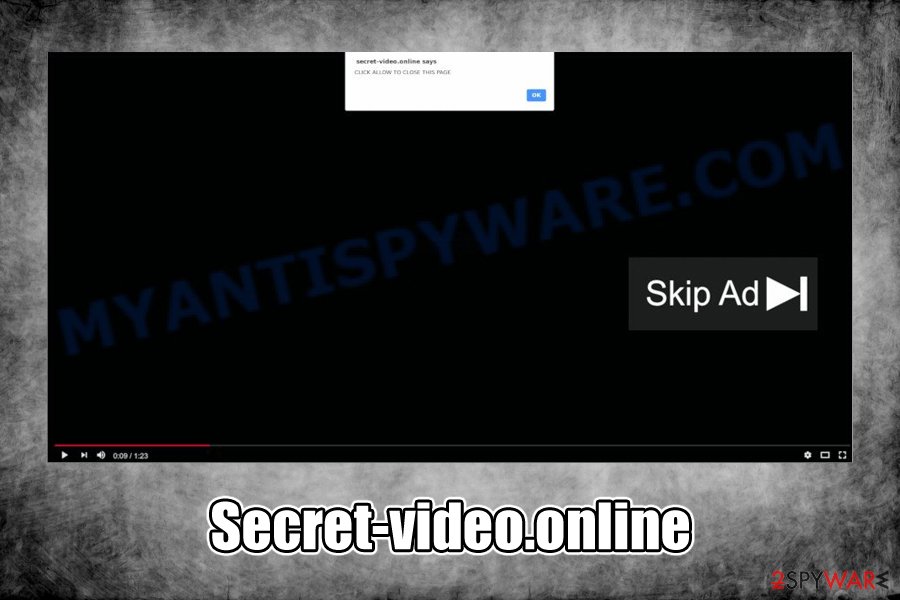 Secret-video.online is a malicious domain that uses deception in order to make users subscribe to notifications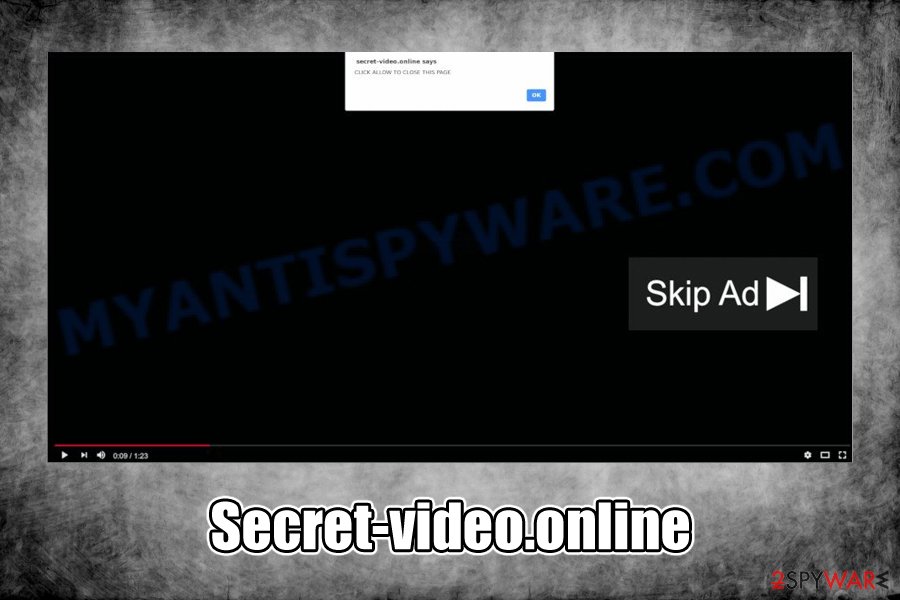 Secret-video.online is a malicious domain that uses deception in order to make users subscribe to notifications
Secret-video.online is one of many domains that abuses a legitimate "Allow notifications" feature in Google Chrome, Mozilla Firefox, MS Edge, Opera, Internet Explorer, and other browsers. As soon as users land on the site, they are prompted to allow notifications to be shown and are usually promised an underlying content after doing so. However, as soon as the "Allow" button is pressed, users are not presented with anything, but instead, they start seeing Secret-video.online pop-ups that are shown directly on their screens regularly.
These Secret-video.online advertisements are usually filled with dangerous content, as, if malicious links are clicked, users are redirected to get-rich-quick,[1] tech support, and other types of scams. In some cases, users might even be exposed to hacked or malicious sites that use background scripts to abuse browser vulnerabilities[2] and install malware automatically. As a result, victims may lose their money, get infected with malware, or expose their sensitive information to criminals. The good news is that Secret-video.online removal can usually be performed by tweaking web browser settings – we explain how below.
Name
Secret-video.online
Type
Push notification virus, adware
Infiltration
Desktop notifications are visible as soon as users press the "Allow" button after landing on the site; redirects to this and other sites might implicate adware infection, and PUPs are usually delivered via software bundle packages
Symptoms
Suspicious messages with embedded links show up on the screen regularly; increased amount of ads on all visited websites; slowdown of the web browser; redirects leading to various scam and phishing sites, etc.
Dangers
Personal/sensitive information disclosure to cybercriminals, monetary loss due to frequently encountered scams, malware infections
Termination
There are two different aspects to Secret-video.online – it either means that you subscribed to the notifications by pressing "Allow," or your system might be infected with adware, which is redirecting you to insecure sites. To get rid of pop-up ads, you will have to access settings section of your browser; to uninstall adware, you should scan your machine with anti-malware software or follow the manual removal guide below
Recovery & optimization
Adware or malware can cause significant damage to the operating systems. Thus, if you are experiencing computer slowdowns, crashes, errors, and similar issues, you should apply

Reimage

Reimage Cleaner

to fix them
The secret-video.online virus is called so due to its persistence and erratic behavior, as most of the time, users are unaware that they subscribed for these notifications to be shown, and they do not know how to stop the intrusive behavior. The worst part is that some might get tricked by various scam messages and visit promoted sites.
Cybercriminals behind Secret-video.online scam use social engineering in order to make users subscribe to these notifications – even the name of the domain implies that there is some secret video to be looked at. As soon as users land on the malicious page, they are shown a fake short message that urges to allow notifications. Various techniques are used; for example, the famous "Click here if you are not a robot" prompt, or "Tap allow if you are 18+" are exceptionally common.
Another Secret-video.online pop-up might accompany the regular notification prompt – it says:
Secret-video.online says

CLICK ALLOW TO CLOSE THIS PAGE
In other words, the sole reason of Secret-video.online existence is to make sure that visitors allow notifications and, while those who fall for the trick are likely not to know how to stop the unwanted ads, it benefits the attackers financially (each click made on links results in ad revenue). Those who click "Allow" will soon notice that there is no video to be shown, and there is no other underlying content to be uncovered.
Unfortunately, but there also might be another reason why you see Secret-video.online redirects in the first place, and it is adware. These potentially unwanted programs are usually distributed by using deceptive practices (e.g., software bundles or fake updates) and have the purpose of displaying pop-ups, banners, deals, offers, coupons, and redirect users to predetermined domains, such like Secret-video.online.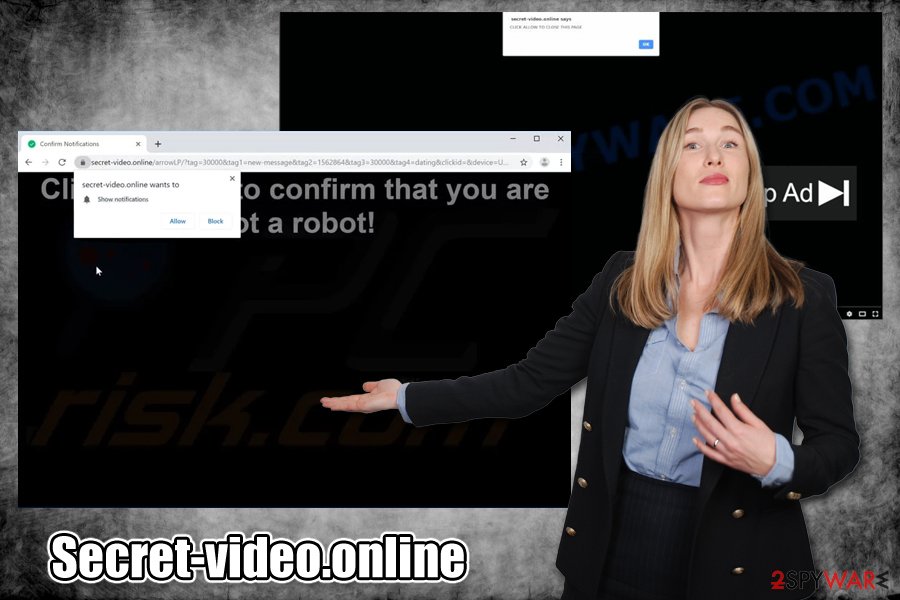 Secret-video.online is a push notification virus that shows users malicious links directly on desktop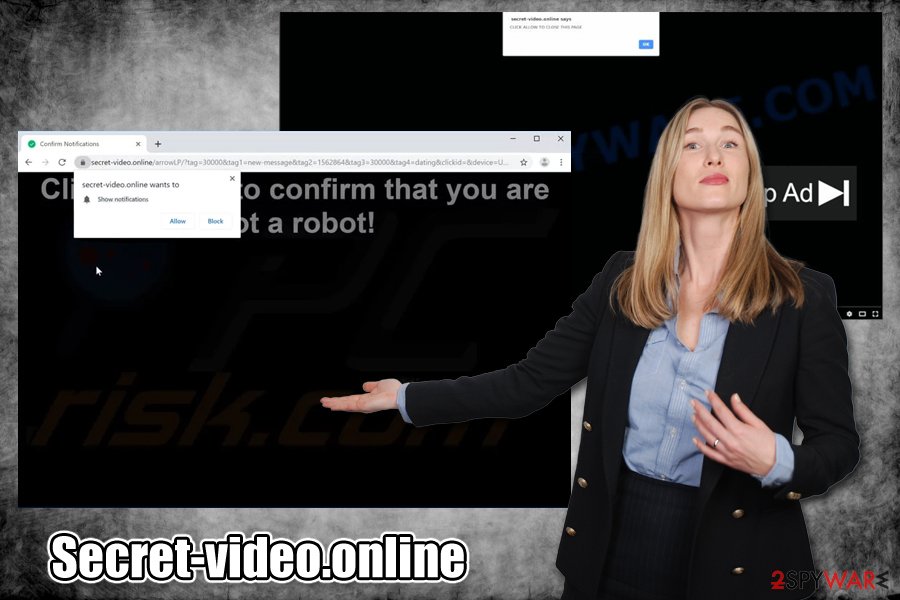 Secret-video.online is a push notification virus that shows users malicious links directly on desktop
It is also worth noting that adware that prompts Secret-video.online redirects most certainly collects a variety of information about users, including:
IP address;
Internet Service Provider;
Geolocation;
Browser used and extensions installed;
Technical data of the device;
Sites visited, search terms, links clicked, and other browsing-related data.
There are several ways to remove Secret-video.online ads and redirects, although it depends on whether your machine is infected with adware. If the latter is true, you will have to terminate the PUP either manually or automatically and reset the installed browsers. For best results, experts[3] also recommend scanning the machine with Reimage Reimage Cleaner .
Learn to spot online scams and watch out for software bundles
Online scams are very prevalent, and users may encounter them regularly – it depends on sites that they visit. For example, domains that distribute pirated software or those that offer suspicious licensed TV series/sports streaming services are extremely likely to include background scripts or links that lead to malicious sites. The "Click here to allow" domains are very common, as the feature was rolled out relatively recently, and many still don't know how to get rid of the notifications from a particular site once subscribed.
Luckily, Mozilla Firefox already terminated (Google is soon to follow) the annoying pop-ups that ask to show notifications on all sites, and they can only be visible if clicked on the URL bar. This reduces the chances of inexperienced users falling for the trick and malicious actors abusing the feature to insert advertisements into users' desktops.
Additionally, adware infections might also be the reason why redirects to push notification virus sites occur in the first place. Potentially unwanted programs are usually distributed via freeware acquired on third-party websites, where several apps are compiled into a single installer. Quite often, these optional components are not adequately present to users, and mostly hidden from sight via pre-ticked boxes, fine print, or the Recommended/Quick settings. Thus, always install software carefully, read the instructions on each step, and opt for Advanced/Custom mode when prompted.
Get rid of Secret-video.online virus
As previously mentioned, Secret-video.online removal depends on various factors, including whether you subscribed to unwanted notifications or not. Furthermore, there might be an adware app be installed on your system you are not aware of or, if you clicked on malicious links and installed something, there might be something more sinister hiding on your computer – Trojan, backdoor, a virus, or other malware.
As a first step to remove Secret-video.online virus, we suggest you try to access web browser settings and stop notifications you subscribed to before. Here's how:
Google Chrome
Click on Menu and select Settings
Go for Advanced
Under Privacy and security, pick Site Settings
Click on Notifications
You should see Secret-video.online in the Allow section
Select More Actions and click Block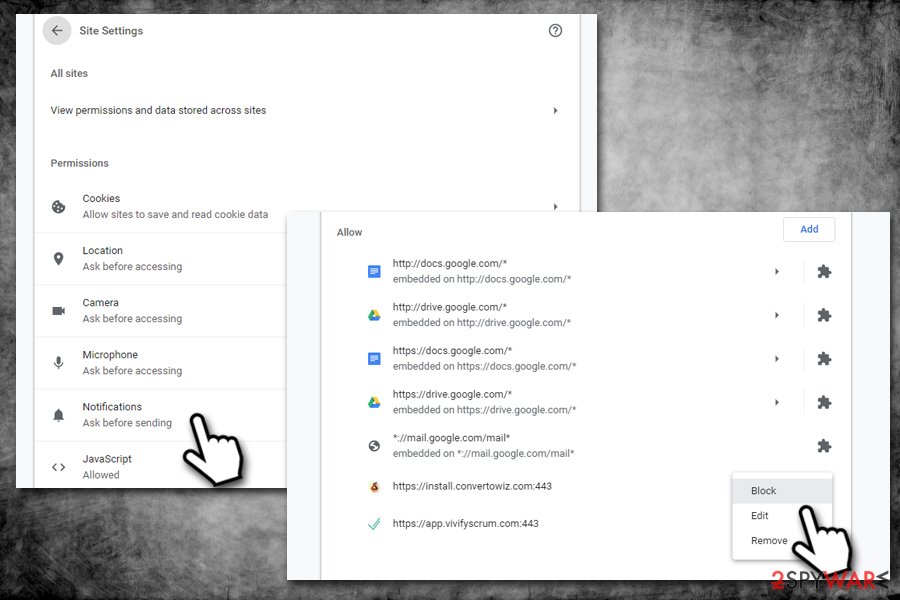 Get rid of Secret-video.online notifications by accessing Google Chrome settings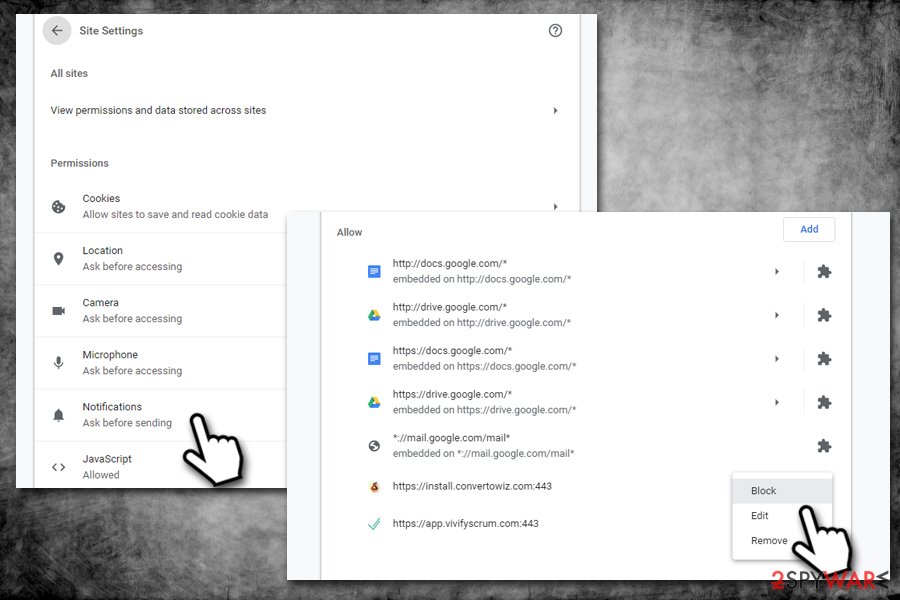 Get rid of Secret-video.online notifications by accessing Google Chrome settings
Mozilla Firefox:
Go to Menu and select Options
Choose Privacy & Security > Notifications
Go to Settings and find the Secret-video.online
Click on the the drop-down menu and select Block
Pick Save Changes
MS Edge:
Click More and choose Settings
Pick View advanced settings > Advanced
Go to Manage permissions
Locate Secret-video.online and turn off notifications
If the redirects to Secret-video.online and other suspicious sites are caused by malware, you can refer to the instructions below – check all the installed programs and uninstall all the suspicious ones. If you are struggling to do so manually, you can employ anti-malware software to do the job for you, although not all security apps will detect all PUPs. Once you are sure that your computer is clean, you should also reset the installed browsers to ensure no advertisements come back. Note that resetting browsers would also stop the Secret-video.online push notifications.
You may remove virus damage with a help of Reimage Reimage Cleaner . SpyHunter 5Combo Cleaner and Malwarebytes are recommended to detect potentially unwanted programs and viruses with all their files and registry entries that are related to them.