Searchdefenderlive.com is a potentially unwanted program that claims to increase the safety of the web browsing but instead hijacks browsers and displays ads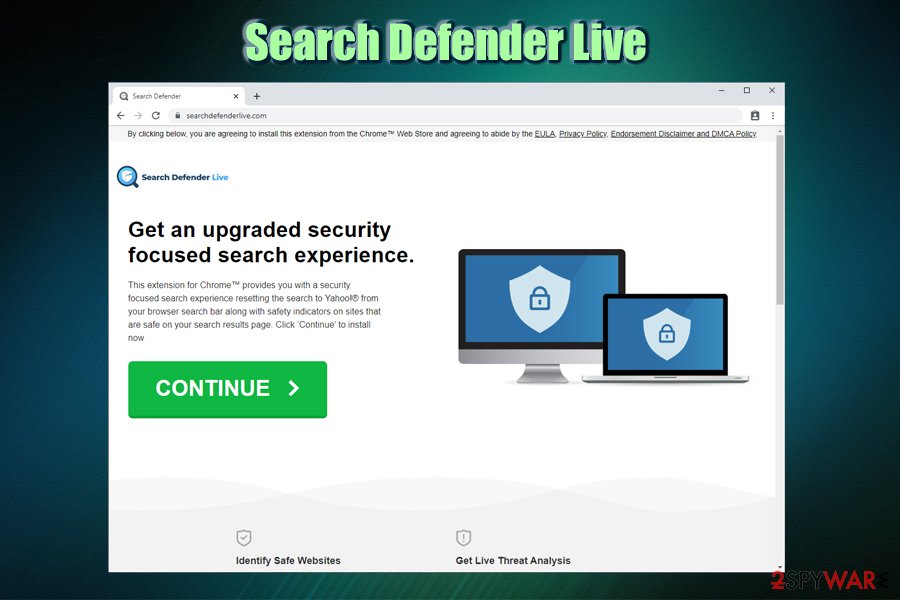 Searchdefenderlive.com is a browser hijacker that directs traffic to affiliated websites and shows unwanted ads
Searchdefenderlive.com is one of many browser hijackers that claims to focus on online security – and many users are concerned about it due to numerous data breaches and increased malware activity worldwide. However, these "security" tools are often PUPs themselves and do not provide the functionality they claim to. Instead, users are shown pop-ups, flashing windows, pop-unders, banners, and other ads during their browsing sessions.
Search Defender Live is the application that causes numerous changes on Google Chrome, Mozilla Firefox, MS Edge, or another browser. The first sign of a browser hijack is that its homepage and new tab URL get set to hxxps://www.searchdefenderlive.com, and a customized engine applied. All the search queries are then redirected to search.yahoo.com, and the search results are not genuine – users will see multiple sponsored links at the top. This way, Searchdefenderlive.com hijacker alters the way users browse the web.
Name
Searchdefenderlive.com
Type
Browser hijacker, potentially unwanted program
Associated app
Search Defender Live
Developer
Femto Media
Offered functionality
The browser extension offers users an indication markings for harmful websites
True purpose
There are no criteria that are used to allegedly indicate harmful sites, making the functionality of the app questionable. Additionally, Search Defender Live tracks various user browsing-related activities in order to show ads and promote affiliated sites for profits
Infiltration
Potentially unwanted programs are either installed via bundled software packages or after being tricked by an attractive ad or fake update
Symptoms

Unwanted extension Search Defender Live installed on the web browser
Homepage, new tab and the search engine altered (set to hxxps://www.searchdefenderlive.com)
All searchers directed to search.yahoo.com and are filled with sponsored links at the top
Unwanted advertisements show up on various websites that do not come from them

Removal
You can check the instructions on how to terminate the PUP manually below; additionally, we recommend scanning the machine with anti-malware software to check for other unwanted apps or malware
Recovery & optimization
To recover from infections and prevent system crashes and errors, we recommend resetting all the installed browsers and run a scan with repair tool

Reimage

Reimage Cleaner
Despite claiming to focus on users' privacy and security, Search Defender Live tracks users' anonymous and personal information obtained during the registration process. Searchdefenderlive.com removal is highly recommended, as the traits of a potentially unwanted program make this hijacker an unneeded addition to the system.
As stated on the Searchdefenderlive.com official site, the following data might be collected:[1]
We gather Personal Information and Non-Personal you provide to us directly or that is obtained from you use of our Services. "Personal Information" means information, such as your first and last name, email address, physical address, telephone number, billing information, or social security number, that is able to personally identify you. "Non-Personal Information" means information that is not capable of personally identifying you.
Besides, the collected information can be shared with commercial and third-parties for various purposes, including the distribution of advertising material via e-mail or other means. Such data is tracked and collected with the help of monitoring tools like Flash Cookies, web beacons, web server log information, and other methods. In other words, Searchdefenderlive.com turns the collected details into profits by sharing it with affiliates that provide you with ads as long as Search Defender Live is installed on your browser. Without a doubt, information tracking can cause serious privacy and security issues to end-users.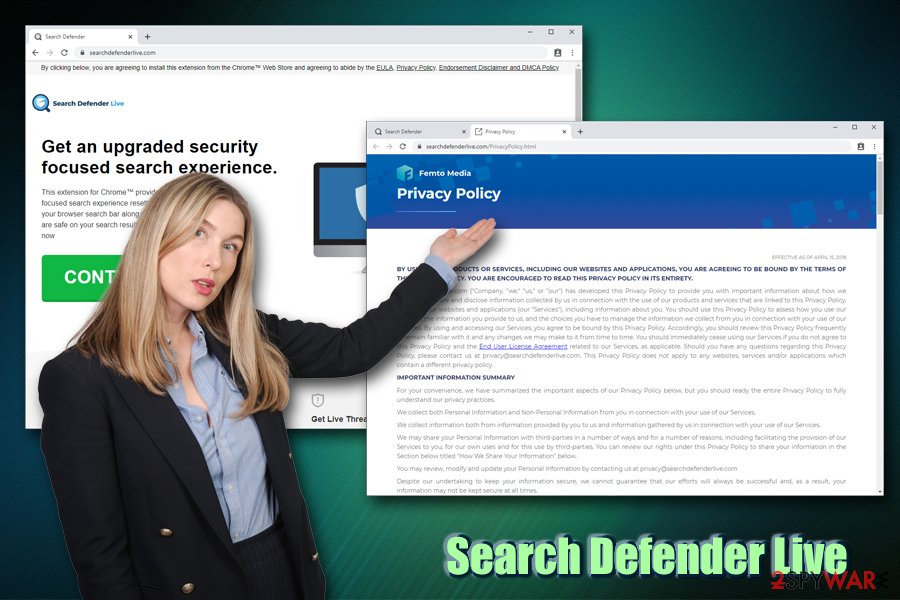 Searchdefenderlive.com is website that distributes Search Defender Live – a PUP that gathers various user web browsing and personal data
Additionally, inserted browser cookies and other tracking means might be still present even after you remove Searchdefenderlive.com hijacker from your machine. For that reason, we highly recommend resetting your browsers as per the instructions below.
Because Search Defender Live is distributed via software bundling, there is a high chance that other potentially unwanted programs or malware might be present on your machine. To ensure it is not the case, experts recommend performing regular scans with anti-virus software. After termination of such infections, however, computers might experience slow response times due to such issues as the corruption of certain registry files. To prevent system crashes and fix virus damage, we advise scanning the computer with Reimage Reimage Cleaner .
Avoid potentially unwanted programs by following simple security tips
Potentially unwanted programs usually enter users' machines unnoticed, i.e., they are not installed deliberately. Even if they are, users are mostly unaware of underlying tasks (such as unwanted ads display) that the app can create post-installation. In other words, potentially unwanted programs are truly unwanted, although they cannot be called malware as users generally install them deliberately themselves (note that malware uses completely different infiltration techniques, including malicious installers, spam emails, exploits,[2] weak RDP connections, and similar). Despite that, the installation process of third-party programs is often deceptive, as the developers or/and host site owners consciously try to hide optional components from users.
Although, users are also to blame, as they often do not pay close attention to the installation instructions of bundled applications, and end up with tools they never wanted to install in the first place, and not all of them perform browser changes as browser hijackers do, so the intrusion might not always be apparent. All in all, it is best to avoid PUPs in the first place – here are some tips from security researchers:[3]
Before installing any application, read up on it online – check out reviews, blog posts, tech forums, etc.;
Make sure the app provides access to Privacy Policy and Terms of Service before proceeding;
When prompted, always go for Advanced/Custom installation settings that often reveal the underlying programs;
Beware of tricks used by bundled software installers: watch out for misplaced buttons, misleading deals, fine print text, pre-ticked boxes, etc.;
Employ a security application that specializes in PUP detection and removal.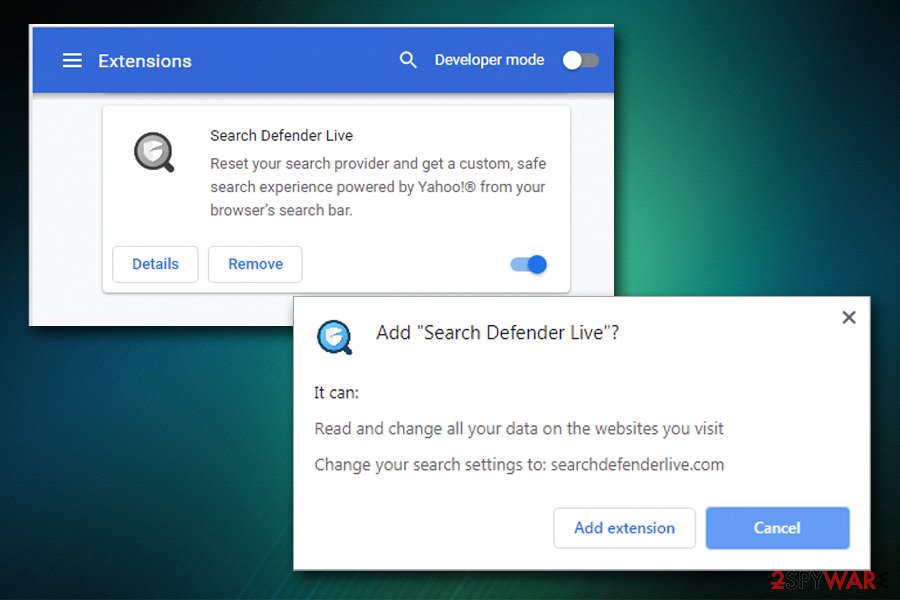 Users might install Search Defender Live extension via the official website
Remove Search Defender Live and other PUPs and use reputable tools that provide additional browsing safety
If you are looking for a tool that can enhance your web browsing experience and protect you from potentially malicious websites, Search Defender Live is not the application you should be going for, as all your web browsing activities will be tracked and used for marketing purposes. There are plenty of other free programs and browser extensions that do not engage in such activities and are capable of providing relevant information when it comes to online safety. In fact, many AV vendors include such functionality in their comprehensive plans.
If the Searchdefenderlive.com virus managed to hijack your computer, you should hurry up with Search Defender Live removal. As we previously mentioned, its functionality is questionable at best, as it does not provide any details on how the extension works – which criteria the websites are marked as insecure.
You can remove Searchdefenderlive.com relatively easily if you opt for a browser reset – all the extensions will be deleted. However, because the PUP might not be the only one on your machine, we highly recommend a scan with anti-malware software.
You may remove virus damage with a help of Reimage Reimage Cleaner . SpyHunter 5Combo Cleaner and Malwarebytes are recommended to detect potentially unwanted programs and viruses with all their files and registry entries that are related to them.