Search.feedvertizus.com is a redirect virus that will interfere with your daily web browser activities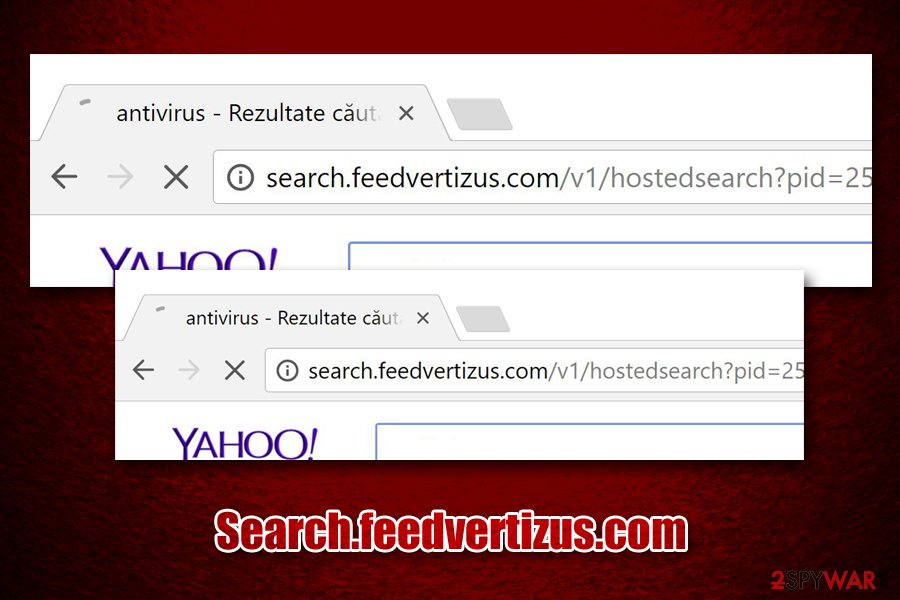 Search.feedvertizus.com is an URL that users might find after their browsers get hijacked by a potentially unwanted program Opurie
Search.feedvertizus.com is a website that users might see on Google Chrome, Mozilla Firefox, Safari, Internet Explorer, or another browser after they install a malicious extension Opurie on their device. Once established, the potentially unwanted program alters the settings of all the web browsers and loads background JavaScript[1] processes in order to analyze and intercept the traffic from the users. In other words, Search.feedvertizus.com is a redirect virus that embeds deep within the browser to monetize on ad revenue.
Search.feedvertizus.com might use several legitimate search engines for the results to be shown to users, for example, Google.com or Bing.com. However, these results will not be organic but instead will be flooded with sponsored links at the top. If you noticed the Search.feedvertizus.com browser hijack, you should immediately take adequate steps to contain the infection to protect your personal safety and computer security from the installation of malware, personal data leak, or other unwanted consequences.
Name
Search.feedvertizus.com
Type
Browser hijacker, redirect virus
Related extension
Opurie, although other potentially unwanted programs or browser extensions might be related to Search.feedvertizus.com hijack
Infiltration
Users typically install potentially unwanted programs unintentionally – they either get tricked by an attractive ad online or when dealing with software bundle packages downloaded from third-party sites
Symptoms
Web browser settings are changed and all searchers are directed to various search engines; search results are filled with sponsored links; browser operates slowly, etc.
Potential risks
Money loss, installation of other potentially unwanted programs/malware,
Termination
To get rid of the redirect virus, users are recommended uninstalling all the PUPs, scanning their machines with security software and resetting all the installed browsers as per instructions below
Optimization & recovery
Because the PUP creates background processes that load partly-obfuscated JavaScript, several system settings or files might result in crashes or system slowdowns post-termination. To avoid such consequences, we advise scanning the machine with

Reimage

Reimage Cleaner
Potentially unwanted program term defines a vast majority of applications that users did not intend to install but ended doing so anyways. In most of the cases, deceptive techniques like phishing or intentional hiding of optional components within freeware installers are to blame. Some PUPs are relatively harmless, but others might load background processes and perform tasks behind users' back – the operation that closely relates to malware. Unfortunately, Search.feedvertizus.com and all its associated programs belong to the latter category.
Once the Search.feedvertizus.com unwanted app is installed, the implemented browser modifications can intercept the search queries that are typed into Bing.com or Google.com, and present users with the alternative search results based on the typed in keywords. However, this activity is not secure whatsoever, as users might be diverted to dangerous websites, such as phishing, tech support scam, or even malware-laden ones. Search.feedvertizus.com virus will also load a large number of ads on all visited websites, and not all of them are safe.
As a result, users might get convinced to spend money on useless programs (such as fake system optimizers like Universal PC Care, Full System Care, Advanced System Repair Pro, etc.), which might also damage their computers instead of fixing them. Additionally, installing junk on the system will produce more ads on web browsers, disturbing web browsing activities. However, Search.feedvertizus.com is not the only URL that might be related to the hijack – users may also encounter redirects to the following sites:[2]
startupfraction.com;
go.querymo.com;
opurie.com.
Another reason to remove Search.feedvertizus.com from the machine is that two security vendors currently detect Search.feedvertizus.com site itself as malicious.[3] However, to get rid of the hijack, you will have to uninstall Opurie or any other related PUPs.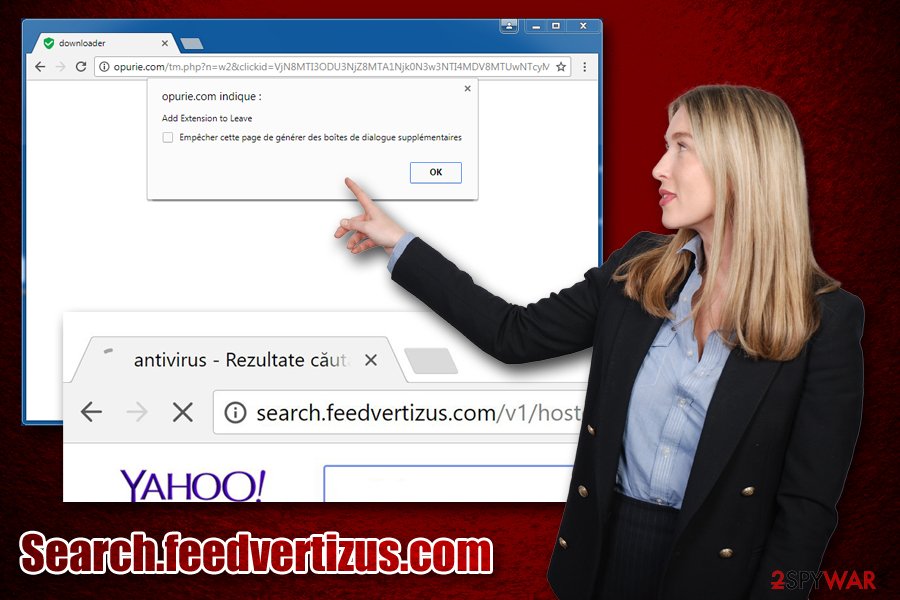 Search.feedvertizus.com is a redirect virus that can intercept and divert traffic to predetermined websites
We recommend checking our manual instructions below and then scanning the device with anti-malware software for full Search.feedvertizus.com removal, as there might be other PUPs that are hiding on the system. Additionally, because the unwanted app loads background processes and stores cookies, we highly advise you reset all the installed browsers. Finally, experts recommend running a scan with Reimage Reimage Cleaner to repair the damage done by the virus.
Third-party sites often bundle programs into a single package – be cautious when downloading freeware
As previously mentioned, some potentially unwanted programs might be pretty harmless, while others might be extremely intrusive with traffic interception, ad replacement, and other background processes, which might jeopardize the online safety of the end-user. Regardless of the activities performed on the system, users should avoid PUPs in the first place. However, software bundling allowed unwanted apps like adware and browser hijackers to spread to millions of users' computers without being noticed by them.
Unfortunately, many lack the IT knowledge to understand that their browsers were hijacked and that the traffic is being intercepted, ultimately changing the way users browse and view websites online. Thus, it is important to learn how to stay safe online, and the first step is watching the installation process of third-party programs carefully:
if possible, download the app from the official source instead of relying on sites like download.com or filehippo.com;
always opt for Advanced/Custom installation settings instead of Recommended/Quick ones once prompted;
remove all markings from the pre-ticked boxes, do not miss the fine print, check if ToS/Privacy Policy is available, don't get misled by deceptively placed buttons;
read the installation instructions carefully (sometimes pressing "Cancel" is what would save you from the installation if junkware).
Finally, security experts[4] highly advise users to install security software that is capable of detecting and preventing the installation of most PUPs.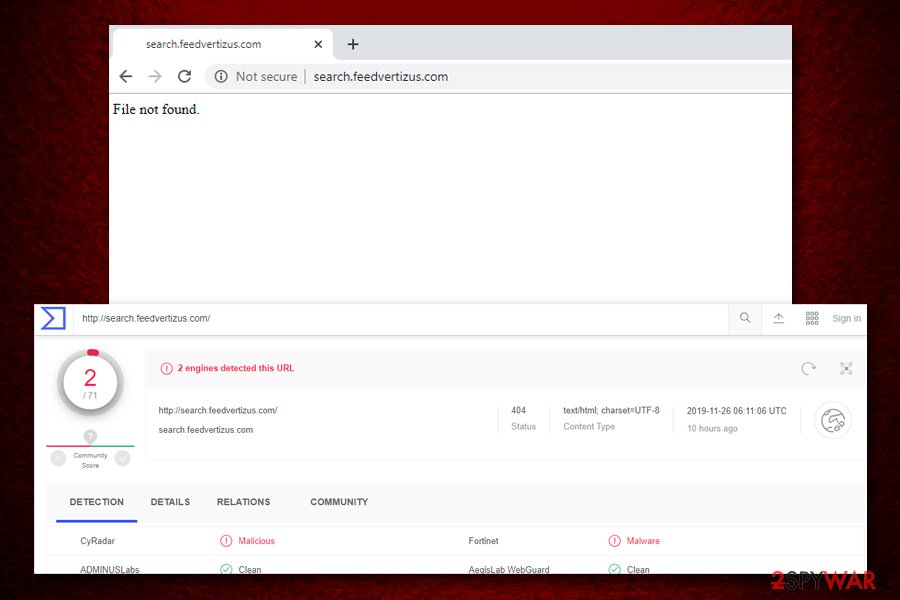 Search.feedvertizus.com is detected by two AV vendors as malicious on Virus Total
Get rid of Search.feedvertizus.com virus quickly
Search.feedvertizus.com removal process depends on many factors, including the IT knowledge, the installed apps, system configuration, browser settings, and much more. As a general rule, we recommend following the manual removal instructions below and uninstalling everything that looks suspicious (toolbars, system optimizers, media players, etc.). Nevertheless, if you do not want to touch the installation list, you can always remove Search.feedvertizus.com virus with the help of security software that specializes in PUPs.
Once you get rid of Search.feedvertizus.com and all the associated apps, you should also ensure your browser reset. This will guarantee that loaded scripts and cookies are deleted, and your traffic will no longer be intercepted by altered settings. For that, check the detailed instructions below.
You may remove virus damage with a help of Reimage Reimage Cleaner . SpyHunter 5Combo Cleaner and Malwarebytes are recommended to detect potentially unwanted programs and viruses with all their files and registry entries that are related to them.