Search.Bytefence.com – questionable search engine creating various issues for the user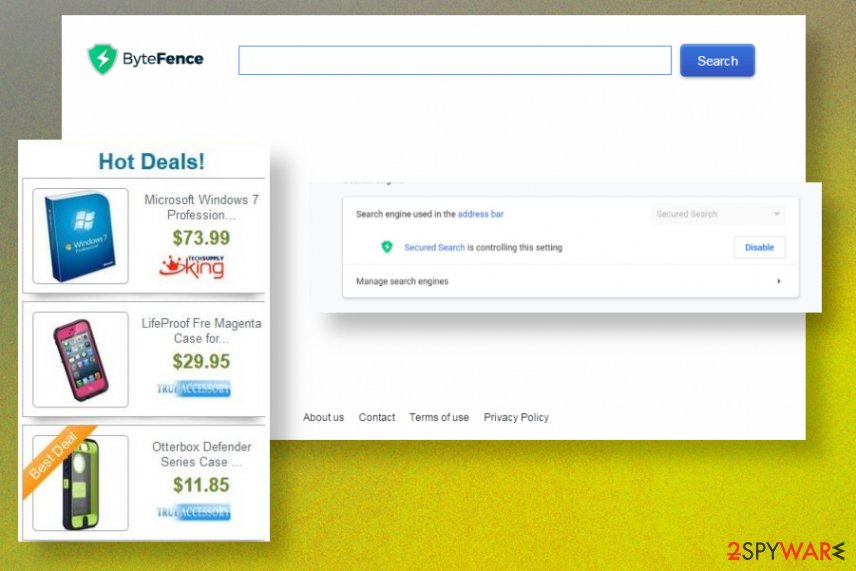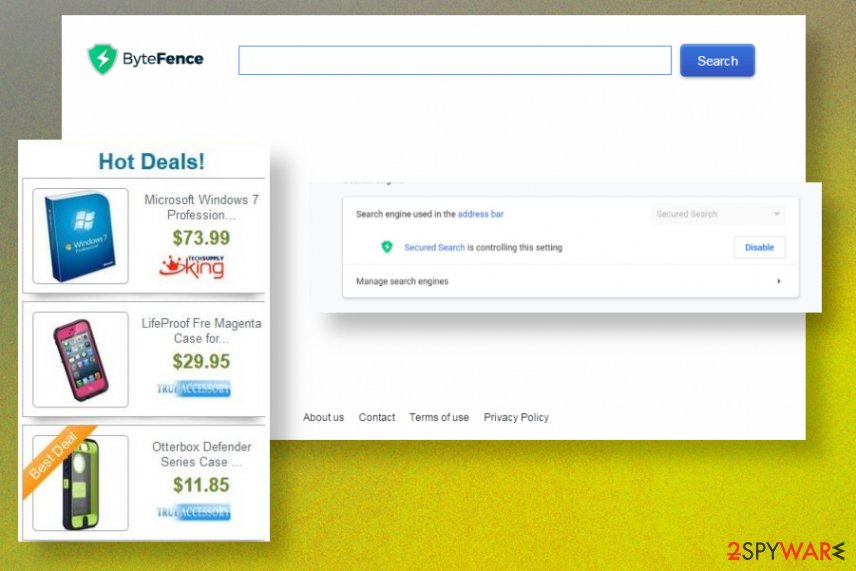 Search.bytefence.com is the questionable search engine that affects web browsers with redirects and additionally added toolbars, extensions, applications. All these products get installed automatically and all the goals of these products are focused on controlling the traffic of your browser and injecting commercial material on the list of search results. It endorses other tools, browsing security, and system optimizers to collect views on affiliated domains.
Search.bytefence.com virus is a wrongly used phrase, and users should stop calling this search engine like that. It is a search tool that gets installed into user's browser after the user downloads and installs the ByteFence Anti-Malware software (developed by Byte Technologies LLC). It is part of the software and users always have the right to opt it out when installing the legitimate anti-malware program, however, not many users pay enough attention to the information provided by software installers[1].
Usually, the installer of ByteFence software suggests changing your homepage, new tab page, and default search settings, which means that all of them will point to that customized search engine. No matter if you're using Mozilla Firefox, Google Chrome, or another popular web browser, it is likely that its settings will be altered in order to make you use that certain search engine. Despite that its functionality is normal and it is unlikely to provide you with dangerous search results[2], you might not want to use it, and that is completely okay.
Name
Search.bytefence.com
Type
Browser hijacker
Symptoms
The site becomes a default homepage, search engine, new tab and gets set as other particular preferences automatically. This suspicious engine also triggers Secured Search extension or Toolbar installation without asking for any permissions
Related
Bytefence Redirect is the main software that gets installed and triggers these additional browsing activities interfering symptoms by adding search engine-based tools
Distribution
Freeware installations, generally, cause infiltration of such rogue and questionable tools. The particular program comes with another software that is not always reliable and secure to use
Elimination
Search.bytefence.com removal should involve anti-malware tools in the case for any unwanted or possibly dangerous tools or apps
Repair
Recover systems' functions and affected files using proper repair tools like

Reimage

Reimage Cleaner

Intego
If you wish to remove Search.bytefence.com, you can easily do it on your own – just make sure that you carefully read the instructions given below the article. We prepared them in order to help you to complete the removal process without hassle.
Although this search engine is not that dangerous to use, there are many browser hijackers[3] that sneak into user's computers when bundled with random free programs, and users should be aware of them. Usually, they meddle with the parameters of Internet Explorer, Google Chrome, or Mozilla Firefox browser, just like the described ByteFence component does. Actually, the search engine that the aforementioned anti-malware tool promotes enters the system without CLEAR permission asked, and we do not think that it is a tolerable activity.
Sure thing, if you find it useful, you can use it, however, we noticed that many users start looking for Search.bytefence.com removal guidelines shortly after installing the related anti-malware software. Therefore, we usually advise users to use other anti-spyware or anti-malware tools designed for computer protection, because these programs do not configure browser's homepage, new tab, and default search settings for their own benefit.
The described search engine might be pushing sponsored search results or even pop-up ByteFence ads to users in order to generate pay-per-click revenue[4]. However, as we said, if you weren't looking for a new search engine, there is hardly any reason to keep Search.bytefence.com in your system.
You can leave the anti-malware on the computer if you want and remove the component that controls your browser's settings only. Instructions on how to do it are provided below the article. But remember that even though this is not a Search.bytefence.com virus, there might be some intruders that cause all the issues with the performance and speed of the machine. so rely on proper AV tools and check the machine.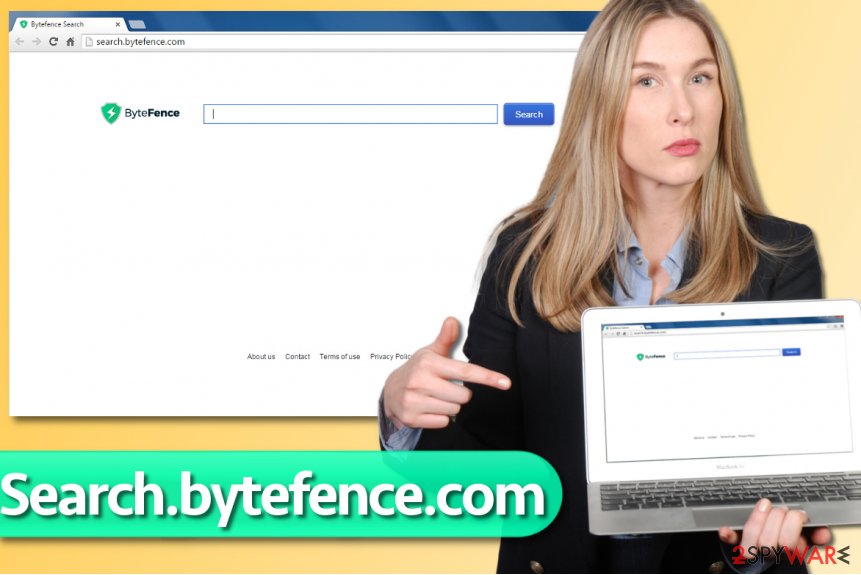 Search.bytefence.com search engine means that you have installed Bytefence software along with the system tool that controls your browser's settings now.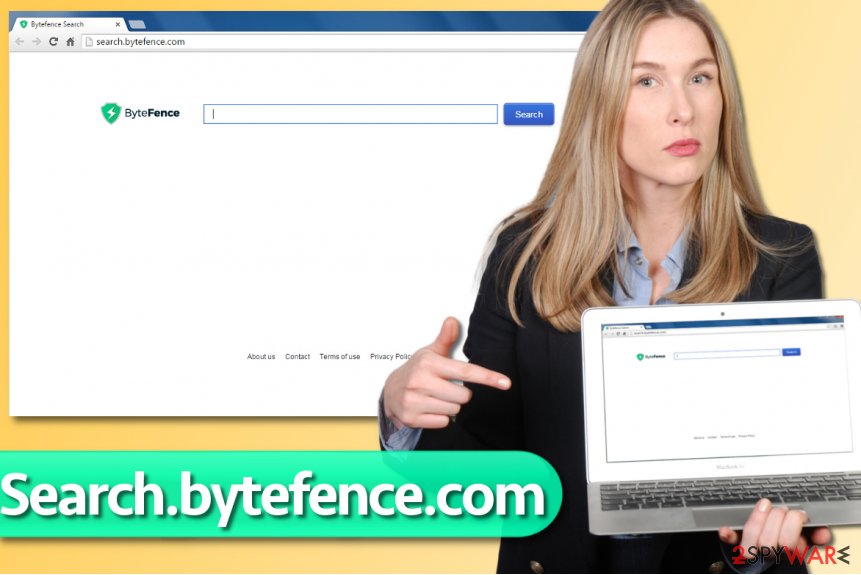 Search.bytefence.com search engine means that you have installed Bytefence software along with the system tool that controls your browser's settings now.
Browser extension Secured Search – another suspicious tool
Search.bytefence.com hijacker is a known search engine that interferes with various processes on the machine, especially web browsing activities. However, it was recently reported that the Google Chrome browser receives more annoying application Secured Search extension. This search engine controls various settings on the browser too and even manages other applications, extensions, themes of the browser.
The plugin changes the default search engine, disables the user, and redirects all online searches to various search pages without disabling the particular extension itself. New tab settings also get altered, as for typical browser hijacker infection. Consumers cannot know where the tool came from, in most cases, because changes happen without permission or knowledge.
It is also not that easy to remove Secured Search since the extension is silently added by ByteFence Antivirus desktop application. Users are not aware and cannot easily fix all the issues since the main behavior is more likely controlled by the software.
Search.bytefence.com is the older version of such a hijacker belonging to ByteFence AV software/ PUP, so SecuredSearch is an automatic upgrade for the older hijacker. Both acting the same since the focus is traffic and redirects, injections on search result lists, promotional material.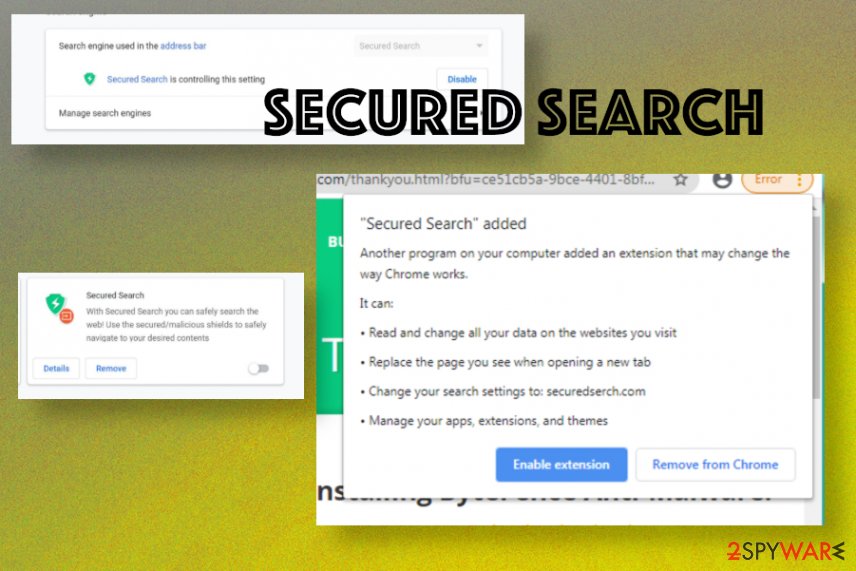 Secured Search is another browser hijacker that endorses browsing security tools and changes settings.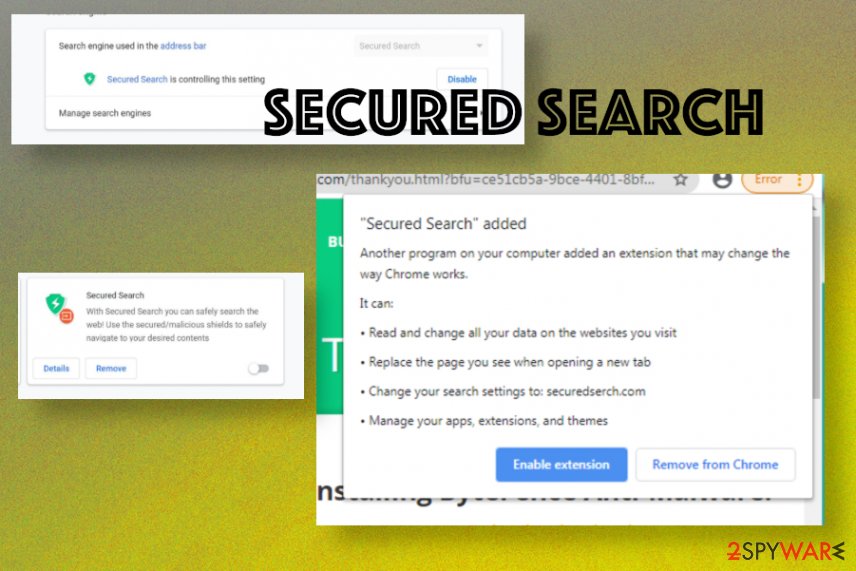 Secured Search is another browser hijacker that endorses browsing security tools and changes settings.
Another fact that concerns us is that the described Search.bytefence.com records your browsing-related information like search queries, websites you are visiting, IP addresses, computer locations, and other things you might not like sharing with someone you do not know. Such information might be used for market research or even shared with third-parties.
Technically, it is legal to do so, because such information is considered to be personally non-identifiable. However, small details such as your search queries can contain sensitive data, which is going to be collected along with all other terms and phrases you used in your searches. To stop such activity, you will only need to uninstall the described potentially unwanted program[5] (PUP) that sneaked along with the ByteFence software without your knowledge.
The installation of such search tools can be prevented
These browser hijackers usually come alongside the software that promotes them or other PUPs. These programs are connected using a software bundling technique, which allows to group and distributes several pieces of software together. The technique is considered to be legitimate; however, in most cases, installers of such software packs fail to adequately disclose the existence of additional programs, so consequently, users install them unknowingly and then start complaining about suspiciously behaving web browsers.
To prevent this, you should be very attentive when downloading free programs. Although the described search tool is not dangerous, there are other and more critical browser hijackers that are also distributed using the same bundling technique. When installing new programs, you should always choose Advanced or Custom options, and then deselect all programs that you do not want to be installed.
We suggest you avoid suspicious free programs and download managers because they are notorious for distributing bundled programs and they receive revenue each time such bundle is downloaded and installed. Do not choose Default or Standard settings, ever – they are usually filled with permissions to install extra programs and there's no way to reject them.
What is more, you should always download programs from their official websites as this will also diminish the risk of getting your computer infected. However, keep in mind that some free programs are designed specifically to lure people into downloading them so they would download PUPs as well. Therefore, trust your best judgment on what to download and what might seem suspicious.
Try to safely remove Search.bytefence.com from all the web browsers
The described search tool is likely to be controlled by a certain browser extension that was installed during the installation of ByteFence, but the anti-malware software could have modified your browser's shortcuts to making them point to Search.bytefence.com search engine.
Remember – these extensions are not viruses, however, their presence usually is objectionable, so if you no longer want to use the new search engine and get back to your old habits, you should remove Search.bytefence.com right away. You can use anti-spyware software the removal, or you can read these instructions and eliminate the intruder on your own.
If you need additional tips for Search.bytefence.com removal: rely on a proper tool that can securely check the machine for you; get PC optimizer application and to recover any affected data or corrupted files, programs on the machine. You may need to remove toolbars or extensions like Secured Search, so reset the browsers to default as well.
You may remove virus damage with a help of Reimage Reimage Cleaner Intego. SpyHunter 5Combo Cleaner and Malwarebytes are recommended to detect potentially unwanted programs and viruses with all their files and registry entries that are related to them.