SAntivirus is a potentially unwanted program that claims to protect your computer but shows false positives instead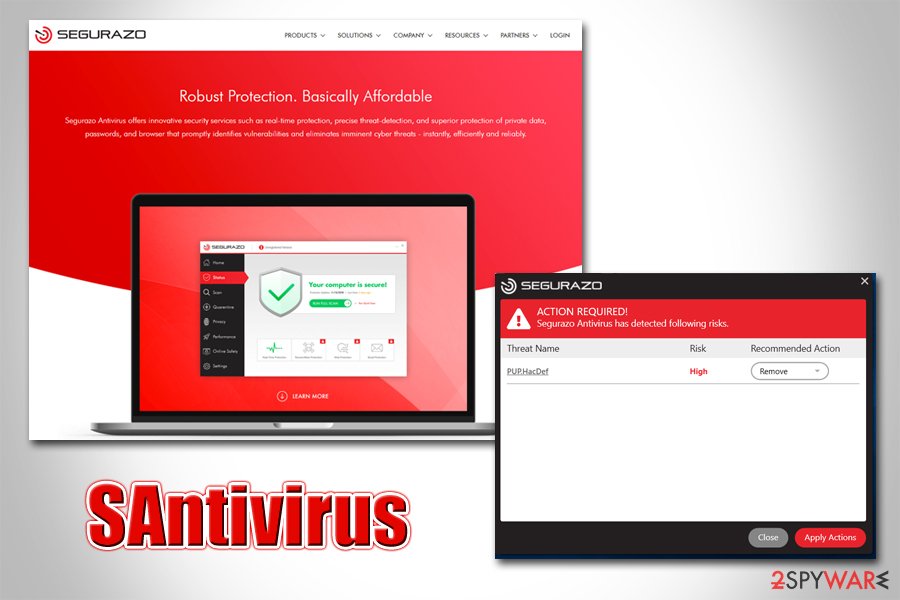 SAntivirus is a fake security program that shows false positives in order to make users believe that their computers are in danger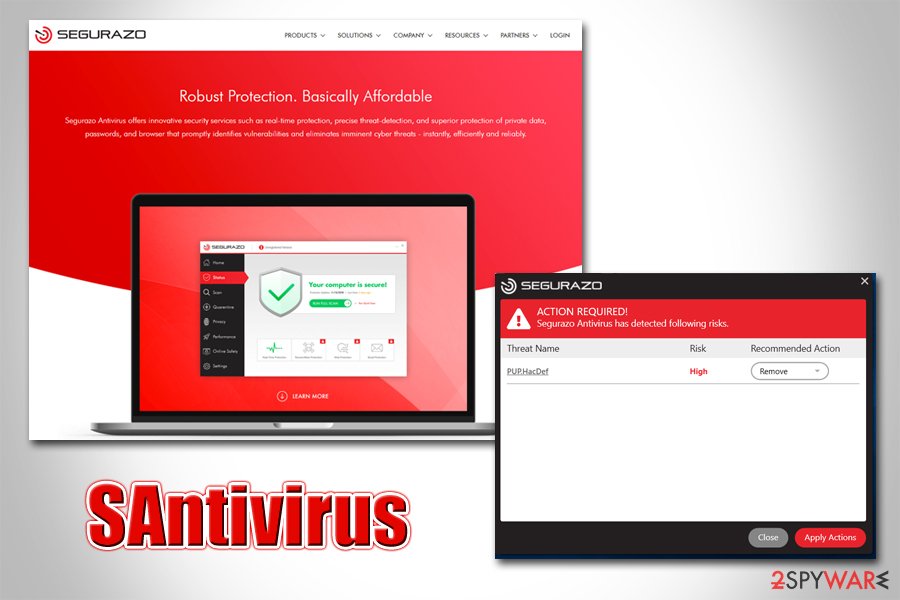 SAntivirus is a fake security program that shows false positives in order to make users believe that their computers are in danger
SAntivirus, otherwise known as Segurazo, is an application that is presented as a useful tool that can protect users from all types of malware in real-time, solve all kinds of software-related issues, boost PC speed, and optimize the various items of the system. However, this app has a poor reputation among users and the infosec community, as it is mainly distributed via a deceptive tactic known as bundling, and is known to be showing fake scan results in order to make users purchase a licensed version of the program. Additionally, many claimed that they had trouble with SAntivirus removal,[1] as it would modify the local group policy settings (by using SeLoadDriverPrivilege command)[2] to escalate privileges and then establish persistence.
Name
SAntivirus
Type
Potentially unwanted program
Also known as
Segurazo
Infiltration
While some users may have downloaded the app from its official website, most found it installed onm their system after installing freeware from third-party sites (software bundling), got tricked by a deceptive ad, or saw a fake update prompt on a malicious site
Symptoms
Automatic scans by the tool show hundreds of issues detected even on a new machine; the app cannot be removed manually; pop-up ads show up at random times, asking to purchase full version of SAntivirus
Detection
Multiple anti-malware vendors detect the app as malicious or suspicious – Virus Total results
Termination
You can attempt to get rid of it manually as per instructions below; in case you don't succeed (, get rid of the PUP automatically by scanning your machine with reputable anti-malware software
System fix
SAntivirus may delete registry entries that are required for the system to function normally, which would result in Windows malfunctions. If the app performed any changes to your PC, scan it with

Reimage

Reimage Cleaner

to fix the damage done
At a glance, some users may think that SAntivirus is a decent anti-virus software that can also optimize their PC, as it uses a neat design with and UI, which is easy to navigate. It claims to include the following features:
Real-time protection feature(ransomware, web, email);
Malware removal;
Privacy scanner;
Performance booster;
Online Safety feature.
However, under its design and well-presented features, SAntivirus hides traits that are more common to malware rather than to programs that protect against it.
First of all, most of the users who are dealing with SAntivirus never installed it intentionally (even though it can be downloaded on its official website), as it is spread with the help of various unfair techniques, including software bundles, fake update prompts and deceptive ads.
Once installed on the system, SAntivirus instantaneously performs a full system scan. While it is a common procedure for all anti-malware tools, what is not common is the results that it brings. Because the app shows exaggerated scan results (for example, it may mark Google-related cookies as a medium severity threat, which is absolutely not correct), users may think that their computers are in a much worse state than they actually are.
In case users press the "Remove all issues" button, they will be directed to a payment page, asking them to purchase a full version of the SAntivirus app. We highly advise you not paying for this useless software, as you will simply waste your money – considering its deceptive marketing techniques and misleading scan results, it can hardly be trusted as a security tool for your computer.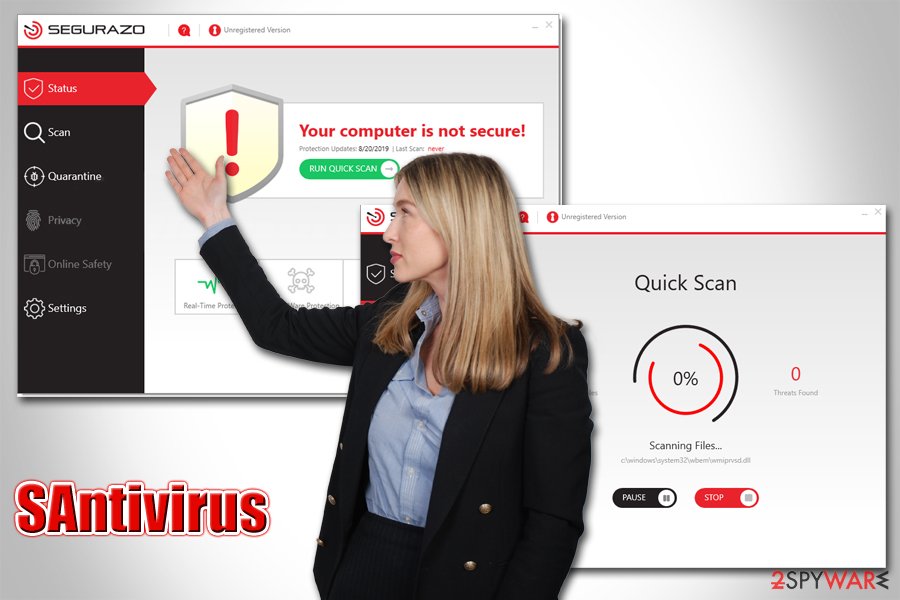 SAntivirus is an anti-malware tool that has very poor reputation among security community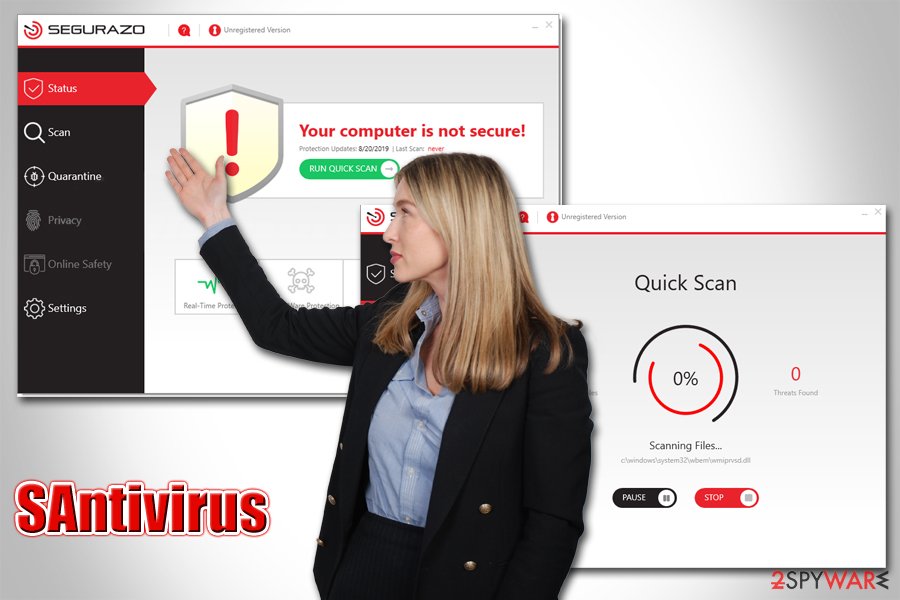 SAntivirus is an anti-malware tool that has very poor reputation among security community
Instead, you should rely on applications that are reliable and do not mislead users on every step. If you need a system optimization tool that could also fix various Windows issues, we suggest Reimage Reimage Cleaner . Additionally, you should also not forget about your computer's defenses – employ anti-malware like SpyHunter 5Combo Cleaner or Malwarebytes to remove SAntivirus and protect your computer from other threats in the future.
Deceptive distribution techniques brings profits to PUP authors
Potentially unwanted programs are called so for a reason, although they are generally "unwanted" by users. If the application is classified as a PUP, you should better stay away from it, as it uses multiple deceptive techniques in order to reach its goal – monetization. And, while earning money for the provided product is reasonable, giving false advertisements and lying about its functionality is not – users simply feel tricked and betrayed, although they usually cannot bring their money back anymore, as they willingly paid for the app.
Therefore, it is best to stay away from PUPs in the first place, as they might not only make you pay for useless services, but also compromise your online security by changing web browser settings and leading to suspicious websites, or tracking your online activities in the background.
To ensure that you stay away from potentially unwanted and malicious apps, follow these simple tips provided by security experts:[3]
If possible, always choose official sources for your downloads;
Avoid torrent, warez, and other high-risk sites;
Before installing an app, check out user reviews or blog posts online;
During the installation process, ensure that essential documents are provided – Terms of Service and Privacy Policy;
Always opt for Advanced/Custom settings instead of Recommended/Quick ones if prompted;
Watch for out misleading button placements, deceptive offers, pre-ticked boxes, fine print text, and other tricks that freeware authors employ in order to deceive people and make them install malware.
Uninstall SAntivirus with the help of these instructions
Many users said that SAntivirus removal was very difficult – they said they tried deleting the files manually within the Program Files folder but the access was denied. Nevertheless, you may try to eliminate the PUP by using manual termination steps as per instructions below.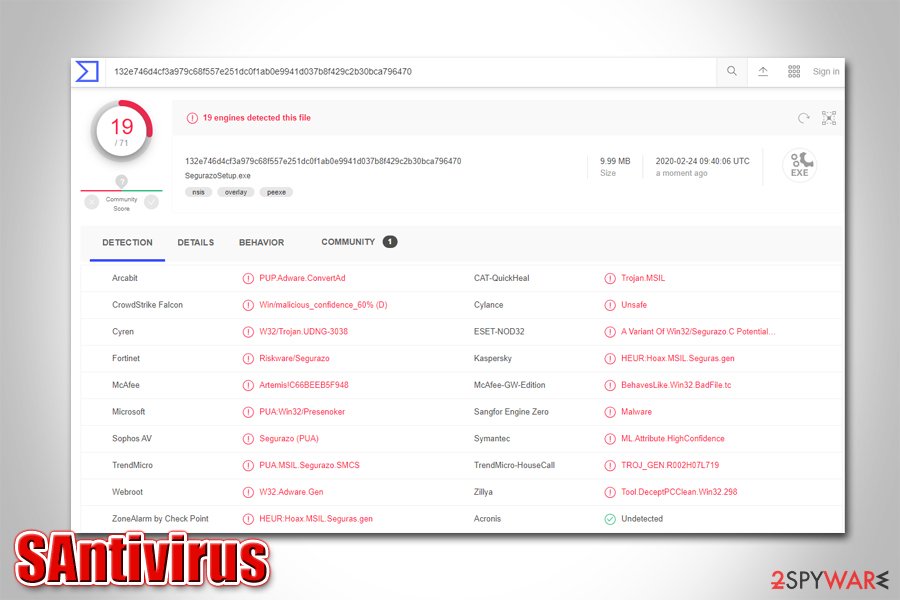 SAntivirus is detected by multiple anti-virus vendors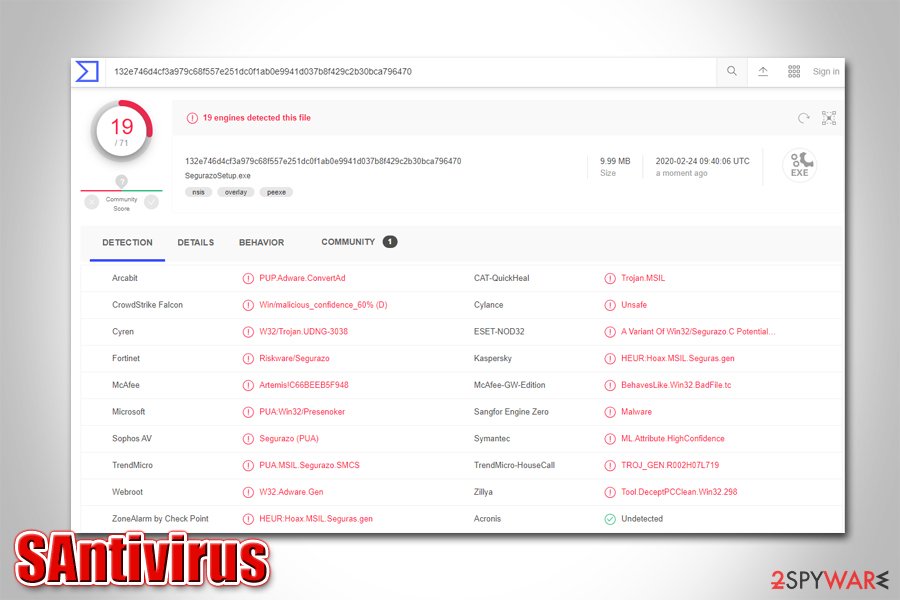 SAntivirus is detected by multiple anti-virus vendors
As we mentioned above, SAntivirus virus engages in various system modifications, such as Windows registry change, alternation of local group policy, and performs changes other critical Windows settings. As a result, you might not be able to remove SAntivirus manually, and you will need some help from automatic removal software.
For that, you should download and install anti-malware that recognizes the PUP. Unlike when trying to get rid of the threat yourself, security software can detect all the malicious files within the system and remove the privileges Segurazo established for itself during the installation process.
This entry was posted on 2020-02-24 at 06:09 and is filed under System tools, Viruses.