Safe Finder – is a potentially unwanted application which may trick you into downloading useless software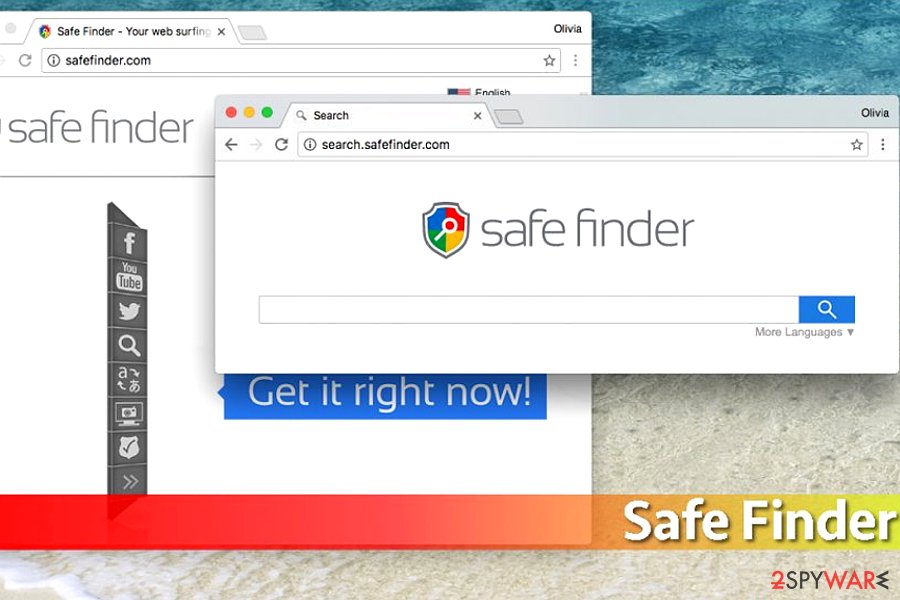 Safe Finer is a browser hijacker that seeks to monetize on compromised users' browsing experience, even putting computer safety at risk by injecting questionable apps without permission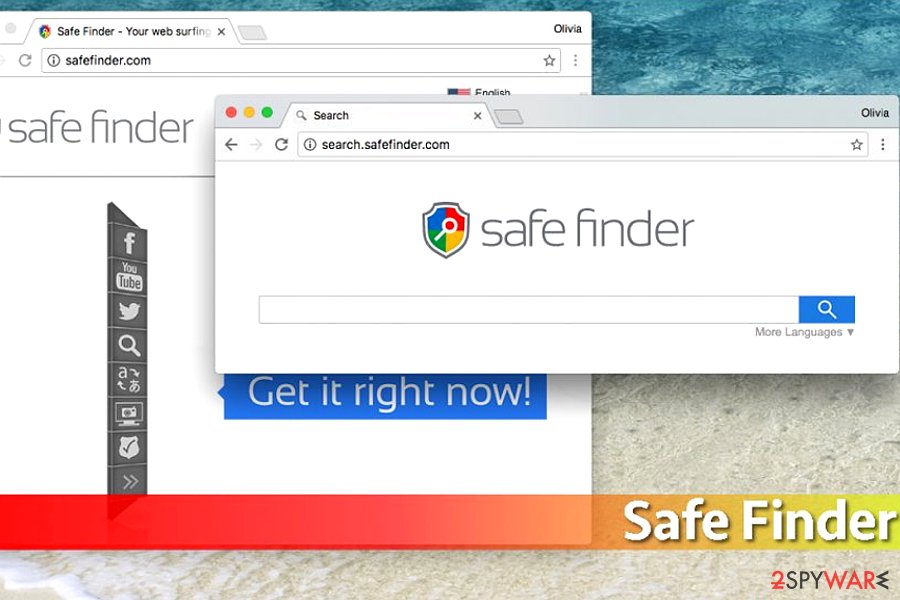 Safe Finer is a browser hijacker that seeks to monetize on compromised users' browsing experience, even putting computer safety at risk by injecting questionable apps without permission
Safe Finder virus is a browser hijacker designed by Linkury which specializes in the ad-tech market. The potentially unwanted program (PUP) has also been involved in adware-type viruses because of sponsored content displayed to its victims. It can infiltrate Google Chrome, Safari, Internet Explorer or Mozilla Firefox on both Mac and Windows operating systems. Recently, the hijacker was found to be used for the distribution of Advanced Mac Cleaner, so there is no doubt that its claims to be safe and secure are invented.
Summary
Name
Safe Finder
Developer
Linkury
Category
Browser hijacker
Discovered on
2015
Operating systems affected
Windows OS, Mac OS X
Programs spread in a bundle
Advanced Mac Cleaner
Main symptoms
Start page and default search engine are altered, experts also report about redirects to sponsored websites, the appearance of continuous advertisements, slowdowns, etc.
Main dangers
The app spies on its users, can redirect them to infected websites, install other adware and similar PUPs
Elimination
You can uninstall SafeFinder with the help of our guide below. A full system scan with

Reimage

Reimage Cleaner

Intego is recommended to eliminate all change initiated by this malware
Once installed on the browser, SafeFinder hijack changes the default search engine, the start page, and the new tab page. As a result, it fills each of the web browsers with bothersome and sometimes even malicious advertisements and interrupts users' browsing sessions in other ways.
Some variations of this cyber infection are known as: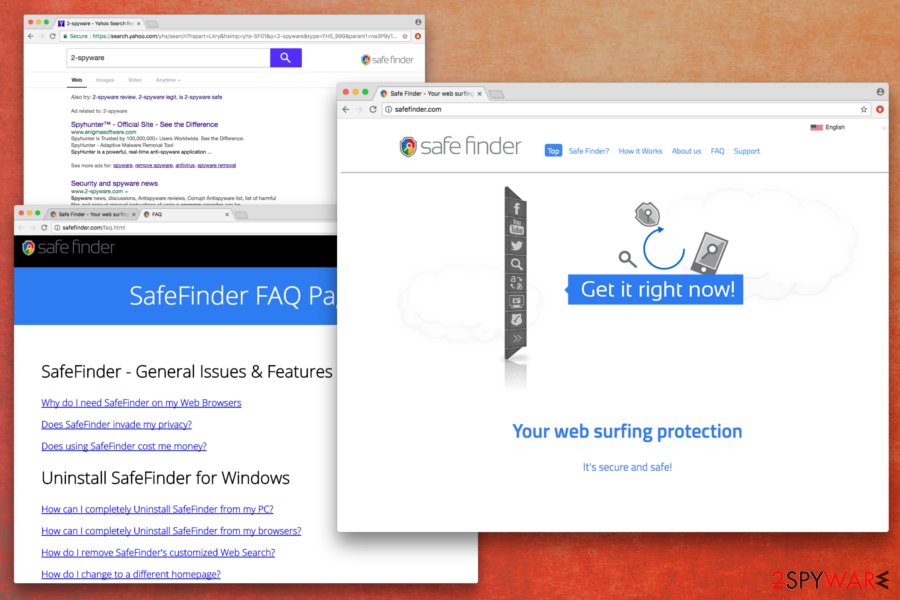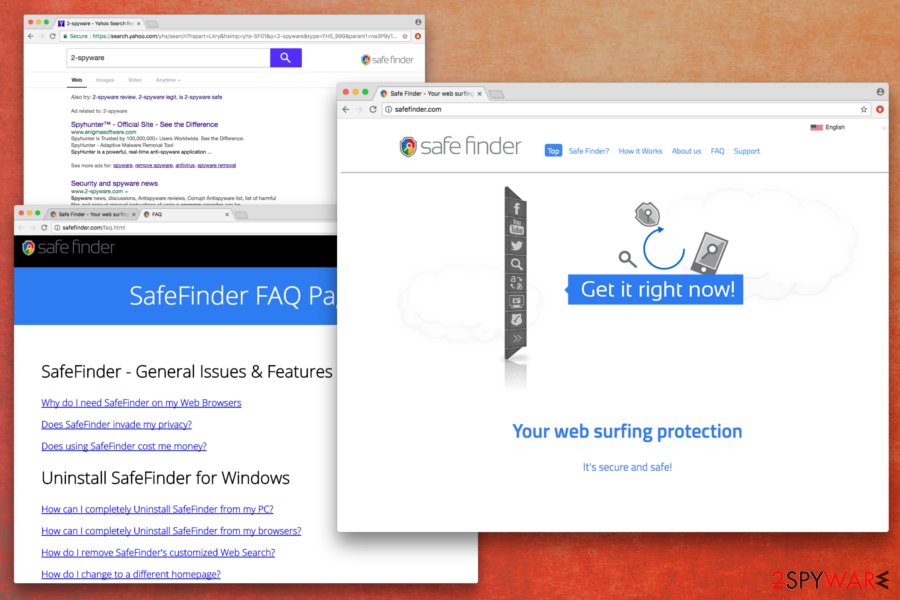 It seems that Safer Finder virus has mostly been noticed on Mac OS when compared to Windows OS. Thus, if you are the owner of Apple products, you should be aware of the persistent Mac Safe Finder version. As we have noticed, it is closely related to the Advanced Mac Cleaner which is known as another questionable tool that should not be installed on the device. Unfortunately, this cyber infection might sneak inside the computer no matter if you want it or not.
Though it doesn't matter whether you are a Mac or Windows user, or what version of the hijacker attacked your device, you should focus on the same task – Safe Finder removal. The quickest way to get rid of this PUP is to run a full system scan with a reliable anti-malware program. Reimage Reimage Cleaner Intego will also help you find corrupted files and restore PC's peak performance. If you do not prefer using additional software, scroll down to the end of the article and follow our prepared manual removal guidelines.
Things to expect after choosing to keep the Safe Finder
The first thing you must remember is that Safe Finder imitates a search engine, but works in a deceptive manner. It claims that it is powered by Yahoo, but don't think that the search engine is safe because of that! This rogue app tries to camouflage its dubious reputation behind the name of a reputable search website[1].
Being a browser hijacker,[2] this virus alters its search outcomes by adding hideous hyperlinks causing redirects to third-party web pages. That means that whenever you attempt to search something online via this bogus search engine, random and unexpected Safe Finder redirect issues might send you to websites that you did not plan to visit. Beware that each destination directed by Safe Finder can hardly be checked by developers of this app as their only aim is to earn money. We believe that this is yet another reason to remove Safe Finder from the system.
Websites that you might be rerouted to belong to the affiliates of this application, and, while some of them might be safe, others can be very dangerous. In some cases, you might end up on a phishing site – a lookalike page (such as Facebook, Netflix accounts, etc.). Once you enter your credentials, you will merely provide the username and password of your account directly to cybercrooks.
SafeFinder can also bring you to the website that promotes the download and installation of bogus software. Typically, the promotion is done unfairly – fake ads inside the browser display various error messages or virus alerts. These sites are nothing but a scam and only try to trick users into either calling bogus tech support or making users download useless software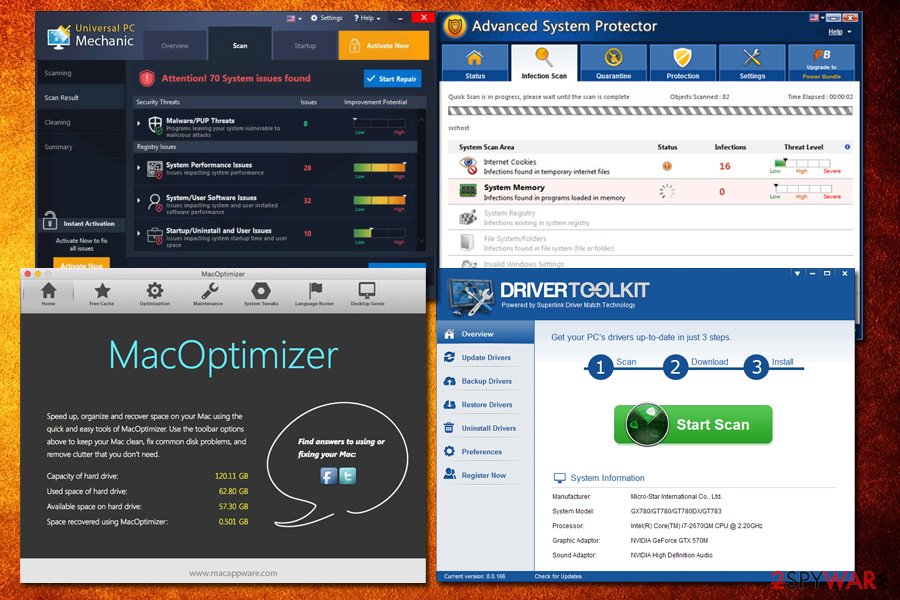 With the help of SafeFinder scareware programs may be installed on your computer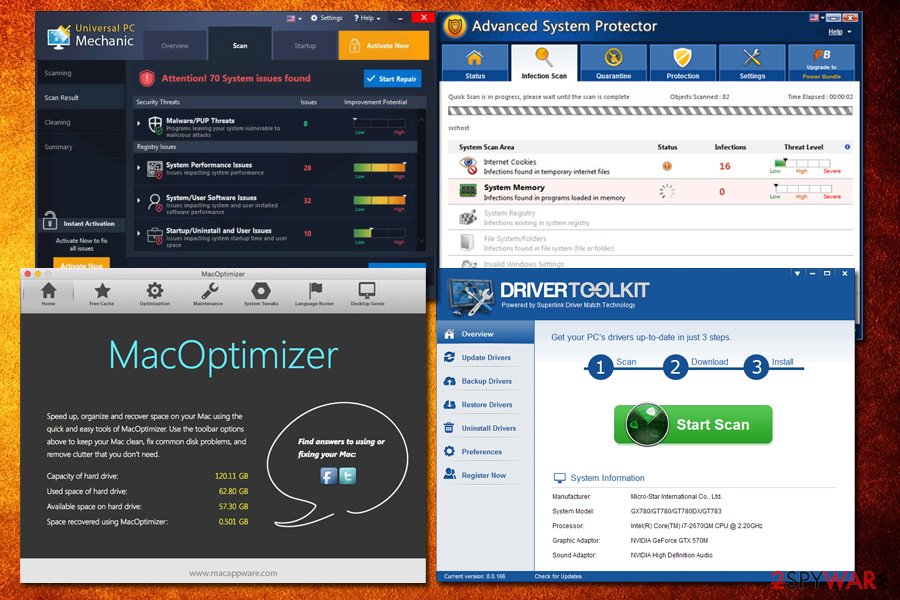 With the help of SafeFinder scareware programs may be installed on your computer
If you agree to download the fraudulent anti-malware software (also: speed-up software, driver updater, system optimizer, registry cleaner, etc.), it might bring you into more trouble. The program usually performs several scans and allegedly finds multiple issues. It turns out, all these issues are fake as well, and you will be prompted to buy the full version of the app, which is not cheap in most cases.
These type of applications are called Scareware as they try to scare user that their machine is in trouble in order to earn some money (in other words – it's a scam). Unfortunately, many people who lack technical knowledge will be willing to pay $19.99 just because they want to keep their machine safe. This way, Scareware production became a multi-million dollar business worldwide. Examples of scareware programs include:
Any of these programs, and many others, may be offered to you in one way or another. Ignore these deceptive apps!
Bypassing the risks of Safe Finder for Mac virus
The most victims dealing with Safe Finder are Mac users. Most of them have reported a close relation between this PUP and Advanced Mac Cleaner. We highly recommend uninstalling this app because it is just a misleading optimizer that reports about thousands of computer errors.
Besides, if you are not attentive enough while installing this app, you can end up with Safe Finder hijack. To bypass the risk of getting your PC accidentally infected, follow these guidelines:
Be attentive enough while installing freeware on your computer.
Do not use a search website that has become your browser homepage without your knowledge. It is 99% of probability that your computer was hijacked by a PUP;
Do not click on suspicious pop-up ads or banners that continuously appear on your screen. The appearance of super intrusive ads[3] indicates that computer might have been infected with spyware or malware, too.
Install a reliable anti-spyware software to keep your computer secured. Such program continuously scans the system and searches for dangerous apps that may have been installed without your consent. Thus, these tools will help you disable Safe Finder on Mac and Windows as well.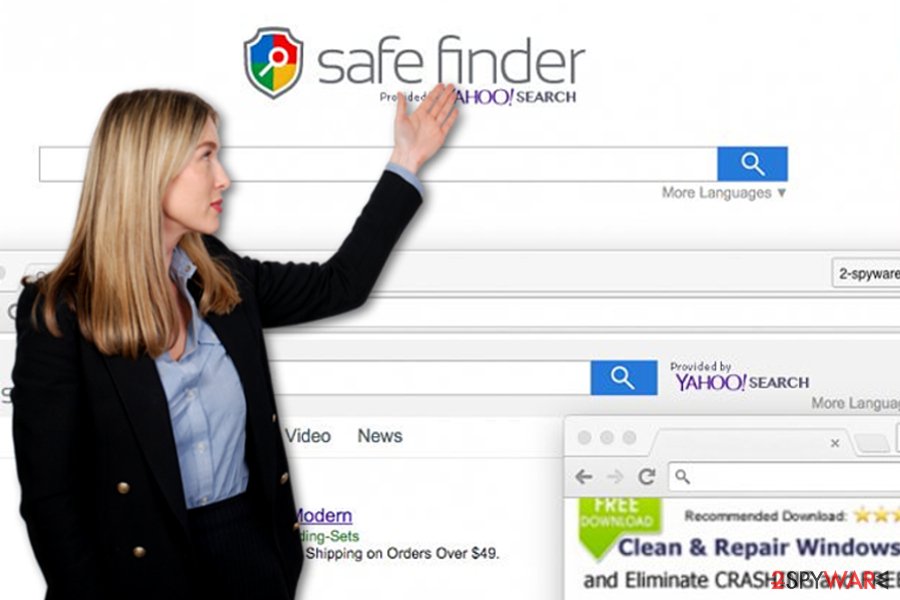 Safe Finder is an unwanted app that tries to sneak into users' browsers in the form of other search tools. Some of Polarity Technologies Ltd browsing engines were caught promoting it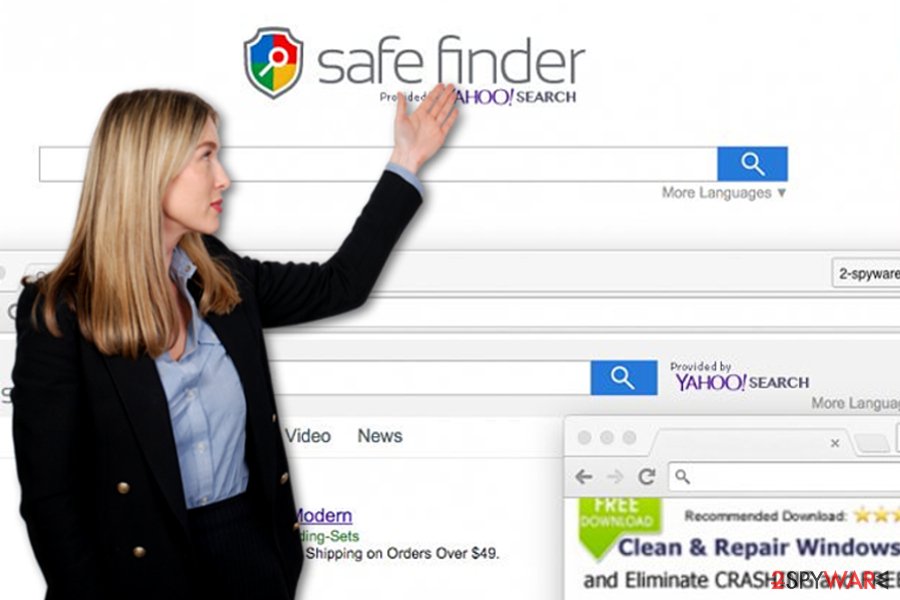 Safe Finder is an unwanted app that tries to sneak into users' browsers in the form of other search tools. Some of Polarity Technologies Ltd browsing engines were caught promoting it
Countering the hijacker. What you need to know about Safe Finder
As you can see, Safe Finder is not that safe at all. In fact, it is not a popular search site, so many PC users get surprised when they see this web page instead of their regular homepage. This browser hijacker tends to occupy users' computers in a silent way, pretending to be a "recommended program[4]" next to the legitimate free programs.
Software that holds additional apps is called "bundled software." Beware of such software bundles as in most cases they are used to spread potentially unwanted apps (browser hijackers, adware, browser extensions, add-ons, and plug-ins). The key to keeping your PC secured from such spyware programs is the correct installation of new programs.
When installing program which is free, make sure you investigate the website that provides a download link to the software that you wish to download. Make sure it is legitimate and safe. When you decide to download the program, install it with attention and care. Do not rush through the installation process by continuously clicking "Next," "Agree," and finally "Finish."
Besides, we highly recommend reading each statement and investigate the Terms of Use document. If you find any hints about the promotion of third-party software, be careful! Once you reach the stage where setup suggests choosing installation settings, opt for the "Advanced/Custom" mode.
These settings provide additional software window that offers a list of suggestions to install optional free apps. Make sure you deselect these suggestions. You should install new programs in such way all the time. However, if Safe Finder PUP has already invaded your Mac or Windows operating system, keep on reading this article to learn how to banish it from your computer.
Frequently asked questions about Safe Finder virus on Mac (FAQ)
Question. I have removed "Advanced Mac Cleaner" from the Macbook Pro. However, Safe Finder still appears on my browser. No matter what I do, I cannot delete it from Chrome. What do I need to do?
Answer. This PUP spreads around as a browser extension. Thus, you need to open the list of Google Chrome extensions and remove it from there. If you need a detailed explanation how to do it, please scroll down to the end of the article and follow our prepared instructions.
Question. Safe Finder virus hijacked my Safari browser. How can I remove it?
Answer. After the Safe Finder hijack, you should scan your device with professional anti-malware software, such as Reimage Reimage Cleaner Intego. It will detect and eliminate this adware/browser hijacker from the device. Additionally, you can uninstall this browser extension: Open "Preferences" and go to "Extensions," and uninstall the add-on. Then, you need to reset Safari settings. Safari reset instructions are presented below.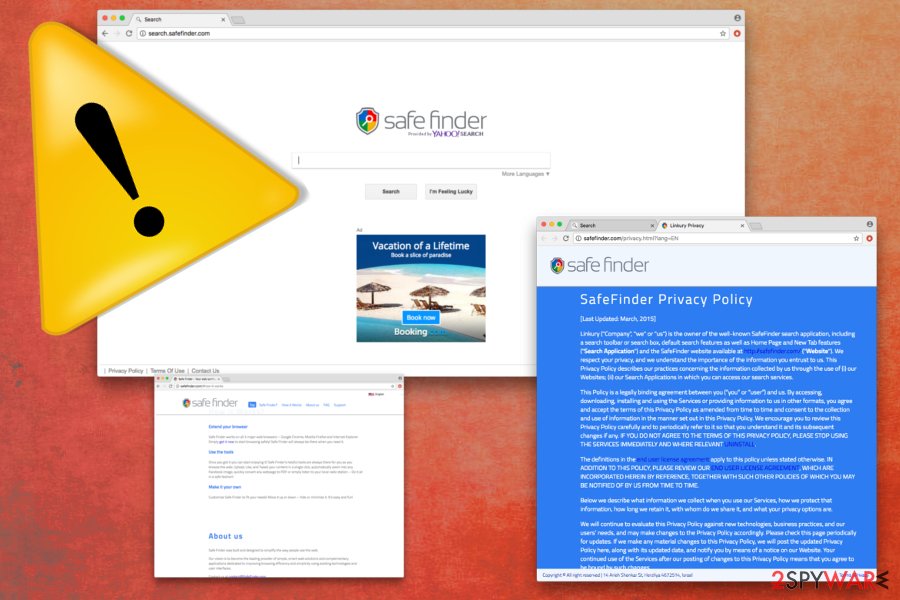 Safe Finder can be downloaded on official website. However, most users find this PUP on their machines after installation of other free programs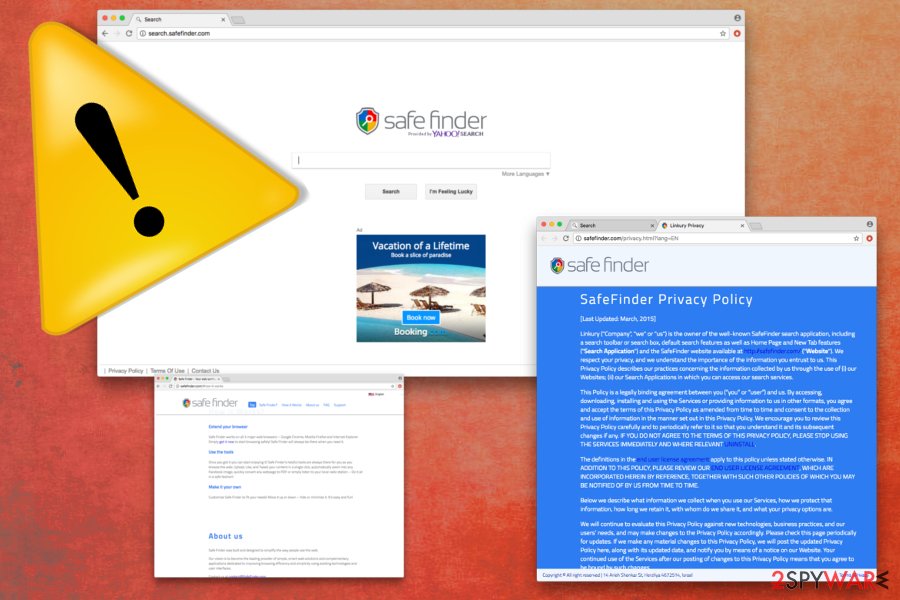 Safe Finder can be downloaded on official website. However, most users find this PUP on their machines after installation of other free programs
Question. Probably, I was falsely informed about the necessity to update Flash Player… As a result, I found the Safe Finder extension installed on the Safari. It loads whenever I launch Safari. I have no intention of using it, but I cannot remove it too. I've tried to uninstall it, but it showed up again. Help me!
Answer. So-called Safari Finder virus might be tricky to remove. Uninstalling browser extension only may not be effective. You should also investigate computer's system and look for the suspicious application installed on the computer as well. You can find illustrated manual instructions at the end of the article. However, you can remove this virus automatically with a help reputable security tool.
Question. How can I permanently remove Safe Finder from Mac? These pop-ups offering Advanced Mac Cleaner are getting more and more aggressive.
Answer. The best way to terminate the adware is to run a full system scan with anti-malware/anti-spyware program. However, you can use our prepared instructions below and get rid of the virus manually. No matter which method you choose, don't forget that removal requires three steps: 1) get rid of Safe Finder from Mac; 2) uninstall Safe Finder browser extension from your browsers; 3) reset your browser.
Safe Finder elimination guide
The virus can be terminated manually and automatically. Our team of computer experts has prepared comprehensive and detailed Safe Finder removal instructions which can be found just below the article. We strongly recommend scanning your system with a reputable anti-spyware[5] afterward; it might find additional programs that should not be kept installed on your PC.
With an anti-spyware software, you can also easily remove this PC intruder automatically. Choose whatever removal method works best for you and remove Safe Finder virus without delay! Otherwise, you can put yourself at the risk of losing your personal information, being redirected to an infected website
You may remove virus damage with a help of Reimage Reimage Cleaner Intego. SpyHunter 5Combo Cleaner and Malwarebytes are recommended to detect potentially unwanted programs and viruses with all their files and registry entries that are related to them.