Rote ransomware – a Djvu variant that supposedly modifies the Windows hosts file for preventing visitations to cybersecurity-related pages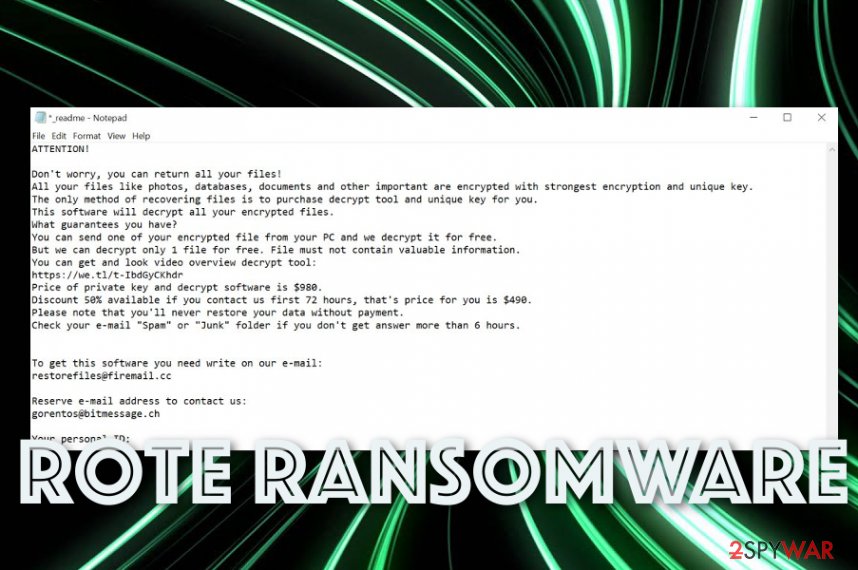 Rote ransomware is the cryptovirus that is designed to modify system files, add other programs and processes to keep the persistence of the main virus. The infection starts once the system is infected, and various background processes get launched during the same infiltration. Additionally, once the encryption algorithm is employed, all the additional scripts can be executed since you remain to focus on encrypted files. During this time, malware alters Windows hosts file to prevent you from finding solutions and information on cybersecurity sites like ours.
The initial purpose of the Rote ransomware virus is to lock your photos, videos, audio files, backups, and documents, so the ransom can be demanded. Once your files become useless and .rote extension appears at the end of every one of them, _readme.txt delivers you the message from criminals, which is nothing but intimidating. However, paying shouldn't be considered because this is a family of Djvu ransomware that is not known for recovering victims' data.
Developers of this family are pretty busy instead because right now new versions come out at least once a week. Rote ransomware is not much altered from the previous versions like Zomb or Grod, Peet, and others released in the same month. However, even though the ransom note file, ransom message itself, amount of the payment, and even email addresses are not changed, recent encryption changes make a huge difference for victims. There are almost no possibilities to decrypt files affected by these recent variants because the latest decryption tool is not supporting files encrypted using online keys that are mostly used by the developers right now.
Name
Rote ransomware
Family
File appendix
.rote gets added at the end of every file encrypted by the threat to mark affected data from safe files
Ransom note
_readme.txt – a text file containing the next steps after a ransomware attack and contact information for criminals who developed the virus
Contact email
[email protected] and [email protected]
Distribution
Pirated software packages with license codes and serial numbers of legitimate software. Mainly users get infected when downloading video games, cheats and cracked Adobe products because these malicious files are hidden inside the installation setup
Elimination
For the proper Rote ransomware removal results, you should go for professional anti-malware tools, so every file and program associated with the virus can get deleted
System repair tip
Virus removal is not ensuring file recovery, the same goes for virus damage and system file repair. For system files that get corrupted or damaged, you can try

Reimage

Reimage Cleaner

that may find, indicate, and fix the damage. You will need file backups, data recovery software for encrypted data after that
It is extremely unfortunate, but Rote ransomware is not decryptable. This is the sad case for the last 40 versions in this family, because Emsisoft's tool works for the first 148 versions released before the August 25th of 2019, and only for some of the newer versions that include offline keys.
Researchers speculate that it is the question if any new versions or the Rote ransomware virus itself can be decrypted ever. Since the proper RSA[1] encryption method got used, offline keys are no longer in use of the encryption process. Without them, file recovery id not possible because each victim gets a unique ID generated by the online server.
This why we talk about those online IDs all the time. Offline IDs that end in t1, most of the time, can be used for many victims of the same virus and recover data easily with the decryption tools like STOPDecrypter that is now not updateable or supported.
Nevertheless, the best solution for the encryption and cryptovirus attack is Rote ransomware removal. Because when you delete the virus as soon as you notice the malware attack, you can control the machine and when you react as quickly as possible there is little to no damage and you can recover your files immediately using backups or third-party software.
We can also recommend removing the threat after you store those malware-related files on the remote device and then wait for possible ways of decryption instead of system cleaning as your first step. But you need to remove Rote ransomware as soon as possible and use the proper anti-malware tool[2] that can eliminate all the traces of this malware. If you skip through such important steps, you can damage the machine further and lose your files by adding data on the still infected machine.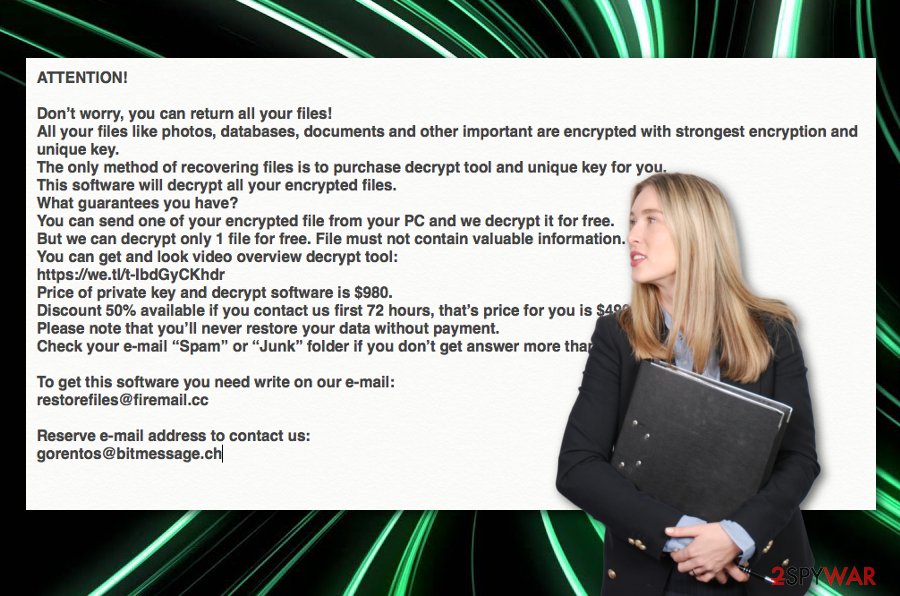 Rote virus – ransomware that can modify the Windows hosts file to prevent the users from accessing security-related content on the Internet Rote ransomware, as we mentioned, has many layers to the virus attack. The encryption is the primary purpose of the threat, then it comes all the alterations in the OS itself (you can try to fix them by repairing crucial system files with Reimage Reimage Cleaner ). After that, secondary payload dropper infects the machine with trojans, malware designed to steal data or damage the machine permanently.
You need to tackle all these changes, alterations, and virus damage before you recover files locked by the notorious Rote ransomware. You need to get a professional anti-malware tool for virus termination, rely on the system repair tool for system recovery, and then find the best solution for encrypted files: either replace encoded data using your backups or restore them using one of the methods listed below the article.
There is a solution offered by Rote ransomware developers themselves – paying the ransom that is nothing but questionable. Even the 50% discount shouldn't convince you because cybercriminals are nothing but criminals. For other versions in such a virus category, paying may be the solution, but even the bigger companies, when encountered the attack, are not willing to pay up.[3]
_readme/.txt shows the following ransom note:
ATTENTION!

Don't worry, you can return all your files!
All your files like photos, databases, documents and other important are encrypted with strongest encryption and unique key.
The only method of recovering files is to purchase decrypt tool and unique key for you.
This software will decrypt all your encrypted files.
What guarantees you have?
You can send one of your encrypted file from your PC and we decrypt it for free.
But we can decrypt only 1 file for free. File must not contain valuable information.
You can get and look video overview decrypt tool:
hxxps://we.tl/t-4NWUGZxdHc
Price of private key and decrypt software is $980.
Discount 50% available if you contact us first 72 hours, that's price for you is $490.
Please note that you'll never restore your data without payment.
Check your e-mail "Spam" or "Junk" folder if you don't get answer more than 6 hours.

To get this software you need write on our e-mail:
[email protected]

Reserve e-mail address to contact us:
[email protected]

Your personal ID:
Ransomware infections often come via software cracks
A significant percent of ransomware infections come within cracked software that is delivered on various p2p networks, including The Pirate Bay, eMule, and other torrenting websites. Programs and tools should be downloaded only from trustable sources or directly from the official developer.
Continuously, some ransomware is also distributed via weak remote desktop protocol protection. If the RDP lacks a password or included and easy-guessable one, bad actors might misuse this vulnerability and use the RDP, e.g. TCP port 3389 to access a particular computer remotely.
Furthermore, email spam campaigns are also popular regarding malware distribution. Criminals are likely to pretend to be from reliable shipping companies such as FedEx and DHL. They camouflage as a reputable firm and tend to provide "shipping information" in the form of an attachment or hyperlink, which holds the malicious payload.
If you are always cautious during browsing sessions and while completing computing work, you slightly decrease the chances of getting infected with ransomware. However, also make sure that you employ reliable antivirus security that will protect your computer system and its components automatically.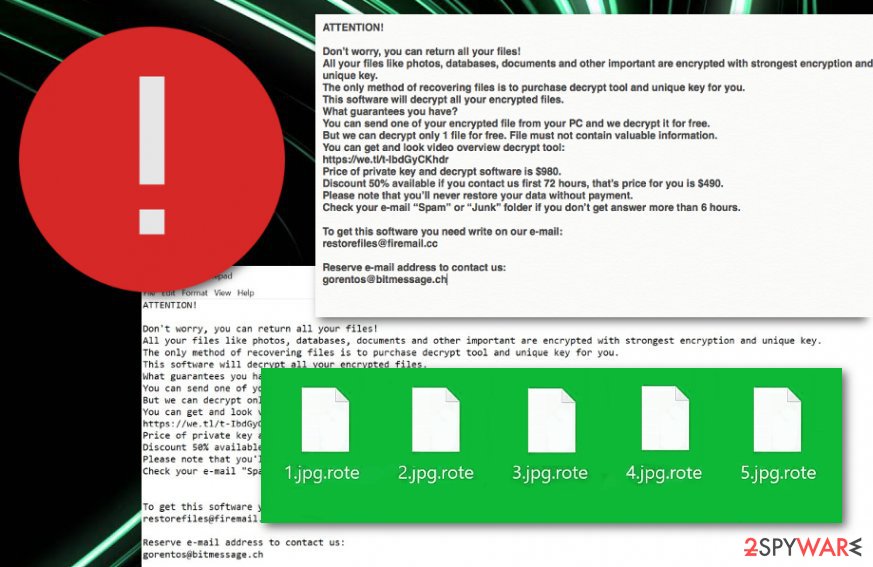 Rote ransomware is a notorious infection that resides from the Djvu malware family
Protect your data from possible malware attacks
Ransomware viruses are the worst for their capability to lock up important data and documents on the infected computer system. The good news is that you can avoid this type of risk by safely storing backups of your files.
Here you will need to purchase a portable USB flash drive and copy the information directly to it. However, remember not to keep the device plugged for long, especially, when you are not using it, as if a ransomware infection occurs during the connection process with the USB, the malware might be able to reach the files on the drive.
Other alternatives to safely data storing are using remote servers such as iCloud if you are an Apple user or using Dropbox if you are a Windows user. Also, you can keep your files on multiple devices or machines if you own that many. Even if you fail to protect your data, do not rush to pay the cybercriminals as you will immediately regret this decision if the crooks decide to scam you. Contacting them can lead to silent info-stealing malware besides the file-locker Rote ransomware.
The removal technique for Rote ransomware virus
Rote ransomware removal is a process that needs to be handled with big care and attention. This means that you will need to download reliable security software in order to succeed in the process. Also, you might have to repair some compromised system components with programs such as Reimage Reimage Cleaner , SpyHunter 5Combo Cleaner, or Malwarebytes.
After you remove Rote ransomware, you can continue with file restoring purposes. Below you will find some methods that might allow you to recover at least some of your encrypted files or documents. However, even if it is not 100% success, using such third-party software is a definitely better option than paying the cybercriminals.
According to cybersecurity experts from NoVirus.uk,[4], once you are uninstalling Rote ransomware virus, you need to make sure that all malicious content has been successfully removed from your Windows computer system, otherwise, the cyber threat might return within the next computer boot. Continuously, ensure that you delete the compromised Windows hosts file during the elimination process, or you still will be prevented from accessing security-related sources.
This entry was posted on 2019-11-25 at 11:03 and is filed under Ransomware, Viruses.