RedCross email scam is one of the COVID-19 scams, which supposedly raises funds aid workers and other medical personnel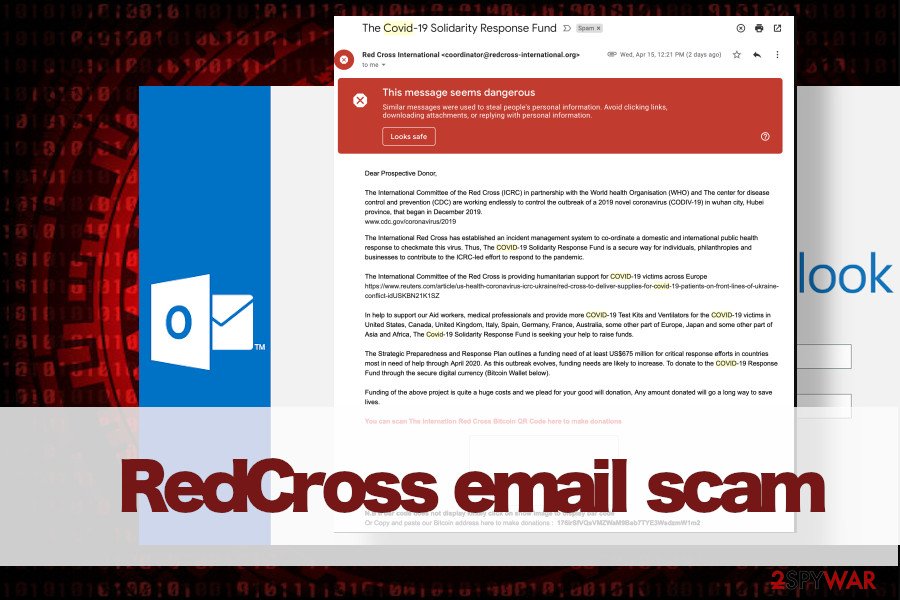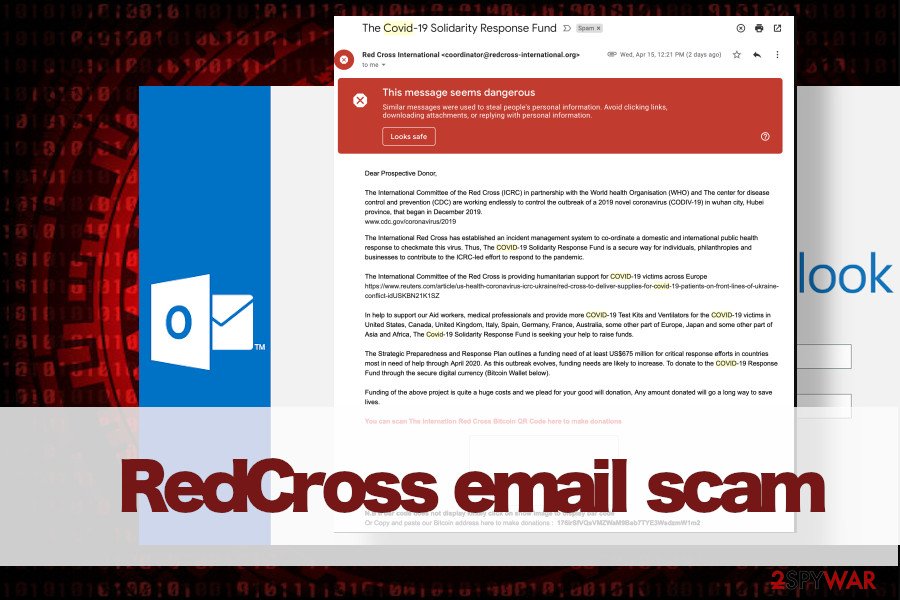 RedCross email scam is yet another scam type, which leverages the COVID-19 outbreak[1] to swindle peoples' money. The email message involves criminals asking for a donation to help Aid workers, medical professionals and provide more COVID-19 Test Kits and Ventilators for the COVID-19 victims across the globe. The email typically comes from [email protected] and is signed by Paul Handerson – a Co-ordinator ICRC Solidarity Response Fund. Scammers claim that the funding is expected to reach at least $675 million and plan to collect the donations in bitcoin cryptocurrency via the 76irSfVQsVMZWaM9Bab7TYE3WsdzmW1m2 Bitcoin wallet.
Name
RedCross email scam
Type
Scam tools
Related to
COVID-19 scam
Sender
Scammers impersonate Paul Handerson – a Co-ordinator ICRC Solidarity Response Fund.
Organization
Spam misuses the name of Red Cross
Sender's email
co[email protected], though may vary
The goal
Criminals are trying to swindle people's money by impersonating Red Cross, which is supposedly asking for a donation to support coronavirus victims and medical personal that works with them
The risk
This fake email message contains several links, which from the initial inspection seem legitimate. Nevertheless, these URLs can be injected with malicious codes and expose you to phishing websites or trick into downloading malicious programs
System repair
If you clicked on links available on spam email messages and have problems with a virus, make sure to scan the system with a professional AV engine. After that, repair virus damage with

Reimage

Reimage Cleaner

Intego
According to virus researches, currently, there are more than 500 COVID-19 related scams and over 2,000 phishing attempts[2]. There are hundreds of well-known names and organizations that have been misused by scammers to trick people into scams. Red Cross is the organization that initiates various fundraising in really that is why it's easy to fall for this scam. However, please note that this particular organization does not send email messages to or, even more, does not ask for donations in Bitcoins. There is an official request on ICRC[3] for people who think that Red Crosse's names been misused to inform the organization about that immediately.
If You Suspect a Disaster-Related Scam

If you see or hear about any instances of people misusing the Red Cross name or logo to collect funds on behalf of Hurricane Sandy victims, or any other types of disaster-related fraud, please call the National Center for Disaster Fraud (a program under the U.S. Department of Justice), toll-free, at (866) 720-5721, or email the NCDF at disaste[email protected]. All calls and emails will be treated as confidential.
Since people all over the world wait for the news about coronavirus pandemic and many of them really want to support organizations, scammers take advantage of such a time and spread fictitious messages like RedCross email scam. If such an email came to your inbox, all you have to do is to report it as spam. Do not allow scammers to get rich on behalf of people's misfortune.
To raise credibility, scammers include links to CDC (Center for Disease and Prevention) and Reuters websites. However, that's just a trick that the Red Cross email virus uses to swindle as much money as possible. In reality, these links may expose you to phishing websites or lure into downloading malicious software, such as Trojan, keylogger or ransomware. Some spam emails contain attachments that carry malicious viruses, while the others feature links. Both methods are equally dangerous.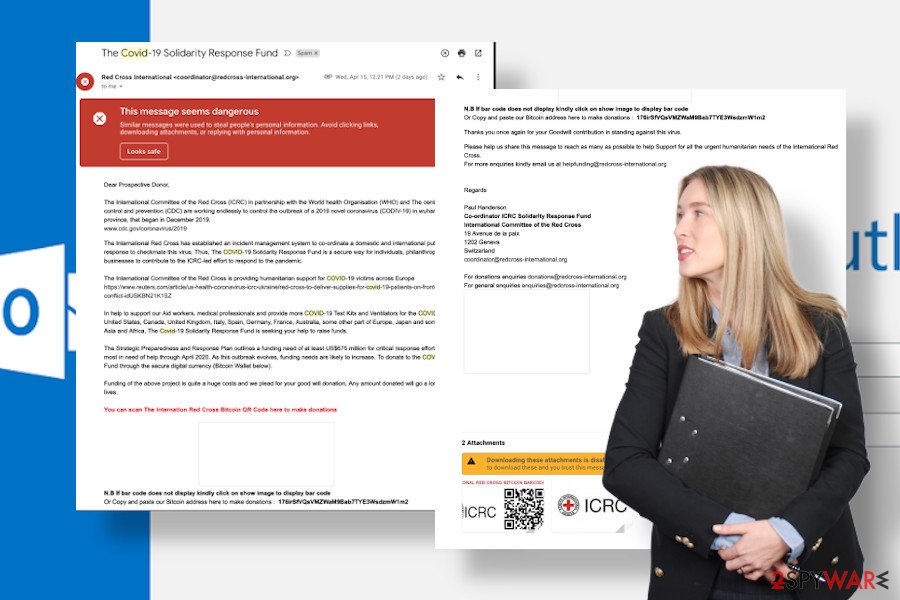 Fake RedCross email scams are circulating on the Internet. Millions of dollars have already been extorted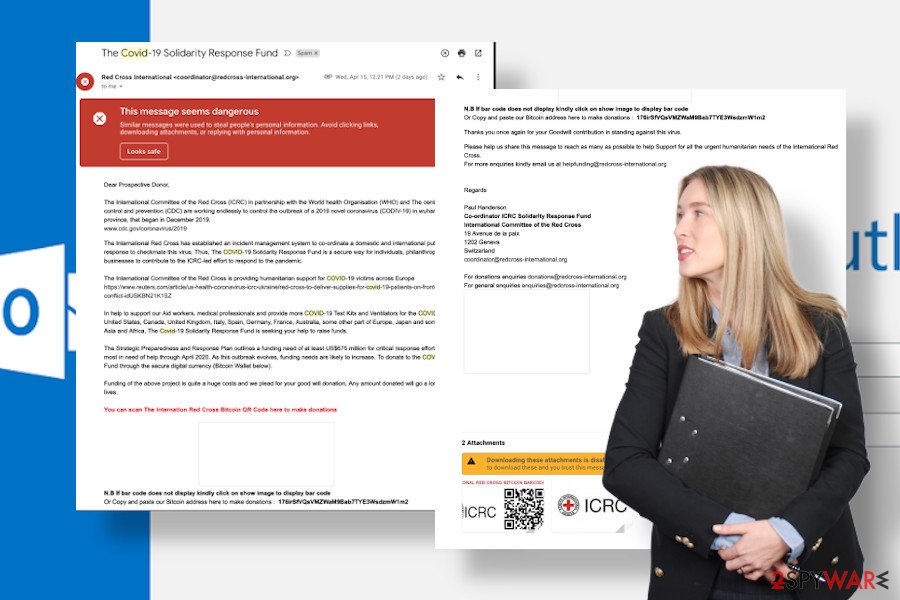 Fake RedCross email scams are circulating on the Internet. Millions of dollars have already been extorted
Another trickery on the RedCross email scam is the way scammers offer to donate. The email contains a place where the QR Code that supposedly belongs to the International Red Cross organization should be positioned. However, the QR Code does not work. An alternative – send money to the give Bitcoin Wallet, which belongs to scammers.
Subject: The Covid-19 Solidarity Response Fund

Dear Prospective Donor,

The International Committee of the Red Cross (ICRC) in partnership with the World health Organisation (WHO) and The center for disease control and prevention (CDC) are working endlessly to control the outbreak of a 2019 novel coronavirus (COVID-19) in Wuhan city, Hubei province, that began in December 2019.

The International Red Cross has established an incident management system to co-ordinate a domestic and international public health response to checkmate this virus. Thus, The COVID-19 Solidarity Response Fund is a secure way for individuals, philanthropies and businesses to contribute to the ICRC-led effort to respond to the pandemic.

The International Committee of the Red Cross is providing humanitarian support for COVID-19 victims across Europe

In help to support our Aid workers, medical professionals and provide more COVID-19 Test Kits and Ventilators for the COVID-19 victims in United States, Canada, United Kingdom, Italy, Spain, Germany, France, Australia, some other part of Europe, Japan and some other part of Asia and Africa, The Covid-19 Solidarity Response Fund is seeking your help to raise funds.

The Strategic Preparedness and Response Plan outlines a funding need of at least US$675 million for critical response efforts in countries most in need of help through April 2020. As this outbreak evolves, funding needs are likely to increase. To donate to the COVID-19 Response Fund through the secure digital currency (Bitcoin Wallet below).

Funding of the above project is quite a huge costs and we plead for your good will donation, Any amount donated will go a long way to save lives.

You can scan The Internation Red Cross Bitcoin QR Code here to make donations

N.B If bar code does not display kindly click on show image to display bar code

Or Copy and paste our Bitcoin address here to make donations : 176irSfVQsVMZWaM9Bab7TYE3WsdzmW1m2

Thanks you once again for your Goodwill contribution in standing against this virus.

Please help us share this message to reach many as possible to help Support for all the urgent humanitarian needs of the International Red Cross.

For more enquiries kindly email us at [email protected]

Regards

Paul Handerson
Co-ordinator ICRC Solidarity Response Fund
International Committee of the Red Cross
19 Avenue de la paix
1202 Geneva
Switzerland
[email protected]
Those who receive RedCross email scams or other COVID-19 email scams should be concerned about the safety of the system and data stored on it. Scam email messages usually flood inbox after an email address gets exposed somewhere and becomes reachable to cybercriminals. In many cases, emails leaks to criminals after potential victims enter personal information on bogus surveys. However, thousands or even millions of email addresses and other personal information get reachable to criminals after data breaches, such as Equifax, EDP, and others.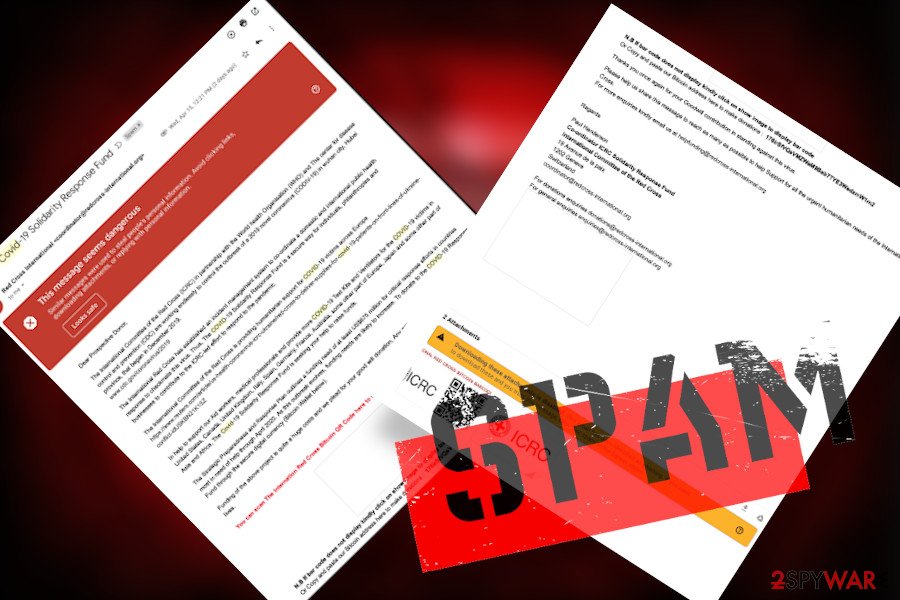 RedCross emails scam messages is a type of COVID-19 scams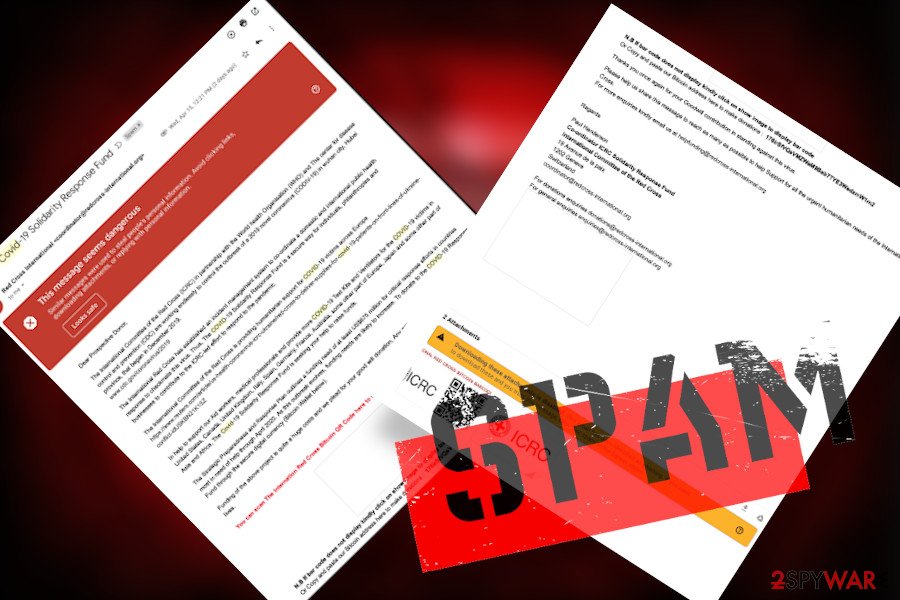 RedCross emails scam messages is a type of COVID-19 scams
Botnets distribute spam emails widely
The forces behind fake RedCross email messages are botnets[4] – a network of controlled computers that are manipulated bu bad actors and used to initiate massive spam attacks. However, for a botnet to get a command, spammers have to fill the database of victims' emails. There are several ways for scammers to gain access to people's emails:
Fake online surveys
Fake service subscriptions
Data breach
Direct placement of email address on advertisement websites.
While the responsibility to prevent massive data leaks falls on companies and organizations that possess an email database, you should also take measures to protect yourself from spam attacks. First of all, do not place your email address publicly if it's not necessary. Besides, avoid participating in online surveys, prize giveaways, or subscriptions on questionable websites because it may a phishing scam.
RedCross email scam removal possibilities
If you keep receiving RedCross email scam messages, all you can do is to report the message as a scam and delete it from your inbox. However, the misleading messages on email may cause many problems for those people who click on links or attachments provided on them. In case you did so, we strongly recommend you to run a full system scan with a professional anti-virus program to ensure that your PC is free of ransomware, spyware, Trojan or another cyber infection.
RedCross email scam removal is not the last thing that you can do to protect yourself. In case your personal email address is continuously flooded with spam, most probably it has been leaked. Therefore, we would recommend you to create a new email, invent a strong password for it and keep it privately.
This entry was posted on 2020-04-17 at 10:42 and is filed under SPAM tools, Viruses.