Pornographic virus alert from Microsoft – a fraudulent pop-up used to scam users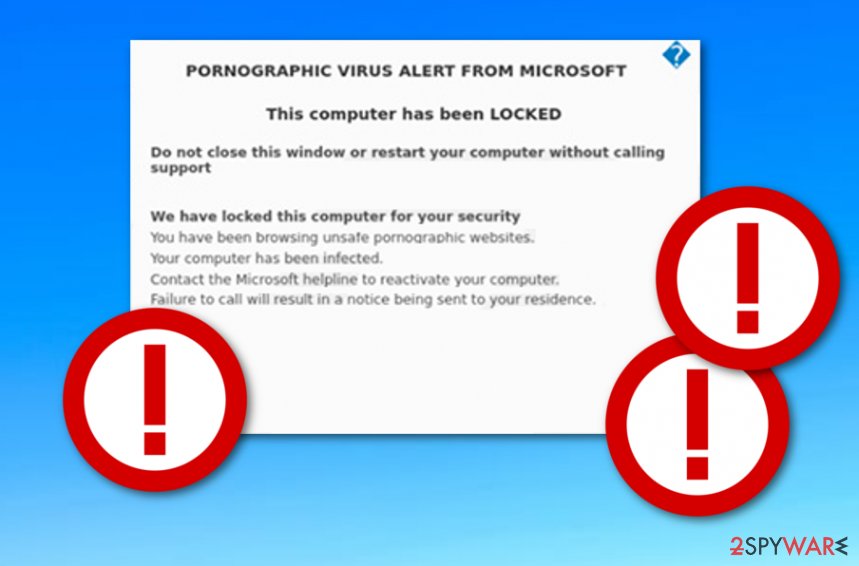 Pornographic virus alert from Microsoft is a scam that has been spread for almost a year. By presenting itself as the important alert from Microsoft,[1] this fake alert provides (888) 732-1022, (888) 731-1022 or similar phone number which should be used to contact the company's "technicians." However, the real people you are about to contact are scammers seeking to swindle your money or install malware on the system. Additionally, it can lock your web browser or computer's screen to look more convincing.
Name
Pornographic virus alert from Microsoft
Type
Scam/tech support scam/social engineering/fraud
Family
VIRUS ALERT FROM MICROSOFT
Main symptoms

False pop-ups appear on the web browser;
The web browser/computer is locked;
Unauthorized changes are spotted on the system

Main dangers

The money loss
Being signed for useless products/services
The loss of personal data
System changes/damage
Being infected with malware

Distribution
PUPs are the main reason why are you receiving such fake ads. Bundled freeware, suspicious sites is the main way how they spread
Detection
Use

Reimage

Reimage Cleaner

only to detect the outcomes of the virus. To get rid of this fake alert, find the potentially unwanted software on your computer. For that, anti-virus or anti-spyware software is recommended.
Just like VIRUS ALERT FROM MICROSOFT, Pornographic virus alert from Microsoft is a tech support scam which can lead you to numerous issues, e.g. identity theft, money loss, the loss of personal information and similar problems. After receiving a call from you, hackers typically try to get remote access to your computer system by installing the Team Viewer and similar software. Additionally, they can sign you up for numerous useless services which will be seen only after you receive an invoice from your cell phone operator. Please, keep in mind you must ignore the pornographic virus alert. If your computer is locked, you should restart it or close the web browser by canceling its task on Task Manager.
The fake Pornographic virus pop-up appears after you download the potentially unwanted program (PUP) to your system. In most of the cases, such viruses spread around unnoticed because of the bundling method used to fill freeware with optional components and earn some money from it. As a result, the PUP hiding behind "Pornographic virus alert from Microsoft" modifies web browsers to start showing one of these scams or similar fake alerts:
Just like these tech support scams,[2] Pornographic virus alert from Microsoft alert warns its victim that the computer system was infected due to unsafe browsing via pornographic websites. As a solution, the scammers suggest calling the given mobile phone number which is claimed to be from Microsoft. Additionally, Pornographic virus alert threatens its victims that there is a risk of having financial and other sensitive data tracked due to the malware hiding in the Windows computer system.
However, we want to warn you that a Pornographic virus alert from Microsoft is only a fake pop-up that claims false things, so you should not fall for believing it. Note that no reputable organization will provide information about possible infections via pop-up messages interrupting users while browsing the Internet and inserting a suspicious phone number in the notification box. The Microsoft logo is only a tool used to trick users into taking this scam seriously.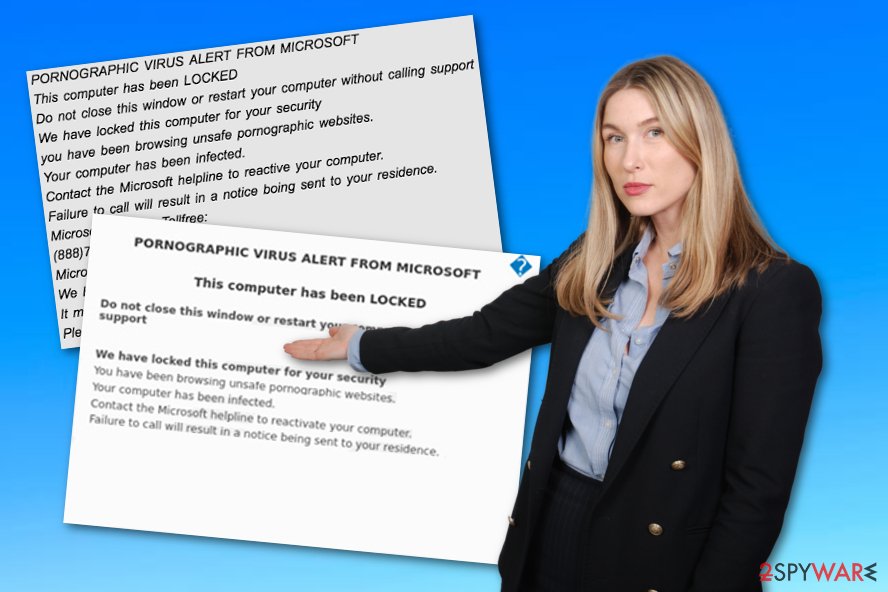 PORNOGRAPHIC VIRUS ALERT FROM MICROSOFT is a false alert which tricks users by alerting about viruses found so that they will call the fake tech support number
"Pornographic virus alert from Microsoft" virus typically causes the pop-up message on the web browser. Sometimes it locks it, so you might need to cancel it to start using it again. If the X button is disabled, launch Task Manager to end your Chrome, Firefox or similar web browser. Take a look at the message to recognize it if it appears on your screen:
PORNOGRAPHIC VIRUS ALERT FROM MICROSOFT
This computer has been LOCKED
Do not close this window or restart your computer without calling support
We have locked this computer for your security
you have been browsing unsafe pornographic websites.
Your computer has been infected.
Contact the Microsoft helpline to reactive your computer.
Failure to call will result in a notice boing sent to your residence.
Microsoft Security Tollfree:
(888)732-1022

Microsoft Support Alert
We Have Detected A Virus From A Pornographic Website
It might corrupt your data and track your financial activities.
Please report this activity to (888) 731-1022
If you have been experiencing the scam frequently, even when you are browsing via original and safe websites, you need to carefully check your computer system for the potentially unwanted program. To remove PORNOGRAPHIC VIRUS ALERT FROM MICROSOFT completely, check your recently-installed applications and remove every suspicious app from the unknown developer. Additionally, you will have to clean your web browsers to get rid of any browser helper objects (BHOs), add-ons, extensions, plugins, etc. The detailed guide is provided at the end of this post.
Pornographic virus alert from Microsoft removal can also be performed automatically. If you are a less-experienced user, we suggest detecting potentially unwanted applications and similar content which is considered to be dangerous by using anti-malware tools. To detect all suspicious components, use SpyHunter 5Combo Cleaner. Reimage Reimage Cleaner will restore your system to its previous state by fixing virus damage and eliminating corrupted files.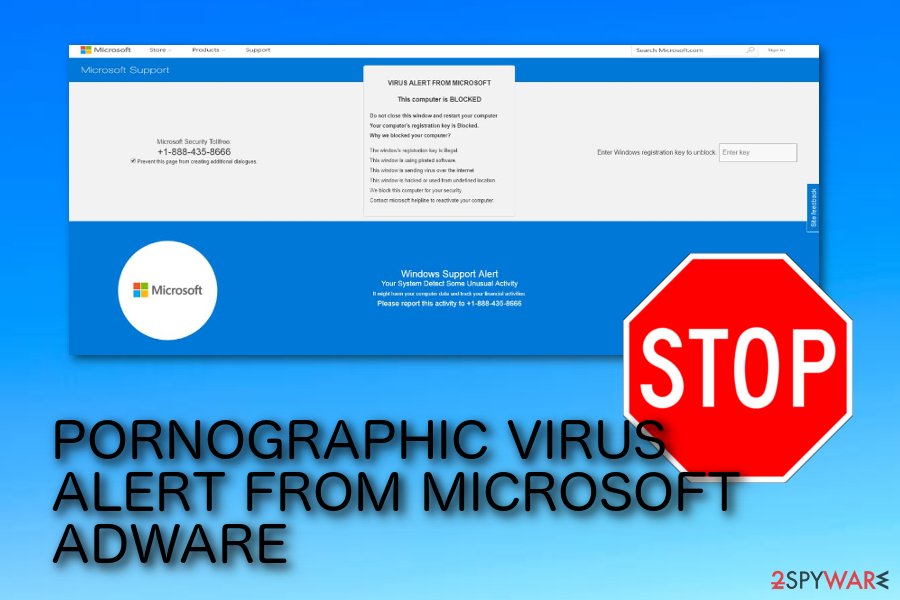 PORNOGRAPHIC VIRUS ALERT FROM MICROSOFT is a scam message which uses Microsoft's logo to trick users to call the tech support number and believe that they are receiving information from true experts
Main dangers caused by the scam
It is very important that you get rid of Pornographic virus alert from Microsoft and the cause (the PUP mostly) that is performing the rogue advertising on your web browser. Otherwise, you cannot only lose several hundred dollars after being signed for some useless service but can also receive a bigger invoice from your operator as such phone call centers typically charge based on the time they spend on talking.
Additionally, you can also become a victim of identity theft after letting hackers connect to your computer system remotely to "fix" the detected issues. Pornographic virus alert from Microsoft developers might try to trick you into installing some "reputable" computer cleaning tool and convincing you to purchase it as well. This way, you might experience money loss as well.
Finally, there is also a high possibility that hackers will try to use Pornographic virus alert from Microsoft pop-up scam to gather personal details about the user and misuse them for illegitimate purposes. Once contacted the given number, you might be urged to reveal some private data about yourself or your computer system. Additionally, they can check your passwords if you let them connect to your computer system.
As you can see, you should NEVER think about calling the provided tech support number as it is only a scam and you cannot wait for anything good by contacting these people.
PUPs distribute themselves via the regular software or appear on unprotected pages
According to computer experts from NoVirus.uk,[3] potentially unwanted content can easily enter your computer system if you lack cautiousness while browsing the Internet sphere. What you have to do is always be at least one eye on your Internet security and the other one on your work. For clearer information, you should:
Avoid visiting questionable sites. P2P networks[4] and other similar websites are very likely to distribute potentially unwanted content and even malware. For example, such components can get injected into hyperlinks or even ads.
Use the Custom installation mode only. Do not opt for any Quick or Recommended configuration as it is not the best idea while downloading software and various content from the Internet. The Quick mode will not prevent suspicious content from slipping in the system while using the Custom mode you will be able to track and control all incoming downloads.
Never skip downloading/installing steps. If you have decided to perform downloads and installations on your own, note that you will need to pay attention to each step and make sure that none of them are skipped or completed incorrectly.
Install anti-malware protection. Having an antivirus program on your computer system is one of the best choices you can make regarding the computer security sphere. If you keep the software always updated, it will ensure that no threats enter the system without the user's knowledge.
The removal process of PORNOGRAPHIC VIRUS ALERT FROM MICROSOFT
If you are the victim of this rogue scam and have been experiencing it whenever you open your web browser, you need to take some actions to remove PORNOGRAPHIC VIRUS ALERT FROM MICROSOFT virus from your Windows computer system. Make sure that no rogue content is left on your computer and web browsers, such as Google Chrome, Mozilla Firefox, Internet Explorer, Microsoft Edge, and Safari.
The PORNOGRAPHIC VIRUS ALERT FROM MICROSOFT removal can be performed by the user himself or by using anti-malware software. If you think that you have enough skills in the threat elimination field and computer operating, you can go for the step-by-step guide that we have provided below this article. However, if you prefer a more quick and safer method to remove the potentially unwanted program, use reputable anti-malware and deal with the process in minutes.
Video guide to help you fix your computer completely
Below you will find a video clip that is here to guide you and help to get rid of PORNOGRAPHIC VIRUS ALERT FROM MICROSOFT and fix your infected machine. Follow all the steps that will be displayed to you in order to reach the best results possible and restore your computer back to its previous position:
You may remove virus damage with a help of Reimage Reimage Cleaner . SpyHunter 5Combo Cleaner and Malwarebytes are recommended to detect potentially unwanted programs and viruses with all their files and registry entries that are related to them.