Outbyte PC Repair is a system optimizer that is distributed via fake Windows update alerts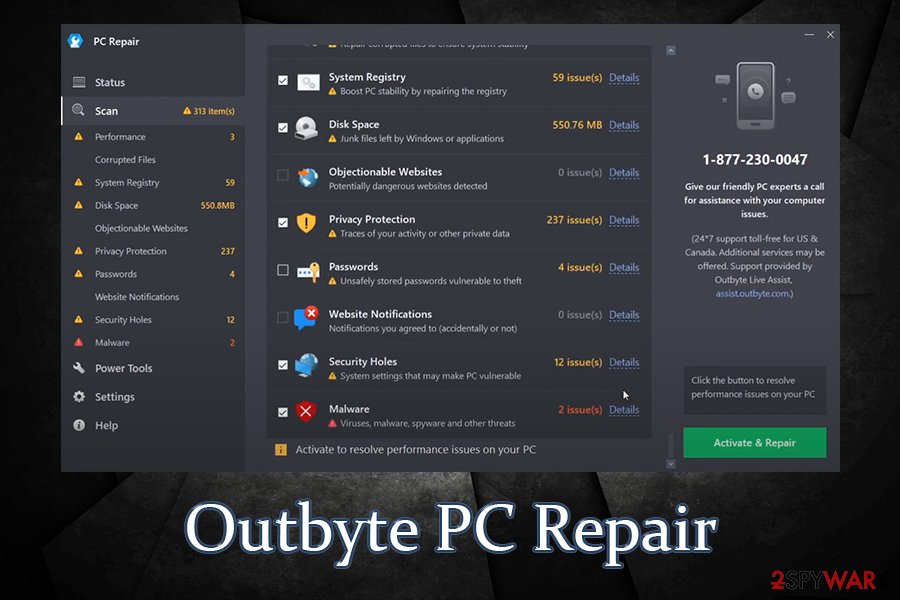 Outbyte PC Repair is a potentially unwanted application that might show exaggerated scan results in order to make users purchase the license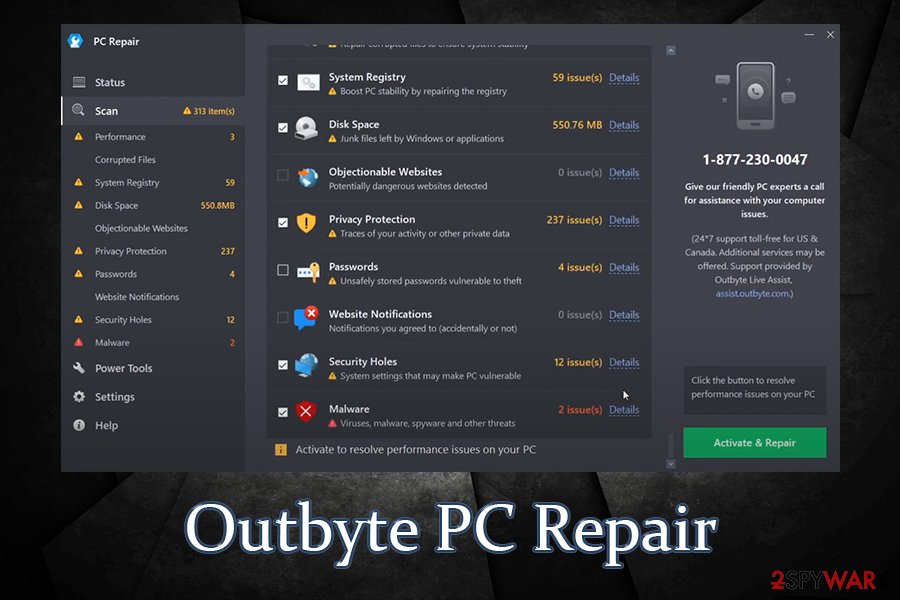 Outbyte PC Repair is a potentially unwanted application that might show exaggerated scan results in order to make users purchase the license
Outbyte PC Repair is a potentially unwanted program that claims to be able to fix performance issues, protect privacy, report unsafe passwords, malware infections, etc. While most applications of such type spread within software bundles, this PUP is also delivered with the help of fake Windows of Flash Player prompts – a method typically used by malware. Nonetheless, developers recently posted a message claiming that rogue distribution tactics were the fault of the affiliates.
As soon as Outbyte PC Repair is installed, it will perform a mandatory scan, which will check invalid entries, junk files, and other parts of Windows. After the scan is complete, users will be suggested to fix all the found problems, although they will be redirected to the payment site instead. While there is nothing wrong with such a monetization method, scan results shown to users are typically exaggerated and shown in a manner that can make them consider their computer health as poor. In other words, Outbyte PC Repair can be misleading, and there are better optimization tools out there.
Name
Outbyte PC Repair
Type
Potentially unwanted program
Distribution
Software bundles, official website, fake update prompts
Developer
Outbyte Computing Pty Ltd.
Functionality
Looks for various computer issues and fixes them; in some cases, the results might be exaggerated, misleading users into believing that their machines are damaged
Process
PCRepair.exe is running in the background as soon as the app is launched
Removal
You can uninstall the application via Control Panel – we provide the instructions below
Optimization
If you need a reliable tool that can repair Windows issues, opt for

Reimage

Reimage Cleaner

Intego
If you need a reliable application that can fix issues on your PC, remove Outbyte PC Repair as explained below and employ Reimage Reimage Cleaner Intego instead, as it does not use rogue distribution tactics like the former.
While many potentially unwanted programs typically collect a variety of data about users, Outbyte PC Repair seems to be doing well in this regard. While some limited amount of data is collected during the purchase of the product, this data is not shared with other parties, as explained in the Privacy Policy:
When you purchase Outbyte Computing Pty Ltd. products, you provide your personal contact, billing and shipping information to our payment processing partner, who retains the information needed for billing and shipping purposes, and information on your product licenses. Our payment processing partner shares with us the minimum information needed for us to provide service to you and handle your license. <…>

Outbyte Computing Pty Ltd. does not sell, rent or lease the collected information or part of it to any third party.
While the functionality of the Outbyte PC Repair might be useful in some cases, the way found problems are marked is not adequate. As previously mentioned, such a display might mislead users and make them believe that their machines are more damaged than they actually are. In many cases, users will see that they have hundreds of issues on their computers, despite that most are relatively minor or even harmless.
The following sections are checked and repaired by Outbyte PC Repair:
Performance
Corrupted files
System registry
Disk space
Objectionable websites
Privacy
Passwords
Website notifications
Security holes
Malware
Possibly the biggest mess-up by Outbyte PC Repair is its distribution techniques. In most cases, when users land on suspicious websites, they are shown a fake warning or a popup, which claims that something is outdated, or that their computers are infected with viruses and need repairs. The campaign that was used to distribute Outbyte PC Repair showed users system-like notifications that impersonated the Windows update window and also claimed that the system is missing cumulative updates. Rogue? Without a doubt. Outbyte Computing Pty Ltd. claimed that the occurred due to its affiliates.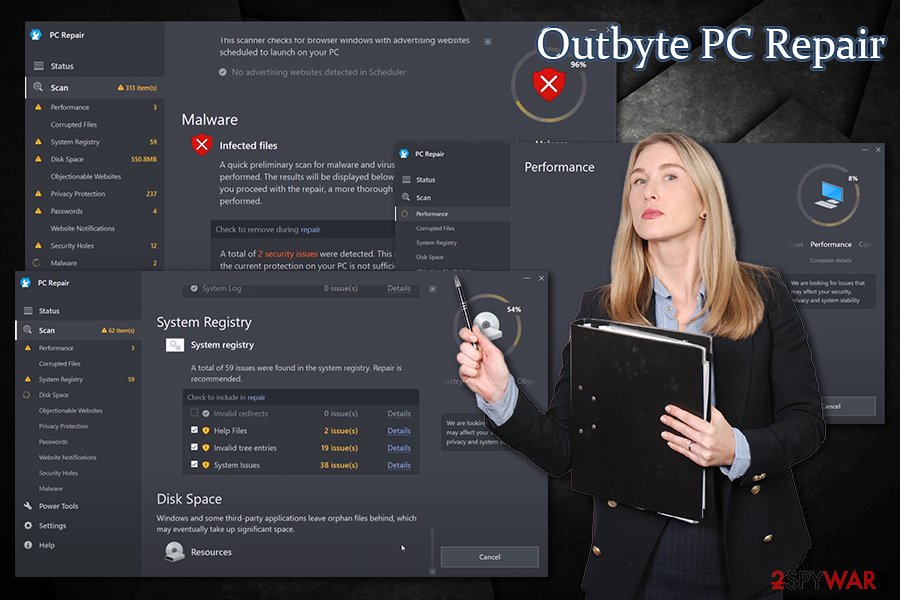 Outbyte PC Repair is a potentially unwanted program that is distributed in deceptive ways, employing fake system warnings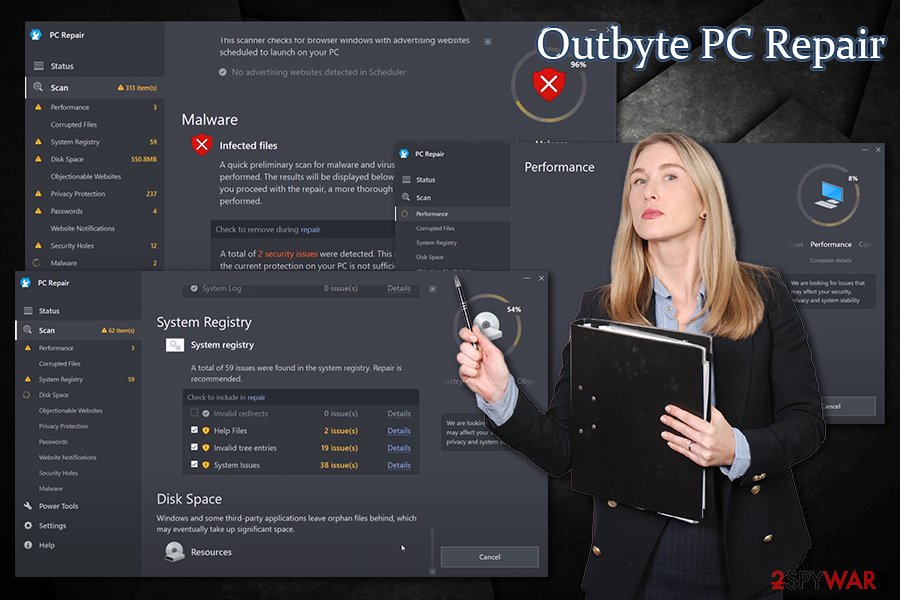 Outbyte PC Repair is a potentially unwanted program that is distributed in deceptive ways, employing fake system warnings
However, companies that develop software should be aware of whom they partner with, and blaming rogue affiliates for everything is just plain wrong. Fake updates for Windows and Flash Player are not adequate methods to advertise software and, while it will increase the count of downloads, as well as profits for the developers, it will diminish Outbyte PC Repair reputation greatly.
For Outbyte PC Repair removal, check the bottom section of this article. If you see any adverts after its termination, you should also reset the web browsers are explained below.
Watch out for fake update prompts and software bundles
While many potentially unwanted programs can be downloaded from their official websites, it is not mostly how users download them. Quite often, companies employ affiliates that run ads on specially crafted websites, and some of these websites can be less than secure. Mostly, users are displayed fake messages about their computer health or that an update of particular software, as well as the operating system, is required. However, this is all scam to make them download and install the offered app – affiliates receive a commission for every of such downloads.
Therefore, it is in their best interest to make users download the software. In other words – a higher volume of downloads, higher payments from the app developers. Unfortunately, some of the programs distributed in such a way might be straight out malicious or serve as a backdoor for malware. Thus, it is important never to download anything that is offered through rogue messages claiming that the computer is infected with viruses.
Another marketing technique that is often employed by developers is software bundling. In most cases, software bundle packages are downloaded from third-party websites that offer freeware. Similarly, as in the scenario described above, website authors receive a commission for additional applications that are installed on users' systems. While this technique is by far more legitimate than fake update prompts, it is deceptive nevertheless.
During the installation process, users can often pre-ticked boxes, misleading offers, misplaced buttons, fine print text, and similar tricks. Besides, optional components are often hidden under Advanced/Custom settings, so if Recommended/Quick mode is chosen, users will install PUPs without noticing it in the first place.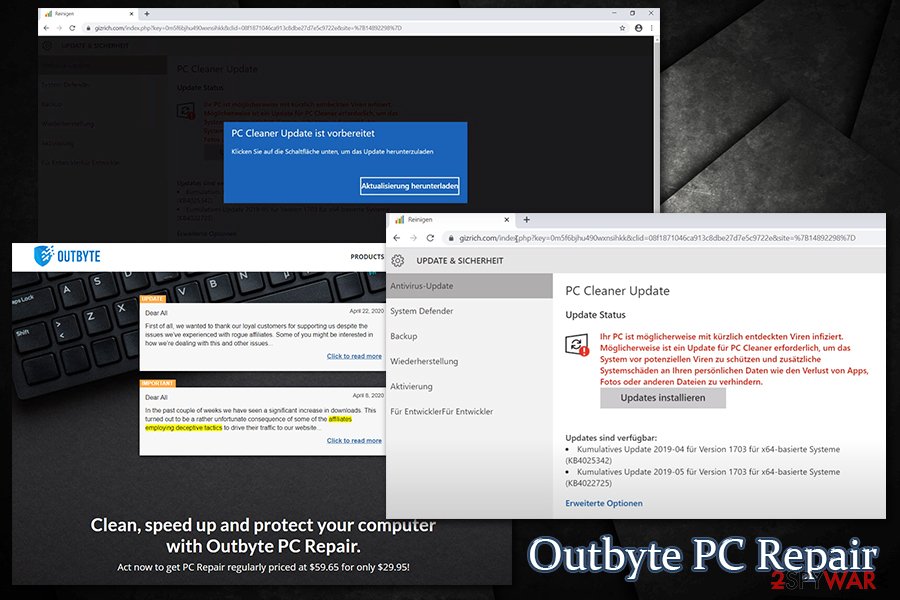 Outbyte PC Repair developers announced that scam techniques used to push the app were employed by its rogue affiliates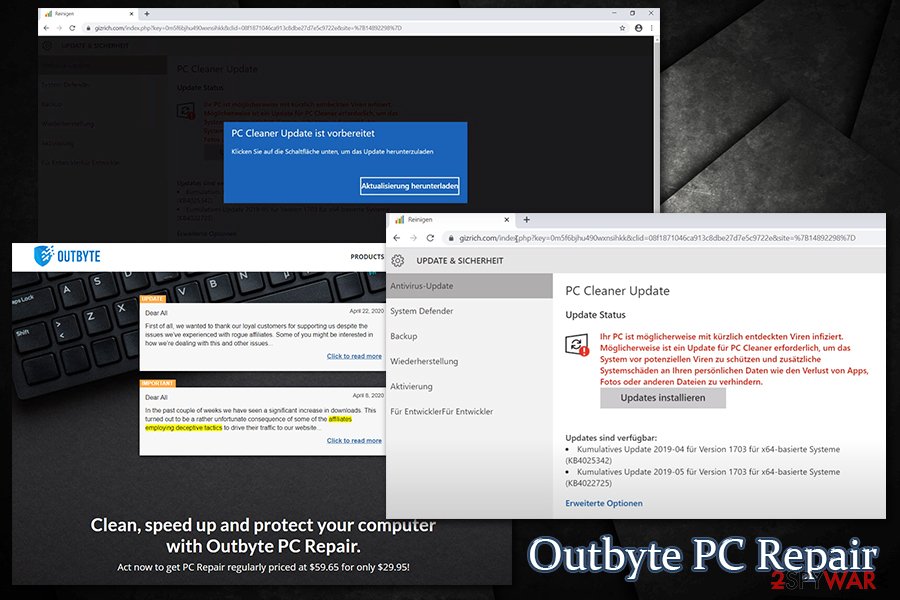 Outbyte PC Repair developers announced that scam techniques used to push the app were employed by its rogue affiliates
Delete Outbyte PC Repair if you did not install it intentionally
There should not be any difficulties when trying to perform Outbyte PC Repair removal. All you have to do is access the Control Panel and then reach the list of the installed apps – you can uninstall the program from there. If you need a detailed step-by-step guide on how to do that, please check the instructions below. For smooth termination, you should also shut down the running process PCRepair.exe via the Task Manager, which you can call up with Ctrl + Shift + Esc keyboard combination.
If you are satisfied with the app and you did install it intentionally, you do not have to remove Outbyte PC Repair from your computer. In the end, it can remove certain issues and possibly make it more secure, increase disk space, etc. Nonetheless, you should also check what precisely is deleted manually by clicking "Details" next to scan results, as you don't want to delete something that you actually need.
You may remove virus damage with a help of Reimage Reimage Cleaner Intego. SpyHunter 5Combo Cleaner and Malwarebytes are recommended to detect potentially unwanted programs and viruses with all their files and registry entries that are related to them.
This entry was posted on 2020-04-29 at 04:40 and is filed under System tools, Viruses.