Opt Out virus is mostly Android device infection that displays intrusive ads during web browsing sessions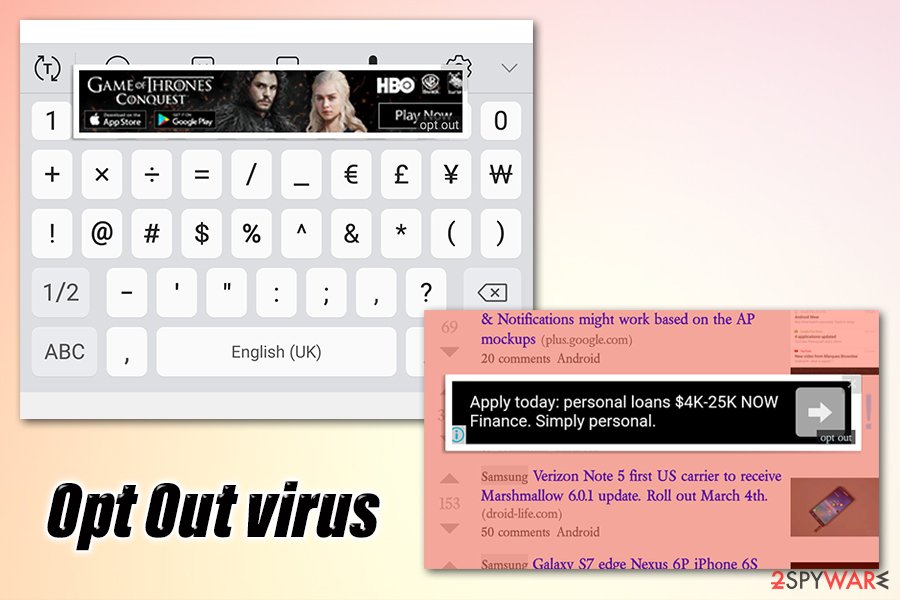 Opt Out virus is Android mobile device infection that displays users intrusive ads over the UI and other apps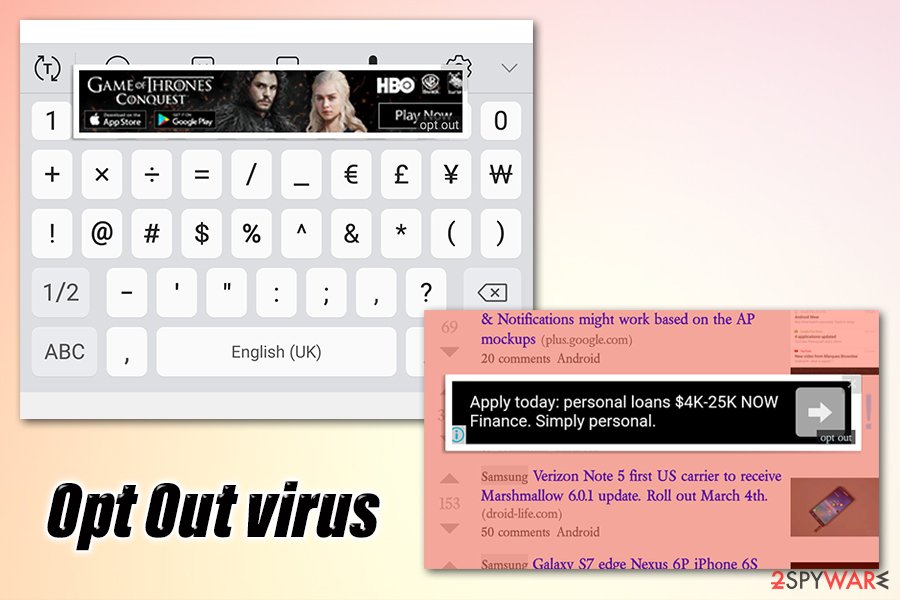 Opt Out virus is Android mobile device infection that displays users intrusive ads over the UI and other apps
Opt Out is a version of the Android virus that has been around for at least several years. Users on Reddit and other platforms started complaining about unusual activity on their Android devices, regardless of which browser (Google Chrome, Mozilla Firefox, Opera, or any other) is used. The Opt Out ads start appearing on random places on the screen and are often covering vital parts of it, such as a keyboard. Without a doubt, such activity is intolerable, and many started looking for ways to get rid of it.
However, Opt Out virus is not only intrusive but also might be dangerous – users reported that pop-ups, auto-play, interstitial and other ads redirect them to the optout.tracker.ared.re/optout/mobile=XXX URL, where they are asked to download additional applications. This activity can be damaging, as downloaded apps might be unsafe, bring even more ads, or compromise the device with malware. The likely cause of the suspicious activity is an unwanted app (adware) installed on an Android device, which needs to be identified and eliminated as soon as possible.
Name
Opt Out virus, Opt Out ads
Type
Adware, Android virus
Infiltration
Potentially unwanted and malicious apps are typically installed from third-party sources, although even Google Play does not avoid adware, which is later removed as soon as suspicious activity is detected
Related
optout.tracker.ared.re/optout/mobile=
Symptoms
Pop-up, interstitial, auto-play and other type of ads marked by "Opt Out" are shown anywhere on the screen at random times
Risks
Installation of other potentially unwanted or malicious software, monetary losses due to scams, personal information disclosure, etc.
Elimination
Some anti-malware programs might work to eliminate the PUP, although manual removal will most likely required. Check bottom section for more details
Optimization
Use

Reimage

Reimage Cleaner

Intego for best results
Since the displayed ads are very persistent, users tried various ways to remove Opt Out virus from their devices, such as uninstalling most recent apps and performing a scan with anti-virus, but to no avail. Nonetheless, a full system scan can still sometimes detect which app is the culprit and eliminate it for you.
Android malware is becoming a real problem in recent years, as even official sources like Google Play had to pull out numerous malicious apps that bypassed its initial security checks.[1] In most cases, users suffer from threats like Opt Out ads (adware), although something more sinister is also not a rarity – banking malware, for example.
Opt Out ads can be caused by a number of applications, although it is highly likely that they were downloaded from third-party sources. Some user claimed that he downloaded the BBC News app from an unofficial source, which caused the intrusive ad activity on the device:[2]
Turns out I had a jarg version of the BBC News app. No idea where I downloaded it if not from the Play Store… Haven't received another ad
Many might wonder why threats like the Opt Out virus spread so easily, and there are multiple reports of infections. The main goal of ad networks and all the participants are to gain financial benefit, as each of the served ads is generating money for the relevant parties. Nonetheless, users' time while using their phones is ruined due to intrusive ads, which also drain the battery in the process.
While seeing annoying ads is something that nobody wants to deal with while using their smartphones, it is not the most threatening trait of the Opt Out virus. Since ads are served from a rogue application, it is not clear whether ads can be trusted in the first place. In some cases, users might be directed to phishing, scam, or even malware-laden websites.
Since Opt Out ads are shown all over the screen and can appear at any time, users might click on the ad without anticipation and be immediately redirected to a potentially dangerous website. Therefore, it is important to be vigilant until the PUP is completely eliminated from the device.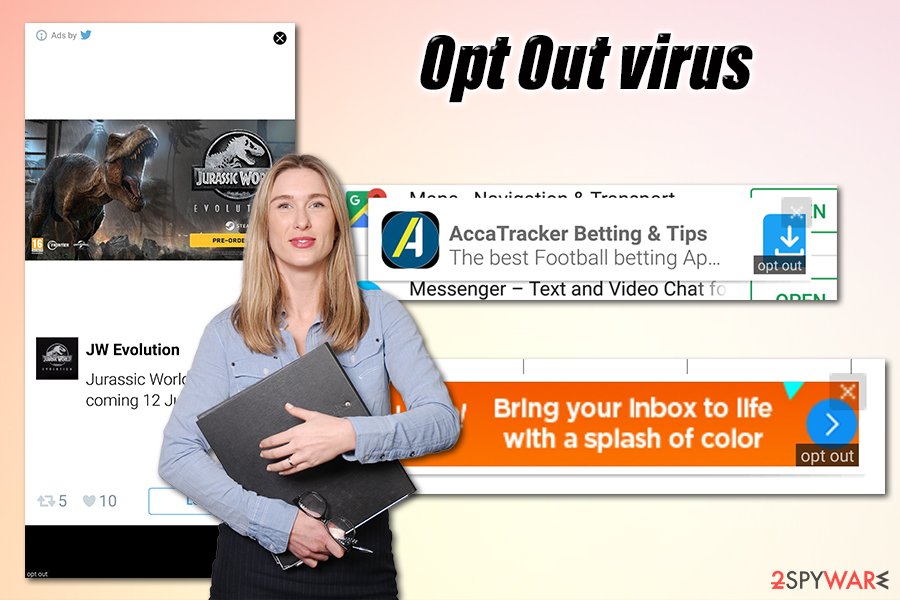 Opt Out virus is adware infection that might bring users to insecure websites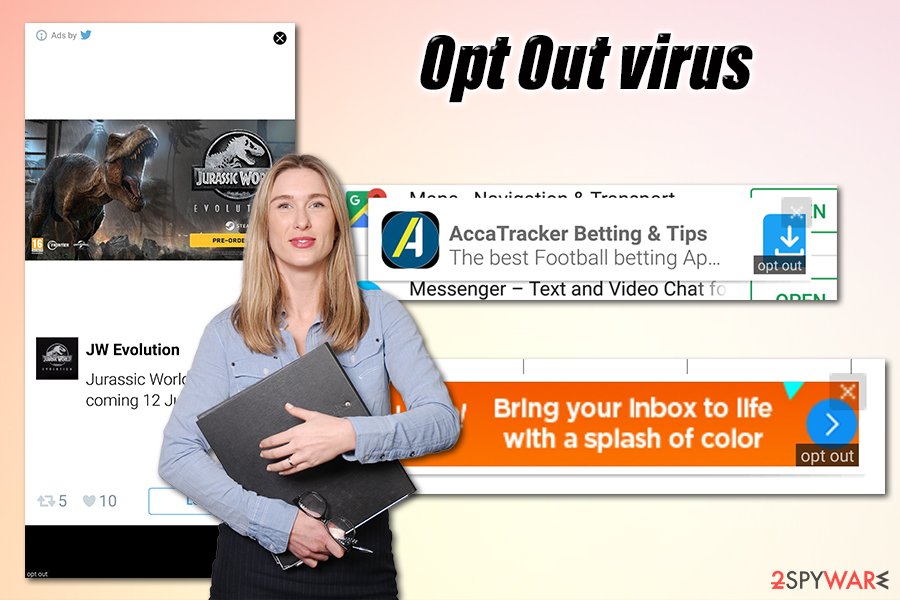 Opt Out virus is adware infection that might bring users to insecure websites
To sum it up, Opt Out virus removal can be performed when the malicious app is identified. However, sometimes it is very difficult to determine, especially for users who like to download many applications. As previously mentioned, one way to find the culprit is to scan the phone/tablet with anti-malware software.
If that does not help, there is no need to factory reset your phone. Instead, you can find out which app is responsible for Opt Out ads in other ways – please check the bottom section for more elimination details.
Ways to avoid potentially unwanted programs on Android devices
Phones and tablets are now sophisticated devices and sometimes even surpass desktop computers in the processing power. Thus, we should treat these portable gadgets as computers – anti-malware software is mandatory, as Android malware has been on the rise for the past few years.
Nevertheless, there are still several ways of how potentially unwanted and malicious programs could get into users' devices, and there are several ways to reduce this possibility to a minimum. As mentioned, anti-malware is a good start, although due to the frequency of new apps for the platform is deployed, no security tool would be able to catch all suspicious software. Therefore, it is best to be vigilant when using the phone.
There are few ways that users might install PUPs on their devices – they either download them intentionally from third-party sources or are tricked into doing so by a fake alert or a message on a scam website. In the case of the latter, users do not anticipate that their phones will be bombarded with ads, although it is likely the case. In other words, Android apps should only be downloaded from official sources like Google Play, Amazon, and similar.
Another way to install a PUP on your device is fake updates and other scams. Typically users are told that their devices are infected with malware or that their web browsing sessions are being monitored or something along those lines. Please do not trust these claims and do your research before installing anything on the phone!
Opt Out virus removal guide
Since any app could be related to Opt Out ads, the first thing you should do is scan your device with reputable anti-malware software. There are plenty of free AVs available, although ensure that they are legitimate since some independent tests determined that most antivirus apps provided on official sources like Google Play are useless.[3]. Rogue anti-spyware might not only fail to remove the Opt Out virus but also bring in more ads and even compromise your phone or tablet. Once you download a legitimate anti-malware, perform a full system scan immediately.
If nothing was found and you continue to suffer from ads, you will have to perform Opt Out virus removal manually. First of all, you should uninstall applications that you have recently installed, such as weather, sports, food apps, widgets, etc. If that does not work still, you should check which apps are allowed to show content over other apps, so it can be a good hint to determine which application is behind the Opt Out virus. Here's how to do it (note that instructions might vary depending on your Android OS version and phone model):
Tap on Settings and select Apps/Apps & Notifications
You should see the list of most recently opened apps or a full list of installed apps
Scroll down until you see Advanced/App permissions/Special app access section (in other cases, you can access the section by pressing on three vertical dots at the top of the screen)
Select Display over other apps
You should be able to see a list of apps that can display notifications above other apps – remove everything suspicious/non-essential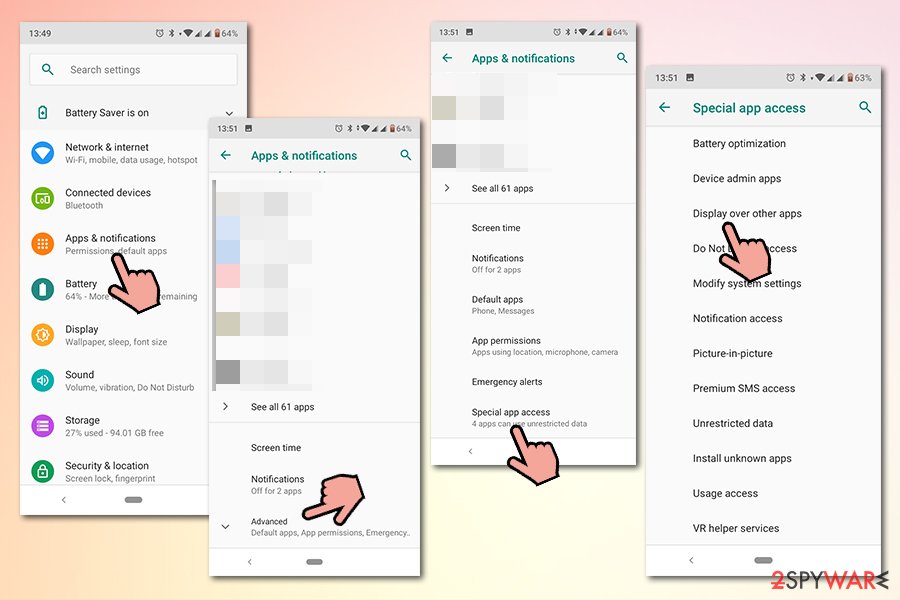 Find out which app is causing Opt Out ads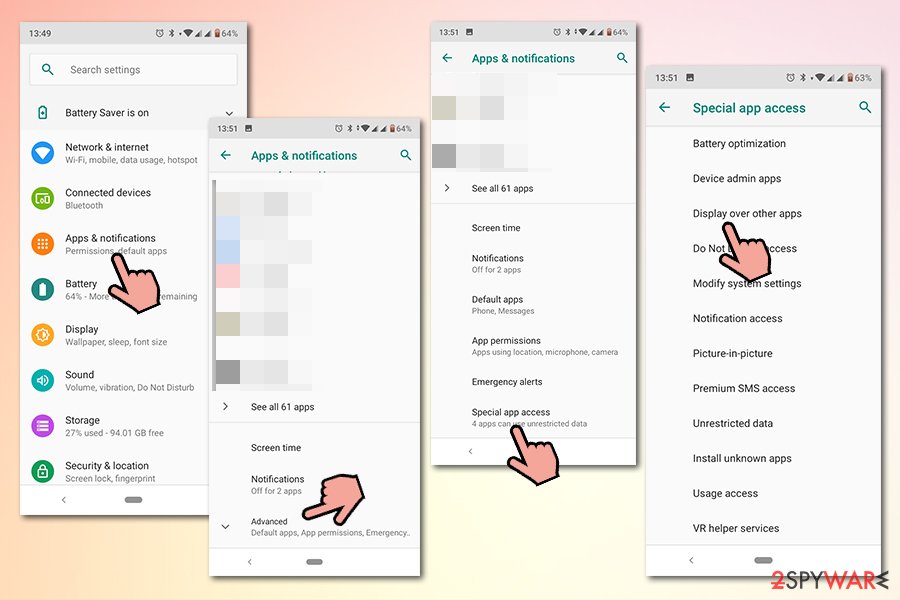 Find out which app is causing Opt Out ads