Onclickbright – adware app that initiates browser redirects on Windows and Mac machines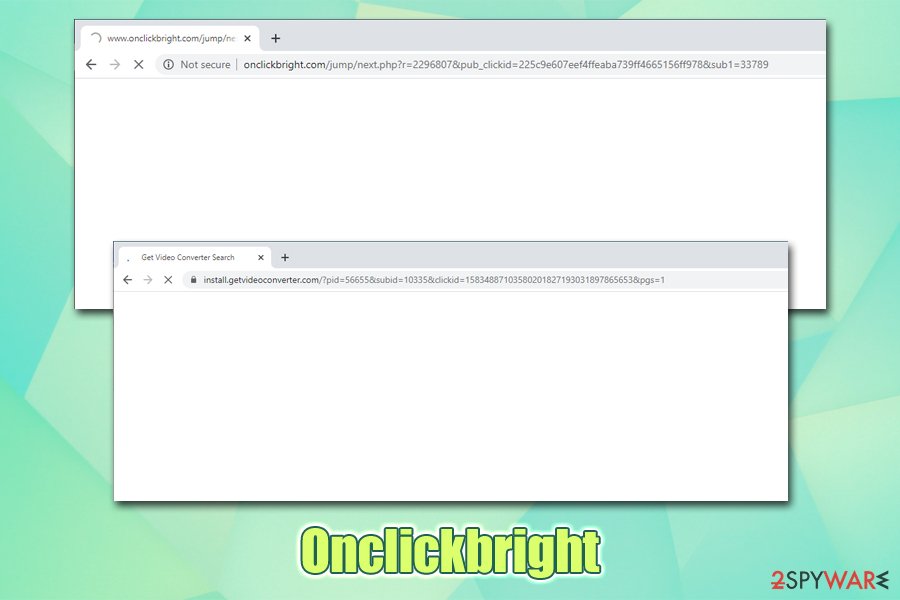 Onclickbright.com is a website that causes redirects to malicious pages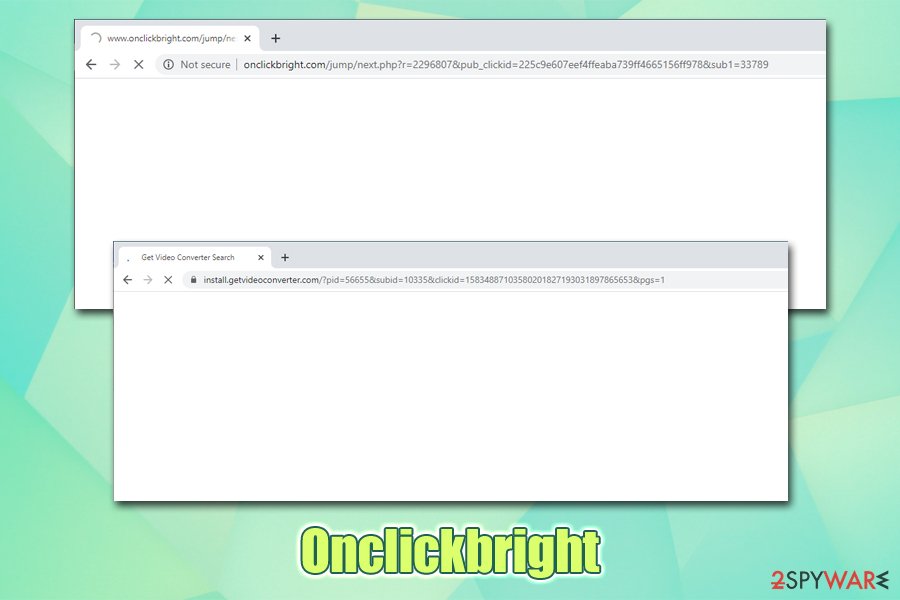 Onclickbright.com is a website that causes redirects to malicious pages
Onclickbright.com is a website of dubious content – typically, pop-ups, deals, offers, coupons, and other intrusive commercial content is presented on it. The unwanted advertisements and redirects may affect users on all web browsers (Google Chrome, Mozilla Firefox, Internet Explorer, MS Edge, Safari, and others), as well as Mac and Windows systems – this is because the activity is caused by a potentially unwanted program installed on the computer.
Onclickbright redirects and ads may be related to a variety of different adware programs – these usually get installed along with freeware and shareware apps downloads from third-party sites or after users get tricked by a fake update prompt/scam message. Once inside, the app begins web browser setting modification in order to start delivering commercial content to users, also tracking their online behavior in order to serve targeted ads. All in all, Onclickbright removal should be performed as soon as the unwanted browser behavior is spotted.
Name
Onclickbright, Onclickbright.com
Type
Adware, redirect virus
Distribution
Software bundles, fake updates, scam messages, ads
Symptoms
Symptoms of adware infection vary from machine to machine, but must common signs of infections include redirects to suspicious sites, intrusive ads on all visited websites, browser slowdowns, changes to browser homepage/new tab/search engine, etc.
Risks
Installation of other potentially unwanted programs, monetary loss due to scams, data disclosure to unknown parties, etc.
Prevention
To prevent adware installation, download programs from official sources or be extremely careful when installing third-party software – do not rush and choose Advanced settings. To prevent unwanted redirects and ads while browsing the internet, employ ad-block extension
Removal
To get rid of adware, follow our instructions below
System fix
In some cases, adware and malware can render the computer unstable – crashes, lag, random reboots, etc. To fix these issues, we advise using

Reimage

Reimage Cleaner
Note that Onclickbright.com redirects might also be not caused due to infection, as these can be triggered upon entering another malicious site, or clicking on a link. The best way to find out whether you are infected with Onclickbright.com virus is to check for potentially unwanted programs that could be hiding on your computer.
In some cases, however, it is difficult to determine which application is related to Onclickbright pop-ups and ads, as it can be anything. This is especially true for users who do not properly check the installation process of freeware and do not clean their machines regularly. If you belong to that group of people, immediately scan your device with anti-malware software and then fix malware-caused issues with Reimage Reimage Cleaner .
While initially, Onclickbright adware is not malicious, the browser activities it is causing might be dangerous to users. Soon after the infiltration, the PUP start performing the following actions:
Installing unknown browser extensions without permission;
Changing the homepage and new tab address, as well as applying a customized search engine;
Displaying sponsored links at the top of search results (even if they bring to legitimate providers like Yahoo)
Redirecting to suspicious sites filled with suspicious content;
Displaying pop-ups, in-text links, auto-play, interstitial and other ads on all visited websites;
Slowing down the web browser or making it fail to load certain websites, etc.
One might ask, what is the goal of Onclickbright.com authors, and why would they cause such disruptions to users? The answer is very simple – advertisement revenue. While it is one of the most common ways for websites and app developers to monetize, the practice is often abused, and intrusive or even dangerous ads are inserted into users' browsers regularly. Due to this reason, some security community members call adware as malware.[1]
Besides, Onclickbright is also set to routinely track users' web browsing sessions in order to maximize profits from targeted advertisements. The most commonly tracked information includes the IP address, sites visited, search queries entered, links clicked, etc. Unfortunately, some PUPs may also track your personal data and cause immense privacy risks.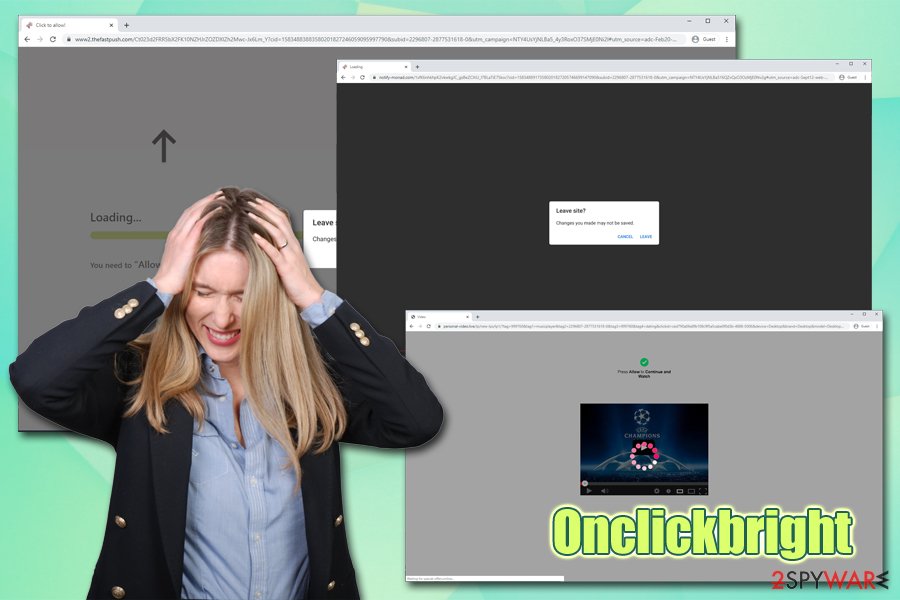 Onclickbright is an adware application that might pose privacy and security risk to the infected user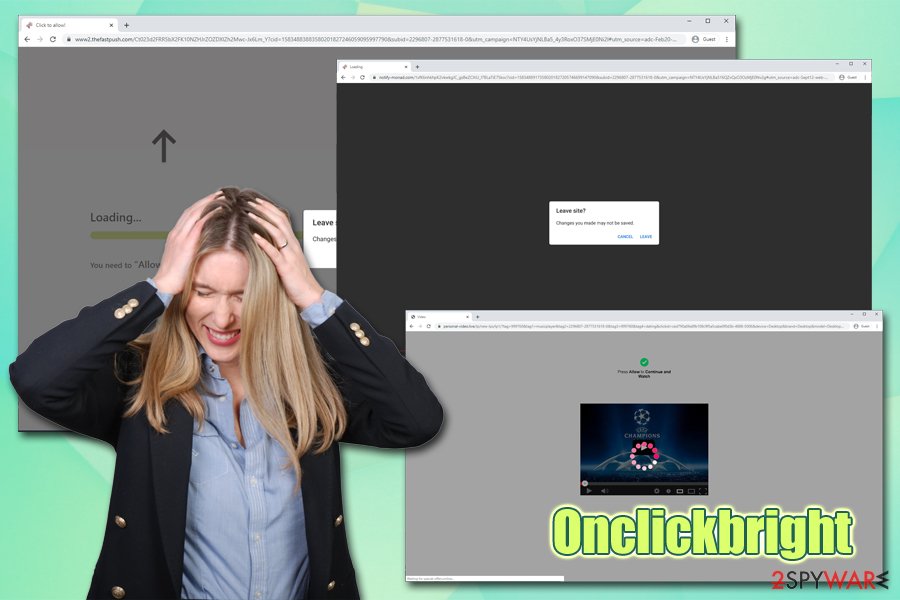 Onclickbright is an adware application that might pose privacy and security risk to the infected user
Therefore, remove Onclickbright from your computer as soon as possible, as its presence may cause bloatware or malware infections, and monetary loss due to encountered scams. For more details, please check the bottom section of this article.
Don't forget that you can block the intrusive commercial content (regardless if it is coming from within the site or adware app) by using ad-block extension – this can also prevent malicious JavaScript[2] execution on malicious or hacked websites (this may result in automatic malware download in the background, also known as drive-by download).
Cybersecurity experts advise: learn to install software correctly
While many already are aware of the dangers of downloading software cracks or visiting high-risk websites, some users forget that online threats can be found everywhere on the internet. One of the best examples is software bundling – a deceptive marketing technique that ticks many into installing potentially unwanted programs or even malware on their machines. Developers of freeware or third-party websites often insert optional components into the installers and deliberately try to hide them from users.
The following tricks that software bundle packages use include:
Hiding the optional installs under Recommended setting – this method is presented as "optimal" or "quick;" what users don't realize is that they allow the installer to infiltrate additional programs into the computer;
Using pre-ticked boxes;
Disguising the agreement of optional component installation within the fine print text;
Placing buttons in unexpected locations (typically, users are used to pressing the "Next" button on the right side of the window – that is were the "Agree to install XXX" offer is placed).
As a result, users end up with unwanted apps on their computers and believe that they arrived to the system without permission, while in reality, it was the opposite. It goes without saying that software bundling often uses deceptive techniques and can feel rather unfair – we agree with this statement.
Therefore, to avoid being tricked, choose official software download sources when possible instead of third-party ones, always choose Advanced settings and do not rush the installation process.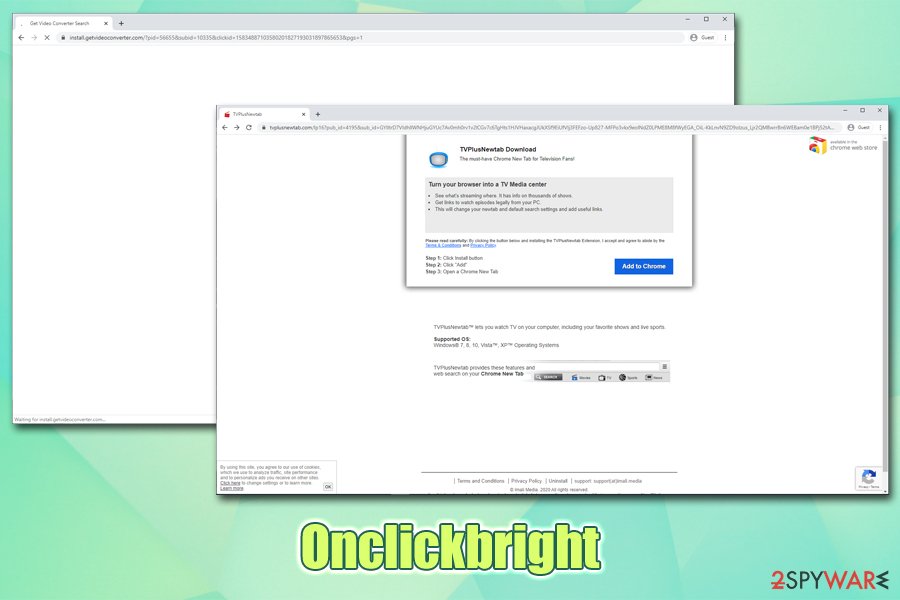 Onclickbright asks users to download potentially unwanted applications that would cause more ads and redirects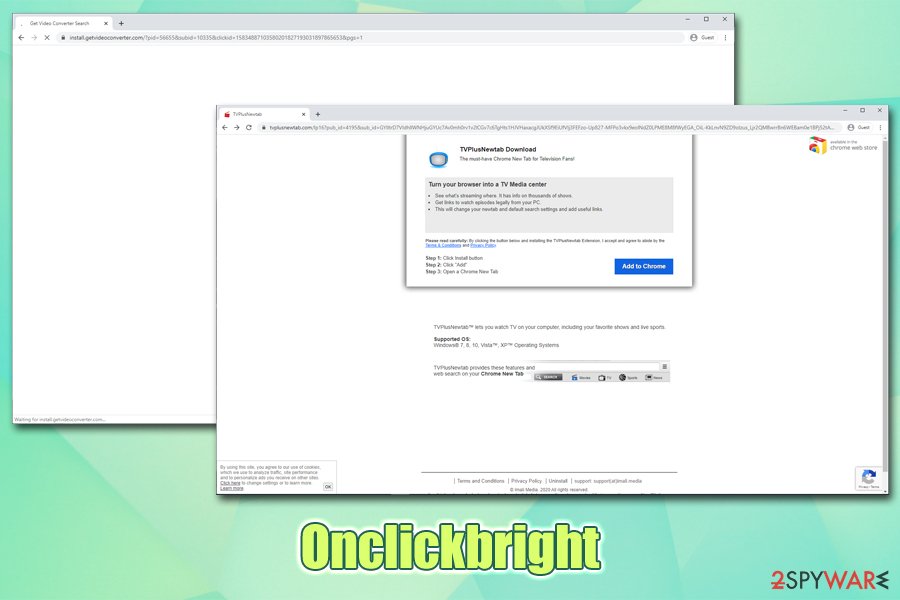 Onclickbright asks users to download potentially unwanted applications that would cause more ads and redirects
Get rid of Onclickbright.com redirects and other unwanted activities
Whether you are aware of the problem and need help with Onclickbright removal or you don't know how to proceed after seeing the address on your browser regularly – you came to the right place. As mentioned above, the unwanted activities that relate to Onclickbright.com might be caused by adware installed on your machine, although this also may be caused by a random link click.
Therefore, the first thing to do when trying to remove Onclickbright.com is figuring out whether your computer is infected with adware. To do that, you can follow our instructions below on each of the operating systems – you need to access the installed application list and check it carefully. If you do not find anything suspicious, but ads and popups do not go away, it would be a good idea to scan your computer with anti-malware software that can detect PUPs.
Note that the Onclickbright virus might also alter the settings of your web browser, which may cause unwanted activity to continue after you terminate the app. Thus, experts[3] recommend resetting the installed web browsers to ensure that ads and redirects do not come back.
You may remove virus damage with a help of Reimage Reimage Cleaner . SpyHunter 5Combo Cleaner and Malwarebytes are recommended to detect potentially unwanted programs and viruses with all their files and registry entries that are related to them.