OBERONBOOSTER is the program that supposedly is designed to optimize and speed up the computer but is considered to be not safe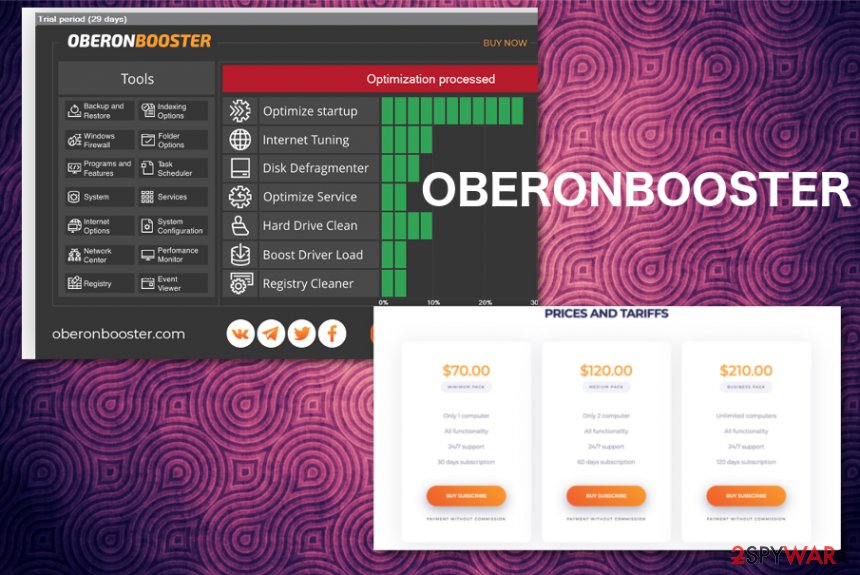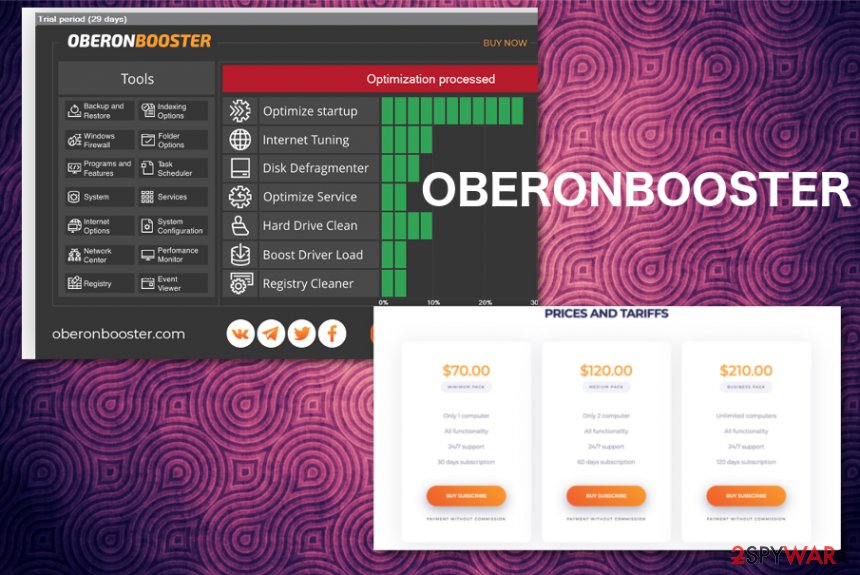 OberonBooster is a rogue system tool that offers the free version for thirty days, so you can try all those alleged features before you purchase the useless full version of this tool. The tool should clean the disk and registry from unnecessary entries and files, optimize the performance, and affect the speed of the device, improve the time online. However, this is an undesired program that shows predetermined issues and solutions for false errors, so you can fall for the scam and believe that all the problems are related to your device and pay for the full license of this "assistant". But the payment for 30 days of all functions costs you at least $70 or can go up to $210 for a 120-day subscription.
Nevertheless, there is no need to install the free version of this program or pay for the licensed version, because all the functionalities are false and not that valuable, int he first place. OBERONBOOSTER virus is considered to be a potentially unwanted program for the questionable distribution method, in the first place. Additionally, this application is, in rare cases, installed by users themselves. More often, the promotional content of this tool triggers the download of the setup file and the PUP installation.
Name
OberonBooster
Type
Rogue system tool
Category
Potentially unwanted program
Symptoms
The program that you haven't installed yourself starts scanning the system and showing false results with the list of issues and even malware detections. You get encouraged to fix those issues, but you need to install or even purchase another application that is not trustworthy and also has no functions that your device allegedly needs
Claims
The tool supposedly speeds up the computer, reports all the performance issues, cleans the registry and the disk, maximizes the storage. It should be safe to use, and the 30-day free trial should offer att the functionality of the optimizer
Pricing

Minimum pack: $70 for 30 days and one computer;
Medium pack: $120 for 60 days and two computers;
Business pack: $210 for 120 days and an unlimited amount of devices.

Danger
The analysis of the associated files[1] shows that this program may be related to relly dangerous programs or payload droppers, so using the rogue app that is not useful is not advisable. Also, the program is related to advertisers, misleading online services and publishers, so you may end up exposed to harmful material online or even trigger PUP drop without realizing that
Promotional site
OBERONBOOSTER.com
Elimination
OBERONBOOSTER removal process requires professional anti-malware tool, so all the silently installed files and programs get to be deleted properly. Any leftovers can still trigger undesired activities and renew the installation of the PUA itself
System repair
Since these programs are not trustworthy, any interference with registry entries or disk folders, system files can trigger corruption in the performance of programs or the computer itself. You should run

Reimage

Reimage Cleaner

Intego to make sure that no particularly important functions got affected. System optimization, repair, or cleaning apps can find and fix corrupted files and features
OBERONBOOSTER is the supposed system optimizer that should be a useful software component, so people can fix various system problems and improve the performance or even the speed of their machines. It is promoted as a valuable software online, on the official and other deceptive sites, but in most cases, PUA gets spread using software bundles – a technique that developers use by compiling various installers into one pack.
Even though it gets distributed around the web OberonBooster gets installed by the users themselves when they fall for the tricks used on the official site creators of this PUP have launched. These pages trigger direct downloads, and the software bundling method distributes installers packed with free software or cracked programs in file sharing sites and similar services.[2]
OBERONBOOSTER.com can be one of many deceptive sites where such programs get distributed because criminals and scammers, in general, make fake websites where threats get promoted and include various additional programs or even malware applications more severe than the PUP itself.
You may need to remove OberonBooster and other intruders at the same time when the potentially unwanted program gets more time on your machine because these programs can easily infiltrate the system silently and add other programs without noticing you or asking for the permission. However, the more time infection has the more system changes it can make.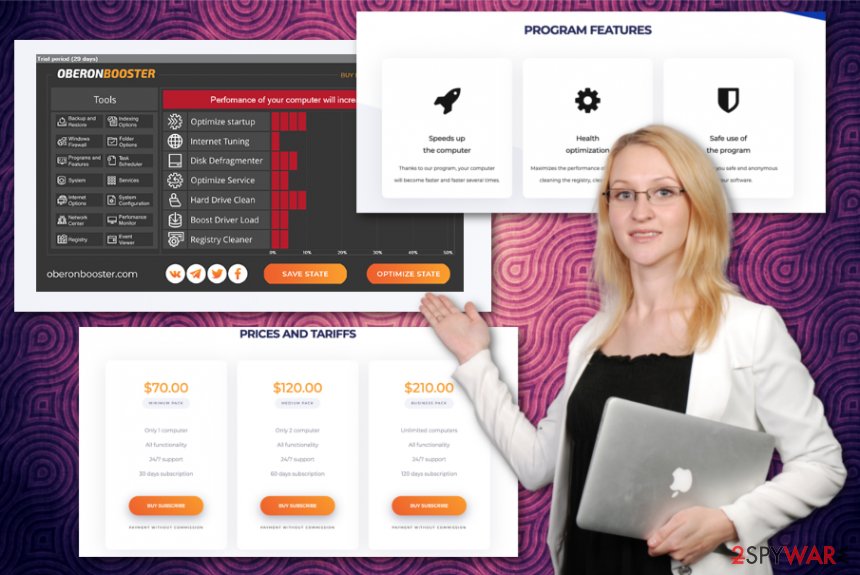 OberonBooster virus is an unwanted program that slows down your operating system and claims that your device is affected by malware or has other system problems, to push pricey tool.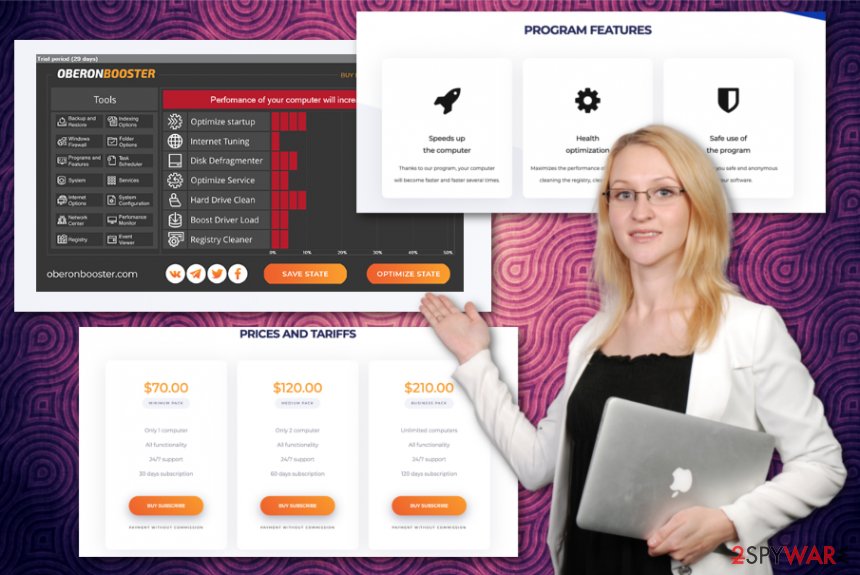 OberonBooster virus is an unwanted program that slows down your operating system and claims that your device is affected by malware or has other system problems, to push pricey tool.
OberonBooster is capable of altering settings and preferences of your computer to affect the persistence of the application and manage needed functions that can affect the removal or detection processes and the main technique – showing false scan results. Also, probably the only function that PUP[3] actually can have is registry cleaning. Unfortunately, it is not the best feature that software could have because modifications made in such part of the machine may cause issues, corruption of certain programs, and performance.
OberonBooster removal should include and repair procedures needed for the system issues that can be caused by the unwanted program. You can try to uninstall this application manually, then run a proper anti-malware tool that can get rid of the traces of shady PUP.
Then to really recover the processes and normal performance of the machine and clean damage that OBERONBOOSTER possibly caused, run Reimage Reimage Cleaner Intego or a similar PC repair tool, system optimizer, cleaner utility. You may not recognize issues caused by the application, but proper programs can find those affected registry entries and corrupted system files.
OberonBooster is a registry cleaner supposedly, but there are many issues regarding the activities and functions that such rogue tools have, so dealing with alleged problems can help neither with issues listed after the false scan or real problem- PUP infection. PUPs can alter other parts of the system and trigger security issues without showing any adware-type symptoms that could indicate a browser-based intruder or undesired program.
OBERONBOOSTER is marked as untrustworthy by anti-malware scanners and tools. It is also categorized as a potentially unwanted program, so even when you installed the application yourself, make sure to delete the shady optimizer completely. There is no need to keep it running on the device when it is not reporting real problems or fixing them properly.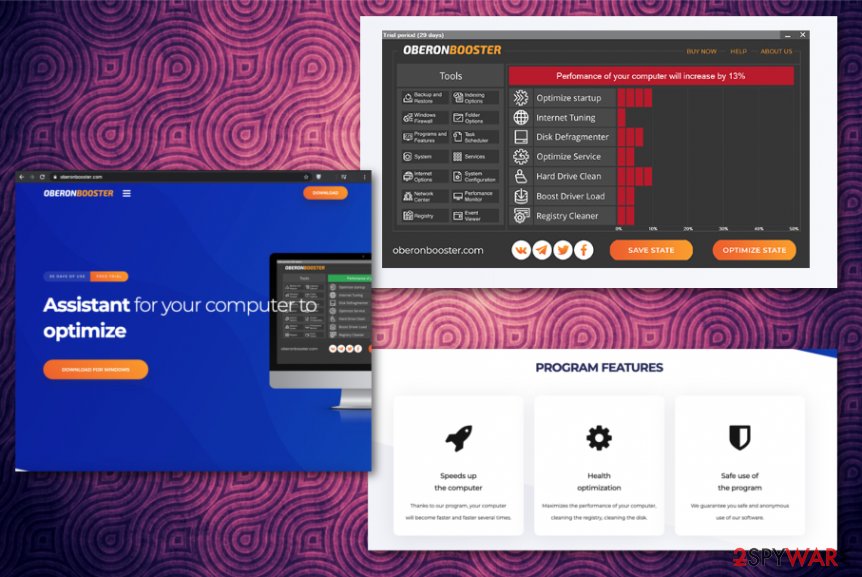 OBERONBOOSTER is the potentially unwanted application that significantly affects the performance of your machine but in a negative way.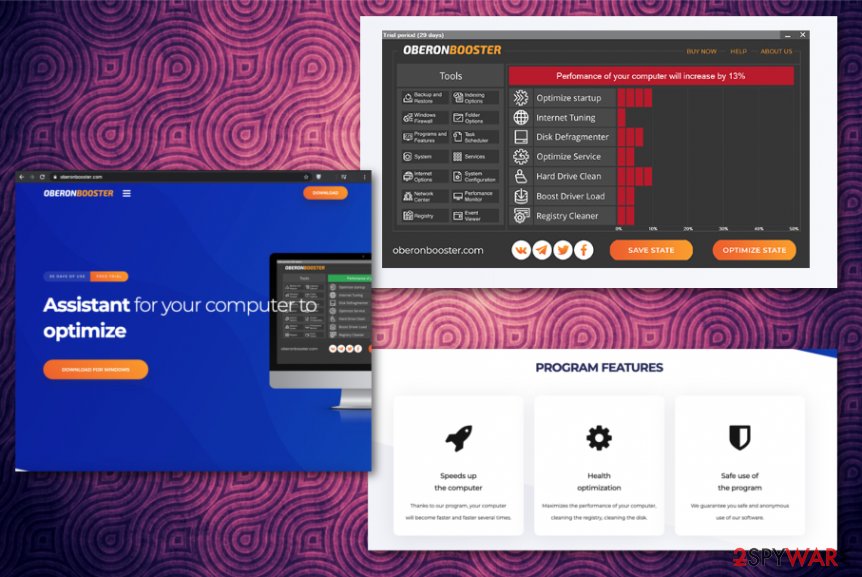 OBERONBOOSTER is the potentially unwanted application that significantly affects the performance of your machine but in a negative way.
Deceptive methods of rogue tool distribution
You may download and install the program yourself by falling for the promotional material online or encountering the official site designed to spread the PUP. More frequently, the application is spread by the potentially unwanted programs or with the help of bundling techniques that allow pre-packing freeware with these undesired applications.
Intrusive advertisements, pop-ups, or banners show various misleading information and triggers direct downloads of unwanted applications or hides the extra software included in the installation setups. You need to go through EULA and Privacy Policy sections to make sure that the source, the website that you selected for the program download is trustworthy.
Also, choosing Advanced or Custom installation options can help you with the secure download and installation too. Selecting such an option, you can see the full list with included programs and decide which ones to install and which ones are not wanted.
Get rid of the program possibly related to additional intruders and fully uninstall OberonBooster PUA
Even though you shouldn't use the name of the OberonBooster virus in such a manner, this program can be considered a malware when it gets exceptionally difficult to remove from your device. Since the installation might happen without your permission or knowledge, there is no guarantee that during the process program hasn't planted some files in folders of the system.
OBERONBOOSTER removal should be quick and successful if you choose the needed program – anti-malware tool. This is how you can find all the silently added files, folders, or even additional applications. AV engines detect various suspicious activities and can remove programs, files that can be considered harmful.
When you remove OBERONBOOSTER from the system with such a program, you can see all the potential intruders too. Also, the procedure eliminates threats that you had no idea about. However, to improve the performance further – scan the machine using a PC repair utility and recover crucial functions of the machine.
You may remove virus damage with a help of Reimage Reimage Cleaner Intego. SpyHunter 5Combo Cleaner and Malwarebytes are recommended to detect potentially unwanted programs and viruses with all their files and registry entries that are related to them.
This entry was posted on 2020-03-13 at 04:04 and is filed under System tools, Viruses.