NextCoup is a PUP that promotes itself as a helpful browser add-on that provides all types of handy offers from the web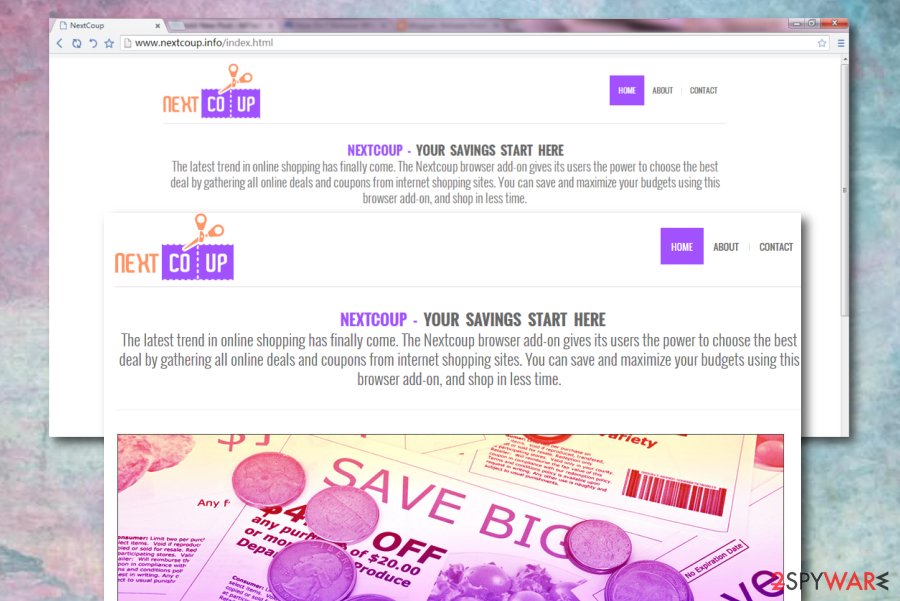 NextCoup is described as a browser add-on[1] that allows gathering all types of beneficial deals from the Internet. However, note that this is only a marketing strategy used to promote the app and it truly has deserved the reputation of a potentially unwanted program as it causes continuous pop-up ads, banners ads, sponsored links, and similar distractions during people's browsing. This program can hardly pose direct harm to the computer because the main thing, which is initiated by it, is these continuous pop-up notifications. However, some indirect danger can be brought through its redirecting sessions that we are going to discuss in the following paragraphs.
Name
NextCoup
Extension names
NextCoupp, NeXXXTCoup, NextCOiuuP
Type
Adware app/potentially unwanted program
Promotion
This suspicious app promotes itself as a helpful browser add-on that is capable of delivering the most relevant deals and helping users to maximize their budgets
Appearance
The adware can show up on both Windows and Mac computer systems. Also, it is likely to infect any type of web browser such as Google Chrome, Mozilla Firefox, Internet Explorer, Microsoft Edge, and Safari
Activities
Once the PUP appears on the computer system, it can initiate intrusive advertising activities, redirect the user to affiliate domains, collect non-personal information that is related to the user's browsing experience
Elimination
You can get rid of the adware program with the help of automatical software or the manual step-by-step instructions that we have appended to the end of this article
Fix tip
If you have discovered some altered areas on your computer, you can try repairing them with

Reimage

Reimage Cleaner
NextCoup can appear anywhere on the computer system and install additional objects in directories such as C:\Program Files\ or C:\ProgramData (if you are a Windows user). Additionally, the adware can initiate significant changes on web browsers and their homepage, new tab URL bars. Besides, once this browser add-on installs in your web browser settings, the extension can come in different types of names such as NextCoupp, NeXXXTCoup, or NextCOiuuP.
The advertising part of NextCoup can be one of the most intrusive activities that will likely appear during the operation period of this adware program. It might start loading you with attractive-looking deals that offer to purchase rogue tools or services. You should decline any suggestions provided by this adware, especially those which ask you to type in some sensitive details, contact information, credential data, or urge an inadequate payment.
Nevertheless, NextCoup ads can easily turn your browsing into serious havoc because they may start appearing on each of your web browsers, including Internet Explorer, Google Chrome, Mozilla Firefox, and other web browser apps. Besides, no matter how harmless they look (in most of the cases they report about discounts, coupons, price comparisons, and similar things) each of these ads has a link, which may redirect you where ever it wants.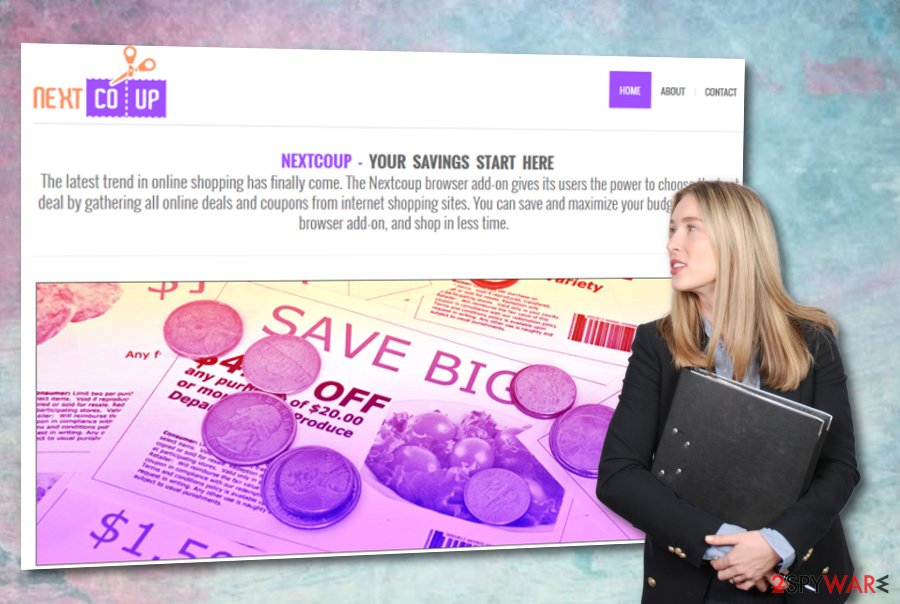 NextCoup is a potentially unwanted program that presents itself as a handy browser add-on
It means that you may be tricked into entering not only a harmless shopping site. Also, you might be forced to visit an insecure site, which is used to spread more dangerous programs than this one. This is how adware such as NextCoup get the chance to deliver malicious applications indirectly. As a matter of fact, this is a popular distribution technique used by various cybercriminals who tend to spread virtual parasites such as Trojan horses[2] and ransomware viruses.
If you think that NextCoup virus has already infiltrated your computer, you should know that it can also start tracking your browsing on the web. In most of the cases, such programs collect information about people's search terms, mostly visited websites, data that they enter on each of these sites, their email address, PC's location, etc. Afterward, the developers use such information for delivering it to other parties for income or initiating beneficial advertising campaigns.
So, as you can clearly see, you should remove NextCoup from your computer without wasting your time. Otherwise, it will keep initiating these previously mentioned activities and you will not be able to use your web browser properly anymore due to all these changes. If you want to do that ASAP, you should check the system with reliable anti-spyware. Also, if there are some altered entries and other areas on your system, try fixing them with a repair tool such as Reimage Reimage Cleaner .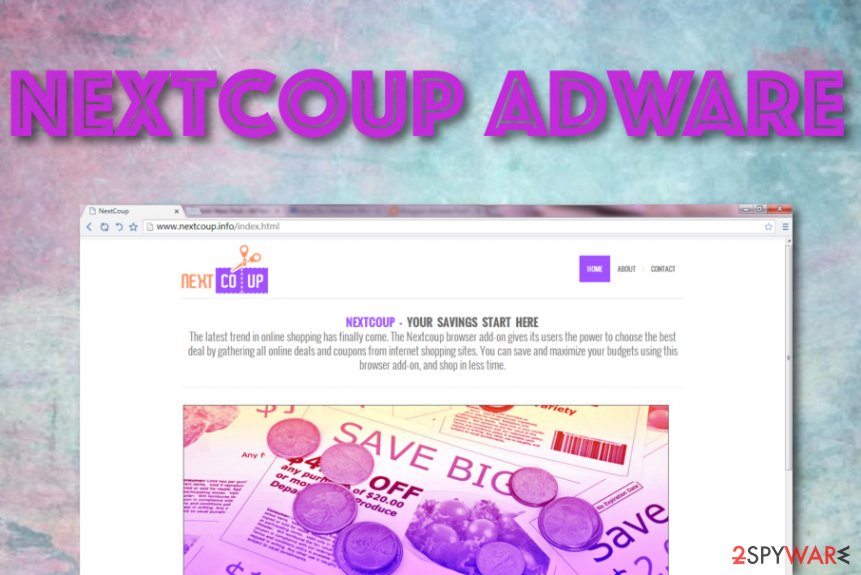 NextCoup is a suspicious product that is most likely to be distributed via the "software bundling" technique
In some cases, NextCoup removal might not be necessary. This is if your antivirus program does not find anything suspicious on your computer and if the activities from the app show up on your browser only occasionally. Sometimes, you might start seeing annoying advertisements while visiting third-party apps but that does not always mean that you are infected with adware. Try downloading AdBlock and see if it stops the incoming notifications.
However, if NextCoup activities get very intrusive, you should not postpone the removal process, otherwise, your web browser and computer system might become very sluggish and not be able to carry out simple actions. Also, if you ever deal with this adware, try not to fall for its attractive-looking descriptions like the following one:
The latest trend in online shopping has finally come. The Nextcoup browser add on gives its users the power to choose the best deal by gathering all online deals and coupons from internet shopping sites. You can save and maximize your budgets using this browser add on, and shop in less time.
"Software bundling" is not the only tactic employed for adware distribution
Some potentially unwanted programs can be installed either voluntarily or not. PUPs such as adware are sometimes promoted as "useful" extensions on their official websites and try to encourage people to install them. However, you should not opt for such an installation, as you will likely end up with a useless product on your computer.
However, the most common way to receive an adware program is through "software bundling". This happens when you get the PUP installed in a freeware[3] or shareware package. Adware approaches those users who do not pay enough attention to the downloading process or have set the "Quick" installation mode as default.
In order to keep yourself safe from adware and similar threats, you should never skip any downloading or installing steps as some of them might recommend adding the PUP to your machine. Additionally, always make sure to choose the "Custom" installation mode and check out all suspicious products during the downloading process.
Besides "software bundling", there are other deceptive tactics that can be used by adware developers to distribute their suspicious products. For example, they might plant the PUP into an unsecured advert or hyperlink. Nevertheless, the adware can come disguised as a fake flash player update while visiting third-party networks.
Removing NextCoup virus from PCs
NextCoup virus will definitely show itself by displaying intrusive pop-ups on your computer screen and redirecting you to odd domains. If you encounter these activities on your web browser and machine, note that there is an adware that requires a full elimination process, otherwise, you will still get lured in its intrusive tasks.
NextCoup removal is a process that can be performed with the help of automatical antimalware software or manual step-by-step guidelines that we have provided to you at the end of this article. Security experts from LesVirus.fr[4] claim that using reliable products is the safest and most effective way to terminate the adware and all its added components.
However, if the fact of purchasing an antimalware program does not seem attractive to you, you can always try to remove NextCoup manually. Just keep in mind that this process requires cleaning both the operating system and infected web browser apps such as Google Chrome, Mozilla Firefox, Internet Explorer, Microsoft Edge, and Safari.
You may remove virus damage with a help of Reimage Reimage Cleaner . SpyHunter 5Combo Cleaner and Malwarebytes are recommended to detect potentially unwanted programs and viruses with all their files and registry entries that are related to them.