Mp3juices.cc – a tool that allows converting files to MP3 format and searching for music-related sources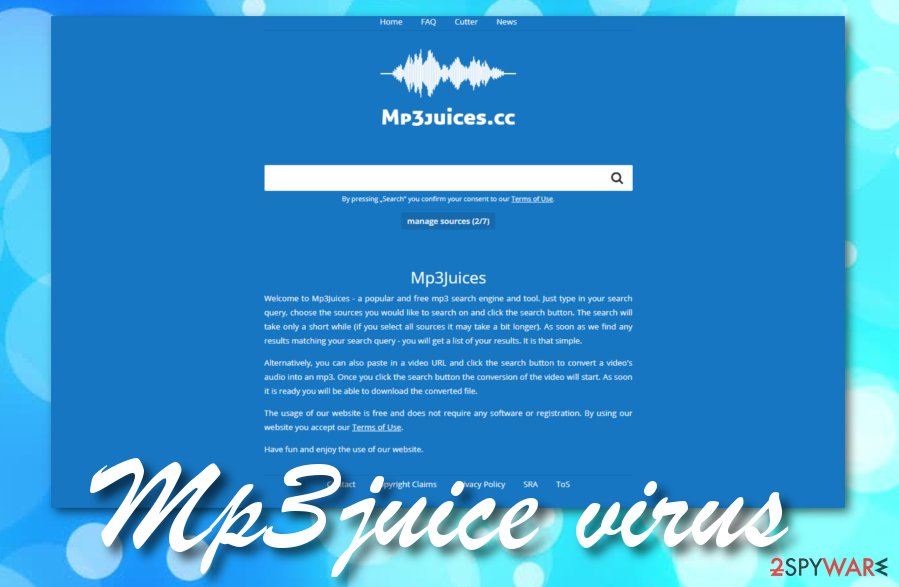 Mp3juice – adware that can get the user involved in intrusive advertising and redirecting activities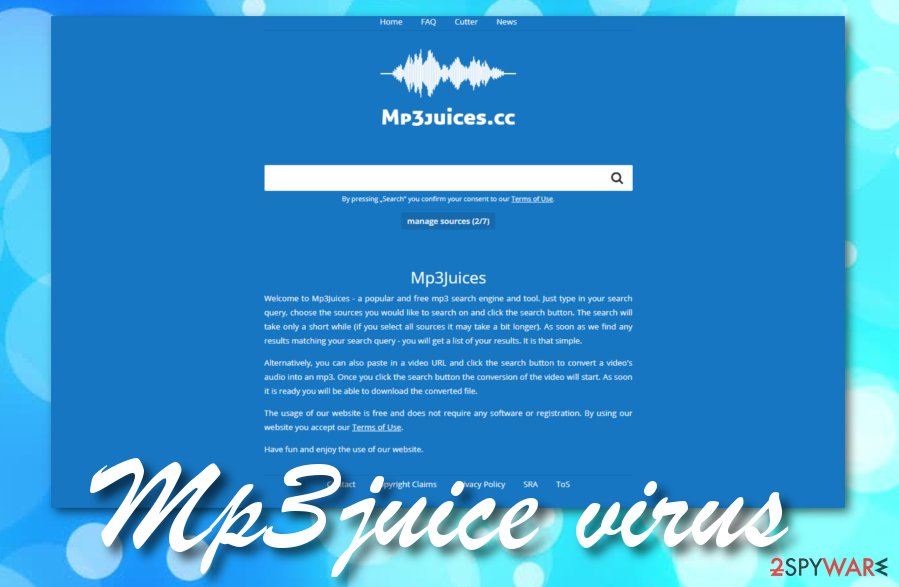 Mp3juice – adware that can get the user involved in intrusive advertising and redirecting activities
Mp3juices.cc virus is a term used to describe a third-party website that offers to convert files to MP3 format and search for music. This program has its official website named www.mp3juices.cc. Even though this app is not some type of dangerous virus, a big variety of users has experienced intrusive and unexpected activities from this domain. A person claims that he tried using the search bar provided by this program and it redirected him to a fake flash player update.[1] Additionally, AdBlock appears not to be helpful while dealing with Mp3juices virus. Continuously, other people say that the tool has downloaded executables instead of mp3 files that also gives a look of suspicion to the app as various PUPs and malware are often distributed through such components.
Other sources say that mp3juices.cc has loaded the computer screen with unwanted pop-up notifications and various fake warnings that the system is infected and requires cleaning.[2] This way the user might be tricked into downloading and installing rogue security software while falling for the false fact about system infections. Even though others might find Mp3juices services useful, this app has gained a questionable reputation and can be categorized as adware due to the suspicious advertising and redirecting activities that it is capable of performing.
Name
Mp3juices virus
Type
Adware/PUP
Aim
This application offers users to download various files by searching for music via its search bar and to convert music to the mp3 format
Activities
Users have experienced that this app can get them involved in intrusive advertising and redirecting activities. Also, the adware can collect non-personal information that relates to the user's browsing sessions
Elimination
You can delete the PUp by employing reliable software or by using the manual step-by-step guidelines that have been added to the end of this article
Fix
If you have found any type of system damage, you can try repairing things with software such as

Reimage

Reimage Cleaner

Intego
Mp3juice is not the most reliable source to use while thinking about converting files to mp3 format or looking for music to download. Its website might start loading you with rogue pop-up ads that provide you with misleading deals and offers. The program might try to push rogue software and services and encourage you to click on every appearing advertisement in order to collect income from the pay-per-click technique.[3]
Continuously, Mp3juices virus can get you involved in various tricky scams, surveys, and reward claims. The app might provide you with notifications that something is wrong with your system and encourage you to purchase rogue software in order to "fix" things. Furthermore, the adware might load you with fake flash player updates, misleading prize claims that offer entering some personal or credential information in order to receive a specific non-existing reward.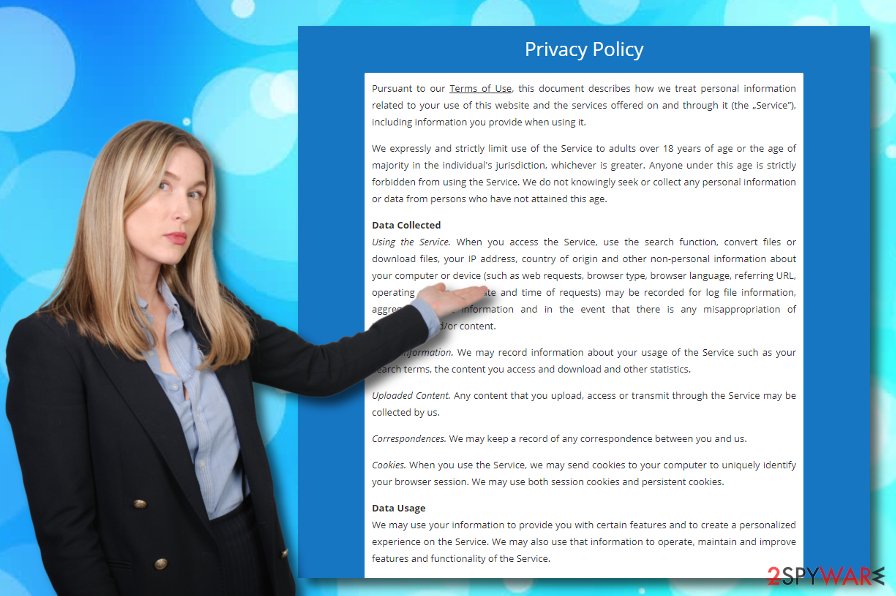 Mp3juice – a third-party app that travels with the help of the "software bundling" technique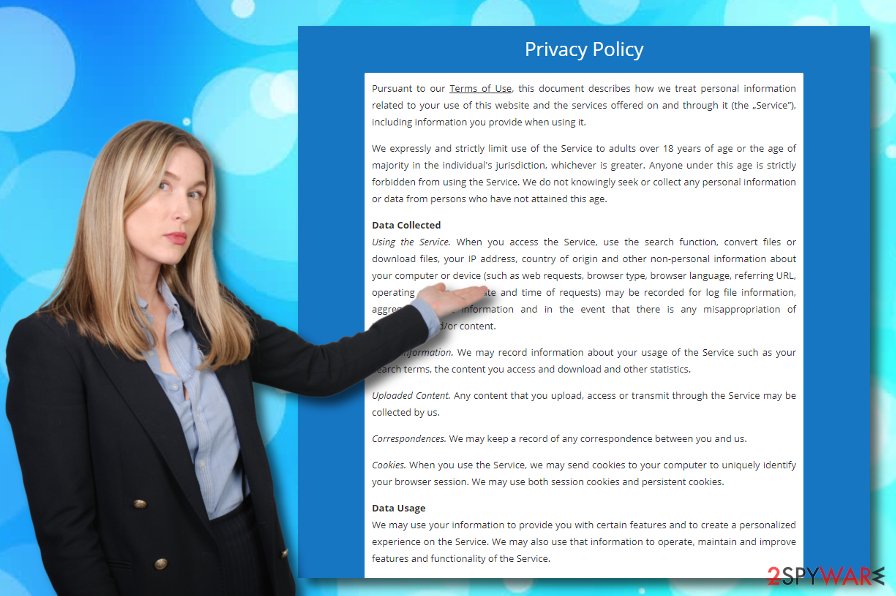 Mp3juice – a third-party app that travels with the help of the "software bundling" technique
Be careful with Mp3juices.com pop-up ads as the might not have the best intentions. You can easily get infected with another potentially unwanted program while clicking on this app's adverts. Nevertheless, some malware can also come in the form of fake flash player updates, so you should be aware of various upgrades that you provided randomly and should check every pending update by visiting the app's official web page.
Another problem with Mp3juices.cc app is its redirecting activities. The PUP might be able to take you to sponsored websites where other reliable-looking deals are promoted. However, this is not the worst part of the redirecting sessions that can come from this app. There is a risk of catching a malicious infection if you accidentally land on a potentially malicious website. Your machine can get infected with a threat such as a Trojan virus.
Adware such as Mp3juices is also known for its capability to collect non-personal information that refers to the user's online sessions, data regarding the browser and device type, etc. According to the Privacy Policy of this app, it is also capable of recording such information:
When you access the Service, use the search function, convert files or download files, your IP address, country of origin and other non-personal information about your computer or device (such as web requests, browser type, browser language, referring URL, operating system and date and time of requests) may be recorded for log file information, aggregated traffic information and in the event that there is any misappropriation of information and/or content.
You should think wisely before deciding to use this software. Even though it is easily reachable on the Internet sphere, it does not mean that it is very safe to use. If this app has somehow invaded your computer machine without your consent, you should remove Mp3juice virus with the help of automatical removal software or by using the manual step-by-step guidelines that have been added to the end of this article.
When performing Mp3juice virus removal, be sure that there are no leftovers lurking on the computer system, otherwise, the adware might easily return. Additionally, if the program or its additional components have brought any type of system compromisation, you have a chance to fix things by employing software such as Reimage Reimage Cleaner Intego.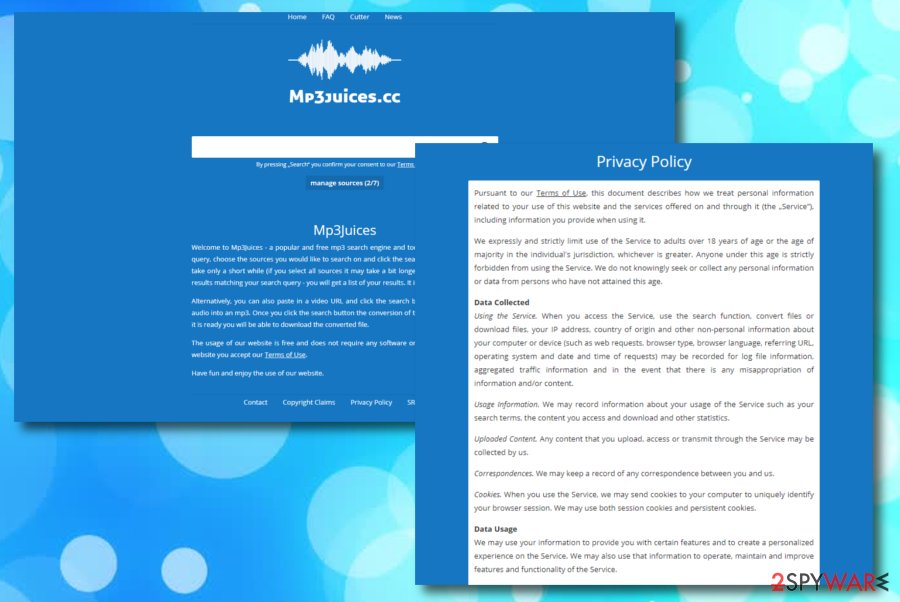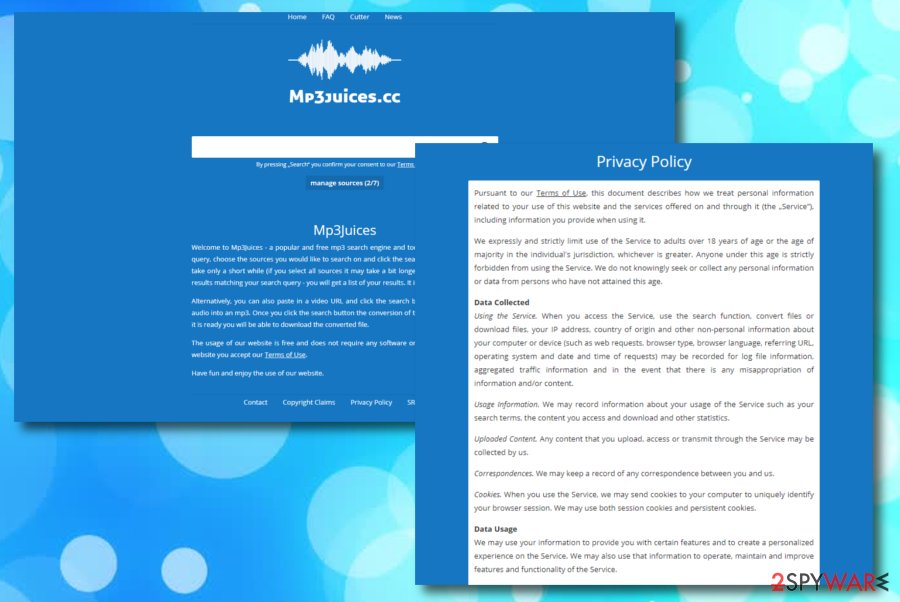 Adware distribution methods and prevention tips
Security researchers from Virusai.lt[4] outline the importance of Internet security while trying to avoid adware programs. If you want to learn how to avoid these threats, you have to gain knowledge in their distribution spheres first. It is known that these PUPs are most commonly distributed by using the following techniques:
Software bundling. This is the top 1 technique used by adware developers. This method works when the developer injects his created components into an entire software package.
Phishing updates. If you see various suggestions to update your flash player while browsing online, it might be a misleading one trying to place a PUP or even malware on your computer system.
Infectious links and ads. There are many adverts and hyperlinks that you meet every day online. Clicking on unknown locations increases your chances of receiving an adware infection.
The best way to prevent secret adware infiltration is to combine both manual and automatical protection. What you can do by yourself is select the "Custom" downloading mode as default to avoid unexpected downloads. Continuously, do not download any updates before checking them officially and avoid clicking on bogus adverts that appear along your way. Last but not least, install antivirus protection that will guard your computer system automatically.
Mp3juice virus removal guidelines
There are two ways in which you can remove Mp3juice virus from your computer system and web browsers such as Google Chrome, Mozilla Firefox, Internet Explorer, Microsoft Edge, and Safari. Below you will find all the steps that are required for manual elimination. However, if you think that the skills that you obtain are not enough for properly removing the PUP, you can always decide to download automatical software and lengthen the entire process.
Even though this app is not malware, it still needs to be eliminated properly. You have to clean the entire computer system while completing Mp3juice virus removal, otherwise, the machine and browsers can still stay infected. The adware program might have left numerous bogus components all over your computer that allow the app to boot itself automatically whenever the machine is started.
You may remove virus damage with a help of Reimage Reimage Cleaner Intego. SpyHunter 5Combo Cleaner and Malwarebytes are recommended to detect potentially unwanted programs and viruses with all their files and registry entries that are related to them.