Mindspark – program that comes pre-bundled and installs other unclear applications without permission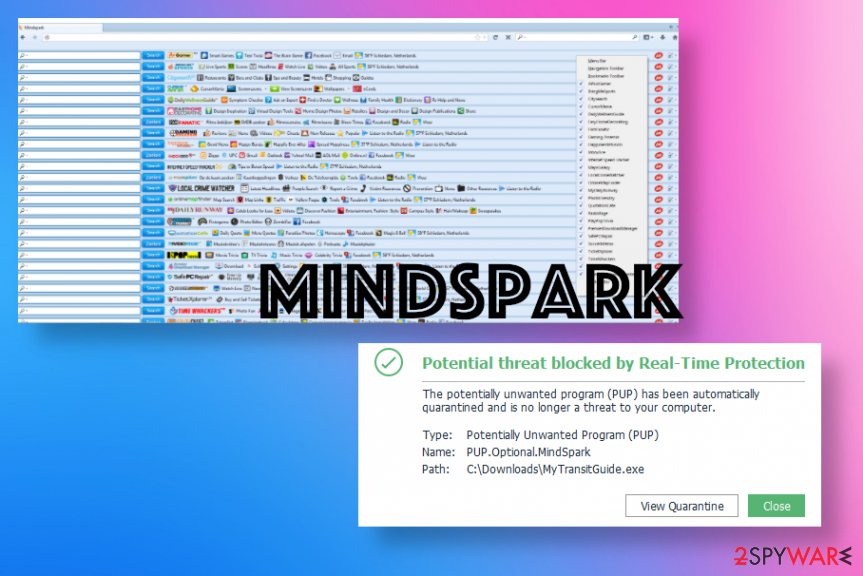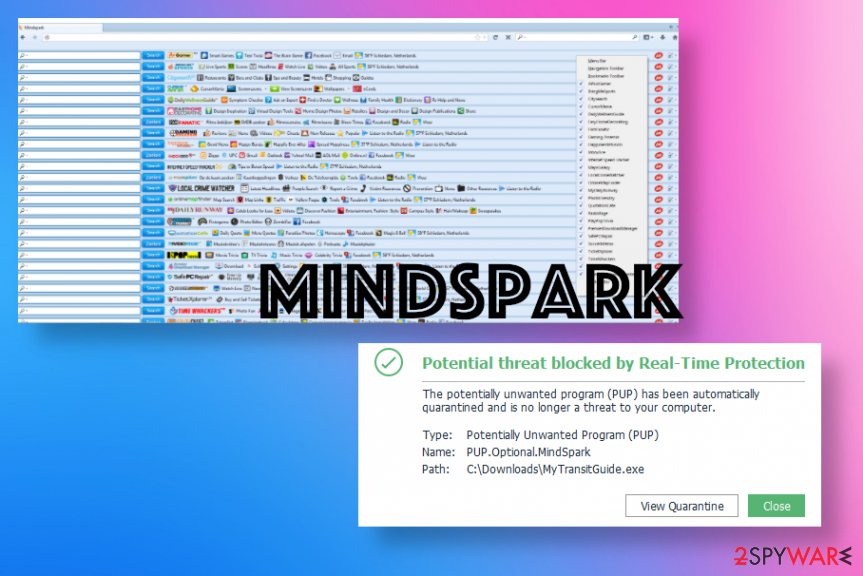 Mindspark Toolbar is the browser component that shows up out of nowhere and interrupts users' work on the computer with questionable content redirects. This is one of the most annoying features this potentially unwanted program has. People complain[1] about other features this shady program has because it appears as a heuristic detection result on various AV products. This program is not malicious or dangerous, these security tools indicate potential threats, not real malicious applications. However, complaints about these toolbars, browser hijackers, online games, and cyber threats continue to flood various forums.[2] It all happens for a reason because the PUP creators have over a hundred of different toolbars and other content that categories as browser hijackers or adware-type programs. There is nothing valuable or safe about these products.
It can easily run unnoticed until it displays any symptoms, so PUP.Optional.Mindspark.Generic or PUP.Optional.Mindspark generic heuristic detections can occur out of nowhere if you do not notice any changes in activities and browsing experience. This alert and warning should raise questions and encourage you to remove the PUP as soon as possible. There is nothing that could be crucial in using the toolbar or search engine linked with Mindspark, so make sure to react as quickly as you can and clear any intruders.
Name
Mindspark
Type
Browser hijacker/ Potentially unwanted program
Developer
Mindspark Interactive Network Inc. The company is known for creating and spreading useless tools and browser components that interfere with systems' settings and speed, the performance of the machine
Symptoms
Browser hijacker-based program changes settings like homepage, default search engine, new tab preferences to force browsers into showing the needed pages and injects commercial material on the list of search results to control the traffic. These alterations happen without permission and can affect system preferences of more crucial functions
Distribution
Freeware bundles and other products from the same developer can easily trigger the drop of this shady PUP. Visiting deceptive sites exposes the user to possibly malicious material that triggers automatic PUP installations
Elimination
To remove Mindspark completely, and get rid of all the possibly related programs, you need to run full system scan using AV detection engines
Repair
The system functions need to get recovered, so all the affected files need fixing. To repair the damage that PUP has down use

Reimage

Reimage Cleaner

Intego because it can find and indicate affected files or damaged programs
Mindspark malware is the name that frustrated users tend to use for this browser-based threat because the program gets bundled with other free software pieces and, in most cases, gets installed without users' knowledge because it can interfere with the web browsers and online traffic without changing particular system preferences.
If your browser has anything like this installed willingly or not, you will experience unwanted behavior and get frustrated when particular settings get altered. The Mindspark virus is known for focusing on shady redirects and hijacking the browsing sessions.
The most intrusive feature is changing the default search engine to MyWay search that is one of the most known products of the initial developer Mindspark Interactive Network Inc. The company manages to affect web browsers by installing browser helper objects, services, toolbars, and other applications, so the computer gets significantly slower and performs poorly.
However, the main goal of such intruders like the Mindspark Toolbar is to control the online traffic and expose the user to affiliated or sponsored pages. Once the PUP gets in the machine it hijacks major internet browsers like Google Chrome, Internet Explorer, Mozilla Firefox, Safari, and others.
Mindspark Interactive network develops tons of shady programs, games, and web browser tools like: SearchYa, Total recipe search, DictionaryBoss Toolbar, Internet Speed Tracker, EasyPDFCombine Toolbar, HowToSimplified, EasyHomeDecorating Toolbar. Mindspark Wild West and Mindspark Mystery Lab are the applications from the same developer that create all the similar issues and typical PUP symptoms like:
speed issues;
constant redirects;
shady installations;
pop-ups and banners with commercial content;
system freezes and crashes.
It is more likely that you downloaded the Mindspark intruder yourself without noticing and knowledge because such downloads and pre-bundling are not adequately disclosed on those misleading pages or software providers' sites. This fact can also mean that your device has more intruders already on the machine because PUPs often come with other applications or can, later on, install browser extensions, apps, and toolbars. Due to these reasons, you need a thorough system cleaning when PUP manages to infect the computer.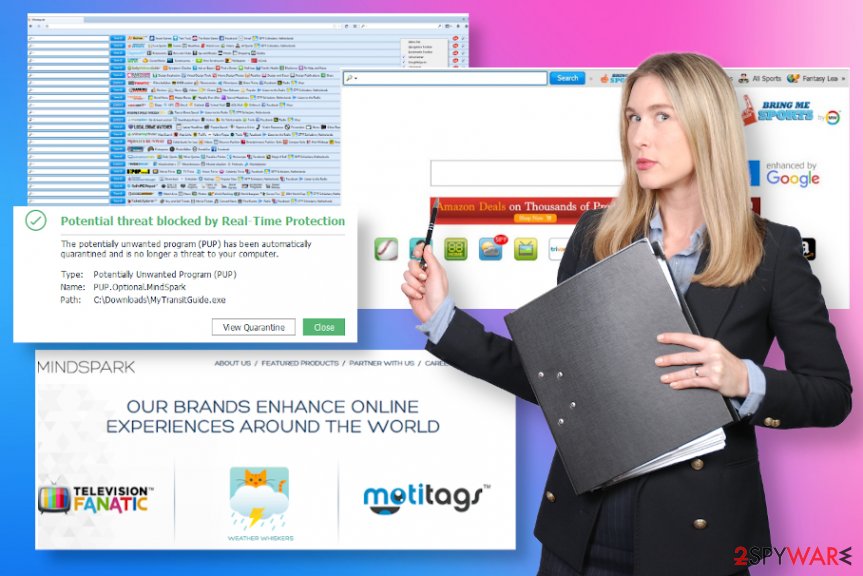 Mindspark is the browser hijacker that triggers AV engines to show heuristic detection alerts.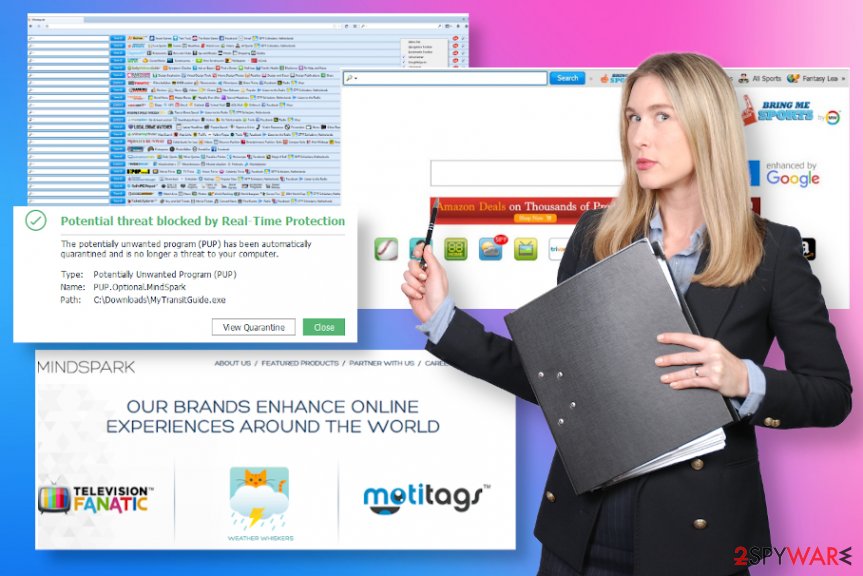 Mindspark is the browser hijacker that triggers AV engines to show heuristic detection alerts.
To remove Mindspark when AV detection engine indicated PUP.Optional.Mindspark.Generic or PUP.Optional.Mindspark results, you need to run the program again and follow the system cleaning, PUP removal process that anti-malware application can perform. You can achieve the goal of a virus-free machine pretty quickly when the AV tool is powerful enough to find all the associated program files.
Mindspark can install other programs and browser-based applications, so you may need to go to each browser and reset the tool to default, so there are no particular risks of triggering all the annoying activities in the future. If you think that is too difficult, we have a great guide below that experts[3] have prepared and approved.
Even though Mindspark malware is not the correct term for this PUP and browser hijacker, the company is known for having persistent and annoying products. Any potentially unwanted program can interfere with web browser setting directly, but altering the Windows registry entries, and other parts of the system folders are also included in the PUP functions.
If that happens, you need to perform Mindspark removal and clean the system more thoroughly, change settings back to normal and repair any affected files or programs. When you run the anti-malware program, it can find PUPs and other threats, but not the damage or system files that create issues.
So to remove Mindspark virus damage, you should rely on PC optimization or repair applications that can check for affected parts of the system for you. Any manual searching is not recommended because changes in registry can trigger issues with the system functions and programs, security features, in particular. So rely on PC repair tools like Reimage Reimage Cleaner Intego to clean the machine from the virus damage.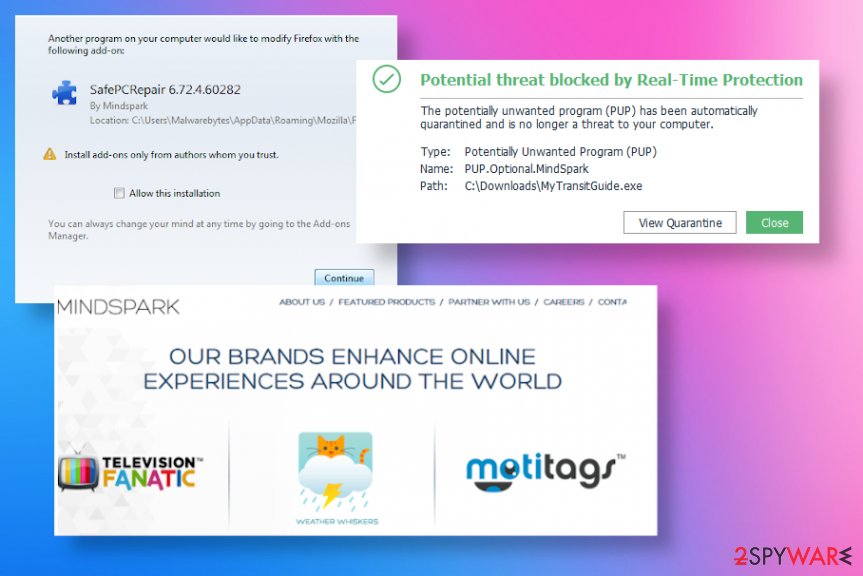 Mindspark is the PUP considered to be possibly malicious due to shady infiltration methods and issues it causes on the system.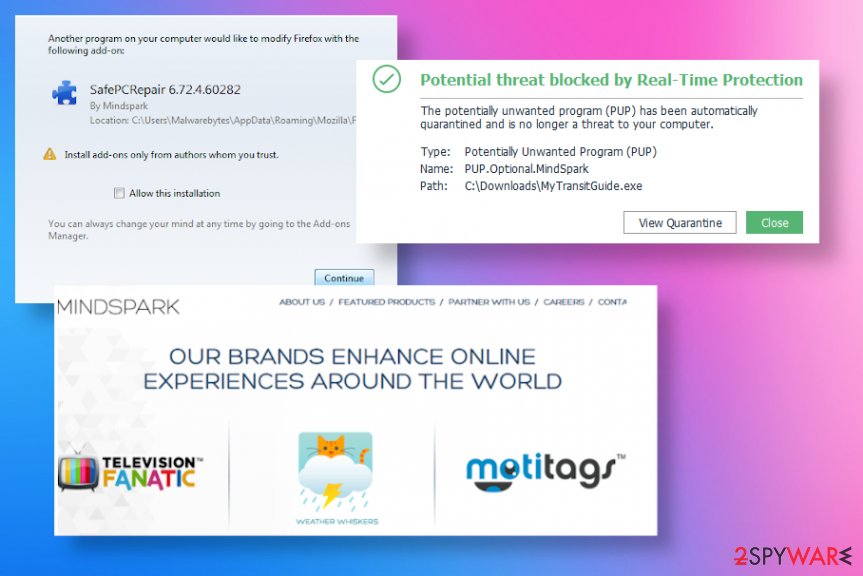 Mindspark is the PUP considered to be possibly malicious due to shady infiltration methods and issues it causes on the system.
Installing PUPs is easy when you don't pay proper attention to details
It is extremely easy to get any potentially unwanted program on the system because such intruders spread by themselves online. In most cases, these intruders rely on freeware bundling methods, other programs and developers use the fact that people tend to hurry to their advantage.
When you skip through steps during the freeware download and installation, you choose Recommended or Quick installation options. This is how you automatically allow all the shady programs to get installed. If you would choose the Advanced or Custom installation instead, you could control the installation process entirely and see what applications come to the computer.
Of course, choosing proper sources, relying on official developers, and reliable software providers could ensure that PUPs have no option to interfere with the system of your computer. However, people still tend to go for torrent sites, p2p sharing services, and crack their software, use cheatcodes. Change your habits online and make sure to use AV tools to clock PUP infiltrations.
Get rid fo the Mindspark malware and other installed applications
Even though this is not a dangerous threat and the Mindspark virus focuses more on intrusion that creating damage, the longer it runs in the system, the word performance of the PC gets. It mainly affects web browsers and the speed of your internet, functions, and work, but the PUP initially runs in the background where all the activities get controlled.
This is why you need automatic anti-malware tools that can help with full and proper Mindspark removal. When you choose the reliable program and run the system scan, the AV detection engine finds various intruders associated with malicious or potentially dangerous behavior. You need to assess the results and follow the suggested steps after that.
We mentioned that it is not difficult to remove Mindspark if you choose good security tools, but remember that browser-based extensions, toolbars, or damage that PUP causes are separate things. You need to get another system tool to fix the damage and go through web browsers manually to terminate all the extensions and suspicious programs yourself.
You may remove virus damage with a help of Reimage Reimage Cleaner Intego. SpyHunter 5Combo Cleaner and Malwarebytes are recommended to detect potentially unwanted programs and viruses with all their files and registry entries that are related to them.