Lokd ransomware is the infection that encrypts personal files and marks them using identifier .lokd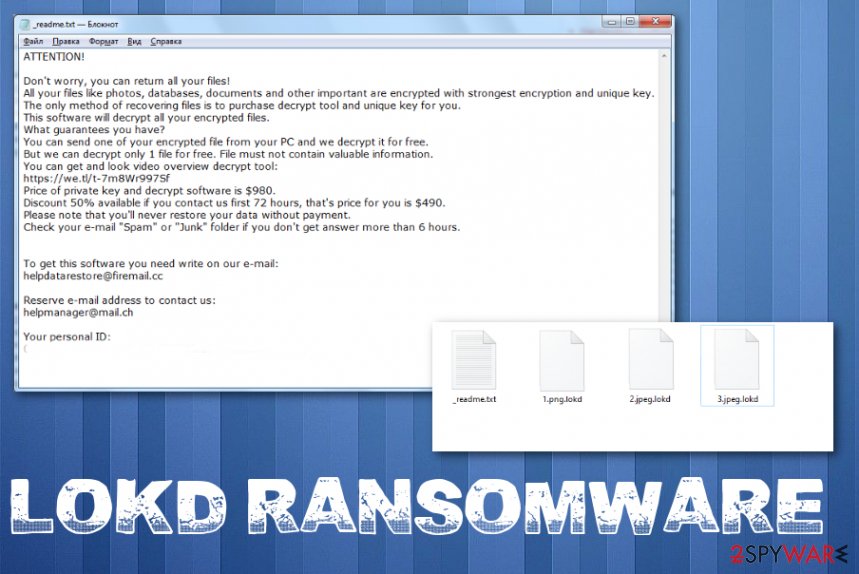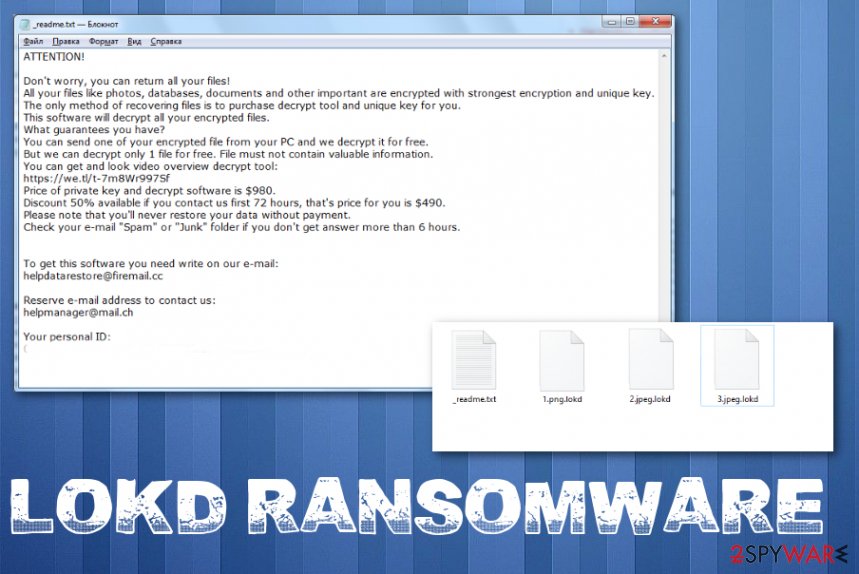 Lokd ransomware – cryptovirus that locks files for the user, so access to them cannot be obtained at all. Unfortunately, when data gets encrypted options are limited because DJVU ransomware family is no longer decryptable. Previously versions of the virus had different coding methods, and files affected in such attacks were recoverable. However, STOPDecrypter is no longer supported, so any variants released after August 2019 are more powerful. STOP ransomware is one of the more persistent and constantly updated, so new versions of the threat get released every other week or even more often. This is a version number 212 on the list already, but cybercriminals don't seem to plan on stopping soon.
You should consider that the virus is belonging to a known malware family and avoid paying or even contacting Lokd ransomware virus developers. The only purpose of such threats is money extortion using the blackmailing messages delivered to victims after successful encryption. These people who create Djvu versions can change little parts of the code and release a new version after version. For years, _readme.txt remain the same file that contains money demanding message and instructions for payments. Even contact email addresses [email protected], [email protected] that .lokd version lists as preferred communication options got used for tons of other variants too.
Make sure to avoid contacting these people behind the Lokd encrypting virus and try to remove the threat as soon as possible. There is not one reason to trust them, even though the ransom amount is offered smaller at first. No matter if you pay $980 or $490 for the alleged decryption tool, you can simply lose your money and data when criminals keep the money and don't send you the decryptor or any solution.
Name
Lokd ransomware
Version of
Djvu ransomware
Family
STOP file-encrypting virus
File appendix
.lokd is the particular extension that appears on every photo or different type of data that gets affected by this virus. It is created to mark affected files out of the safe and useful ones. even though ransomware encrypts almost all of the common files
Ransom note
_readme.txt contains a message from ransomware creators and particular details about the encryption, amount of money expected, contact emails and victims' ID needed for identification
Ransom amount
The demand starts at $490 and gets double after 72 hours
Distribution
This virus family is known for spreading via pirated software and other packages where malicious files may get distributed. Also, the most popular method of distribution is email spam that contains file attachments with malicious macros[1]
Contact emails
[email protected], [email protected]
Elimination
Lokd ransomware removal should be performed using proper anti-malware tools because there are various files that trigger background processes and malicious activities[2]
Repair
These threats are keeping the persistence with malicious files and affecting crucial processes of the system, so PC repair tools like

Reimage

Reimage Cleaner

are needed to improve the performance and fix possible virus damage
It is possible that decryption tools will get released in the future, or the ones like Emsisoft Decryptor will get updates, so keep encrypted files on the separate device and wait for such opportunity. However, the mentioned tool works for versions encoding files with the help of offline keys and victims IDs. Read further to know the difference and determine which version of Lokd ransomware affected your data.
Lokd ransomware is not a new threat in the field of ransomware, so you should go straight to the removal of the virus because there are more problems regarding the infection. Malware can load additional threats on the machine, trigger processes in the background, and install programs that affect the persistence of the ransomware and can cause damage to crucial functions of the computer.
Even though Lokd ransomware affects popular file types directly by encrypting them, malware has many more functions and features that interfere with programs, system functions, and essential parts of the computer. By running in the background, ransomware can make changes in the Windows registry and delete some files, disable functions that are needed for data recovery, or virus removal procedures.
Even though Lokd ransomware removal process gets difficult due to those changes and installed or disabled programs, it is still possible to get rid of the threat and clean the machine. You can do that by employing a professional anti-malware tool or security program that works on the AV detection engine basis. This is the way to find and terminate all parts of the file-locker.
Unfortunately, AV tools can remove Lokd ransomware from the system and end malicious processes, but cannot recover affected data or fix virus damage on the machine. Since this is the newer version of the Djvu virus, you cannot easily decrypt those locked files either, so data restoring options are limited. However, we have a few additional ones below the article.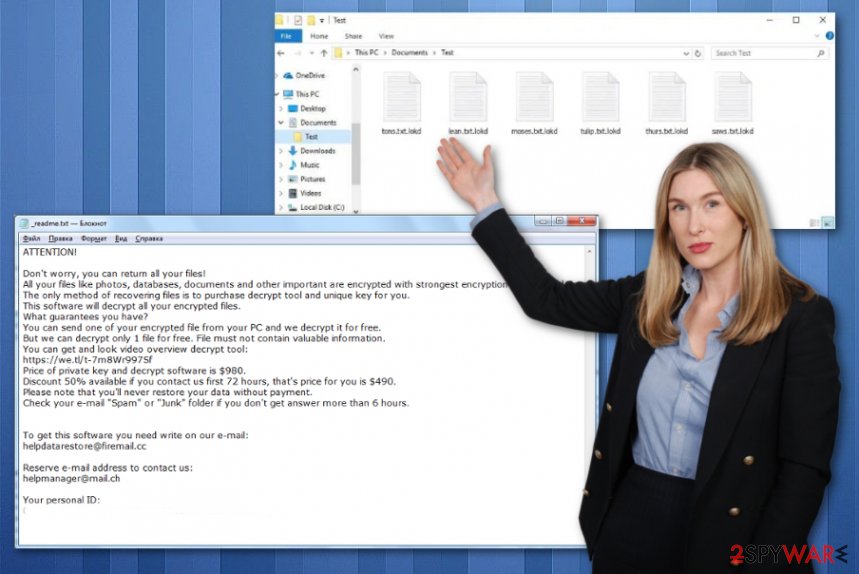 Lokd ransomware is the virus that delivers _readme.txt file on the desktop when encryption is done and virus developers want to collect money.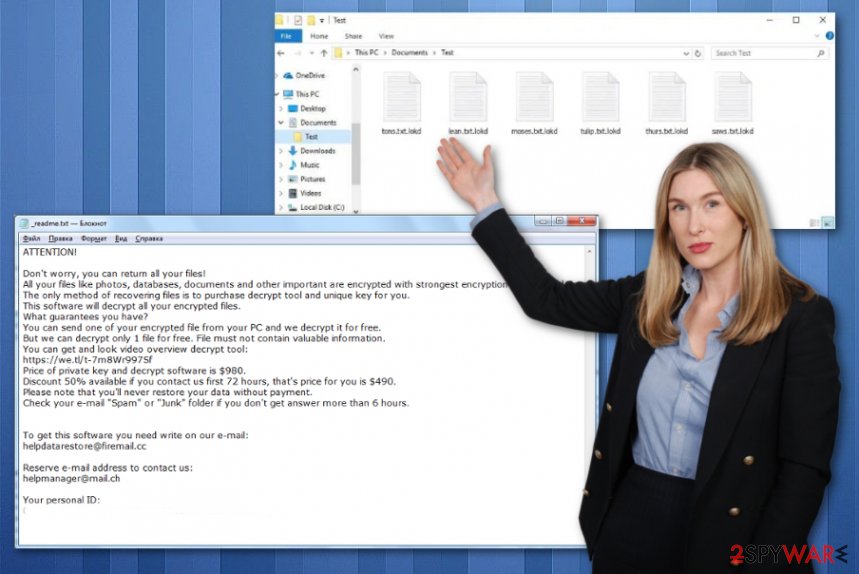 Lokd ransomware is the virus that delivers _readme.txt file on the desktop when encryption is done and virus developers want to collect money.
The best solution for encrypted files, when decryption tools are not released by researchers yet is data backups. When Lokd ransomware is affecting files that you have a backup of, you can replace the damaged file with a safe copy easily. As for the decryption tool that virus developers use – do not trust them. Decryption is a difficult process, so the tool that they claim to have may not even exist of work. This is not an option.
Fortunately, some of the versions in the same family as Lokd ransomware virus can get decrypted with the help of offline keys that developers use. Offline means that all victims of the same file-marker get the same ID which, in most cases, ends in t1, so researchers can recover files of pretty much all the victims. However, when online keys get employed each victim and his or her files have unique identification, and there are no options that could work for many people at once.
This online ID function and more powerful encryption method got employed at the end of summer 2019, so any versions after that change cannot be decrypted, including Lokd ransomware and others released in 2020. Even the mentioned decryption tool is working for data affected using offline IDs. Check the ID in the ransom note to determine if you have this opportunity. If not, store some of the encrypted files and other data related to the virus on an external device and wait for possible updates or changes in encryption.
Lokd ransomware ransom note states the following:
ATTENTION!

Don't worry, you can return all your files!
All your files like photos, databases, documents and other important are encrypted with strongest encryption and unique key.
The only method of recovering files is to purchase decrypt tool and unique key for you.
This software will decrypt all your encrypted files.
What guarantees you have?
You can send one of your encrypted file from your PC and we decrypt it for free.
But we can decrypt only 1 file for free. File must not contain valuable information.
You can get and look video overview decrypt tool:
https://we.tl/t-Oc0xgfzC7q
Price of private key and decrypt software is $980.
Discount 50% available if you contact us first 72 hours, that's price for you is $490.
Please note that you'll never restore your data without payment.
Check your e-mail "Spam" or "Junk" folder if you don't get answer more than 6 hours.

To get this software you need write on our e-mail:
[email protected]

Reserve e-mail address to contact us:
[email protected]

Your personal ID:
We constantly update our virus removal guides, and once the decryption option gets released, we will notify people. However, it is less likely that Lokd ransomware and other versions will receive a decryption tool. There are less and less vulnerable spots in coding and encryption, so researchers cannot come up with these tools.
Also, the only possibility will be when databases of ransomware creators get either obtained by whitehat hackers, law enforcement or leaked. Then, victims can get their files back. But these options either are too good to be used or not common at all. You have the best option to rely on experts[3] and their suggestions to run AV detection tools and then repair the performance using Reimage Reimage Cleaner or a PC repair utility. After proper system cleaning, you can go for data recovery using backups or cloud archives.

Lokd ransomware – cryptovirus that marks files using .lokd extension, hence the name of this virus.

Lokd ransomware – cryptovirus that marks files using .lokd extension, hence the name of this virus.
Pirating brings malware directly on the system
Torrent sites, file-sharing services, and sites where you can get cracks or cheats can easily involve malware distribution techniques. Malicious files of various types can get installed alongside your wanted software or loaded from the spam email as the direct attachment. Microsoft documents contain malicious macros that need to be enabled by the user, so your involvement is needed for such an infection method.
However, the more common way this family spreads around the world involves pirating sites and the issue of paying attention. When you search for licensed versions of legitimate software or programs, cheatcodes of video games and cracks of operating systems, you don't pay enough attention to the installation, or cannot even notice the executable or different system file type that is actually ransomware payload.
The best way to avoid these infections is to stay away from pirating websites entirely and cleaning the machine, email box more often. If you install legitimate software from official sources and delete any emails that create suspicions, you can be safe. However, ransomware makes huge amounts of money from not cautious people all over the world.
Clean traces of Lokd cryptovirus and repair affected functions
Lokd ransomware virus is not a threat that could be noticed right away, or during the payload drop, so you know that ransomware is on the computer when the ransom note appears on the screen and files are already encrypted. Time is a sensitive subject and important issue because the longer you wait for paying or removing the virus, the more damage is triggered on the machine.
Lokd ransomware removal is the process that can give the best results when it is started as soon as the machine gets affected. You can avoid further issues and virus damage to your system when you manage to get rid of the ransomware until it interfered with the essential functions of the machine. When security tools get disabled, you can rely on Safe Mode with Networking.
You should remove Lokd ransomware with AV tools, SpyHunter 5Combo Cleaner, or Malwarebytes can help you to find those traces of the virus and clean the system. Once you terminated ransomware, run Reimage Reimage Cleaner and repair virus damage in the system. These processes are all important because, without recovering functions important for the computer system, you cannot be sure that restored files are safe.
This entry was posted on 2020-03-09 at 04:17 and is filed under Ransomware, Viruses.