ITL Driver Updater is a driver updater app that tries to make you purchase its full version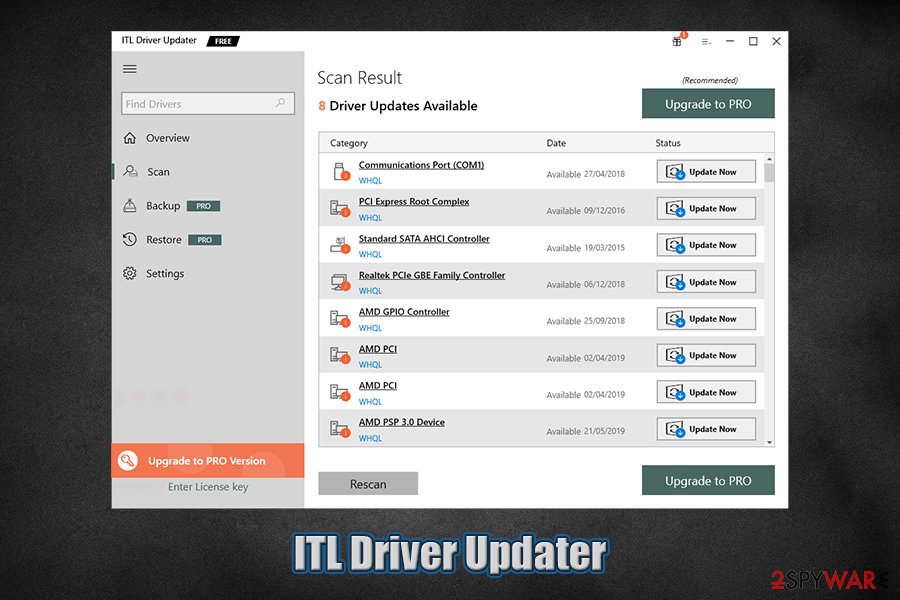 ITL Driver Updater is a potentially unwanted program that might appear on your system unexpectedly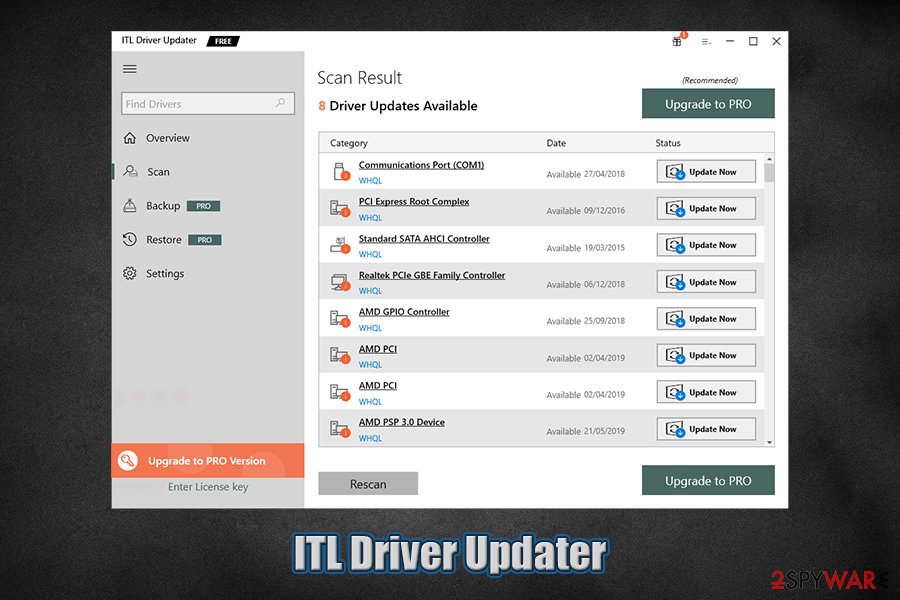 ITL Driver Updater is a potentially unwanted program that might appear on your system unexpectedly
ITL Driver Updater by Innovana Thinklabs Limited is software allegedly designed to fix crashes, freezes, and other Windows computer issues by providing access to thousands of drivers. However, the app is also considered to be a potentially unwanted program, as it is often spread via software bundles offered on third-party websites that distribute freeware. Even those that install the app from its official website will be deceptively offered optional components within the installer.
As a result, most users end up installing ITL Driver Updater unintentionally, although it immediately performs a scan and displays the results shortly after. While drivers are essential parts of any Windows operating system, the importance of driver updates is often exaggerated, and users are tricked into spending money for software that has very little impact on overall computer performance. Thus, you should remove ITL Driver Updater if you found the app performing scans on your system seemingly out of nowhere.
Name
ITL Driver Updater
Type
Driver updater, potentially unwanted program
Developer
Innovana Thinklabs Limited
Distribution
Potentially unwanted applications are typically installed without user consent via software bundle packages, fake update prompts, or when users look for a particular function within the program
Dangers
Some users' claimed that the application managed to corrupt their operating systems, and they had to restore it from scratch. This might happen when incompatible drivers are installed
Removal
You can uninstall the app as per the instructions we provide below. If you suffer from ads, redirects, and other browser-related issues, you might be infected with adware. In such a case, it is advisable to scan the machine with anti-malware software
Optimization
To speed up your PC and fix Windows errors, we recommend using

Reimage

Reimage Cleaner

Intego
Besides providing driver updates, ITL Driver Updater also claims that it can comprehensively improve computer speed by enhancing video and gaming performance, as well as backing up the existing drivers. While these features may seem useful, their importance is shown in a way to make users purchase a full version of the app.
The developers of the ITL Driver Updater claim the following:
This easy to use system utility automatically detects & installs the broken, outdated and old system drivers. Compatible with all the latest Windows Version, ITL Driver updater also cures the common system issues caused to inappropriate or missing drivers like system crashes, connectivity issues and lags when playing games.
Drivers are software that allows hardware and computer components to communicate with each other correctly, as PC parts are often manufactured by different developers. For the system to work in harmony, drivers are used. If you buy a computer with a pre-installed operating system, necessary drivers will already be installed on it, so you should not worry much.
While drivers are an integral part of any Windows computer, driver updates are not. The truth is, regular computer users should not bother too much with drivers, as the updates typically fix bugs for a very limited amount of configurations, and are not necessary to provide functionality for the hardware component. The only reason you should update drivers is when something does wrong or if you are using a dedicated graphics card (GPU).[1]
Even then, the security research community strongly advises users against apps like ITL Driver Updater. These apps usually drain users' money by making them believe that driver updates are something that is mandatory. In other words, users lack knowledge in the field and trust fraudulent statements instead. Also, downloading driver updates will hardly speed up computer performance. Once the need arises, you could simply visit the manufacturer's website and download the driver manually.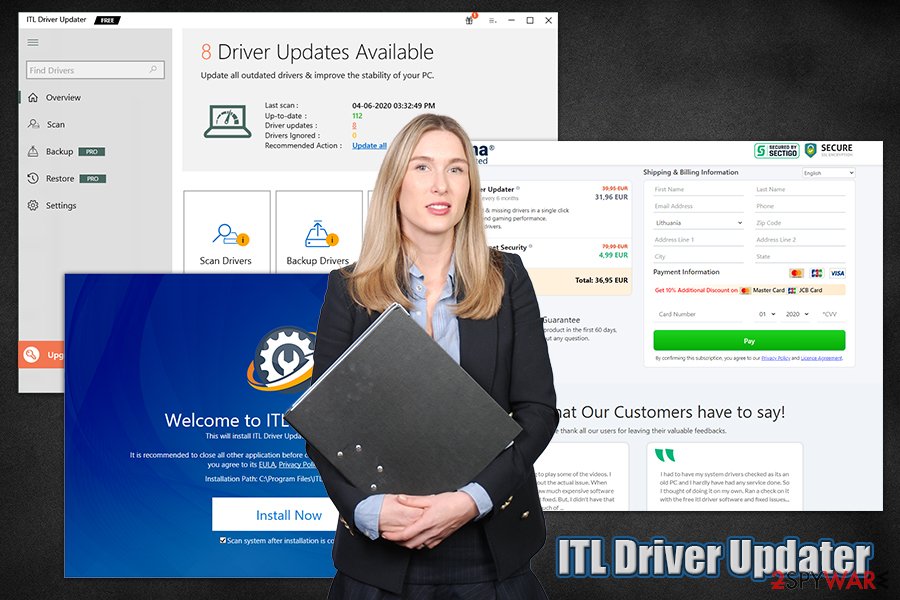 ITL Driver Updater is software that is meant to help users download driver updates automatically, although it limits download speeds and uses other methods to make users buy a full version of the app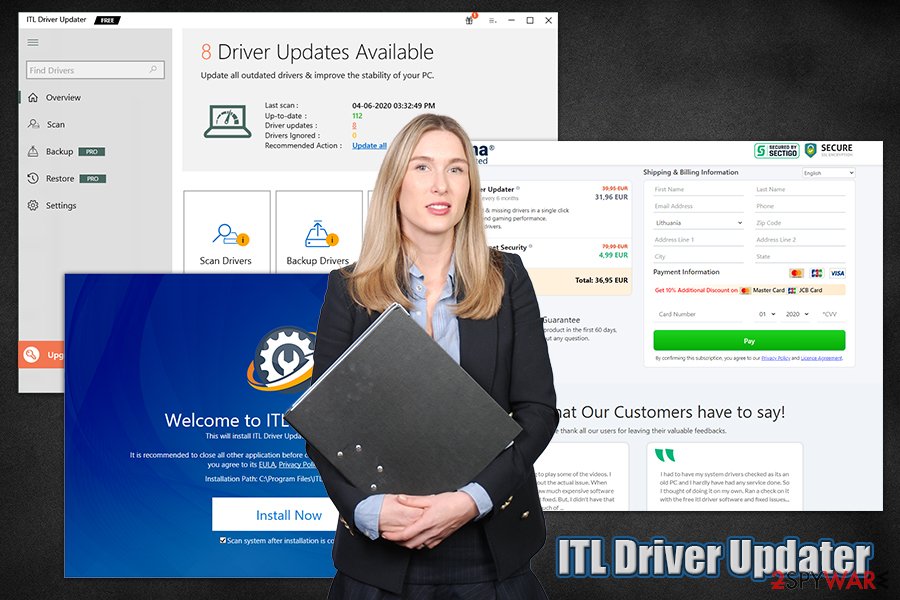 ITL Driver Updater is software that is meant to help users download driver updates automatically, although it limits download speeds and uses other methods to make users buy a full version of the app
Besides portraying drivers as one of the major factors for high computer performance, ITL Driver Updater can also be the cause of unexpected computer issues, and might also show dubious scan results. Some users who did use the app for a prolonged period of time claimed that these precise issues happened to them.
According to testimonials of a Reddit user, ITL Driver Updater flagged ten driver updates, while the official Application for driver updating provided by Asus did not show any issues whatsoever. This might be explained by the fact that built-in tools only update the necessary drivers and skip those that have very little impact (or no impact) on computer performance. The user wondered whether he should trust the app, and then edited his post by saying the following:[2]
EDIT : I actually got scammed and my system crashed. I'm in The process of restoring it
As evident, some driver updates can cause serious damage to Windows, especially when incompatible drivers are installed. Nonetheless, developers of ITL Driver Updater claim that all drivers provided by the app are WHQL certified (in other terms, checked by Microsoft for compliance). However, we could not find relevant certifications or "Certified for Windows" markings on the official website of the app.
Another reason for ITL Driver Updater removal is that several security applications detect it as unwanted under the following names:[3]
PUP.Optional.PCVARK
A Variant Of MSIL/GT32SupportGeeks.AC Pote
Generic/HEUR/QVM10.2.A115.Malware.Gen
PUA.GT32SupportGeeks!8.E56B (CLOUD)
Program.Unwanted.4810
Unsafe.AI_Score_93%
If you want to uninstall the app safely, please follow the instructions below. Note: if you need an application that would keep your Windows bug-free and would also be able to fix the damage done to the system after a malware attack, rely on tools like Reimage Reimage Cleaner Intego.
Your PC will thank you for avoiding PUPs
Potentially unwanted programs are a real issue that can cause a significant decline in computer performance and ruin user experience in many ways. Besides, many PUPs are also set up to deliver intrusive advertisements and track users' web browser activities to profit from targeted marketing. In worst cases, rogue companies are also sharing personal information with third parties, and the security of such actions cannot be guaranteed. Finally, a large number of useless apps clutters the PC and makes it run slower (apps establish their own scheduled tasks, change Windows registry, etc.; all these actions can cause bandwidth or computer processing power lag).
Therefore, you should do everything to avoid potentially unwanted applications that can be downloaded from various online sources. And, since PUPs are typically distributed via software bundles, you should be exceptionally careful when visiting third-party sites that host freeware.
In many cases, medium-to-small websites of such kind use a variety of rogue techniques to make users download programs that they did not want in the first place. For example:
Fake "Download" buttons;
Misleading offers;
Software bundle packages.
Of course, you should stick to official sources when downloading new software when possible. If you still insist on visiting third-party sites, make sure you always pick "Advanced" settings during the installation and remove all the pre-ticked boxes. Besides, watch for other tricks, such as misplaced buttons or fine print text.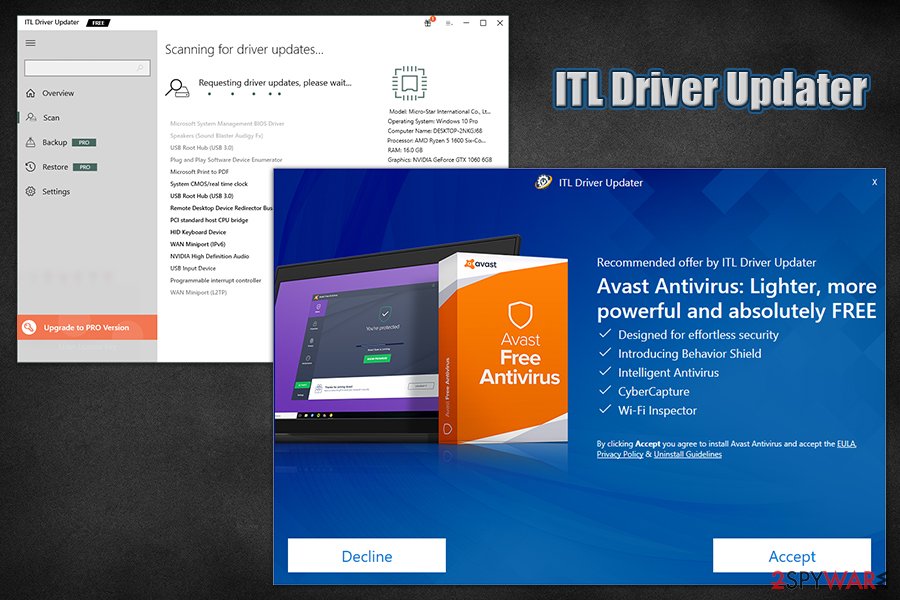 ITL Driver Updater uses misleading button placements for users to install optional components – a typical trick used by software bundlers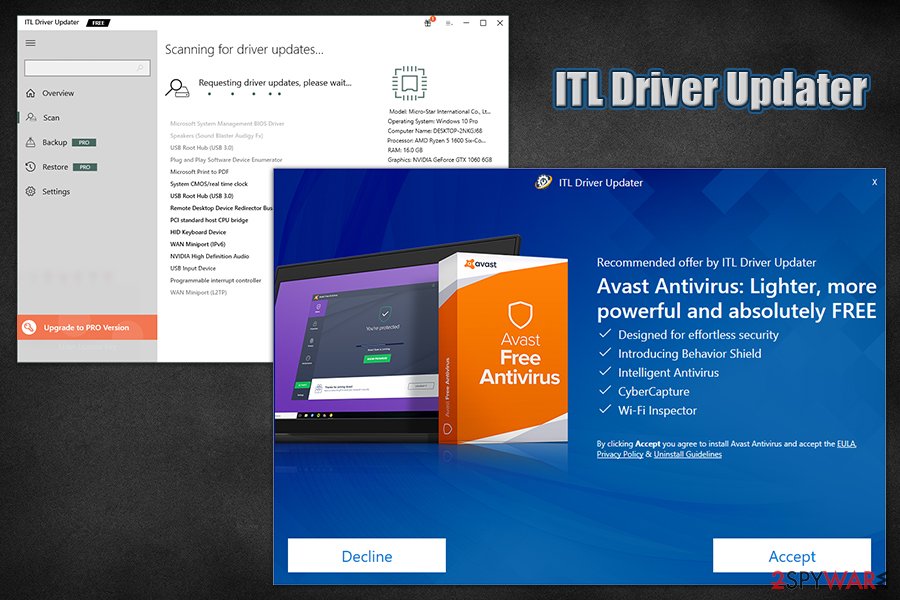 ITL Driver Updater uses misleading button placements for users to install optional components – a typical trick used by software bundlers
Uninstall ITL Driver Updater
ITL Driver Updater removal should not cause you any troubles, although if you are a novice when it comes to application uninstallation, we provide detailed instructions on the process below. Simply access the installed program list via Control Panel and select Uninstall.
However, in case you did not install the app intentionally, we highly recommend that you check for additional potentially unwanted programs, as they often travel in bundles. While most are relatively harmless, they might clutter your computer and show you ads whether you like it or not. You can also do it automatically by employing powerful security software that provides a PUP detection feature.
Once you remove ITL Driver Updater and similar unwanted software, your browser should be secure. In case uninstalling suspicious apps did not help, you should also reset all the installed web browsers, as explained below.
You may remove virus damage with a help of Reimage Reimage Cleaner Intego. SpyHunter 5Combo Cleaner and Malwarebytes are recommended to detect potentially unwanted programs and viruses with all their files and registry entries that are related to them.
This entry was posted on 2020-06-04 at 09:21 and is filed under System tools, Viruses.