Interpol virus – a threat that demands money for alleged illegal behavior by scaring people with law enforcement agency names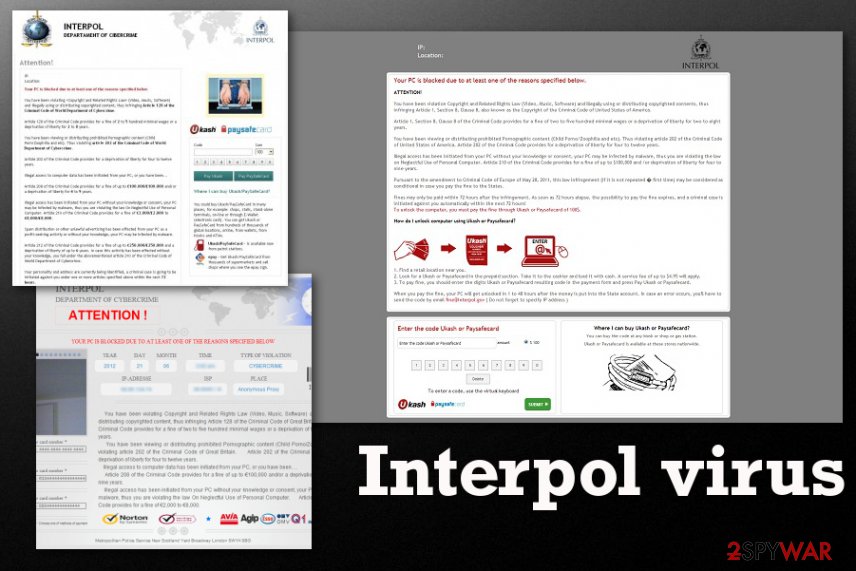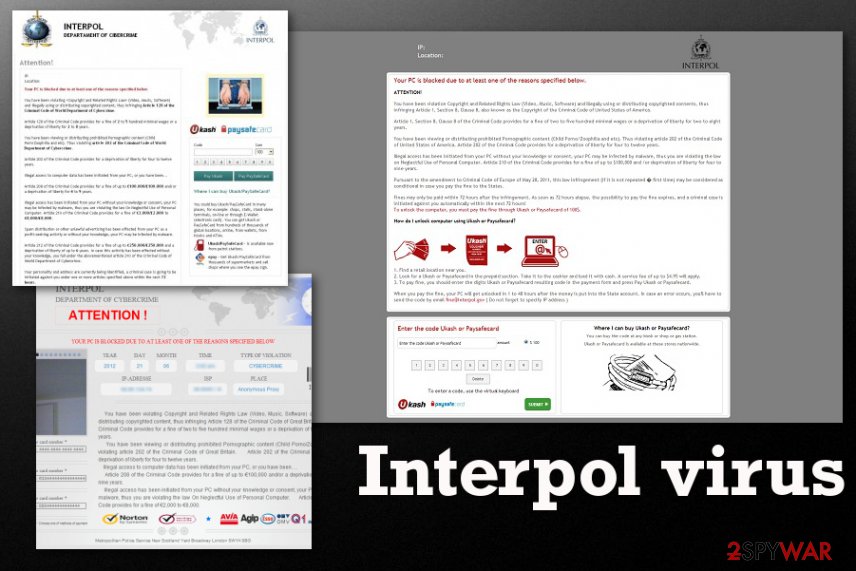 Interpol virus is the program that shows fake pop-ups claiming to be from Interpol/FBI or any other law enforcement agency. It also states that your files got blocked for illegal activities, and the only way to stay from additional problems is to pay the fine of $100, for example. In most cases, the threat also states how much time you have for paying and the preferred platform like Ukash or MoneyPak for the payment transfer.[1] There is no need to pay for these criminals though because this is a scam, there are no particular activities detected that you can be charged for. Also, there are no such agencies or institutions that could ask to pay fine directly on the computer with such pop-up messages.
Even when you cannot close the pop-up or the browser itself and manage the machine yourself, you need to at least try to remove Interpol virus from your machine completely and do that as quickly as possible. This is the version of a common threat that relies on scaring people, so you may encounter a version related to the agency of your country. These threats are known to spread in Germany, France, and other European countries and in areas of the U.S. There is nothing that could stop such threats from spreading around the world, so anyone can get affected.
Name
Interpol virus
Type
Ransomware/ blackmail virus
Distribution
Maliciosu websites or even hacked legitimate sites spread infection via exploit kits and flaws. Also, such trojans and other dangerous malware gets dropped on the machine directly when malicious file attachment gets opened from the safe-looking email
Tactics
The virus shows alerts stating about illegal activities and the need to pay the fine. Notification clams to be sent from a particular agency or institution, so people believe that issues are real ad can cause the problems if the payment is not transferred in time
Danger
If you decide to pay the fine, you lose the money, and your computer still remains locked. Such campaigns can even lead to damaged devices or affected computer or lost data or more severe malware infections
Elimination
Interpol virus removal cannot be easy, but you should fo that as soon as possible, so rely on anti-malware tool and run a full system scan to terminate this malware
Repair
Since this is the threat that can interfere with various processes in the background it can also damage files, functions, and system features. Make sure to use a proper PC repair tool or a system optimizer like

Reimage

Reimage Cleaner

to find as possibly restore virus damage
Interpol virus is the threat from the CashU viruses category that can easily lock your computer down for invented law violations and then ask you to pay the fine through Ukash or Paysafecard prepayment systems. This virus works under the name of Interpol Department of Cybercrime and mostly attacks European and North American countries.
Be aware that its alert, which typically reports that 'Your IP is blocked due to at least one of the reasons specified below', is completely fake and you must NOT pay the fine but remove the Interpol virus from your computer. No matter how trustworthy it looks, it seems only to trick PC users and collect nonexistent files
As we mentioned, Interpol virus alerts can differ from country to country and depend on particular are. However, the following is the general message that is displayed once the screen gets locked:
Interpol Department of Cybercrime.
Attention!
Your computer is blocked due at least one of the reasons specified below:
You have been violating Copyright and Related Rights Law (Video, Music, Software) and illegally using or distributing copyrighted content, thus infringing Article 128 of the Criminal Code of Great Britain. Article 128 of the Criminal Code provides for a fine of two to five hundred minimal wages or a deprivation of liberty for two to eight years. You have been viewing or distributing prohibited Pornographic content (Child Porno/Zoofilia and etc). Thus violating article 202 of the Criminal Code of Great Britain. Article 202 of the Criminal Code provides for a deprivation of liberty for four to twelve years.. Illegal access to computer data has been initiated from your PC, or you have been…. Article 208 other Criminal Code provides for a fine of up to 100,000 and/or a deprivation of liberty for four to nine years. Illegal access has been initiated from your PC without your knowledge or consent, your PC may be infected by malware, thus you are violating the law of On Neglectful Use of Personal Computer. Article 210 of the Criminal Code provides for a fine of 2000 to 8000 euro…
In order to get your computer fixed, you will need to remove Interpol virus from the system. True, removal of this ransomware is especially complicated because this virus is capable of locking down and blocking legitimate software, security functions, recovery features, or Internet connection.
You need to get rid of the threat and then repair the possible damage with a proper PC tool or a system optimization program, so all the alterations are done safely. Please, do NOT keep Interpol virus on your computer because this may lead you to additional issues, such as redirects to illegal websites, collecting of your personally identifiable information, etc.
Keep in mind that the Interpol Department of Cybercrime or other official institution doesn't collect their fines in this way – they don't lock computers down and then ask to make a payment through Ukash. If you have been disabled by such alert, follow the tips listed below for Interpol virus removal.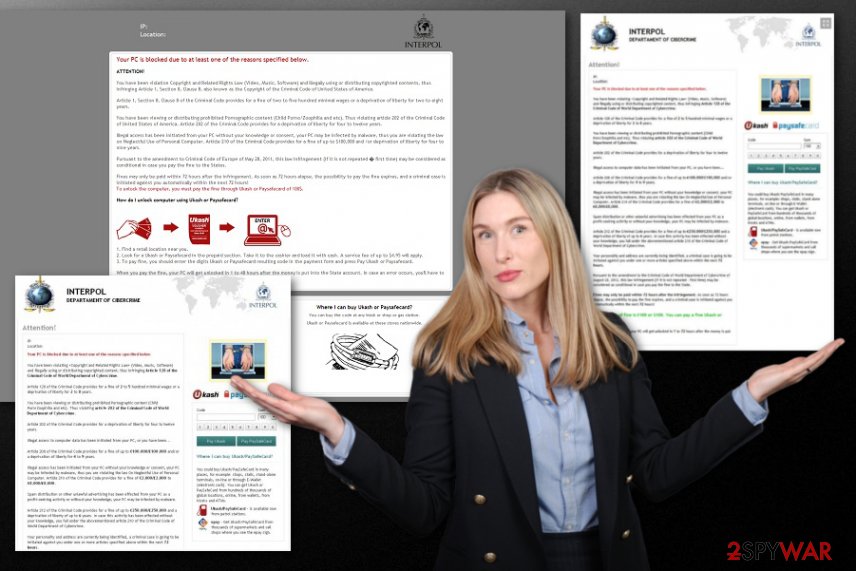 Interpol virus is the malware that locks your computer screen and access to applications to ask for a non-existent fine that can go up to $300.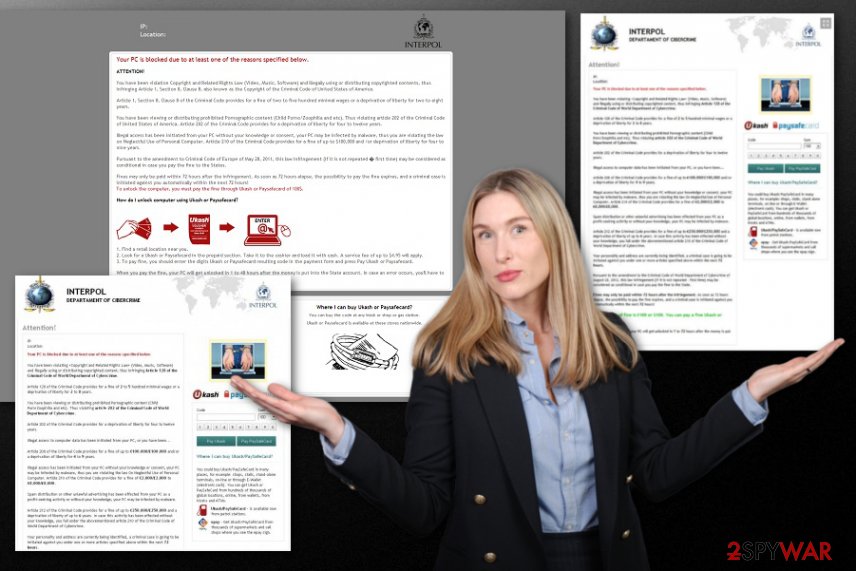 Interpol virus is the malware that locks your computer screen and access to applications to ask for a non-existent fine that can go up to $300.
Shady malware infiltration ways
Just like other viruses developed by people who are money-driven, this trojan is spread through Spam emails filled with infected attachments.[2] Of course, you can also get infected with this ransomware through fake updates, freeware, and other files that have a related Trojan virus added to them.
In order to stay safe, you should delete all suspicious emails that are full of grammar or typo mistakes once you receive them out of nowhere. In addition, please ignore these ads that report about missing Java, Flash Player, FLV Player, and similar updates because they are used for spreading malicious programs instead of the real ones.
If the malware manages to get inside the system, it can easily lock your PC system down so that you couldn't do anything about it. In addition, it will start showing you its alert, which, in fact, looks really unprofessionally because it includes grammar and typo mistakes. However, there is a high chance that it will fool computer users after making them shocked to find that their computer has been suspended by such enforcement agencies as the Interpol Department of Cybercrime.
Interpol virus termination requires tools designed to fight malware
Remember that these messages and pop-up alerts, lock screens, and other claims that appear on the computer screen are false and predetermined because this is a scam campaign,[3] not the real notification from institutions or law enforcement. You need to remove Interpol virus ASAP to avoid any system damage though.
If you wait for too long before you perform the proper Interpol virus removal, the malware can manage to find crucial files, functions, and programs on the system, so various alterations can be made behind your back. When that is done it becomes extremely difficult to clean the machine fully from the virus, and you will need to rely on tools like Reimage Reimage Cleaner for the repair of the registry and other parts of the system.
If you have been exposed to Interpol Trojan virus, follow these steps that will help you eliminate this threat from your computer: rely on SpyHunter 5Combo Cleaner or Malwarebytes and run the full anti-malware scan on the device, so all potential threats get removed; double-check before doing anything else.
This entry was posted on 2020-02-21 at 06:00 and is filed under Malware, Viruses.