iKitties.com – a cat-themed website that users are forced to visit due to adware infection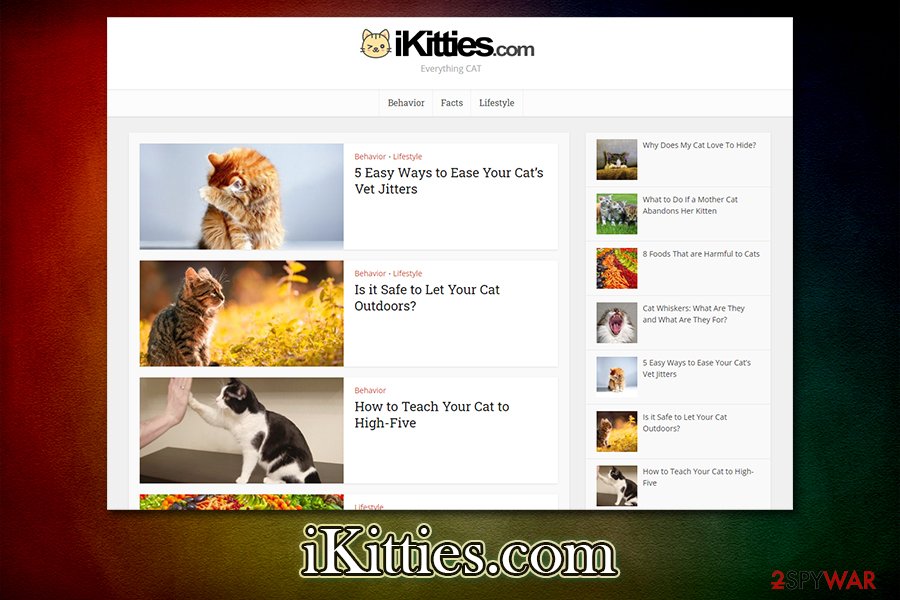 iKitties.com is a website that provides information and facts about cats. However, it recently was spotted being associated with an adware app called YouTube for TV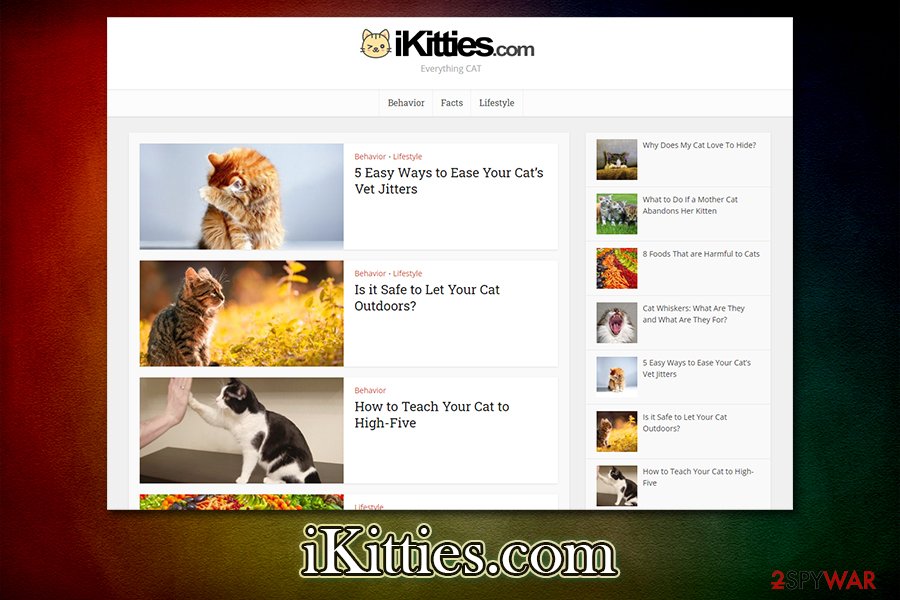 iKitties.com is a website that provides information and facts about cats. However, it recently was spotted being associated with an adware app called YouTube for TV
iKitties.com is a seemingly harmless site that focuses on fluffy human friends – cats. While there is nothing unreliable about the website itself, it has been caught in taking part in adware campaigns recently, and users reported on several social media platforms[1] that they started to get iKitties.com redirects seemingly out of nowhere.
However, the iKitties.com redirects and other intrusive browser behavior does not come from the website itself but rather from a potentially unwanted program installed on the computer unwillingly. While ads, redirects, pop-ups, changed settings of Google Chrome, Safari or Mozilla Firefox, and other symptoms can be associated with any unwanted software, the particular suspicious activity surrounding the iKitties site was traced to YouTube for TV (otherwise known as YT TV) browser extension.
Name
iKitties.com
Related app
YouTube for TV (YT TV)
Type
Adware, browser redirect
Infiltration
Adware programs can be downloaded on third-party sources (quite often, users install PUPs unintentionally due to software bundling), installed after being tricked by scams or even obtained from official sources
Dangers
Redirects and ads that are displayed by some adware programs can be less than secure: users can end up on malware-laden, scam, phishing, or other malicious sites. As a result, they might infect their machines with malware/other potentially unwanted programs, disclose sensitive information to third parties, suffer financial losses, etc.
Symptoms
Intrusive ads appear on all visited websites, redirects bring to random websites (in some cases, malicious), web browser settings are changed to something else
Removal
To stop iKitties.com redirects, adware should be eliminated from the system. For that, terminate all suspicious browser extensions and unwanted programs on the computer – do it manually as per instructions below or employ anti-malware software
Optimization
For best results, users are advised cleaning their browser by resetting them and then applying repair software

Reimage

Reimage Cleaner

Intego
Just to be clear – the so-called "iKitties.com virus" is something that less IT-savvy users came up with – the website is legitimate and has no malicious indicators. Besides, none of the AV engines detect it as suspicious/malicious on Virus Total.[2] Nevertheless, it does not mean that people do not have a problem with it, as many are keen to remove iKitties.com redirects from their Macs or Windows machines as soon as possible.
Adware is deceptive software that is usually downloaded unintentionally from third-parties, when users are keen on looking for a freeware, for one reason or another. Such software allows free installation and usage, although it uses different monetization methods, such as ads. Many programs use such schemes, although some PUPs, such as iKitties.com adware, can be quite intrusive.
Due to the abuse nature of monetization principles used by adware in the early years of its existence, regulations were implemented over time. As a result, reputable download sources do not allow apps to serve intrusive, malicious, suspicious, or otherwise controversial ads. Nonetheless, some apps still remain on official sources like Chrome Web Store (iKitties ads related app YouTube for TV) – this is because they change the behavior over time.
Several users complained on Chrome Store, asking for iKitties.com removal:[3]
ikitties.come started popping up due to this extension, not worth it anymore sadly unless you want random ads suddenly out of nowhere.
used to be a brilliant addon, but has now turned to adware. AVIOD. very concerned why I was suddenly getting ikitties.com and dudetube.com, needs to go. DO NOT INSTALL
Keep in mind that YT TV is not the only app that can be related to iKitties.com redirects and other unwanted browser activity. For example, users might end up on scam sites that claim malware infections – these typically urge them to download scareware apps and later spend money on them. Other scam scheme involves visitors calling fake tech support after they are notified about alleged viruses on their computers.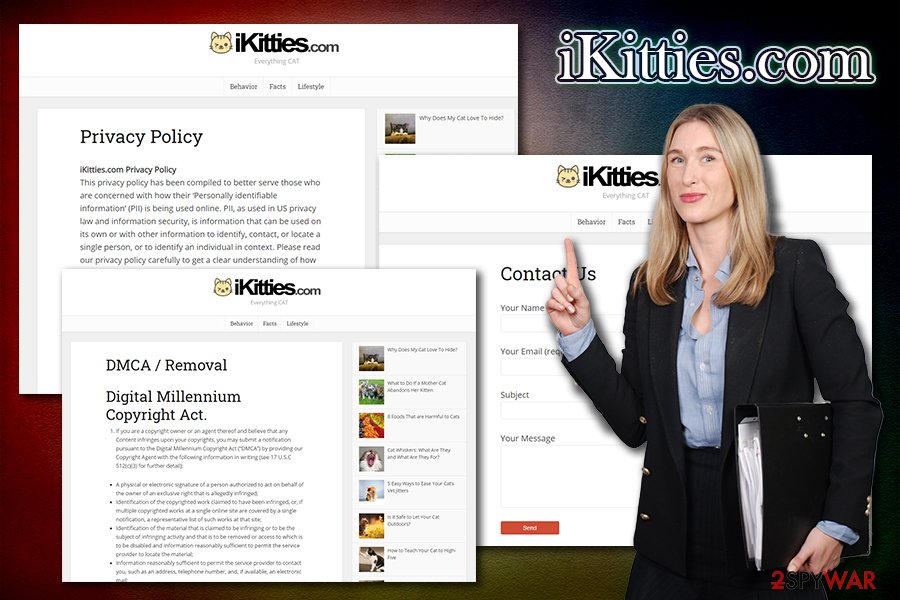 iKitties.com is a relatively safe website that users could get redirected to if their computers are infected with adware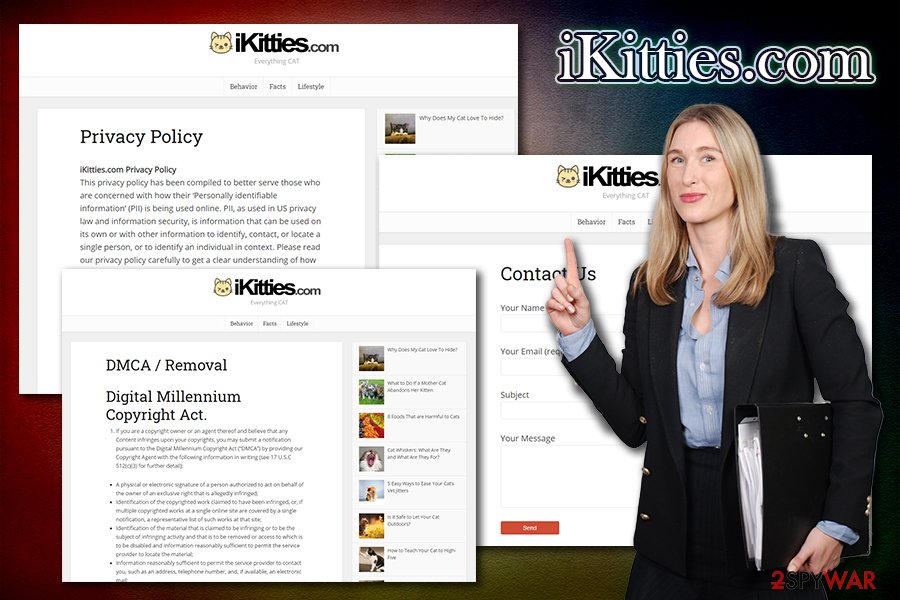 iKitties.com is a relatively safe website that users could get redirected to if their computers are infected with adware
To uninstall adware related to iKitties, you should check all the installed apps on on your device. If you find something suspicious, terminate it immediately as per instructions we provide below. If you recently installed YouTube for TV extension – get rid of it immediately and use alternatives for the functionality. Also, if you experience issues in Windows systems (lag, crashes, errors) that were caused by adware/malware, employ Reimage Reimage Cleaner Intego to fix them.
Ways to avoid potentially unwanted programs
As a general security practice, experts[4] always advise to rely on official sources for software downloads, although, as you can see, some apps manage to slip past Google's defenses and have to be withdrawn only after thousands of users download malicious apps.[5] And Google is not the only industry giant which security fails sometimes – Apple's App Store also had to remove malicious apps after letting them in. In such cases, there is very little that users can do, except of trusting the technologies implemented to protect them from harm.
However, this is nothing in comparison to sites that populate software cracks, cheats and pirated programs – these are extremely dangerous and should be avoided at all times. Additionally, there are also plenty of third-party sites that host legitimate apps, although using them might cause installation of programs users did not intend to install in the first place. This is because sites like Softonic, File Hippo, CNet, and many others run the software bundling business model, meaning that they receive commission when promoted software is installed.
Thus, to avoid unwanted programs, you should always pay attention to the installation process of a new app – here's what to look out for:
Additional apps hidden under Recommended/Quick installation options, so make sure you pick Advanced/Custom settings
Pre-ticked boxes
Misleading deals/offers
Fine print text
Misplaced buttons, etc.
Get rid of pesky iKitties redirects
As previously mentioned, the term iKitties virus is not correct, as the website itself does not perform any malicious actions. Nevertheless, redirects to it can be extremely persistent and many users are willing to remove iKitties.com from their browsers once and for all.
For iKitties.com removal, you should first check if you have an associated browser extension installed YouTube for TV/YT TV. If you have, simply right-click on it and select Remove from Chrome – the annoying redirects and ads should stop after that. If you do not have this extension installed, however, means that the intrusive browser behavior is associated with an unknown adware app.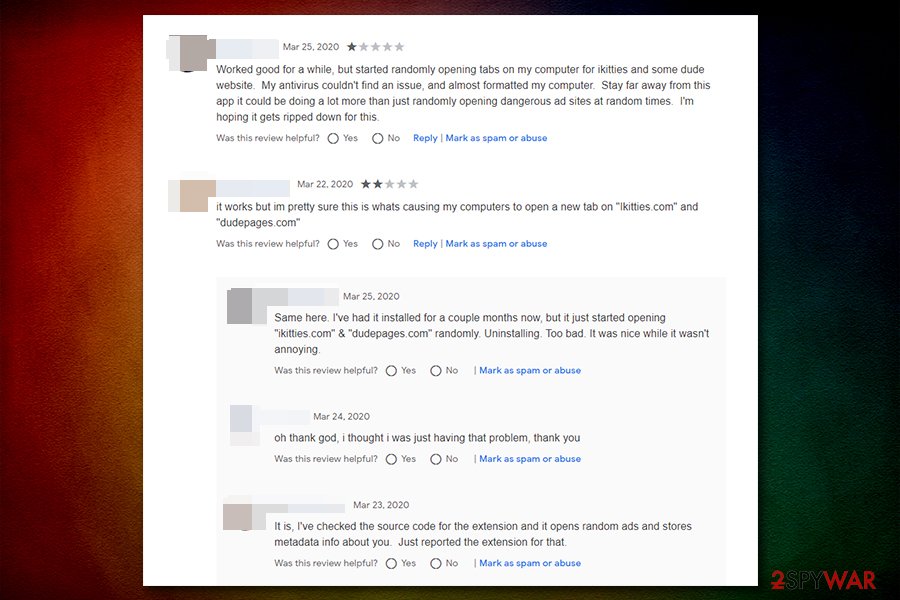 Users complained that the YT TV extension became the reason for iKitties.com and dudetube.com redirects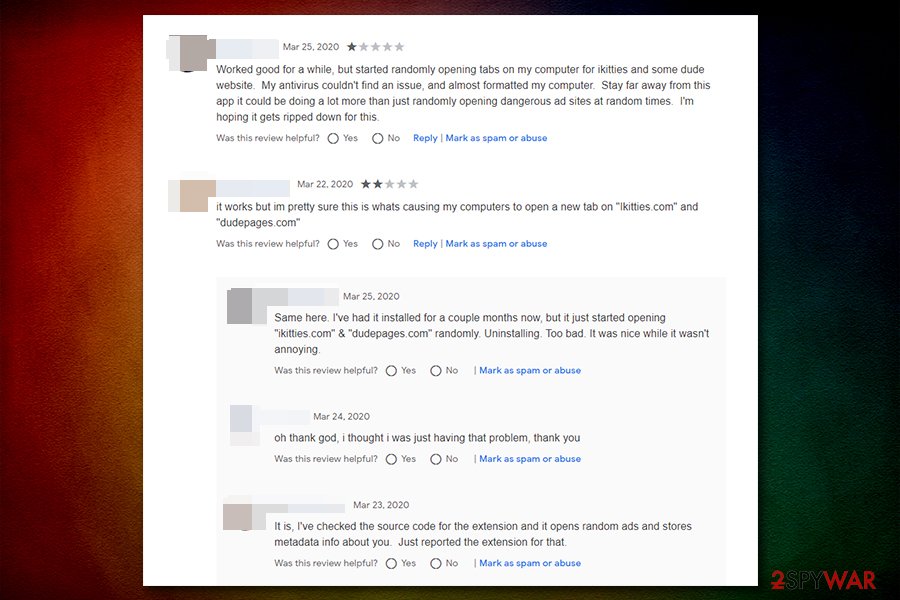 Users complained that the YT TV extension became the reason for iKitties.com and dudetube.com redirects
To get rid of it, simply follow our manual guide below and then scan your device with anti-malware software just to be sure that nothing malicious is left. Besides, you should also reset the installed web browsers (guide below) if AV software flagged something.
You may remove virus damage with a help of Reimage Reimage Cleaner Intego. SpyHunter 5Combo Cleaner and Malwarebytes are recommended to detect potentially unwanted programs and viruses with all their files and registry entries that are related to them.