Hotjar.com is behavioral analytics website that provides tracking for website owners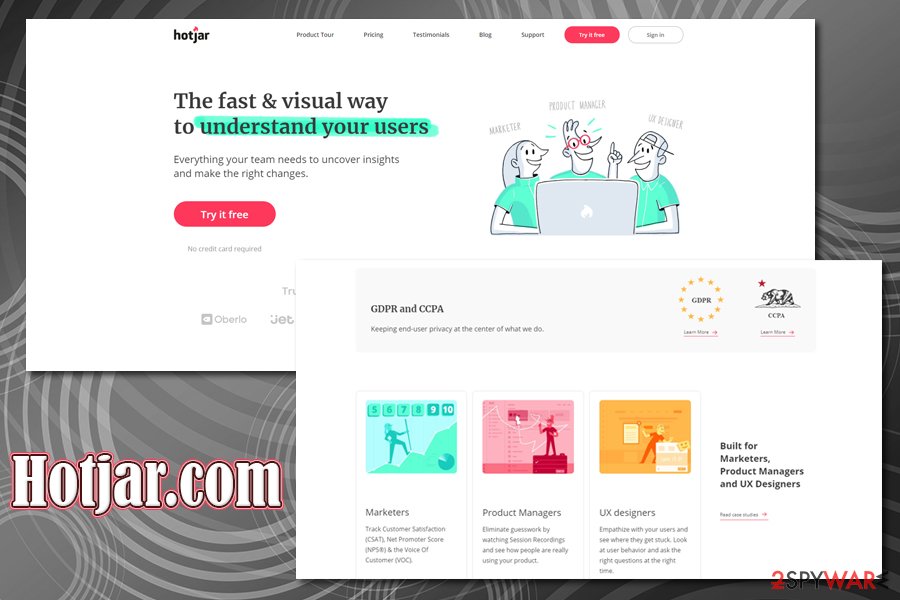 Hotjar.com is an analytics service that provides website creators with data about users' actions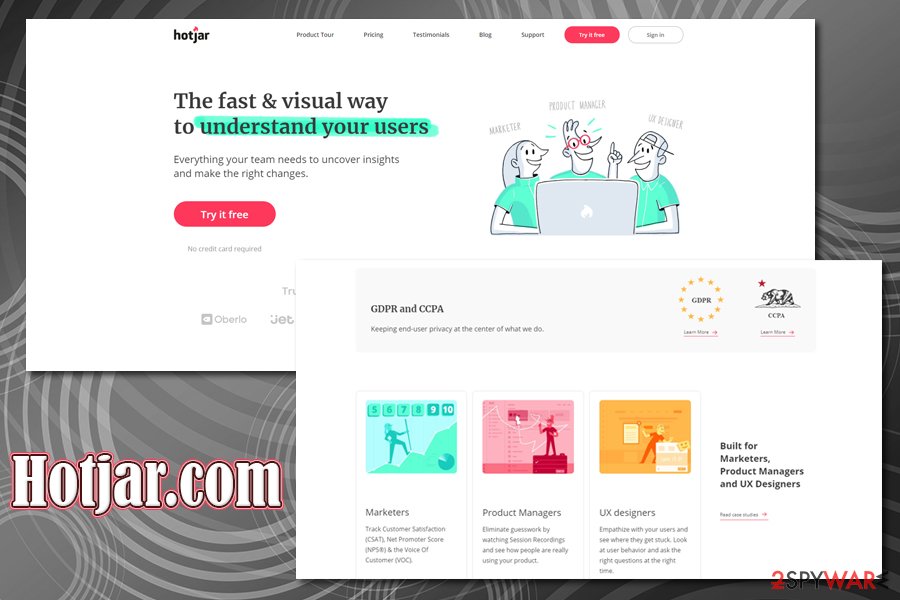 Hotjar.com is an analytics service that provides website creators with data about users' actions
Hotjar is an analytics provider – a legitimate, GDPR-compliant[1] service that is used by website creators to track various trends about the usage of the site. Website authors install the software on their websites in order to track various statistics, and hence why the visitors might see vars.hotjar.com, static.hotjar.com, or similar subdomains briefly showing on their web browser URL bar.
However, users also claimed that a "Hotjar.com virus" has appeared on their computers, as the security software started flagging the domain as malicious. This behavior can be the cause of overly-aggressive anti-malware software settings or when a false-positive[2] is detected. However, if you see intrusive ads along with other adware infection symptoms, your problem is not related to Hotjar.com – you should uninstall all the potentially unwanted applications from your system.
Name
Hotjar.com
Type
Analytics provider used by website developers to track users
Causes of concern
Several users complained that their security software started flagging vars.hotjar.com, static.hotjar.com, and similar domains as malicious. Besides, the functionality of the service might be concerning to users who value their privacy
Related detection
URL:Mal, URL:Mal2
Termination
You cannot eliminate Hotjar.com's appearance from your browser if you are visiting websites that use the service. However, you can opt-out of the information tracking and add an exception to your anti-virus so that the pop-ups would stop. Also, ensure your security software is running on the latest version
Optimization
For the best performance of your machine, we recommend using

Reimage

Reimage Cleaner

Intego
The description of the Hotjar service on its official website is as follows:[3]
Hotjar is a powerful tool that reveals the online behavior and voice of your users. By combining both Analysis and Feedback tools, Hotjar gives you the 'big picture' of how to improve your site's user experience and performance/conversion rates.
While the service is legitimate, many users were wondering whether vars.hotjar.com, static.hotjar.com, and similar sites have something to do with malware. Multiple users complained that their anti-malware software, such as AVG, started flagging some sites that connect to hotjar.com subdomains as malicious.
So, what is going on – is Hotjar.com a virus? The truth lies within several components that are present in the activity that users observe. Typically, they might see the site flashing for a short period of time before connecting to the destination, although most were concerned about the security software flagging static.hotjar.com and other sites as malicious.
However, we can assure you that Hotjar.com is not a virus, despite that some scam sites claim the opposite. If you see pop-ups, deals, offers, banners, coupons, auto-play, and other types of ads on your Google Chrome, Mozilla Firefox, MS Edge, Safari, or another web browser, it means that there is a potentially unwanted program installed on the system, and it has nothing to do with a so-called Hotjar.com virus.
Some anti-virus providers might be configured to react aggressively on various online trackers, and Hotjar.com might be one of them. The security software might consider the domain as "malicious" because it is used for tracking purposes, and anti-malware is there to stop such behavior. However, the activity of Hotjar is not malicious.
Potentially unwanted applications typically travel within software bundles, so many users install them without initially wanting to in the first place. In other words, they do not pay close attention to the installation process of freeware downloaded from third-party sites and end up installing optional components. These apps, while they should be terminated as soon as possible (they are designed to track user information, deliver ads and redirect to suspicious/scam websites), Hotjar.com removal cannot be performed in such a way.
To remove Hotjar.com pop-ups, users need to add the URL, along with its subdomains, to an exception list within their anti-malware programs. The process differs based on security software, so if you are not aware of how to do that, you should go to the security provider website and seek instructions there. Additionally, you should make sure that you update your anti-malware to the latest version to ensure that the latest database is used.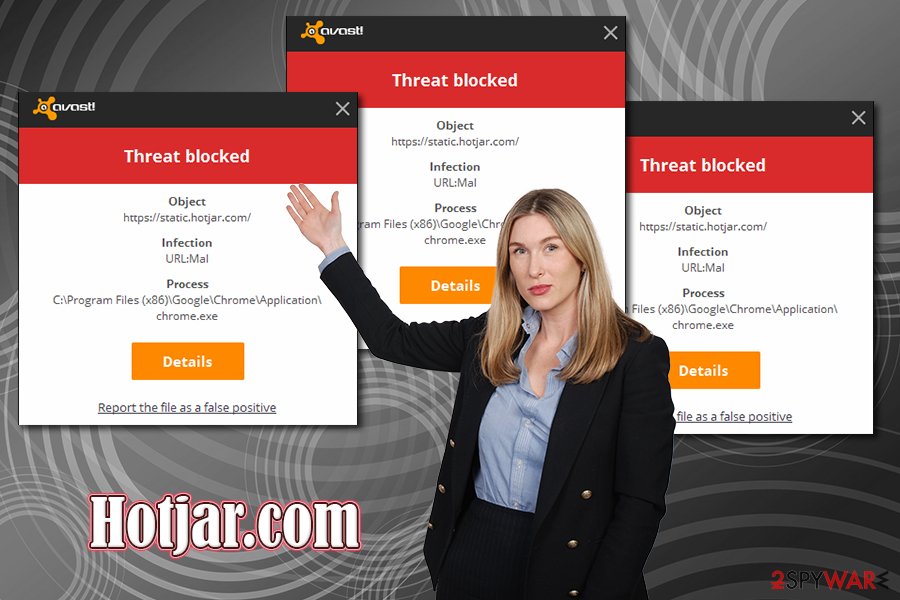 Hotjar.com is a tracking service that analyzes users' behavior on the site. However, cases of anti-malware software flagging it as malicious were spotted as well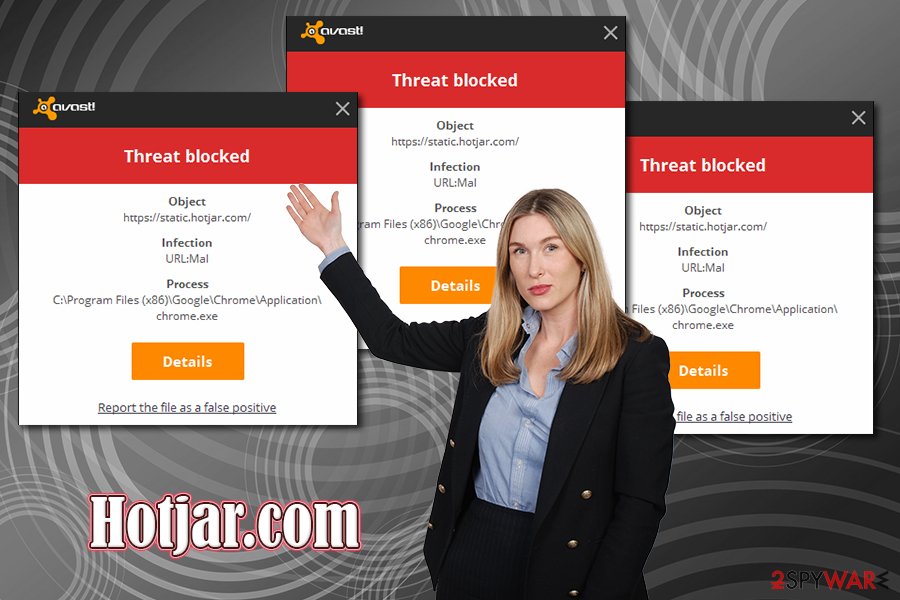 Hotjar.com is a tracking service that analyzes users' behavior on the site. However, cases of anti-malware software flagging it as malicious were spotted as well
However, we should also not forget the principle of Hotjar.com service – it is used to track users. If you do not wish for the service to track you, you could opt-out on this page.
When it comes to ads and other issues, you should check your machine for malware/adware. Access the full list of the installed apps and eliminate everything suspicious and then perform a full scan with anti-malware. Optionally, you can also reset the installed browsers and scan the computer with Reimage Reimage Cleaner Intego.
Protect your machine comprehensively
Cybersecurity is very important is often underestimated by many people, since they believe that no malware will ever access their machines. The truth is, there are so many different methods that the attackers can use to breach systems with the help of such techniques like social engineering, brute-forcing, phishing emails, and much more. However, robust anti-malware software can most certainly protect users from most of the infections. Despite this, online behavior is just as important, as users can overcome the actions of implemented security solutions under certain circumstances.
People are now much more familiar with data breaches, ransomware, and other computer nasties thanks to the publicity these incidents get from the media. Thus, many already take steps to protect themselves from malware to avoid personal information compromise, financial losses, and other ramifications.
Users should also be aware that anti-malware tools are not perfect and sometimes flag an URL or an application falsely due to its suspicious behavioral patterns. However, regular consumers will not know whether the detected item is actually malicious in some cases. Therefore, an investigation always needs to be conducted before adding exceptions, although users should first make sure that their anti-malware has the latest updates installed.
Remove Hotjar.com pop-ups from your screen
As mentioned before, Hotjar.com removal cannot be performed from your side, per se, as it is not a (malicious) application installed on the system. Instead, website developers use the service on their site, so users might sometimes see the URL flash when accessing those pages. However, the most common way for users to notice vars.hotjar.com or static.hotjar.com is when their anti-malware solutions begin flagging these addresses on various websites, and they want to simply remove Hotjar.com pop-ups once and for all.
For that, you should first try updating your security software to the latest version and then trying to access the websites that were flagged for Hotjar.com. If the issue still persists, we advise contacting security software developers and the website authors to find out what the issue is. As previously mentioned, the service is not malicious, so it is likely to be a false positive. Once you are sure that the issue is indeed a false-positive, you can add the URL to the exceptions list.
Finally, if you are still experiencing intrusive ads and redirects to suspicious websites, you should check your system for adware, as explained below, and then reset the installed web browsers.
You may remove virus damage with a help of Reimage Reimage Cleaner Intego. SpyHunter 5Combo Cleaner and Malwarebytes are recommended to detect potentially unwanted programs and viruses with all their files and registry entries that are related to them.
This entry was posted on 2020-05-14 at 03:26 and is filed under System tools, Viruses.