HawkEye virus is the keylogger that is distributed online for cheap as a basic keystroke stealing tool for any hacker wannabe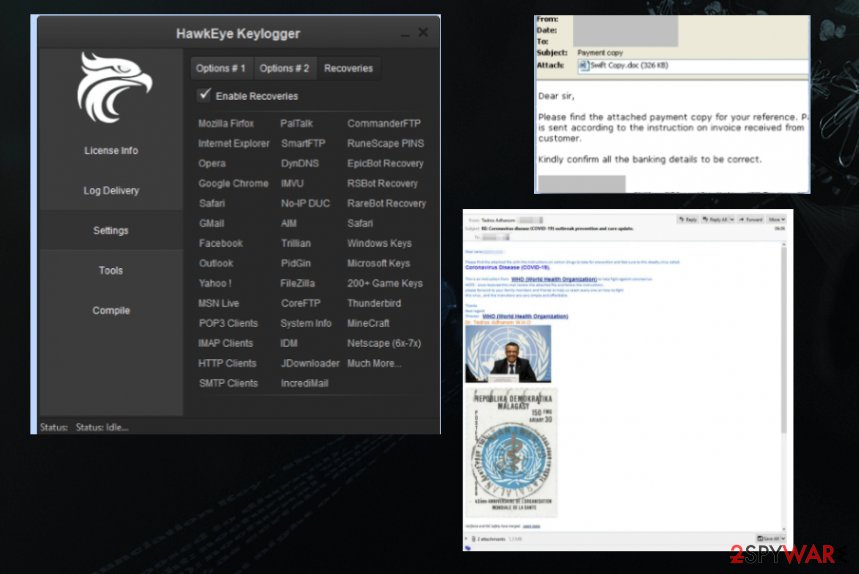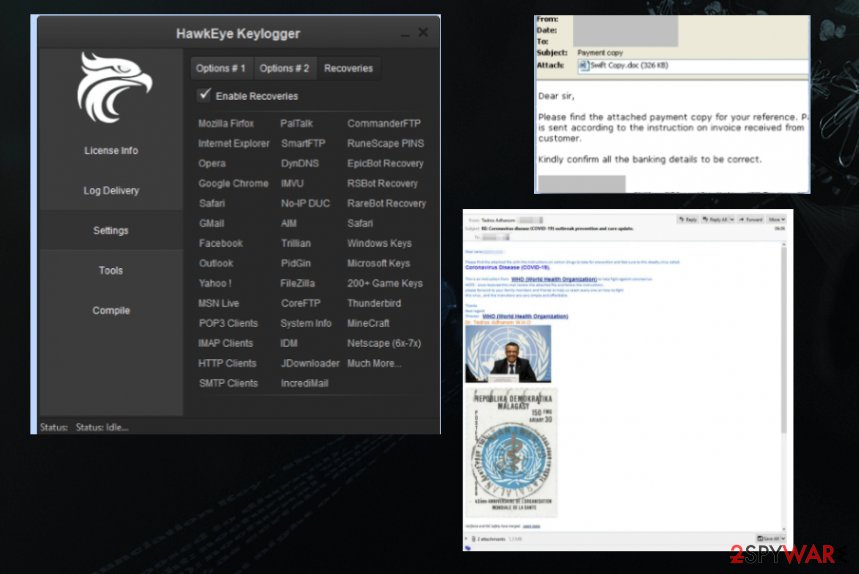 HawkEye virus is the malware that records keyboard inputs like account credentials and other logins. It is distributed via snap email campaigns that pose as legitimate notifications from various companies like DHL or Word Health Organization.[1] The malware can also get plants on the system directly with the help of remote access tools. Unfortunately, any criminal wannabe can purchase this keylogger and execute attacks to spy on particular victims. This info-stealer poses a significant threat to users' privacy because it can gather sensitive information and lead to serious identity theft incidents or use those details in more targeted attacks and scams.
HawkEye malware is dangerous because it manages to run in the background and affects the performance this way when the processes use resources of the PC. However, in many cases, this threat does not cause any symptoms and cannot be indicated at all. It even gathers data from the clipboard, monitor input to documents and information stored on the machine locally. The malware sends this information to remote C&C servers[2] that hackers control. Operating in the background without causing other issues allows the trojan to steal information unnoticed and leave the machine, so the victim cannot know that their data is at risk or stolen. Malware can make purchases and transactions or hack accounts on various platforms with those stolen logins and other credentials.
Name
HawkEye virus
Type
Malware. This virus can be categorized as info-stealer, keylogger or banking/password-stealing trojan
Danger
The malware runs in the background and can gather various information from the machine directly, use keylogging techniques and record keystrokes to obtain credentials, passwords, logins and other valuable information from the victim
Tactics
Gather information related to financial sites, platforms like email or social media to hijack accounts or make fraudulent transactions and purchases using online banking data
Damage
Hacked accounts can be sued to scam people in the contacts, and people lose their money after the fund transferring to attackers; wallets and bank accounts. Malware can run or install additional viruses without any symptoms and damage the machine significantly
Versions
HawkEye Reborn v9 was released at the beginning of 2019. The update included particular license purchase for 90/180.365 days
Distribution
Hacker forums provide the tool for sale. The malware script gets included on emails or in pirated software packages, so people cannot notice or stop the infiltration[3]
Elimination
HawkEye virus removal process may be difficult since trojan hides in various places by using multiple files with code and associate programs, so AV tools are required for the proper system scanning and cleaning
Repair
Malware that affects particular functions of the system can inject scripts and alter settings on the machine that completely damage the computer. Run

Reimage

Reimage Cleaner

Intego to repair any damage or indicate affected files and applications
HawkEye virus is designed to steal information from devices it gets infected and can be used as malware dropper that leverages its botnets to fetch other malware and enable third-party actors to perform their crimes. It is capable of capturing keystrokes and screenshots or even steal credentials from various applications and from the system clipboard. All these activities cannot be tracked or noticed by the user since malware is not delivering any symptoms.
Harvested credentials from email clients and web browsers can get encrypted and sent to malware operators via email or the SMTP protocol, so HawkEye virus creators store such details for the later use in scams and targeted attacks. This particular trojan is one of the more interactive threats, and hackers use the tool for their criminal activities because sensitive information is extremely valuable.
HawkEye info-stealer is known for various campaigns throughout the years because it targeted victims since 2013 when it was started to be sold on hacker forums and other dark web sources as a cheap tool for criminals. It gets regular updates and includes new capabilities, functions with each newer release.
You should remove HawkEye virus as soon as possible because malware can get new functions like monitoring solutions and more advanced data exfiltration features. But since this is a threat that relies on various techniques, you need advanced options too. The best way to get rid of such malware would be anti-malware tools security software based on AV detection engine functionalities.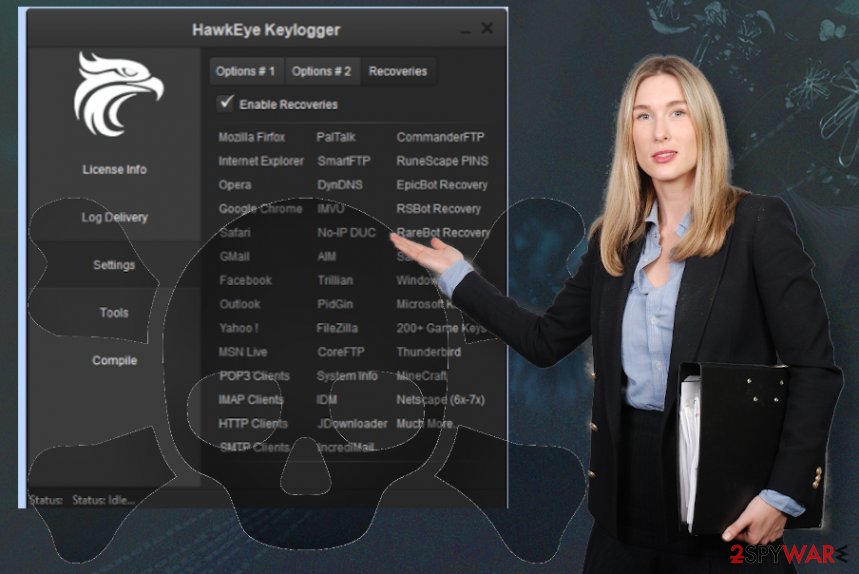 HawkEye virus is the malware that gets promoted on hacker forums and even provided as a tool for the money.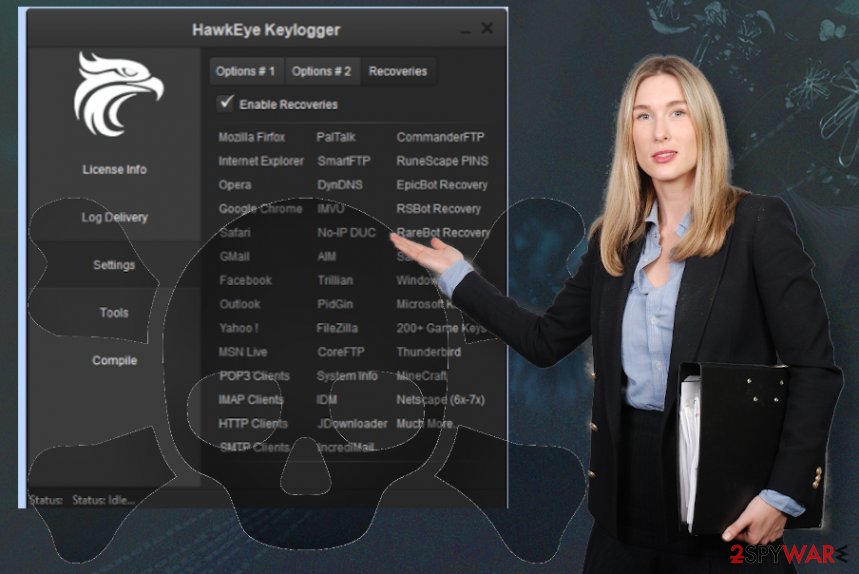 HawkEye virus is the malware that gets promoted on hacker forums and even provided as a tool for the money.
HawkEye malware can target businesses and regular users, it depends on the particular aim that hackers that use the tool have. Either way, it is a dangerous threat that can create significant damage to the machine it manages to affect. In 2019, this threat was surfacing news sites with the recent attacks running on a worldwide scale and aiming at businesses with malspam campaigns.
HawkEye virus removal gets more and more difficult with each new update and improvement because detection is more difficult when the trojan is disguised as other files and programs. Anti-malware engines are designed to find malicious behavior-based threats and remove them. Now every tool can detect this trojan, so elimination is not performed in time.
HawkEye virus have been active across various platforms and will likely continue to be used in the future because developers can monetize the creation easily. This spying tool demonstrates that ongoing development and improvements helpt to move forward and affect the devices with even more dangerous versions like HawkEye Reborn v9 malware.
HawkEye virus can be spread with the use of spam email campaigns that disguise malicious code in files listed as financial information or order details, so the user falls for the trick. It is especially successful when emails state about a real company involvement, for example:
DHL Capability Tool

ATTN:

Your shipment has arrived!

Arrival Information

Your package has been arrived to your local DHL office and it's ready for pick up.

——————————————
ARRIVAL NOTICE
——————————————

DATE & TIME : 2018-04-19 at 11:40
STATUS : Shipment arrived

************************

Please print the receipt that is attached to this email and visit DHL location indicated in the receipt

DHL WorldWide Delivery

©2018 DHL International
HawkEye virus can rely on payload droppers and act as one itself, there is a bigger possibility that malware is installed alongside other programs during the macro virus triggering, so your device is further affected. If you find any suspicious processes running in the background or find issues with the performance, check the machine with Reimage Reimage Cleaner Intego or a similar tool and repair any possible damage yourself in system folders and functions.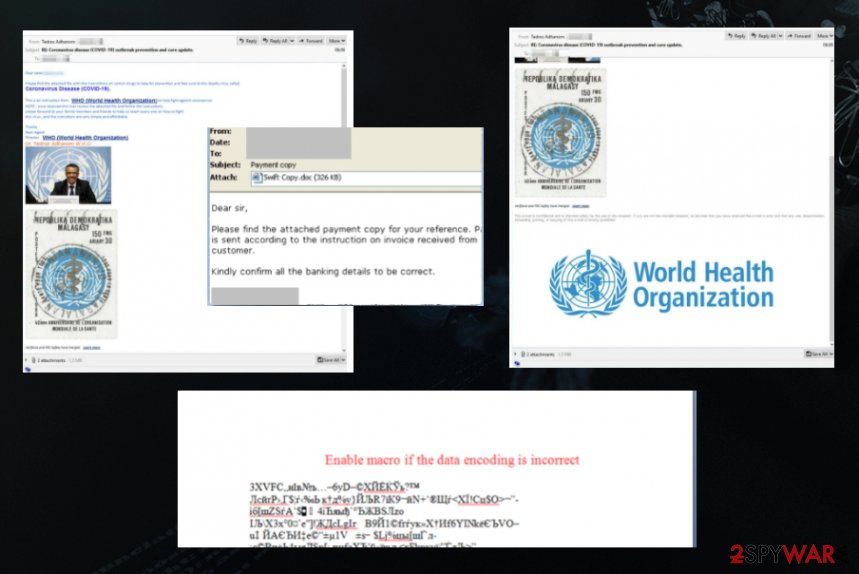 HawkEye virus is the threat that successfully infiltrates machines using various tactics that allow disguising malicious emails as legitimate notifications.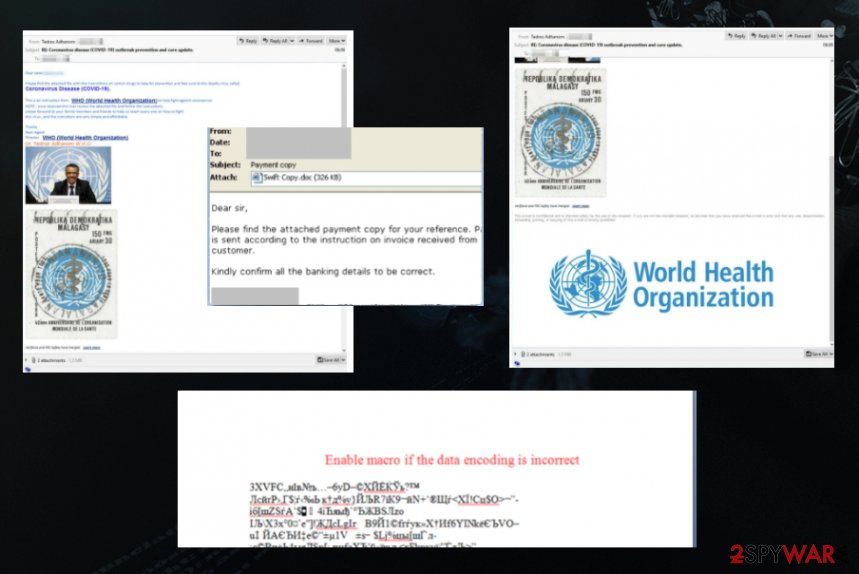 HawkEye virus is the threat that successfully infiltrates machines using various tactics that allow disguising malicious emails as legitimate notifications.
Spam email campaigns and remote access tools allow silent malware infiltration
Malware that can be proliferated without users' knowledge and intervention can be extremely dangerous. These methods involving spam campaigns and RATs can spread thousands of pieces of malware at once, so criminals achieve their goals pretty quickly.
Once the email is received and you can find the attachment as a document or executable, PDF, archive, you should immediately pay closer attention to other details. Once the document is opened malware gets introduced on the system, and remote access tools can be used. Those document attachments include malicious macros that get enabled by the user once the file is downloaded and opened.
In most cases, the attachment states about some kind of important information that users want to access, so not many of them pay attention to the button that triggers the content appearing on the screen. However, the same button releases the malware payload and allows the malware to run on the PC.
HawkEye malware termination includes full system scans and cleaning processes
Even though the HawkEye virus is not, so sophisticated threat and can be purchased online for cheap, the function remains dangerous and damaging. Updates to the functionality include processes similar to other spying software and detection avoidance. These changes increase the chance of getting machines successfully infected, so victims suffer data loss and account hacks without noticing the malware that gathered those details in the first place.
We should recommend getting a proper security tool for the HawkEye virus removal because any leftover files and malicious code that is running on the device can trigger damage and additional malware infections. If you leave anything related to the trojan on the system, your device may get permanently damaged. Rely on security tools(SpyHunter 5Combo Cleaner or Malwarebytes), and clear the system from virus-related data.
If you want to remove HawkEye virus quickly, you need to choose the proper AV tool that can possibly detect[4] the malware and terminate all the processes associated with the attack. Since versions of this malware category can proliferate using email spam campaigns and other stealthy methods, you can have more than one virus on the machine already. Make sure to check for the damage using Reimage Reimage Cleaner Intego.
This entry was posted on 2020-05-08 at 04:50 and is filed under Malware, Viruses.