GuLoader is a malware downloader associated with infiltration of Remote Access Trojans like Remcos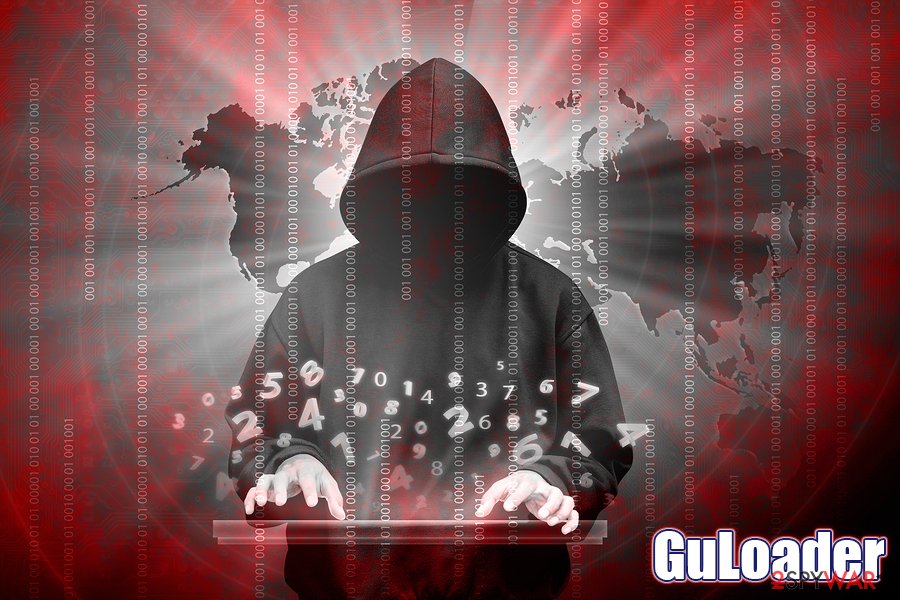 GuLoader is a type of malware that is designed to download and install Remote Access Trojans and info-stealers on the compromised system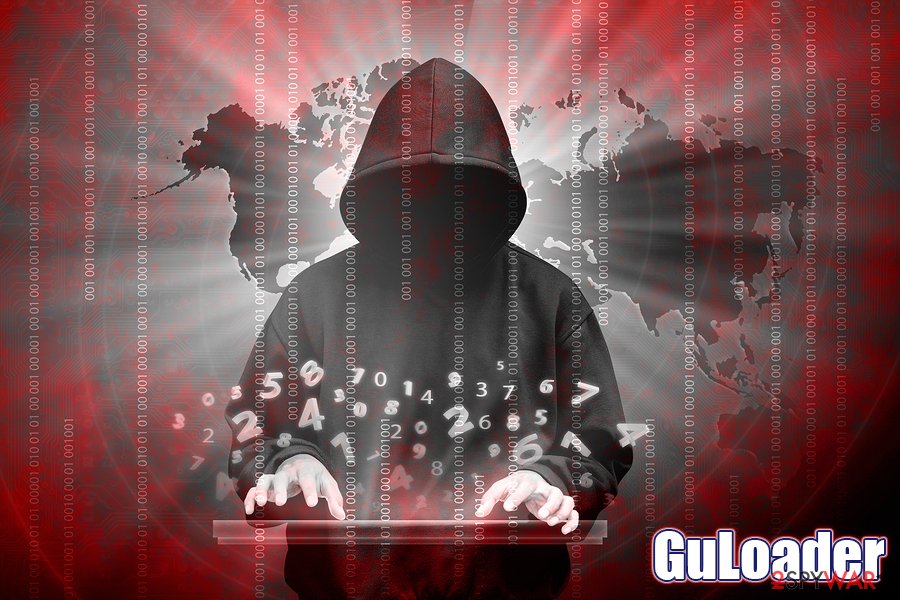 GuLoader is a type of malware that is designed to download and install Remote Access Trojans and info-stealers on the compromised system
GuLoader is a type of malware that is used by the attackers to download and install other malicious software on the targeted machines, predominately Remote Access Trojans. Initially spotted in December 2019 by security researchers, the downloader was used by multiple different cybercriminal gangs to infect regular consumers and corporations with malware like NanoCore, Remcos, FormBook, NetWire,[1] and many other RATs. While GuLoader itself is not used for malicious purposes such as information stealing, the tools that are proliferated via the downloader can perform a variety of tasks. Users infected with this malware can suffer considerable financial losses, loss of data, and even identity theft.
Name
GuLoader
Type
Malware downloader
Targeted OS
Windows
Associated payloads
The downloader was used in multiple campaigns and installed malware like NanoCore, Remcos, FormBook, NetWire, Parallax, Agent Tesla, Warzone RAT, and many others
Distribution
Malware was spotted in various malicious email campaigns but it can also be proliferated using other methods, such as fake updates, drive-by downloads, software cracks, exploit kits, etc.
Symptoms
All the activities performed by GuLoader happen in the background, and no visible signs can be seen; once the malware is installed, users might spot some signs of infection, such as suspicious processes running in the background, system slowdowns/errors/crashes/lag, high CPU usage, etc.
Implications
The downloaded malware can allow the attackers to control the machine remotely, meaning that they can steal sensitive information, install other malicious programs, steal users' or companies' funds, and perform other malicious activities
Removal
To eliminate the downloader and the payload safely, perform a full system scan with anti-malware tools like Malwarebytes
System fix
Malware can cause significant damage to system files. If you spotted you computer lagging, crashing, returning errors, you should repair the virus damage with

Reimage

Reimage Cleaner

Intego
GuLoader is a portable executable that is typically stored inside a compressed file, such as an .ISO or a .RAR. Once clicked, it follows a particular behavioral pattern that downloads the malicious payload from a remote server – typically, OneDrive or Google Drive is used. Since the payload is encrypted with XOR algorithm, these platforms are unable to detect malware in the first place, allowing cybercriminals to operate the scheme easily.
In other words, while various companies and businesses often employ the Cloud system for large file storage space (backups are often held on the cloud, for example), threat actors behind the GuLoader virus also use it for malicious purposes.
GuLoader can be downloaded from a variety of sources, although multiple malspam campaigns were spotted employing it. Nonetheless, users might also get infected with malware via the following ways:
Fake updates
Drive-by downloads
Software cracks
Repacked installers
Software vulnerabilities[2]
Exploits, etc.
Once inside the system, GuLoader will contact a particular location on the cloud and download predetermined malware. As mentioned above, this downloader is typically used to install Remote Access Trojans, which are extremely dangerous. They allow the attackers to perform a variety of functions, such as stealing sensitive information (credit card details, passwords, email contents, etc.), downloading and installing files, taking screenshots, monitoring computer resources, etc.
Without a doubt, GuLoader can be the cause of the infection of multiple different malicious programs, that can all operate silently, performing malicious operations in the background. In case such malware like ransomware is installed, users can also lose access to all their files, such as work documents or personal pictures. Malicious actors then demand to pay a ransom in Bitcoin or another cryptocurrency, and the amount can be relatively high. Even then, there is no guarantee that the promised decryptor is provided by the attackers.
What makes GuLoader removal and detection complicated is its obfuscation capabilities. It uses a variety of process injection techniques, such as spawning a child process of itself, overwriting the DLL image of the system, etc.[3] Due to these sophisticated methods, analyzing of GuLoader is difficult. Unfortunately, but users are likely not to notice the malware in operation, as everything it does is performed silently in the background.
The best way to remove GuLoader, you will have to employ powerful anti-malware software and perform a full system scan. In case malware is tampering with security software, you can access Safe Mode with Networking (malware's operations are temporarily disabled in this mode, as the system is launched with only the most necessary drivers) as explained below. Additionally, after GuLoader malware elimination, you should also use Reimage Reimage Cleaner Intego to fix virus damage.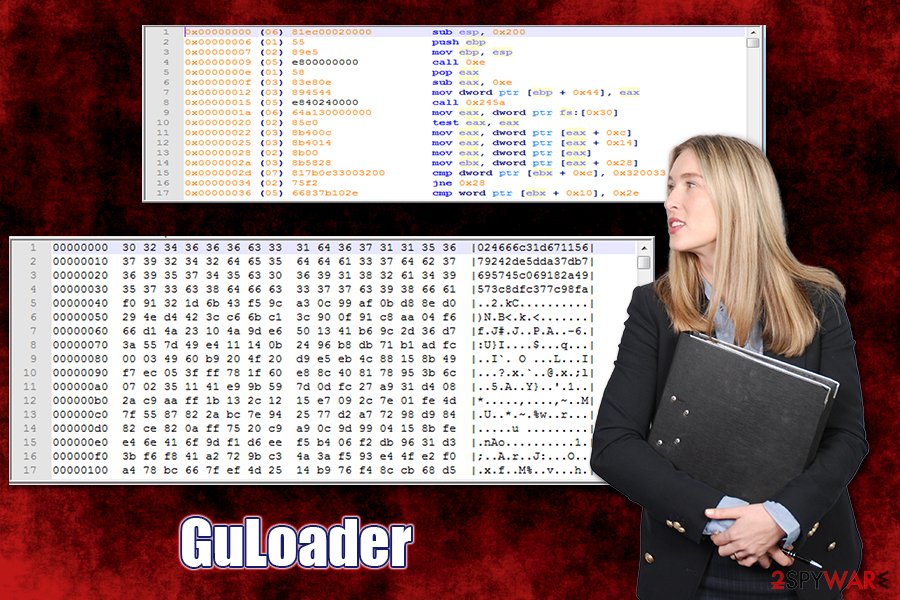 GuLoader is malware that can result in great financial losses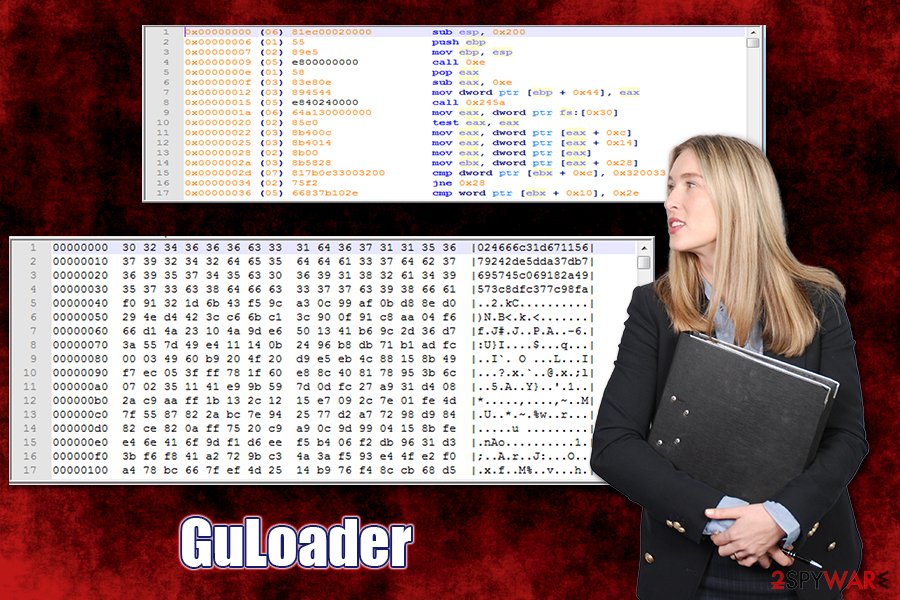 GuLoader is malware that can result in great financial losses
Prevent the infiltration of malicious software by being attentive online
As evident, there is a multitude of methods that malicious actors use to deliver malware to as many users as possible. Despite the popular belief, however, malware does not simply access the machine out of nowhere – its infiltration point can often be traced back to actions that users made, either intentionally or not. There are several attack vectors that we would like to discuss – we will also explain how to reduce the probability of the infection to a minimum.
Spam email attachments are possibly one of the most common malware delivery methods used by cybercriminals. While some phishing emails can be targeted (attack a particular individual or a company of interest), crooks typically employ botnets and other spam tools to ensure that thousands of users receive the fake message in their inboxes. Luckily, many such emails end up in spam boxes, although some still manage to break in. Thus, never all a macro to be run via MS Office documents, as it begins the infection chain immediately. Also, do not click on embedded links, even if they look as legitimate banners or buttons.
To prevent the automatic installation of malware, you need to ensure that your system is running on the latest patch. For that, enable automatic updates on Windows. Do not forget to do the same with all the applications you have installed on the PC, as they can also be laced with vulnerabilities that the attackers can exploit.
Practice good browsing habits – do not click on suspicious ads or visit high-risk websites. In most cases, users are aware that sites like torrents that host pirated programs/software cracks are riddled with malware, but they are still willing to risk it. What makes it worse, that some of the installers might install the anticipated program along with malware that will be running in the background, out of sight of the user.
Equip your computer with powerful security software that can prevent the infiltration of malware in the first place. While there is no anti-malware tool that could protect from all malicious programs (malware is constantly evolving and using various obfuscation techniques), you can be sure that it will increase the security of your machine exponentially.
Eliminate GuLoader along with other malware installed on the device
As evident, the main goal of the GuLoader virus is to download and install other malware, such as RATs or info-stealers. These malicious programs can be extremely dangerous, as they can steal sensitive data without users' knowledge, turn the machine into a spam bot, or even completely corrupt the operating system. In other words, Remote Access Tools enable the attackers to perform any actions they want on a hijacked machine. That is why a timely GuLoader removal is so important.
However, if you remove GuLoader manually, malicious programs that were installed by it will remain on the system. Therefore, you should employ powerful anti-malware solutions and perform a full system scan. Since malware injected by the virus can be deceptive and advanced, it might also attempt to disable your security software. In such a case, you should access Safe Mode with Networking and perform a full system from there. This will temporarily render malware useless, allowing it to get eliminated without problems.
After you are completely sure that you got rid of GuLoader and all the other malware on your system, you should also change all your passwords and monitor your online banking activities. If you are aware that your banking credentials were accessed, you should contact your bank and disable the account immediately.
This entry was posted on 2020-05-11 at 10:55 and is filed under Malware, Viruses.