GoWebSearch redirect virus displays altered search results to reroute Internet users to affiliate websites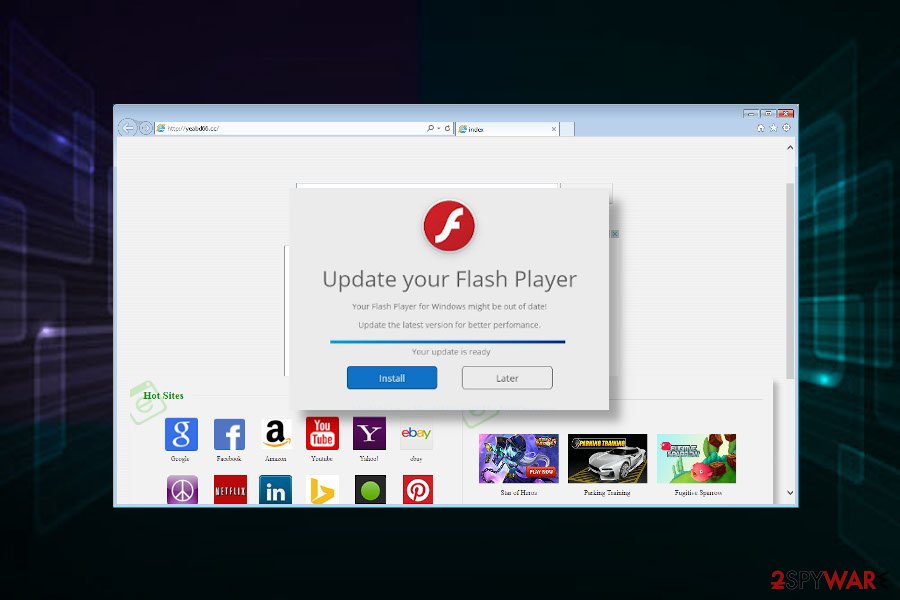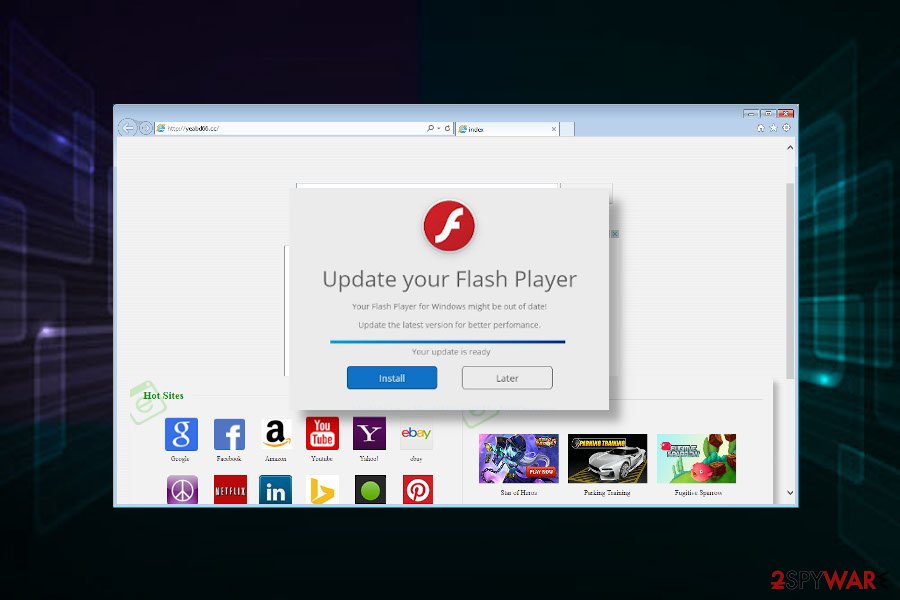 GoWebSearch is the name of an infamous search engine that can take over web browsers without users' consent. Although its history may be traced back to 2010, it has been revived for a second life. GoWebSearch virus is classified as a browser hijacker[1] and a potentially unwanted program (PUP) because of unauthorized modifications and advertising campaigns that it implements. To name a few, right after the infiltration, it starts running background processes GoWebSearch.dll, EFOToolbar.dll, tdlwsp.dll, and corrupts default web browser's settings so that gowebsearch.net or gowebsearch.com appear as a start page. Besides, Google search becomes forbidden because it is replaced by the GoWebSearch engine.
A decade ago, people expressed their concern that GoWebSearch hijacker entered their PCs after using Internet Explorer. However, doing nothing, just opening IE, can hardly be the reason for a hijack. This plug-in-based application is typically launched on the system after reckless freeware install. People should recall the fact that free software download websites get monetized for the distribution of software bundles. In other words, the program that they wish to install may be supplemented by numerous browser add-ons, plug-ins, and other malware. Therefore, the Advanced installation of any software type is a must. That's the only way to remove the checkmarks that mean consent to install the bundle by default.
The GoWebSearch virus may be found as the GoWebSearch Mac virus that targets Safari and Chrome web browsers. However, since cybersecurity experts did not provide a full analysis of the malware, Windows users, Internet Explorer users, Mozilla Firefox, and, in general, all PC users may be considered as potential GoWebSearch malware targets.
Name
GoWebSearch
Classification
Potentially unwanted program (PUP), browser hijacker
Infiltration techniques
The main backdoor for the GoWebSearch hijacker to enter the system is freeware. It is distributed as plug-in in disguise with infamous freeware and shareware. Alternatively, people may run into this hijacker after clicking on ads or hyperlinks.
Symptoms

Corruption of the web browser's settings is the first sign showing that the system is infected with a hijacker. Unknown start page, search engine, toolbars installed. Regular pop-ups and new tab ads. Multiple hyperlinks in text, etc.

Affected browsers
Google Chrome, Mozilla Firefox, Internet Explorer, Safari
Ways of prevention
To prevent such and similar plug-ins, install freeware carefully, avoid visiting unknown websites, do not click on doubtful ads, install and keep a reliable anti-malware installed
Ways of removal
Manual and automatic. This PUP can be eliminated manually. You can find a guide on how to do that at the end of this article or you can download SpyHunter 5Combo Cleaner to uninstall GoWebSearch virus automatically.
Ways of fixing damage
PUPs may leave various remnants, as well as cause some damage to system files and settings that are not restore by removing it. Thus, it is advisable to use a professional tool to fix any virus damage. We recommend

Reimage

Reimage Cleaner

Intego.
Even having in mind that malware like this is not dangerous, there is more that one reason why GoWebSearch removal is a must. First of all, the plug-in does not require permission to install the system directly. The stealthy distribution technique is the first indication proving that the app can hardly be trusted.
Upon successful installation, the GoWebSearch virus attacks Chrome, IE, Mozilla, or another web browser that is set as a default web browser. It replaces a search engine, start page, new tab window, and other settings, as well as may drop multiple toolbars, such as weather forecast, questionable maps, recipes, and similar.
Even though GoWebSearch virus may not seem untrustworthy at first, using it for searches can lead to privacy issues. The developers of this app seek to gain pay-per-click revenue, as well as create an artificial route to specific websites for monetization. For this purpose, GoWebSearch hijacker installs cookies or similar tracking software and may accumulate non-personally identifiable information, including mostly visited web domains, clicks, content interacted with, ads viewed, IP address, search queries, approximate location and similar. Even though information like name, surname, credit card details, etc. are can hardly be collected, some pieces of "non-personal" data may be sensitive enough to cause privacy issues.
The sooner you remove GoWebSearch virus, the lower is the risk that it reroutes to potentially dangerous domains. Web browser's changes are deliberately initiated. As noted before, the main reason of this hijacker and its family members is to help developers promote particular websites. While most of the sites are ordinary domains that, for some reason, mismatch Google's ranking system, the other part of websites may be potentially dangerous. Redirects to GoWebSearch and its affiliates can expose people to useless content, pornographic websites, intrusive advertising platforms, and similar.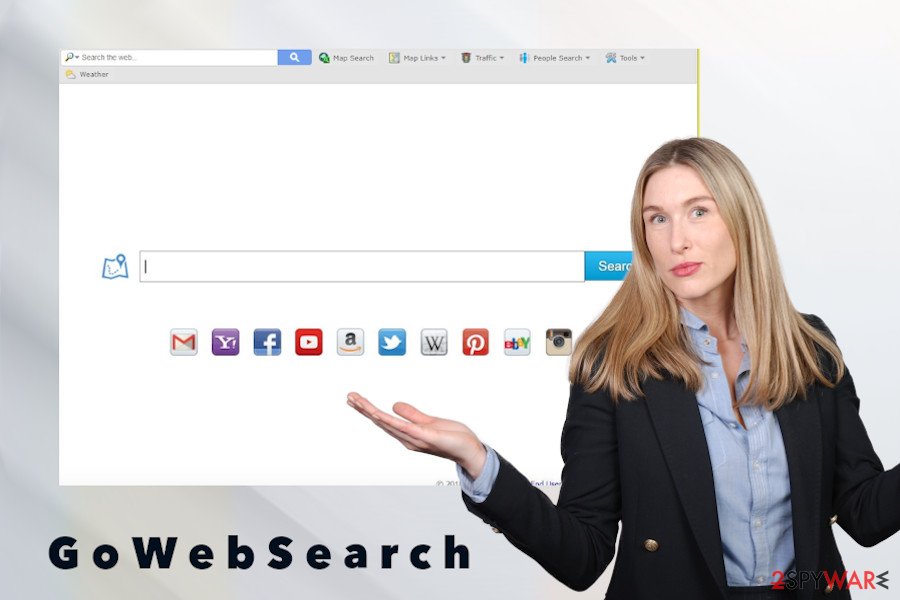 GoWebSearch hijacker spreads in disguise with freeware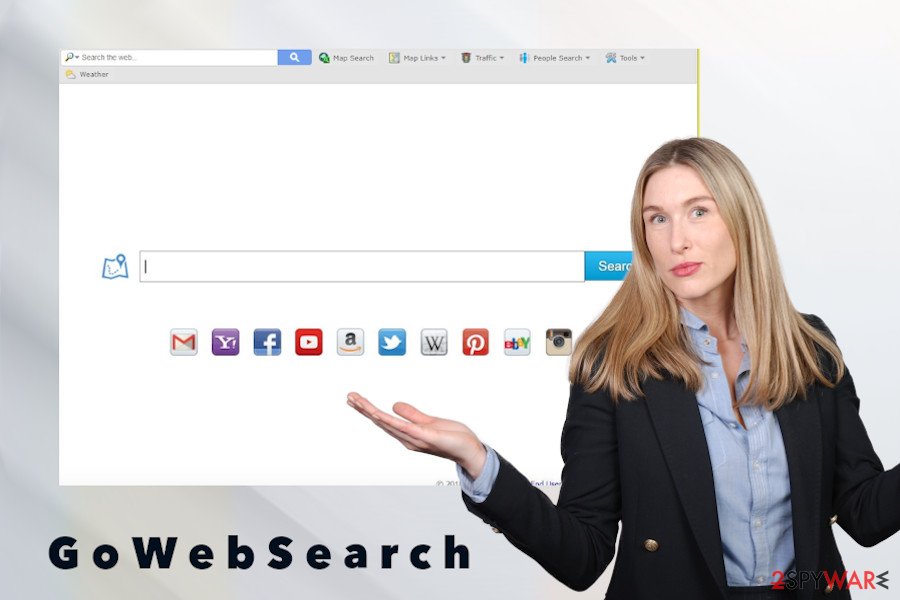 GoWebSearch hijacker spreads in disguise with freeware
Moreover, GoWebSearch malware distorts search results. By setting itself as a default search engine, the plug-in ensures the possibility to display links to affiliated domains on the first page of search results. This way, third parties are increasing visitors' rate. On various security forums people report:
When I do a google search, if I click any of the links it hijacks it and sends me to gowebsearch.net or other spam search sites.
Thus, having GoWebSearch virus on the system will block peoples' attempts to perform a regular Google search and turn web browsing experience abnormal.
Also, people may also notice an increased amount of ads, pop-ups, banners, and other commercial content. Due to the usage of cookies, this shady search engine is capable of generating appealing ads. However, such and similar ads may redirect to irrelevant websites, fake web domains, third-party sites promoting questionable security programs, useless software updates, pornography, and so on.
To sum up, this web browser's hijack may have various potential dangers, which is why GoWebSearch removal is strongly recommended. Do not allow a shady third-party app to ruin your daily web browsing routine and pose you risk of ending up on a dangerous website or downloading misleading programs. You can follow a guide submitted by our security experts on how to remove GoWebSearch for good or perform a full system scan with a professional antimalware program. We recommend using SpyHunter 5Combo Cleaner or Malwarebytes.
PUPs inject unwanted plug-ins into web browsers upon reckless installation of freeware
Computer virus experts from LosVirus.es[2] keep warning people about software bundling. According to them, any questionable third-party freeware[3] and shareware can be disseminated with additional components. Usually, free apps like converters, unknown ad blockers, video streaming software, download assistants, etc. contain more that one additional application disguised under the Quick installation technique.
Antivirus and antimalware programs are not programmed to block the installation of bundles, so the only way to prevent unwanted programs on the system is to pay close attention to the freeware installation process. Advanced or Custom installation methods should exchange quick and Recommended options. Although such a technique will ask to accomplish more installation steps, it will disclose "offered" plug-ins and allow deselecting them.
Aside from bundling, PUPs can also be distributed via infectious advertisements, hyperlinks, or fake web domains. Therefore, we strongly recommend bypassing questionable content and avoid downloading freeware before getting more information about it. Plus, make sure to keep a reliable antimalware tool installed. If the PUP is included into the malware database, you will be informed that a PUP is about to enter the system.
Ways to remove GoWebSearch virus
When you notice sighs of browser hijacker on the system, make sure that it has been installed along with other PUPs, such as adware. Besides, it might have initiated multiple browsers and system changes that you may not see at first. Therefore, to finish up unapproved activities, remove GoWebSearch hijacker right away.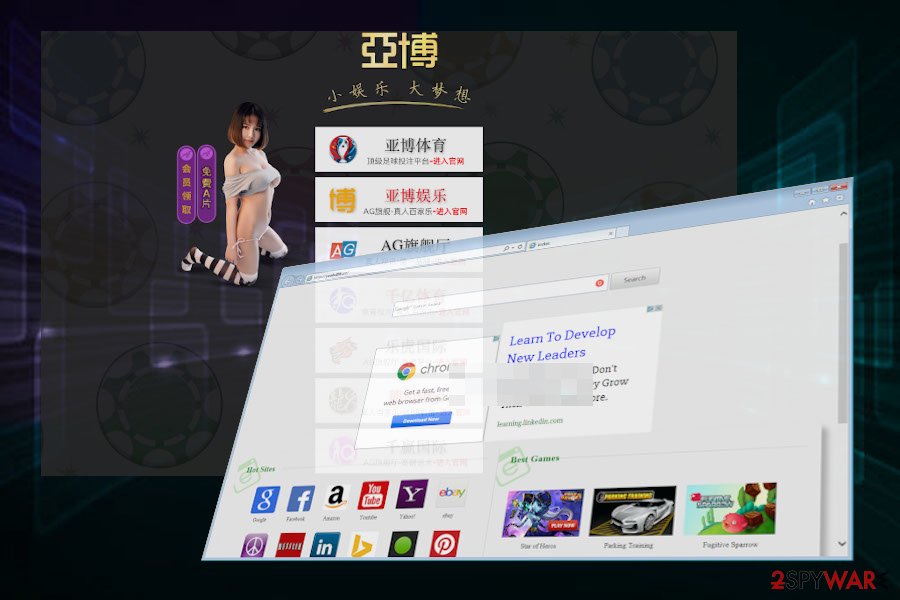 GoWebSearch virus can expose people to potentially dangerous websites that exhibit pornographic content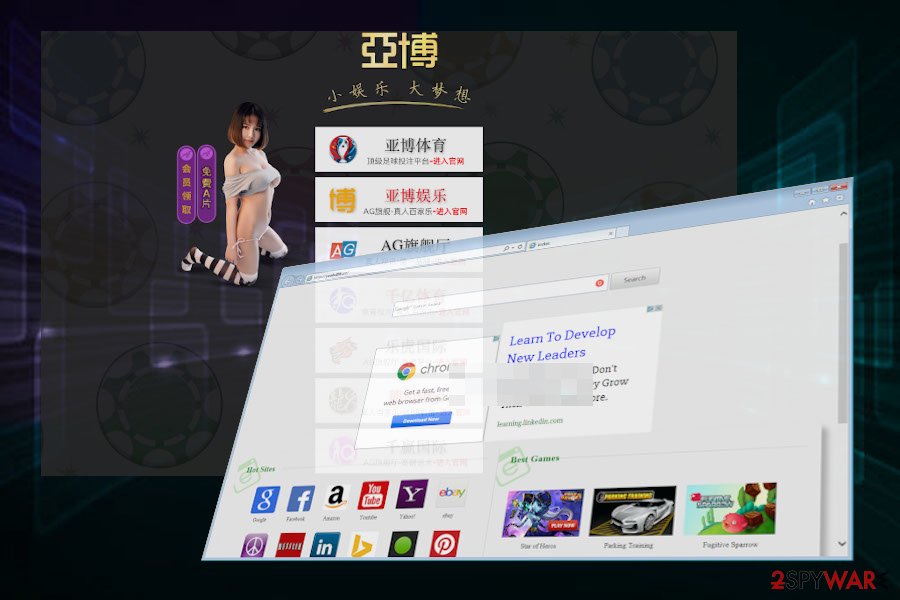 GoWebSearch virus can expose people to potentially dangerous websites that exhibit pornographic content
For GoWebSearch removal, we recommend using a professional antimalware tools. This tool will initiate a full system scan, detect software that got inside the system via freeware, and ensure full GoWebSearch removal. However, you can also try to remove GoWebSearch redirect manually with the help of the below-given guide. In the end, do not forget to reset settings of the hijacked web browser. Otherwise, you may keep seeing the unwanted search engine and start page on it. Last but not least, we recommend downloading a powerful tool for fixing any damage that the GoWebSearch virus and other PUPs might have caused. For this, you can use Reimage Reimage Cleaner Intego.
You may remove virus damage with a help of Reimage Reimage Cleaner Intego. SpyHunter 5Combo Cleaner and Malwarebytes are recommended to detect potentially unwanted programs and viruses with all their files and registry entries that are related to them.