Gestyy.com – adware that redirects users to a questionable URL shortening service shorte.st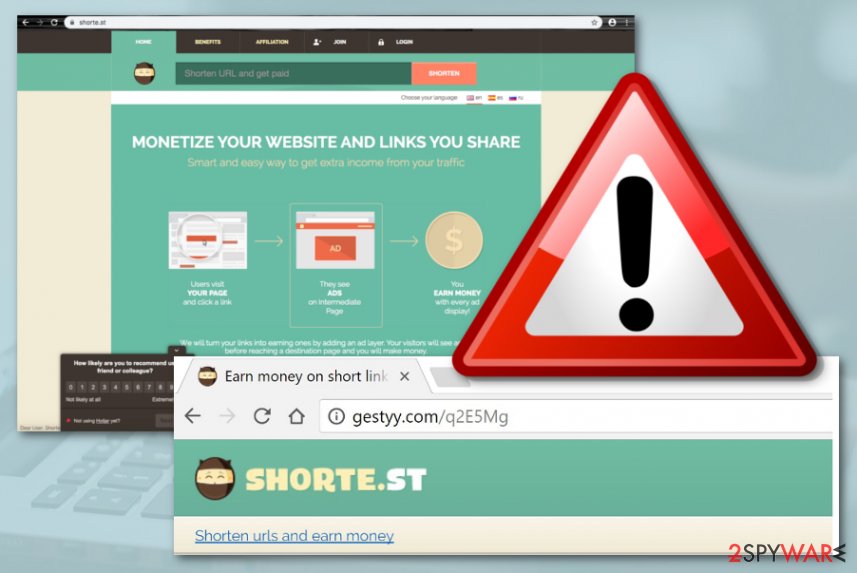 Gestyy.com is a third-party domain that is closely related to shorte.st (a URL shortening web page). If you ever get approached by this adware, you can get immediately taken to shorte.st where you will be encouraged to "monetize your website and links you share". The website offers to earn income from shortening URLs and we recommend declining such suggestion even if it might look attractive to you from the first view. Gestyy.com virus has been flagged as a PUP[1] and adware which means that by using its sponsored services you might be provided with an entire load of advertisements and redirecting sessions.
Name
Gestyy.com
Type
Potentially unwanted application/adware program
Danger level
Low. However, some indirect damaged can be caused if you are redirected to a potentially malicious website by this PUP
Relations
This rogue domain is closely linked with shorte.st that is a bogus URL shortening service and offers to earn income from shortening domain names
Activities
The adware gets you involved in advertising and redirecting activities after its installation process. Also, you might experience browser changes in the homepage/new tab URL sections, injection of helper components (extensions, plug-ins, cookies, beacons, etc.)
Target(s)
This suspicious program can appear on Windows and macOS computers. Also, we have found that the adware targets Android users
Removal
Use reliable software to get rid of the adware program or step-by-step guidelines that have been added to the end of this article
Repair
Try using software such as

Reimage

Reimage Cleaner

to fix all compromised system files and entries
Gestyy.com is not a domain to put your trust in. This URL might even be flagged as unsafe to proceed with if you try to enter it through a web browser such as Google Chrome. However, the warnings are for a reason. By continuing to this website, you risk getting redirected to potentially malicious sources and receiving malware on your computer.
Gestyy.com redirects are not only annoying but they can be dangerous too. Regarding the risk of landing on a malware-laden website, a Trojan virus or ransomware infection might easily slip into your computer system before you even noticing it. Believe us, you definitely do not want to find yourself dealing with these types of cyber infections.
Continuously, Gestyy.com pop-up ads will supposedly be another big issue of yours. The adware domain might load you with intrusive pop-ups, pop-unders, banners, coupons, in-text ads whenever you try to surf the Internet sphere via the infected web browser. You might also get involved in targeted advertising.
Targeted ads often rely on the user's browsing habits and history. The developers inject tracking objects such as cookies, beacons, or pixels to record non-personal information that relates to the user's browsing sessions, commonly visited websites, IP address, and so on. Gestyy.com claims to be able to log such data in its Privacy Policy:
When you visit the Site our servers automatically record information about your use and your visit to the Site ("Log Data"). The Log Data may include information such as your computer Internet Protocol (IP) address, time and date of your requests, your browser type, what software you were using, the web page you were visiting immediately prior to visiting the Site, access times and dates, your location, mobile network information and other statistics.
If Gestyy.com captures such kind of information, do not be surprised to view similar deals that you have been lately looking for. However, we do not recommend agreeing with any provided offers as there is a big chance to get lured into a scam. Especially be aware of various fake reward claims and surveys that urge for personal/credential information.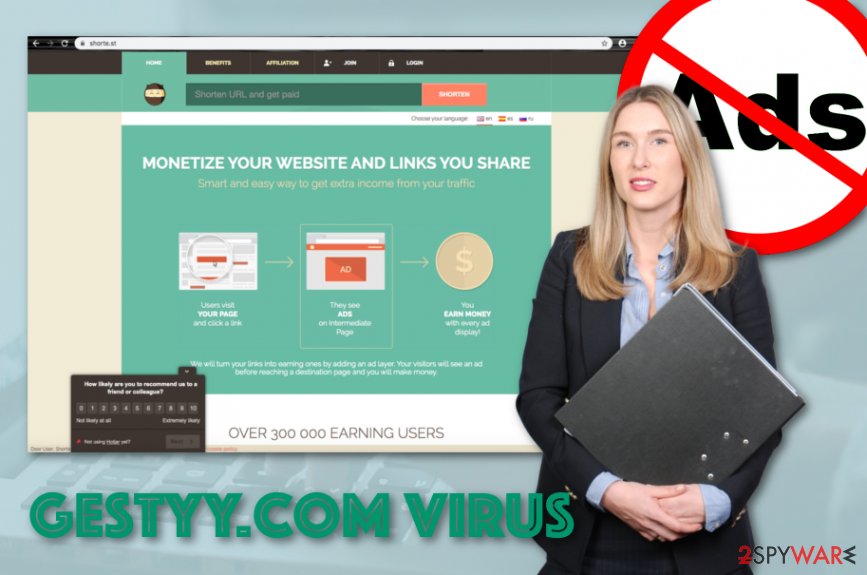 Gestyy.com – a potentially unwanted program that can drop intrusive advertisements on the user's computer or mobile phone
DO NOT type any personally-identifiable information if you are prompted by Gestyy.com to do so. Revealing sensitive data to complete strangers might be very dangerous as hackers can misuse the gathered data not only for intrusive advertising purposes but also for identity theft or you might find your personal details put up for sale on the dark web[2] markets.
Furthermore, Gestyy.com might interact with your web browser settings such as the homepage and new tab URL. You might find these zones modified after the adware attack. Also, the PUP might inject bogus tracking components, extensions, plug-ins, and add-ons to your web browser without your knowledge.
If this happens, there is a big possibility that you might be able to reverse the unwanted changes by carrying out the Gestyy.com removal process entirely. We advise using reliable antimalware software that will help you to deal with the process in a few minutes. However, manual steps are also available at the end of this article.
Gestyy.com is an intrusive PUP and is very hard to block, according to user reports. A big variety of people claim that the pop-up problem from this domain occurred right away after upgrading their Android phones from MIUI 10 to MIUI 11 and has been very difficult to get rid of since then.[3]
Some users reported that the Gestyy.com pop-ups kept showing up on their Samsung Galaxy S8, Huawei P20 Pro and other mobile phone devices. Regarding this fact, we decided to provide you with step-by-step guidelines on how to remove potentially unwanted applications from your Android device (look at the end of this article).
After you remove Gestyy.com from your Windows, macOS computer, or Android mobile phone, it is necessary to check for compromised components on your machine/device. If you discover any affected files or entries, you can try restoring them back to their previous positions by employing software such as Reimage Reimage Cleaner .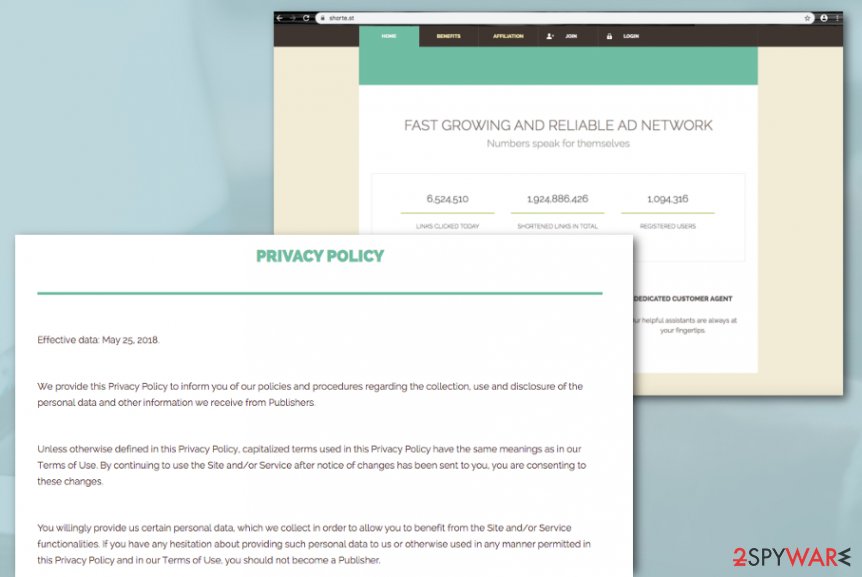 Gestyy.com virus is adware that tracks users' browsing sessions and uses the recorded data for targeted advertising
The delivery techniques of adware programs
According to experts from Virusai.lt,[4] adware apps are sneaky threats that use deceptive techniques to enter computer systems. The most popular method is known as "software bundling" and many third-party developers rely on this purpose. The method succeeds when the user does not pay enough attention to his computer/online security.
First of all, adware is more likely to appear on a computer that has its downloading/installing mode set to "Quick" or "Recommended". If you want to take full control of your incoming downloads and prevent silent PUP infiltration, you should change the installation settings to "Custom" or "Advanced".
Continuously, avoid downloading sources from websites such as cnet.com, softonic.com, and others. Get all of your products and services only from trustable developers and their original web pages and do not get attracted by offers that suggest downloading entire software packages for free as they are where adware mostly hides.
Furthermore, potentially unwanted programs can come camouflaged as fake software updates, advertisements, and hyperlinks. Prevent yourself from accessing questionable content on your computer system. Also, invest in automatical system security that will provide long-term protection for your machine.
Steps to eliminate bogus apps from Android devices
As we have already mentioned, Gestyy.com might be an Android virus and target different modules of mobile phone devices such as Samsung, Huawei, and others. If you have received intrusive advertisements or redirects from this domain, you should be aware that a PUP is hiding in your device system somewhere.
If you want to eliminate Gestyy.com virus with the help of step-by-step guidelines from your Android phone, try using the below-provided guidelines and discovering the questionable app on your mobile device:
Go into Safe Mode by holding the Power off button on the side of your phone for a few seconds. When a new window appears, hit the Safe Mode icon and opt for OK.
Continuously, go to your mobile phone Settings.
Afterward, click on Apps/Application manager.
Go through the entire list of applications and remove all suspicious ones.
Eliminate Gestyy.com virus from your computer and browsers
You can remove Gestyy.com from your machine by using automatical software that will lengthen the entire process and allow you to succeed in the removal within a few minutes of time. Keep in mind that the adware might have planted additional objects in locations such as the Registry and Task Manager that also need to be wiped out for a successful elimination process.
Continuously, Gestyy.com removal can be handled manually too. However, make sure that you have the right skills and enough experience to carry out such a task. If you are self-confident enough, go to the end of this article and take a look at the step-by-step guide that will help you clean both your computer system and web browsers such as Chrome, Firefox, Explorer, Edge, and Safari.
You may remove virus damage with a help of Reimage Reimage Cleaner . SpyHunter 5Combo Cleaner and Malwarebytes are recommended to detect potentially unwanted programs and viruses with all their files and registry entries that are related to them.