Exe.io is a fraudulent website that seeks to get the user involved in advertising campaigns and delivers scam notifications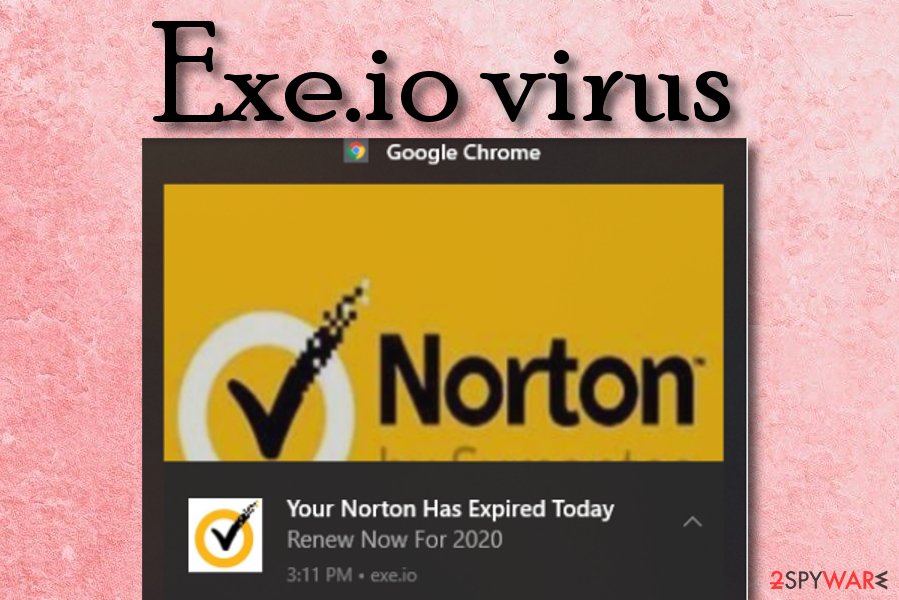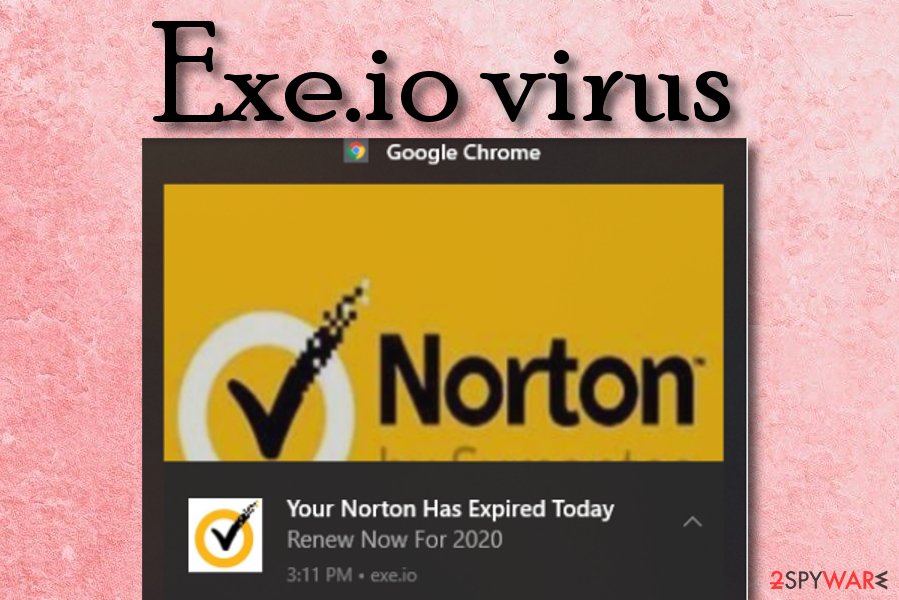 Exe.io belongs to the PUP and adware categories due to its scamming and intrusive advertising capabilities. The suspicious domain can start loading you with bogus adverts whenever you initiate surfing activities with any of the infected web browsers such as Google Chrome, Mozilla Firefox, Internet Explorer, Microsoft Edge, or Safari. One of the notifications is likely to be the "Your Norton Has Expired Today" scam and has nothing to do with the real and legitimate Norton company. You should press the "Remove Ads" button on the content that is provided by Exe.io virus rather than aiming for "Open". Even though adware is not some type of dangerous malware, it can still trick you into continuing with a potentially malicious domain or downloading rogue security software that is considered to be "scareware".
Name
Exe.io
Type
Potentially unwanted program/adware
Danger level
Low. Does not permanently damage the system or destroy files, programs. However, there still is a level of risk when getting redirecting to an unknown website where potentially malicious content might be distributed
Tasks
The main goal of this adware program is to earn income from the pay-per-click method by providing as many beneficial-looking ads as possible. The PUP can also start redirecting users to sponsored domains, collecting information about the user's browsing activities, changing web browser settings such as the homepage and new tab URL
Related scams
Exe.io virus also is known for its scamming capabilities. The main scam it provides is called "Your Norton Has Expired Today" that has nothing to do with the original company and product
Spreading
PUPs are mostly spread with the help of the "software bundling" technique through freeware or shareware that can be downloaded from unsecured websites such as softonic.com, soft32.com, and download.com. The users who have set their downloading mode as "Recommend" have a higher chance of receiving adware and similar products on their PCs
Elimination
If you have been recently dealing with this product and are completely annoyed with its activities, you can easily remove it with the help of antimalware software or by completing the step-by-step guidelines that have been added to the end of this article
Fix tip
If you have discovered any compromised areas on your computer, you can try repairing them with the help of software such as

Reimage

Reimage Cleaner

Intego
Exe.io virus is a threat that can include significant changes on your web browser's homepage and the new tab URL bar. There is a high chance that you will discover such types of modifications right after the adware attack. However, you are also likely to find your browsers filled with unwanted objects such as extensions, toolbars, and plug-ins.
All the changes that are completed by Exe.io can be reverted only by eliminating the app, so even if you try to bring back the original homepage of your web browser, it will only last very temporarily. The adware can also add suspicious processes to the Windows Task Manager or create bogus keys and place them in the Registry.
Afterward, Exe.io will likely show you some ads and start increasing the number of adverts while you are browsing the web. Adware[1] apps seek to collect pay-per-click income and, for that reason, the developers try to provide as attractive-looking ads as possible. Sadly, this usually involves scamming, fake offers and deals, non-existing prize claims, etc.
One of the main scams that are provided by Exe.io is "Your Norton Has Expired Today". We recommend ignoring this notification and trying to close it as soon as possible. Do not fall for it or get involved in clicking the "Open" button as it has nothing to do with the real Norton company and its software. Do not trust the fake Norton logo either.
However, if you fall for Exe.io scam and hit the "Open" section, you can get rerouted to some type of domain that offers to install rogue security software.[2] These types of products only take space on the user's computer, provide fake virus and error alerts, and try to convince the user to purchase the licensed version of the software.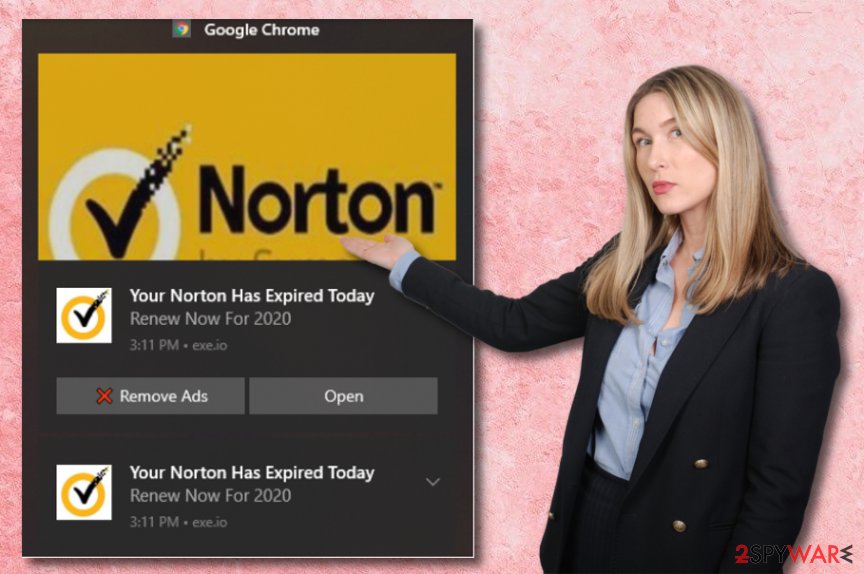 Exe.io is an adware that provides the "Your Norton Has Expired Today" scam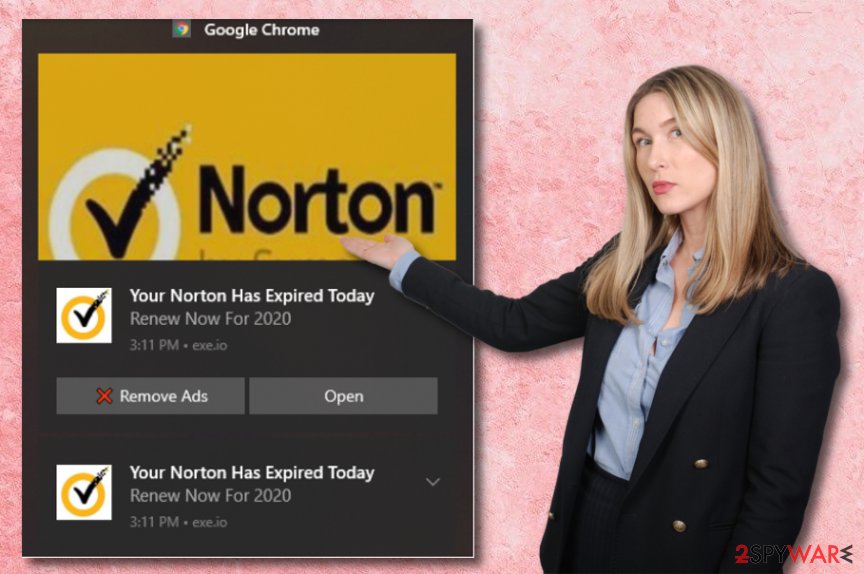 Exe.io is an adware that provides the "Your Norton Has Expired Today" scam
Nevertheless, the redirecting activity that is initiated by Exe.io can be more dangerous than it looks from the first view. Of course, it is very intrusive and annoying but the main risk lies in landing on a potentially infectious website. This way you risk catching a dangerous malware infection such as trojan that will cause severe damage to your PC.
Furthermore, Exe.io virus might include tracking technologies such as cookies or web beacons into your browser apps that will spy on your online activities. This way the developers will be able to see what things you are searching for online, your saved bookmarks, and other more personal details such as your IP address and geographic location.
When Exe.io gathers all the mentioned information, the developers will likely share the details with other parties for more income or use them in targeted advertising campaigns. As a result, you can end up seeing advertisements that are related to your recently searched offers but still can not be taken for granted as it is adware-based content.
To stop the intrusive advertising, redirecting, and data-collecting activities, you need to initiate the Exe.io removal process from your computer and web browser apps. Only by terminating the suspicious content from all affected areas, you will be sure that the ad-supported application is gone and will not repeatedly show up.
You can successfully remove Exe.io with the help of reliable antimalware products that are programmed to easily find and terminate PUPs. Also, you can try the manual step-by-step guidelines that are added to the end of this article. If you have noticed that your PC was also compromised in some type of way, you can try diminishing the alterings with Reimage Reimage Cleaner Intego.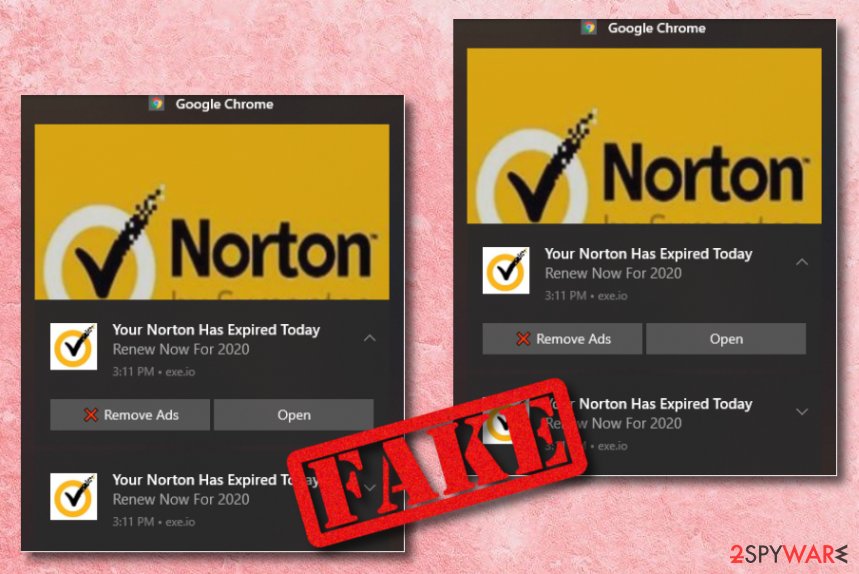 Exe.io – adware that initiates redirects to affiliate domains some of which can be potentially dangerous and hold malware downloads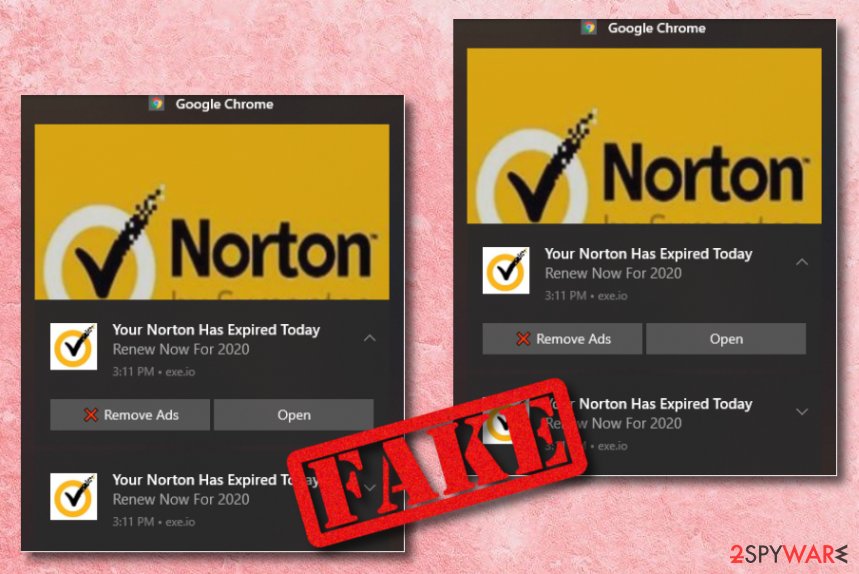 Exe.io – adware that initiates redirects to affiliate domains some of which can be potentially dangerous and hold malware downloads
Free software downloads from unprotected domains are likely to include PUPs
If you like using websites such as softonic.com, soft32.com, or download.com for your downloads, there is a high risk of getting infected by a potentially unwanted program such as adware. This is especially valid for those people who have set the "Recommended" or "Quick" option as their default downloading mode.
According to cybersecurity experts from NoVirus.uk,[3] you should download and install products only from well-known developers and their original websites, otherwise, you will end up with the cracked version that can include PUPs. Also, do not forget to wisely choose the downloading mode for your apps. You should change the settings to "Custom" or "Advanced" where you will be able to opt-out of all incoming suspicious objects.
Furthermore, adware programs can end up on computer systems and web browsers through clicks on infectious adverts and hyperlinks. You should beware not to press on every type of content that you see on the Internet. Also, you should always have a reputable antimalware program running on your computer as this tool will alert if something deceptive is waiting ahead for you.
The complete removal guide for Exe.io virus
Exe.io removal has been explained by our cybersecurity experts at the end of this article. However, this option is manual and covers cleaning web browsers such as Google Chrome, Mozilla Firefox, Internet Explorer, Microsoft Edge, and Safari by yourself. If you choose this option you will have to do both take care of your Windows or Mac computer system and refresh browsers to ensure that the ad-supported application does not return again.
However, if you think that the manual removal option is too difficult for you or you have been running in a lack of time lately, we recommend eliminating the cyber threat with reliable antimalware software. To remove Exe.io with the help of these tools, you will only need to download and run it. The entire process starting from computer scanning and ending with the elimination should not take more than 5-10 minutes.
You may remove virus damage with a help of Reimage Reimage Cleaner Intego. SpyHunter 5Combo Cleaner and Malwarebytes are recommended to detect potentially unwanted programs and viruses with all their files and registry entries that are related to them.