EncoderCSL ransomware is a data-locker that targets files with .txt and .test extensions on your computer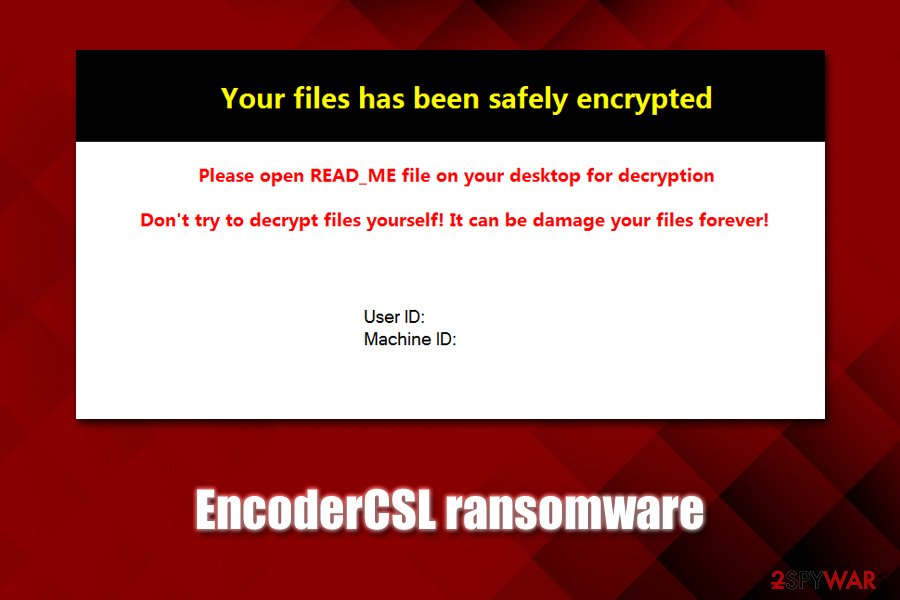 EncoderCSL ransomware is a file locking virus that is based on the Hidden Tear project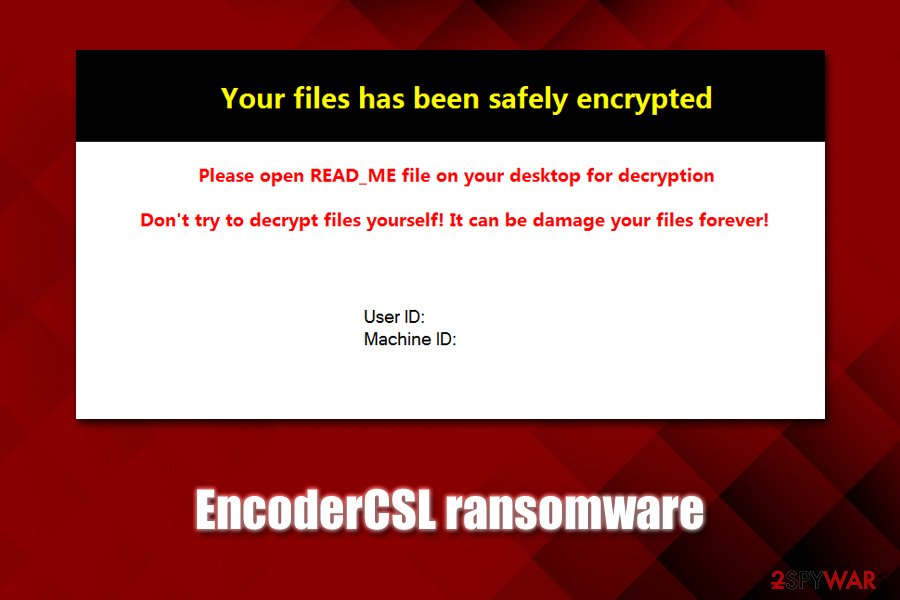 EncoderCSL ransomware is a file locking virus that is based on the Hidden Tear project
EncoderCSL ransomware is a HiddenTear-based file locking malware that was first spotted by multiple security researchers in mid-February 2020. Once inside the system, the virus applies the AES[1] encryption algorithm to lock a limited number of files located on the system, which appends the .locked extension to them as well. EncoderCSL ransomware virus currently only locks .txt and .test files on the host system, which is a clear indication that the malware is still in the experimental stage (fully functional ransomware usually targets all personal data).
After the encryption process, the EncoderCSL virus may drop one of the following ransom notes: READ.txt or READ_IT.txt, although this action is not fully functional yet – experts reported that the malware fails to deliver these text files. Nevertheless, it also displays a pop-up window, which explains why the files were compromised, and also states that victims should not attempt to recover the data without acquiring EncoderCSL ransomware decryptor for the hackers. Even if desired so, reaching criminals is impossible, as no contact details are provided.
Name
EncoderCSL ransomware
Type
File locking virus, cryptomalware
Based on
HiddenTear
Main executable
EncoderCSL.exe, or another random name
File extension
Each .txt and .test file on the system is appended with .locked extension; for example, a "data.txt" file is turned into "data.txt.locked"
Encryption method
A symmetric encryption algorithm is used – AES (Advanced Encryption Standard)
Ransom notes
A pop-up message asks victims to view the READ.txt or READ_IT.txt files, but they are currently not dropped on the computer during the infection process
File recovery
Retrieving personal files without backups is almost impossible unless you were lucky enough and the malware failed to delete Shadow Volume Copies; additionally, in some cases, data recovery software might be able to recover at least some of encrypted files
Malware removal
Perform a full system scan with a security program that can recognize the threat
System fix
In case your Windows machine is crashing, showing errors, lagging, or suffering from other stability and functionality issues after ransomware termination, fix Windows with repair software

Reimage

Reimage Cleaner
Because the prevalence of EncoderCSL ransomware is relatively low, it is unknown what type of tactics threat actors use to distribute the malware. Nevertheless, the most common techniques include:
Malicious spam email attachments or hyperlinks;
Software vulnerabilities and exploits;
Poorly protected Remote Desktop connections;
Pirated program installers and software cracks/keygens;
Fake update prompts and other fake messages, etc.
Once inside the system, EncoderCSL ransomware places its main executable (can be named as anything, although researchers found the EncoderCSL.exe" in the wild) into the %Temp%, %Users%, or Desktop location and the begins the infection routine.
During this time, the malware deletes Shadow Volume Copies to prevent victims from recovering from the damages quickly, modifies the Windows registry to establish persistence, starts the "LocalSystem" service, loads several modules, reads computer information, etc.
Finally, EncoderCSL ransomware performs file encryption that only affects .txt and .test files – this will append the .locked extension to these file types. The .locked marker has been extensively used by various other Hidden Tear versions, as it is a default market that indicates which files have been compromised.
After the encryption process, EncoderCSL ransomware will display a pop-up message with the following text:
Your files has been safely encrypted

Please open READ_ME file on your desktop for decryption

Don't try to decrypt files yourself! It can be damage your files forever!

User ID:
Machine ID:
As evident, EncoderCSL ransomware virus developers are not native English language users, although guessing the origin of these people is impossible. Regardless of that, contacting them is impossible anyways, as they do not provide contact details, as there are supposed to be included within the text file on the desktop – it is nowhere to be found.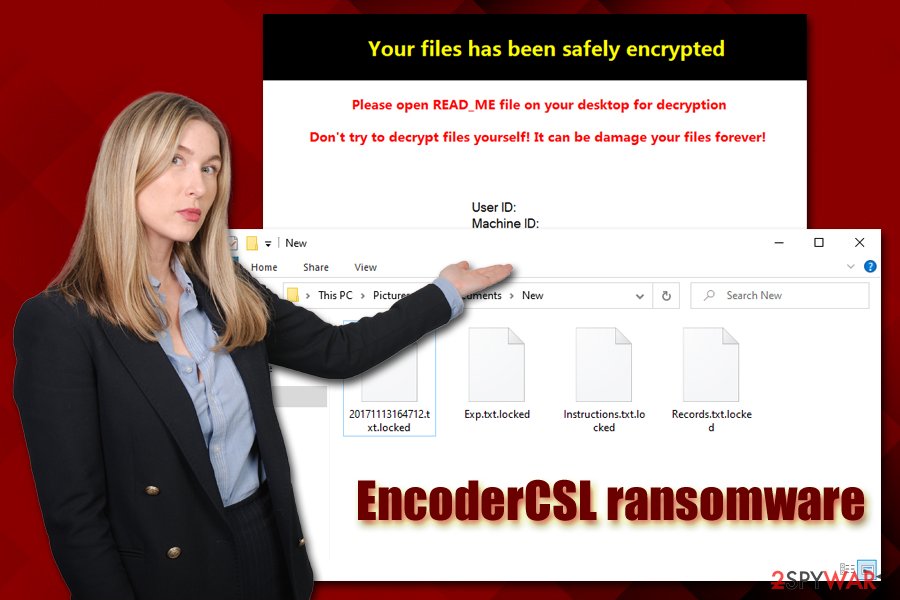 EncoderCSL is a ransomware-type virus that only targets .txt and .test files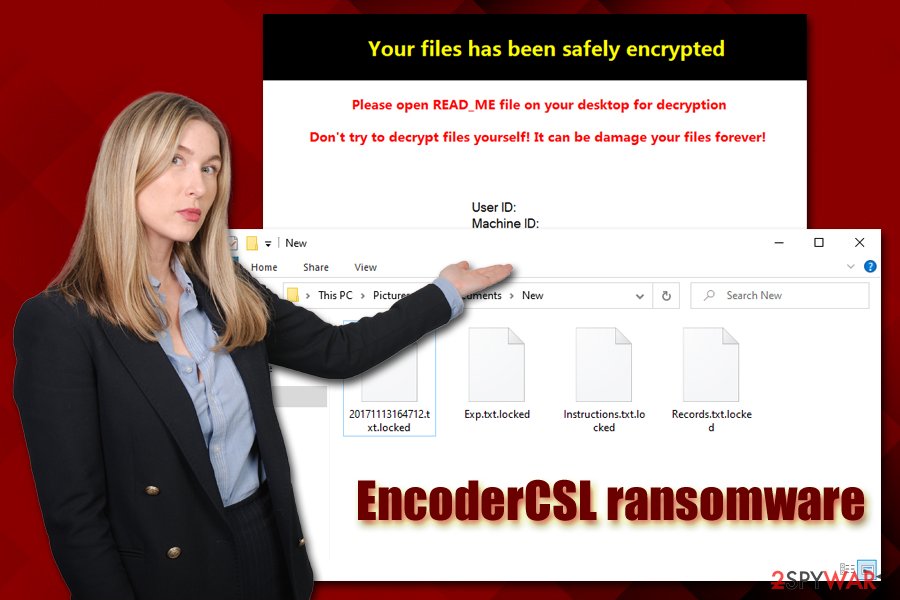 EncoderCSL is a ransomware-type virus that only targets .txt and .test files
Even if the ransom note would provide the contact details, security experts[2] highly discourage users from paying the ransom, as victims may get scammed and never received the promised decryption tool. If you had no backups to restore your data, you could try using alternative solutions listed in our recovery section below.
The legacy of HiddenTear: malicious actors keep abusing the open-source project
HiddenTear is a notorious open-source project that was developed by a researcher from Turkey back in 2015. Since then, the code was leaked, and malicious actors quickly learned how to utilize it for illegal monetization purposes. Even many years after its release, various threat actors may attempt to modify the code and start distributing it using various methods, as it happened with EncoderCSL ransomware.
Nevertheless, the EncoderCSL virus is in the early development stage, as it does not match the criteria of fully functional ransomware just yet. Those infected, however, might lose all the encrypted files forever, as there is no way to contact malicious actors at present.
EncoderCSL ransomware removal is necessary, however, as the improved versions might be employed by authors in the future, applying a fully-working encryption function. In such a case, victims may not only lose their .txt or .test files, but also pictures, videos, music, documents, databases, PDF, and other data.
To remove EncoderCSL ransomware from the system, users need to scan their machines with anti-malware software that is capable of detecting and eliminating the threat automatically. According to Virus Total results, more than 40 different anti-malware engines recognize the main executable as follows:[3]
Ransom:Win32/HiddenTear.gen
Gen:Variant.MSILPerseus.179410
A Variant Of MSIL/Filecoder.AK
Win32:Trojan-gen
Trojan[Ransom]/Win32.HiddenTear
MSIL/Filecoder.AK!tr.ransom
RDN/Ransom
Mal/Generic-S, etc.
Nevertheless, we strongly advise you to make a copy of encrypted files before you get rid of the EncoderCSL virus, as its termination might permanently damage the data.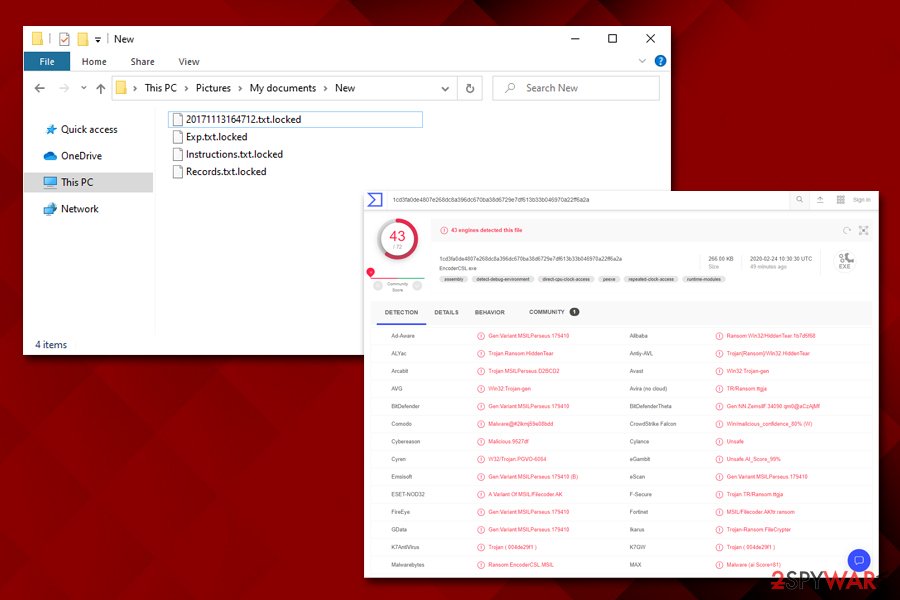 Multiple AV engines recognize the main executable EncoderCSL.exe as malicious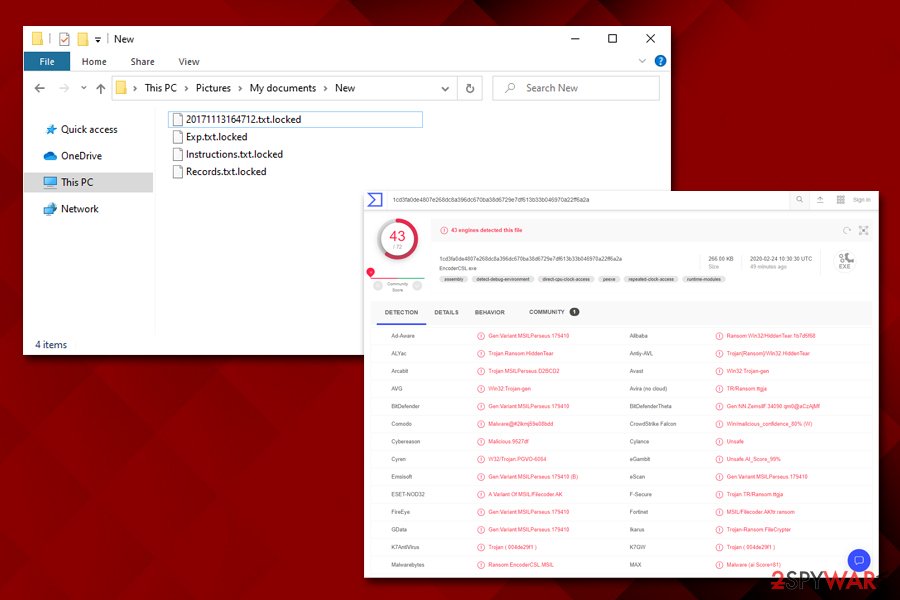 Multiple AV engines recognize the main executable EncoderCSL.exe as malicious
Ransomware distribution methods vary, so be prepared for all types of attacks
Ransomware is a very lucrative business currently, with many attacks being carried out against high profile companies, industries, government institutions, and also regular users.[4] The problem is highly complicated by the fact that ransoms are paid to criminals – these payments only fuels the illegal business. However, in some cases, enterprise entities and individuals simply have no other choice.
The best solution would be not being infected in the first place, and for that, adequate security measures are required. As mentioned previously, hackers may employ a single or multiple attack vectors (for example, Mool, Nppp, and other Djvu variants are being spread across the world with the help of software cracks exclusively, and this technique works extremely well, infecting hundreds daily), so it is important to ensure that comprehensive precautionary measures are applied:
Do not let spam email attachment run a macro function ("Allow content") or click on links inside;
Update Windows and the installed programs as soon as possible to avoid software vulnerabilities from being exploited to infect malware automatically;
Protect all your accounts with security passwords and use two-factor authentication where possible;
Never download software cracks or pirated program installers from torrent and similar sites;
Install anti-malware software that would use advanced protection measures, such as machine-learning technology;
Backup your most important files regularly.
You should remove EncoderCSL ransomware after you backup the locked data
The immediate EncoderCSL ransomware removal might result in data compromise, so it is important not to do this immediately. As evident, the malware should be eliminated from the computer as soon as possible, as the infection may render it vulnerable to other cyber attacks.
Therefore, before you remove EncoderCSL ransomware virus from your computer, backup the encrypted files. If you do not care about the text files you have, you can skip this step and simply terminate the malware with the help of powerful anti-malware. Note that, in some cases, you will have to access Safe Mode with networking to prevent the EncoderCSL virus from tampering with your security tool.
Once you are sure that your system is clean, you can employ data recovery methods we provide below, although note that chances of these techniques being successful are very slim. Nevertheless, malware developers, including those behind EncoderCSL, might make mistakes that would allow security experts to create a free decryption tool. Considering how low the distribution of this malware is, the action is highly unlikely, unfortunately.
This entry was posted on 2020-02-24 at 08:25 and is filed under Ransomware, Viruses.