Eight ransomware is the threat that marks files using the contact email in the pattern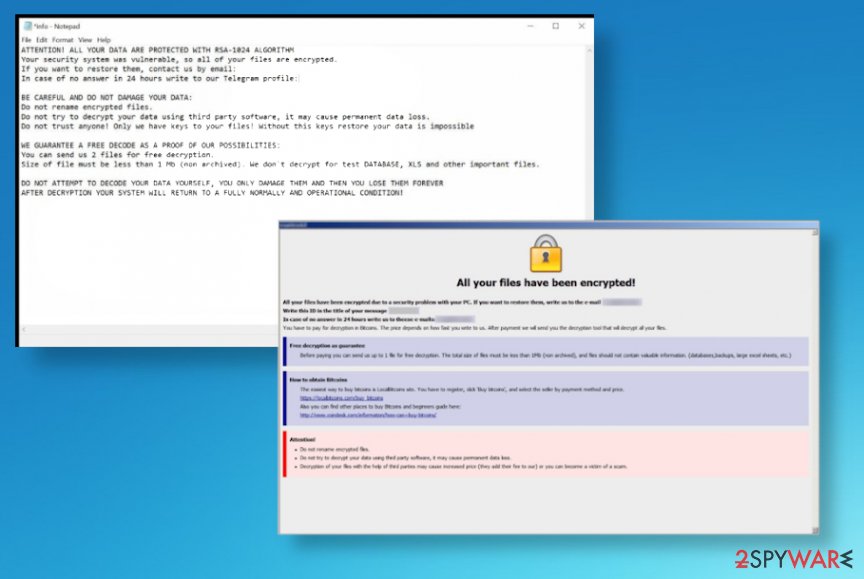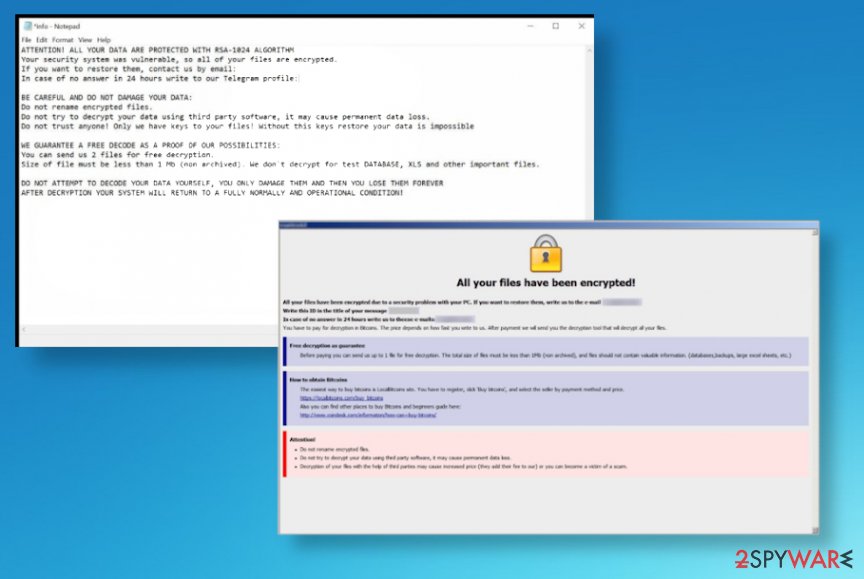 Eight ransomware is the cryptovirus that uses a pattern of file marker with victims' ID and .eight appendix. The .id[XXXXXXXX-2797].[ICQ@HONESTHORSE].eight appears at the end of every encrypted file and indicates files that get affected and no longer can be opened or used as supposed to. Also, after the encryption malware automatically ads the ransom note file in the form of info.txt or the program window with the same name, on the machine, so the victim can read and follow the steps needed for the alleged file recovery. However, this variant of Phobos ransomware claims that paying the ransom is the only solution, and you need to contact them yourself to get additional information. Unfortunately, paying is not the best option, and you shouldn't consider that as a solution since cybercriminals focus on getting your money instead of worrying about the data and your other belongings.
Since Eight ransomware virus is not the new one and belongs to the family of well-known ransomware, you shouldn't trust these malware creators and avoid any contact. Developers of malware tend to attack many devices and aim to get as much money as possible. The amount of ransom, in most cases, is determined for the particular user because criminals base this number on the value of their files. The amount can go up to hundreds or thousands of dollars in the form of cryptocurrency, so try to ignore any messages from the malware creators and remove the virus as soon as possible, so you can recover files and get back to the normal experience with your device. This virus resembles the Dharma virus family, so the copy of these functions or even the mimicking of the code can make it even more malicious.
Name
Eight ransomware
Type
Cryptovirus[1]
File extension
The pattern that is used to form file appendix – .id[XXXXXXXX-2797].[ICQ@HONESTHORSE].eight. This full-extension gets added at the end of the original name and filetype-marking extension
Ransom note
info.txt or info.hta are the files that appear added on the desktop and placed in various folders with encrypted data once that process is done
Contact emails
[email protected], [email protected], ICQ@HONESTHORSE
Distribution
Files added as spam email attachments can trigger the drop of the malicious payload, so your device gets infected quickly and unnoticeably. Also, pirated files, software cracks, game cheats, and other files can make the system infected with malware that drops cryptovirus or the ransomware directly
Elimination
Eight ransomware removal requires attention to details and professional anti-malware tools
Repair
You need to repair the files and functions of the computer too after the malware cleaning procedures. You can achieve that with system optimization tools like

Reimage

Reimage Cleaner

Intego
Eight ransomware functions as the encryption-based malware because it starts the infection with file-locking procedure that provides the particular option of encoding documents, images, video files, audio or different types of data, so your time on the machine becomes even more difficult when some certain data is damaged and other system functions disabled or differently affected.
Even though Eight ransomware is focused on getting money from people the malware works as scareware because it delivers the following message to make people eager to get their files back, so they decide to pay up. The text file provides this message:
ATTENTION! ALL YOUR DATA ARE PROTECTED WITH RSA-1024 ALGORITHM
Your security system was vulnerable, so all of your files are encrypted.
If you want to restore them, contact us by email: [email protected]
In case of no answer in 24 hours write to our Telegram profile: @iso_recovery

BE CAREFUL AND DO NOT DAMAGE YOUR DATA:
Do not rename encrypted files.
Do not try to decrypt your data using third party software, it may cause permanent data loss.
Do not trust anyone! Only we have keys to your files! Without this keys restore your data is impossible

WE GUARANTEE A FREE DECODE AS A PROOF OF OUR POSSIBILITIES:
You can send us 2 files for free decryption.
Size of file must be less than 1 Mb (non archived). We don`t decrypt for test DATABASE, XLS and other important files.

DO NOT ATTEMPT TO DECODE YOUR DATA YOURSELF, YOU ONLY DAMAGE THEM AND THEN YOU LOSE THEM FOREVER
AFTER DECRYPTION YOUR SYSTEM WILL RETURN TO A FULLY NORMALLY AND OPERATIONAL CONDITION!
The message may seem convincing since Eight ransomware and other versions like Dewar or Eking offers the test decryption for you. This is the trick that ransomware creators use to fake the trust with victims and claim that there are options for the encoded data. However, no experts[2] in this field can claim that paying ransomware is a good idea.
Eight ransomware removal process should be the focus when you encounter the message demanding the payment, find these encrypted files. The sooner the better because of the additional damage that can easily get caused by the threat. especially, when various parts of the system become accessible once the payload is triggered on the computer.
When malware like this can enter the machine and trigger all the processes besides the primary Eight ransomware encryption, you can experience crashes, freezes and other issues with the device since system functions get disabled, files damaged or deleted and cryptovirus can install or add programs, files to control all the needed features and system functions like security or file recovery options. Threat tries to enable or disable as many helpful features as possible,so the victim is left with the only solution – to pay.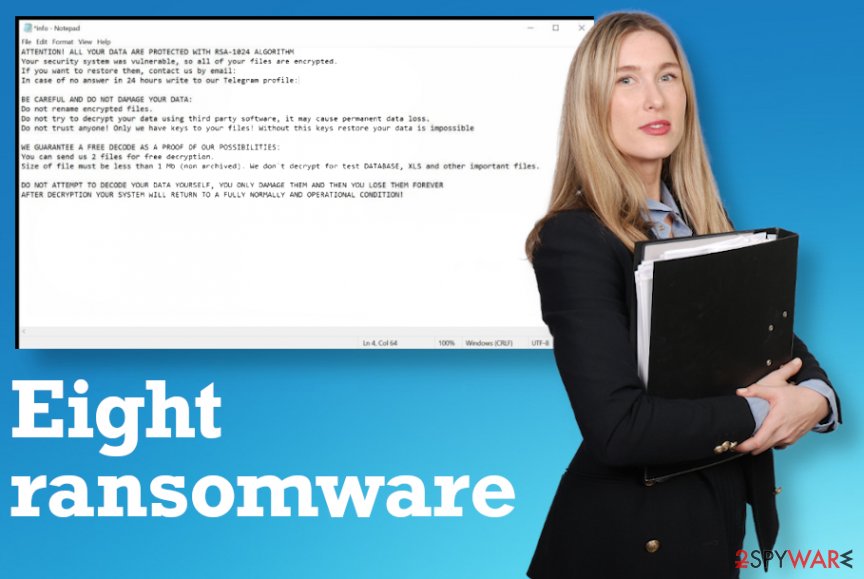 Eight ransomware – a threat that demands payments for the alleged decryption.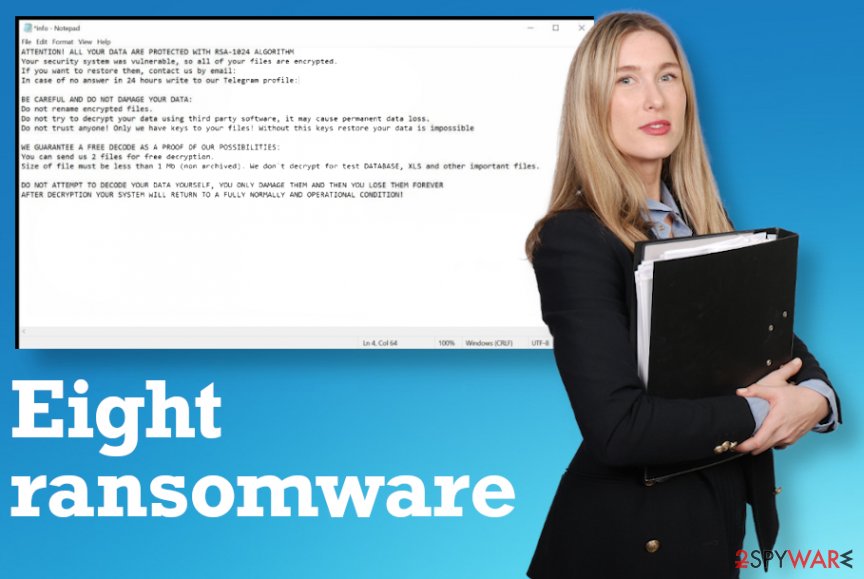 Eight ransomware – a threat that demands payments for the alleged decryption.
Eight ransomware currently is not decryptable, so there are not many options left. Free decryption software gets developed when researchers obtain IDs of victims and break the coding of encryption used. There are not many decryption tools developed by third parties because this is a difficult process. You should be worried about your files and focus on repairing them. That is understandable.
However, you should remove Eight ransomware first before any file repairing. There are many parts on the system that virus can damage and affect, so you should react ASAP and get rid of the infection. Then, file repairing can take place, and your machine becomes usable again. It is not the easiest procedure this file recovery, but we have a feel additional tips below the article for functions of the device and thrid-party software.
Those useful features that Windows OS devices have and can offer for the recovery after Eight ransomware virus infection can be disabled and damaged when the threat runs in the system for a longer period. So you should think about PC repair first, so once the machine is fully working file recovery can be easier. Reimage Reimage Cleaner Intego is one of the tools that can serve as a repair and virus damage elimination application.
You may save some files related to the infection and expect to get the tool for Eight ransomware decryption in the future. If you do not plan on paying or recovering the system, store encrypted files, other data related to this infection on the separate drive, and wait for the options in the future.
Eight ransomware has infected may people, so there are a few samples that got alazyesd,[3] and those samples show that there are many different patterns of the email that gets included besides the victims' ID. But the unique .eight at the end comes every time, hence the name of the virus.
Remember to get rid of the malicious Eight ransomware using proper anti-malware tools because these are the applications designed to find and delete malware like this that can possibly damage your machine permanently and lead to loss of files or money. Remember that choosing the tool is important, but all the results that occur on the screen after the full system scanning differ based on particular databases:
Trojan.Ransom.Phobos;
Trojan.Win32.Generic.4!c;
Ransom.Phobos.S11618290;
Gen:Variant.Ransom.Phobos.62 (B);
TR/Crypt.XPACK.Gen.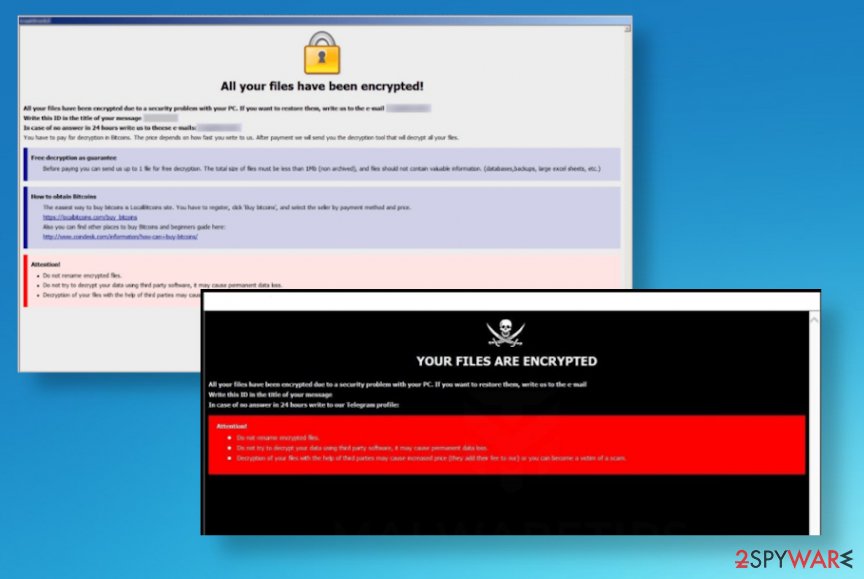 Eight files virus is the ransomware-type intruder that claims to have the only decryption tool. These people behind the threat are not trustworthy, so do not pay.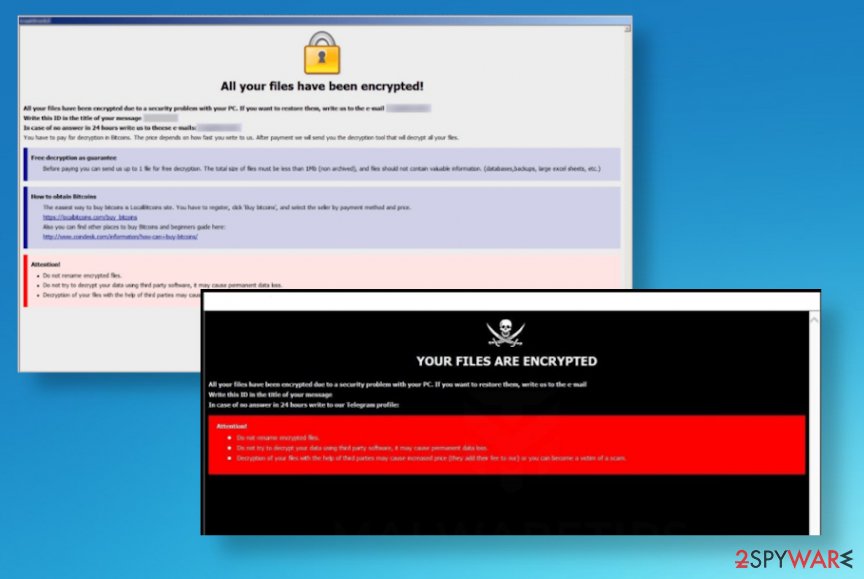 Eight files virus is the ransomware-type intruder that claims to have the only decryption tool. These people behind the threat are not trustworthy, so do not pay.
Main methods of ransomware spreading involve malicious files
Cybercriminals can easily send spam emails for the users that get their data accessed or breached in different security incidents,[4] so you may not even notice what happened before those encrypted files appear on the system. Unfortunately, this infection can get triggered quickly and easily by other stealthy threats like trojans or malware, worms.
These emails that people receive unexpectedly can claim about shipment notifications, invoices, order information, and other details that involve MS documents or links to shady sites. Unfortunately, common types of files and statements about order details and other information trick people into downloading and opening these attachments or visiting provided links.
Once that is done, malicious macros or scripts injected on the content provided on the site can trigger the direct drop of the malware payload. This infiltration happens without any permission requirements and direct indications of the attack, so your machine may get affected by a few threats during one virus infection. Avoid any interaction with unknown links, sites, and email senders, so you can keep the system virus-free.
Rely on professional tools for Eight ransomware termination
Since Eight ransomware virus is not decryptable officially, you shouldn't focus on the file recovery first. When there is a proper tool for virus decryption, you can freely rely on such an option and get rid of the infection before you go for file restoring features. There is no safe way that could help with files before virus elimination.
It is especially important to remove Eight ransomware before you add your file backups on the system, so the machine is fully recovered and functions as it supposed to. Once that is done, you can freely put safe file copies on the computer and use them for the needed operations. However, the process of threat deletion involves power tools.
You can perform the Eight ransomware removal once you get the proper anti-malware tool and run the full system scan on the affected computer. Security tools like SpyHunter 5Combo Cleaner or Malwarebytes can check many hidden parts of the system where malicious files get injected. Once the list of infections appears on your screen, you can enable the full removal and clean off these virus files. Remember to repair PC functions before going for data recovery with something like Reimage Reimage Cleaner Intego.
This entry was posted on 2020-06-01 at 04:09 and is filed under Ransomware, Viruses.