DriverFix – an unreliable application for your system maintenance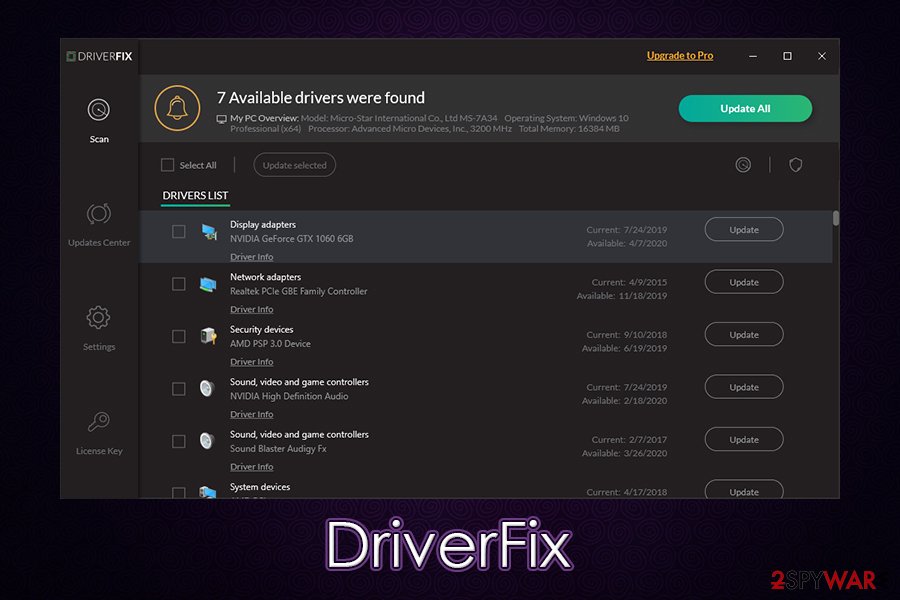 DriverFix is a potentially unwanted application that might install wrong drivers on your Windows system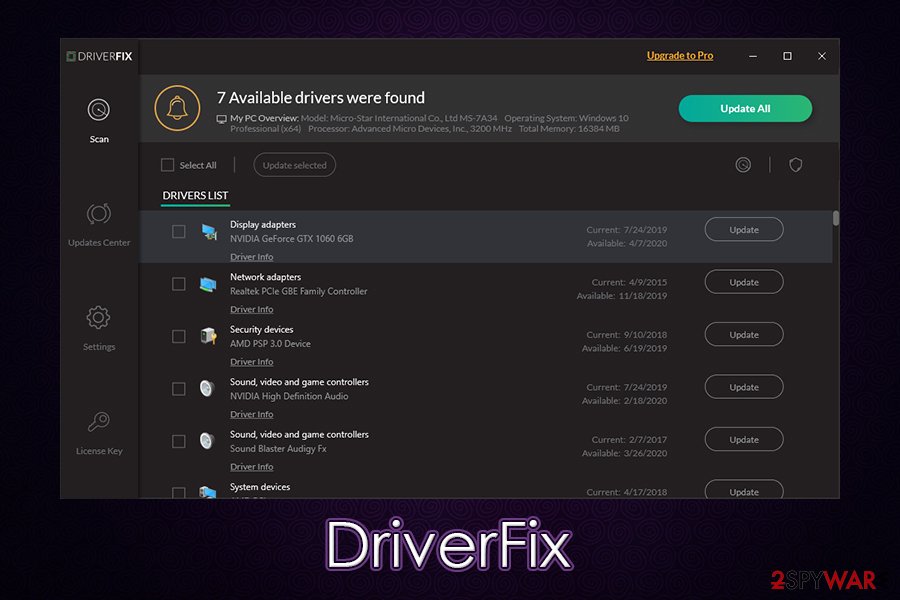 DriverFix is a potentially unwanted application that might install wrong drivers on your Windows system
DriverFix is one of many potentially unwanted applications[1] that promise to update Windows drivers automatically. While the app can be downloaded from its official website, most users see it for the first time on their machines after installing freeware from third-party sites. This happens due to a well-known distribution technique called software bundling – several apps are often offered as a single package, and users often miss the optional components.
Once installed, DriverFix will perform a full system scan and inform about the missing drivers. The developers claim that applying the missing drivers will fix various computer issues, optimize gaming performance, and will allow the creation of backups. However, suchlike driver updaters should not be trusted, as they might install incorrect software for your device, show pop-ups that ask you to purchase the full version of DriverFix, and mislead about Windows computer health.
Name
DriverFix
Also known as
PUP.Optional.DriverFix
Type
Potentially unwanted program, driver updater
Infiltration
Most users install PUPs unintentionally – either by downloading freeware from third-party websites or after being tricked by an attractive ad. The app can also be installed deliberately from the official website when looking for a tool for driver updating process
Symptoms
A scan results show up that display outdated drivers. If the "Update all" button is clicked, users are directed to the payment page
Risks
Installation of incorrect drivers, which can result in negative impact to computer performance; financial losses due to spent money on the software
Removal
You can uninstall the app by following our instructions below
System fix
In case incorrect drivers were installed on your Windows machine which resulted in errors and other issues, we suggest you fix these problems with repair software such as

Reimage

Reimage Cleaner

Intego
Drivers are integral parts of any Windows operating system, as they ensure that hardware and software can communicate correctly with one another. The discrepancies happen due to different manufacturers of computer components, and drivers ensure that video cards, RAM, motherboards, network cards, keyboards, printers, and other hardware works well.
Typically, if a desktop computer or a laptop is purchased, drivers come pre-installed with an operating system. Thus, users can enjoy their devices without any problems. However, drivers sometimes break, which might also break the operation of the entire machine (although, in most cases, the newest drivers are not necessary for a hardware component to operate properly).[2] Thus, the need for driver updates arise, and tools like DriverFix are there for that precise purpose.
On the official website, DriverFix claims the following:
THE NEXT STEP IN HARDWARE PERFORMANCE
Simple, fast, secure technology for better workinggraphics cards
Update all your drivers with one click and enjoy better gaming performance.

Access a huge database of drivers. Create drivers backups before making changes.
However, driver updaters like DriverFix are notorious for their inability to correctly update drivers, show false positives in order to make users concerned about their computer state and also sometimes show ads or fake warnings on a regular basis. Many security experts highly discourage the usage of driver updaters, as they can compromise a working computer and result in a loss of money.
Regardless if users install DriverFix intentionally or not, a full scan will be performed immediately. Immediately after that, users will be presented with the list of outdated drivers. If they press the "Update all" button, they will be immediately led to the purchase page, where they will be required to enter their credit card details to purchase a full version of the app. Of course, users can also update drivers "manually," which downloads drivers are abysmal speeds.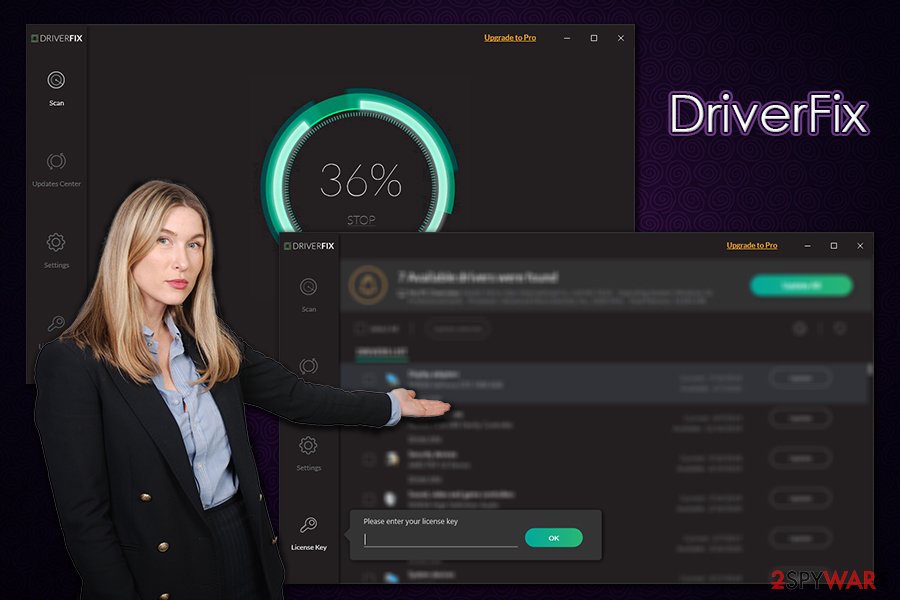 DriverFix is an app that users might download unintentionally along with freeware from third-party sources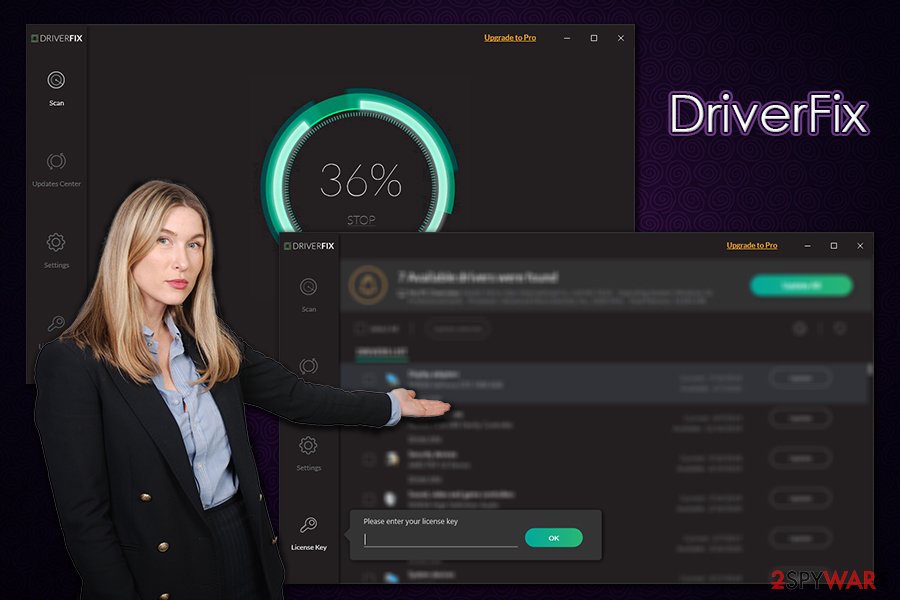 DriverFix is an app that users might download unintentionally along with freeware from third-party sources
However, there is never a guarantee that DriverFix will be able to download and install correct drivers for your device. While we do not recommend using third-party driver updaters, some might find this app useful, as it allows users to install drivers automatically. Generally, it is not malicious and does not pose any security risks, but the functionality remains questionable, so we recommend you remove DriverFix. If anything, we recommend using automatic update software provided by hardware manufacturers, such as Nvidia GeForce.
For DriverFix removal, you can check the instructions we provide below – the process should not be that complicated if you uninstalled a program before. However, if you installed drivers via the program and you are seeing a negative impact on your Windows computer performance, we recommend using a repair tool Reimage Reimage Cleaner Intego that could eliminate all the damage done to the system.
Automatic driver updaters can often disappoint
As previously mentioned, while drivers are an integral part of the Windows operating system for it to function properly, their updates are rarely needed by a regular computer user. Nevertheless, sometimes driver updates can be useful, as outdated ones might cause troubles, e.g., with graphics cards. In such a case, updating driver is important, although paying a full subscription for something that should be done that rarely by computer users is not worth it.
Additionally, third-party driver updates can never be fully trusted with the integrity of the provided drivers – they can sometimes cause more damage instead. Thus, we advise you to download drivers manually from the manufacturer's website or employ official tools provided by Nvidia and other companies that manufacture components for Windows computers.
Since driver updaters can often end up on the computer seemingly out of nowhere, the issue with potentially unwanted program infiltration should also be tackled. Even though most driver updaters are relatively safe when it comes to security as long as nothing is downloaded via the app, there are several other programs that might be installed without permission via third-party sources.
Many users resort to third-party websites to download various applications, and most are unaware that software bundling serves as one of the major monetization sources for such sites. Thus, many are misled into installing programs they never intended to install in the first place, and various methods are used. Here are some tips from experts[3] that could help you to avoid PUPs:
If possible, download apps from official sources only;
Before installing a new program, read up on it online – check forum posts, reviews, etc.;
Always opt for Advanced settings instead of Recommended ones, as it gives more control over what is installed;
Remove all markings from the pre-ticked boxes;
Read the fine print – important information is often hidden there;
Watch out for buttons that are placed in the wrong positions;
Be vigilant and do not fail for offers that are integrated as a part of the installation process of the main application;
Install security program and enable the PUP detection feature.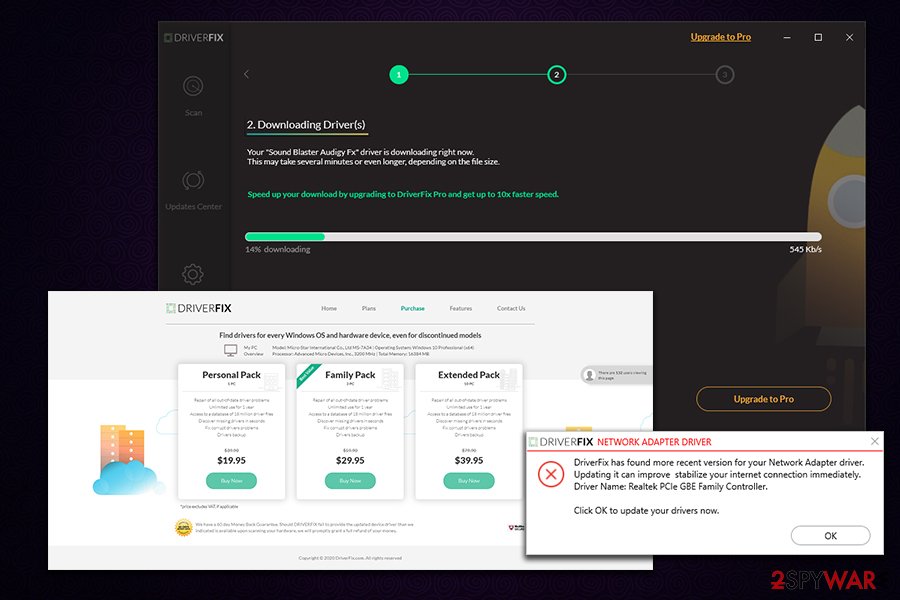 DriverFix might show misleading pop-ups about performance of certain Windows components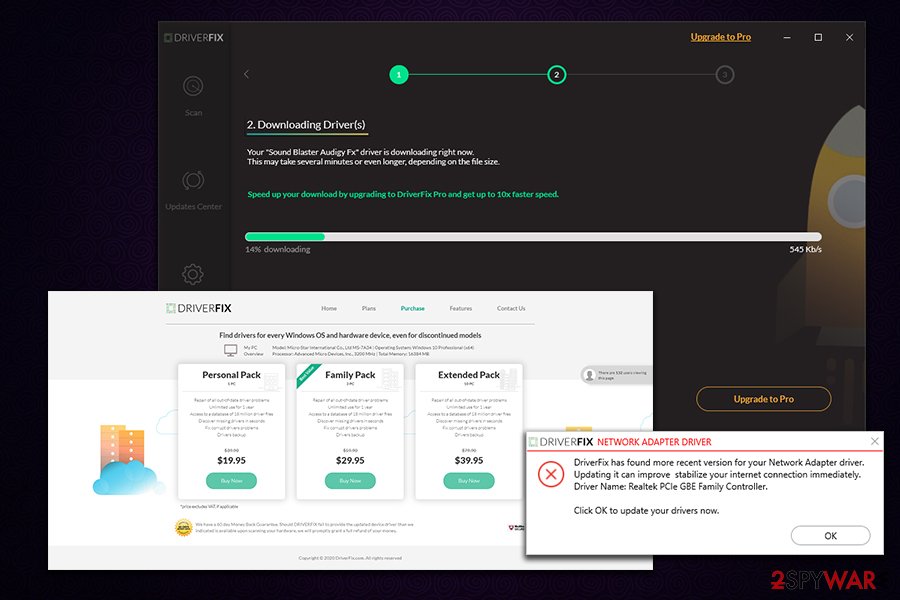 DriverFix might show misleading pop-ups about performance of certain Windows components
DriverFix removal instructions
You should not have much trouble with DriverFix removal, as the app should show up in the installed application list. To reach it, you have to access the Control Panel – we provide all the instructions below in case you would have any difficulties with the process. However, in case the app showed up on your machine unexpectedly, we highly recommend checking your PC for other potentially unwanted software.
Once you remove DriverFix from your machine, you can also go through the list of the installed applications and look for suspicious entries – uninstall everything you do not recognize. If you are unsure about this, you should rather employ a powerful security application to do the job for you – it would also check your machine for the invisible malware.
In case you find adware or other potentially unwanted programs that deliver intrusive advertisements, and they don't stop after uninstalling all the bad apps, you should also reset the installed web browsers for best results as we explain below.
You may remove virus damage with a help of Reimage Reimage Cleaner Intego. SpyHunter 5Combo Cleaner and Malwarebytes are recommended to detect potentially unwanted programs and viruses with all their files and registry entries that are related to them.
This entry was posted on 2020-05-27 at 05:48 and is filed under System tools, Viruses.