"Deceptive Site Ahead" is a legitimate pop-up that prevents people from accessing malicious websites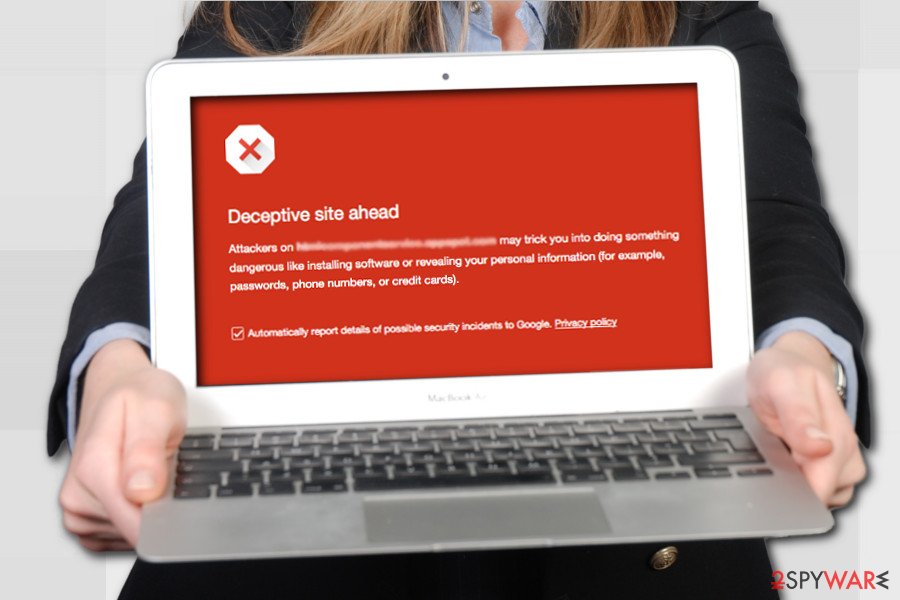 "Deceptive Site Ahead" warning informs about social engineering websites.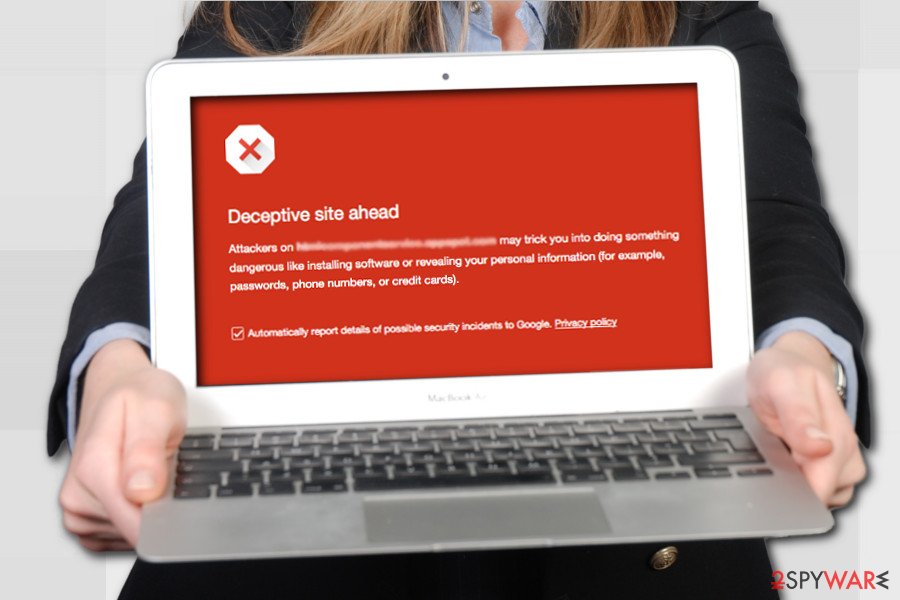 "Deceptive Site Ahead" warning informs about social engineering websites.
"Deceptive Site Ahead" is a pop-up window that can emerge when trying to open a random website while browsing the Internet. It warns the PC's user about a risk he or she takes when accessing the infected domain. If you are currently witnessing the "Deceptive Site Ahead" pop-up alert, do not try to bypass it, otherwise you can put your privacy and security at risk by entering a phishing site or malware infected domain.
Name
"Deceptive Site Ahead"
Type
Legitimate security alert
Purpose
Protect people from accessing phishing, malware-infected websites
Symptoms
A pop-up window in a red background saying "Deceptive Site Ahead" shows up when trying to access suspicious website
EXCEPTION
"Deceptive Site Ahead" pop-up can be misused by hackers and turned to tech-support-scam alert. If it contains a telephone number, do not call for it as you can be tricked into downloading useless software or giving away your money to crooks for useless services.
Removal
In case the pop-up you are seeing seems to be scam, download

Reimage

Reimage Cleaner

and run a scan with it to remove PUPs from your PC.
Google Safe Browsing services[1] have created this message in order to protect people from unsafe online content. This service scans websites and looks for deceptive buttons, for instance, download buttons[2] that install software from unrelated and unreliable third-party sources. Deceptive website warning is basically designed to keep you away from web pages and content that can put your privacy at serious risk.
Chrome Deceptive Site Ahead message might also show up before entering social engineering[3] websites, for example, phishing[4] or deceptive sites. Internet sites that are marked as potentially dangerous might trick people to install suspicious software or disclose sensitive information. Therefore, before entering an unreliable site, it is likely you will see this message:
Deceptive site ahead.
Attackers on [site url] may trick you into doing something dangerous like installing software or revealing your personal information (for example, passwords, phone numbers, or credit cards).
After seeing Google Deceptive Site Ahead on Unanalytics.com and similar websites, you should not become worried about your computer's safety. It's not infected yet. This is merely a warning that it is better to keep away from the website you were attempting to visit. By clicking on the details and choosing to simply ignore the warning you can continue to the desired site, yet it is not recommended. In this case, you should install Reimage Reimage Cleaner on your computer which will help you prevent potential malware and other dangerous programs.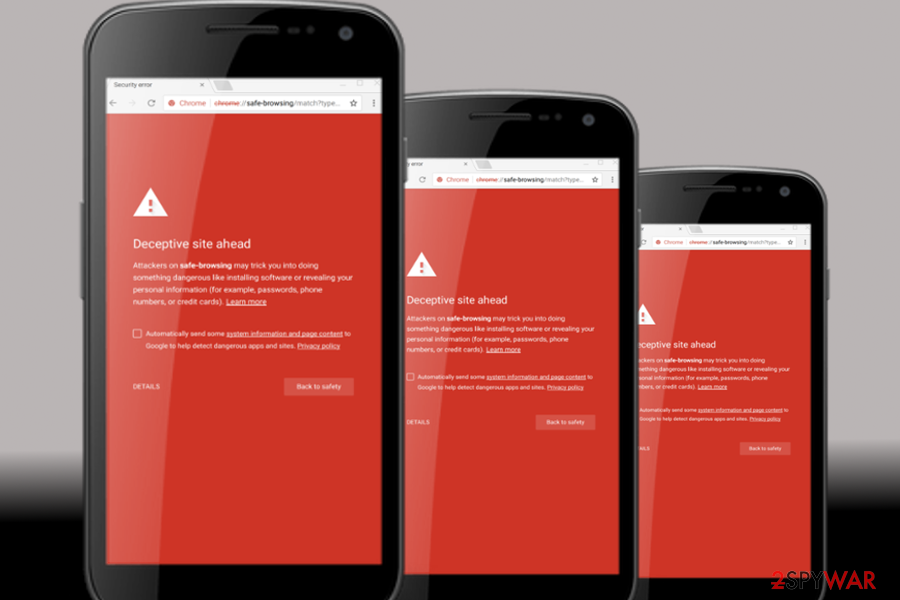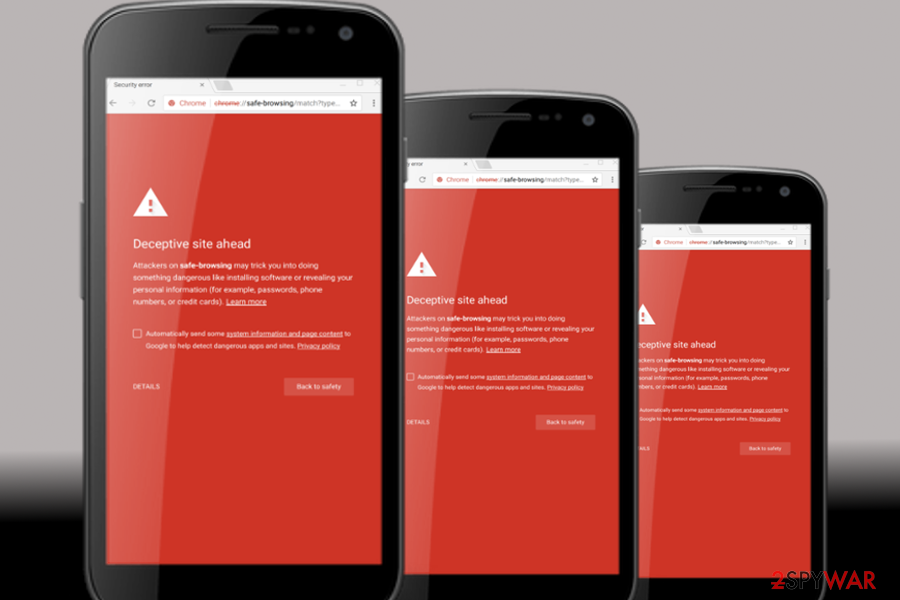 Users looking for ways how to get past Deceptive Site Ahead warning put their security and privacy at great risk because the alert does not appear without reason. Whatever the reason might be, it can compromise your computer or steal private information about you, and we are sure that you do not want that to happen.
Of course, some legitimate sites may be flagged as well because of the advertising displayed on them, but such issue can be fixed with a little bit of effort.
The webmaster of the flagged website has to visit a special Google support page[5] which offers a guide explaining how fix the issue causing the warning to appear. Then, the potentially deceptive content of the site has to be indicated. It can be done via Google Webmaster Tools.
The removal itself may take a while because the website administrators must find and terminate the sources of the potentially dangerous content. Only then, the site can be reviewed and evaluated by Google. Despite the lengthy procedure, the legitimate sites usually deal with this issue as their owners do not want to scare away the visitors. Therefore, usually, the sites which display "deceptive site ahead" instead of their site's content should be avoided.
IMPORTANT: crooks can take advantage of Deceptive Site Ahead warning and turn it to a Tech-Support-Scam. In other words, criminals camouflage a legitimate warning, except as they include a telephone number and urge gullible people to call for support. That's a catch that can lead to money loss or malware infection. If you randomly receive a Deceptive Site Ahead pop-up with a number of "certified technicians," force close your web browser and scan your PC with Reimage Reimage Cleaner to eliminate malware.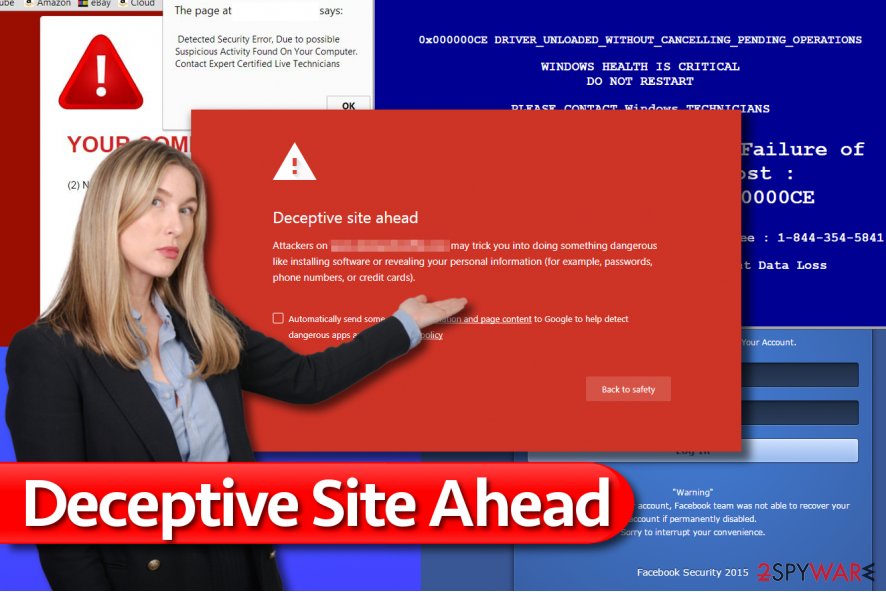 "Deceptive Site Ahead" is a warning from Google Chrome browser that prevents you from entering malicious, deceptive or phishing websites.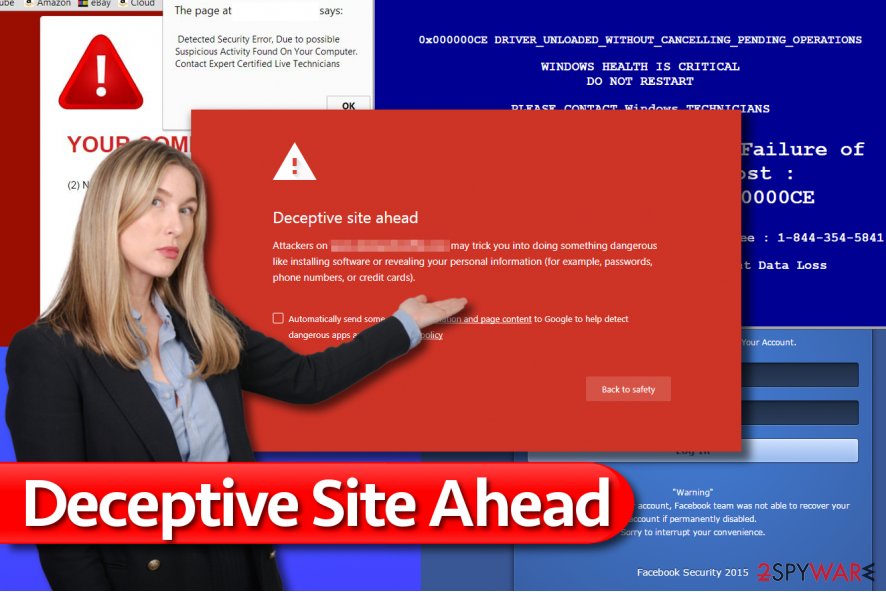 "Deceptive Site Ahead" is a warning from Google Chrome browser that prevents you from entering malicious, deceptive or phishing websites.
Get to know what sites Google marks as potentially dangerous
Essentially, there are three types of potentially dangerous sites which may be included into Googles "black list":
Sites that pretend their content to be legitimate and trusted;
Sites which content tries to trick the users into sharing login details or calling tech support;
Sites which contain deceptive download buttons.
On 2-spyware.com, we have already discussed a number of such sites. Any of the browser hijacker websites can fall under the first category of websites that may act as a legitimate search engine, including Delta-homes.com, Yoursites123 and similar. The second category is usually associated with sites which spread adware and scareware-type programs, such as Intelli-support-assistant.com or Adsystemscan.com. Such highly unwanted sites and browser applications are also defined on other security-related sites such as Dieviren.de[6].
Finally, the fake download buttons can be inserted into any random sites, especially, on obscure software download, file-sharing sites, etc. Nevertheless, sometimes the malicious website creators may bypass the Google filter and load regularly on your browser. In such case, you should keep your system equipped with a reputable anti-malware tool, such as Reimage Reimage Cleaner .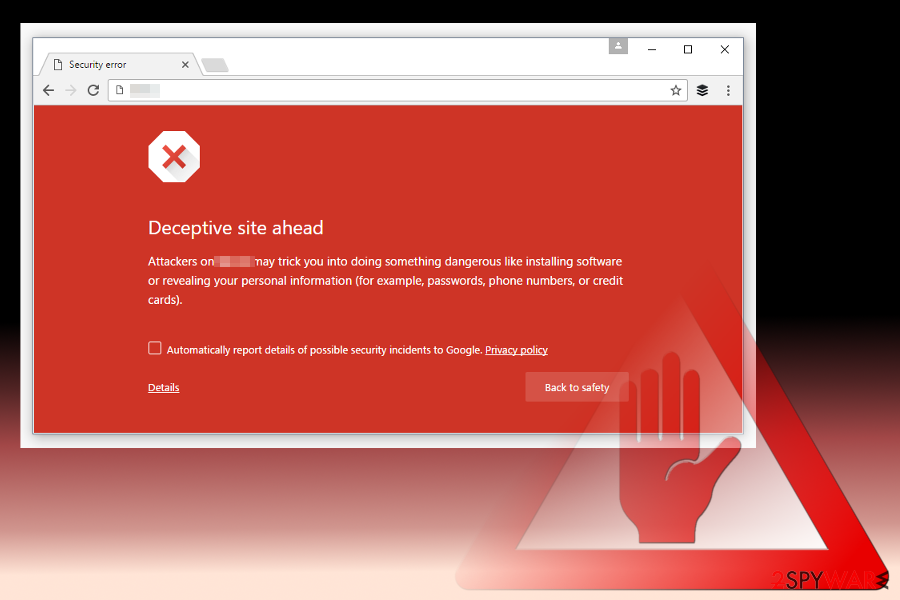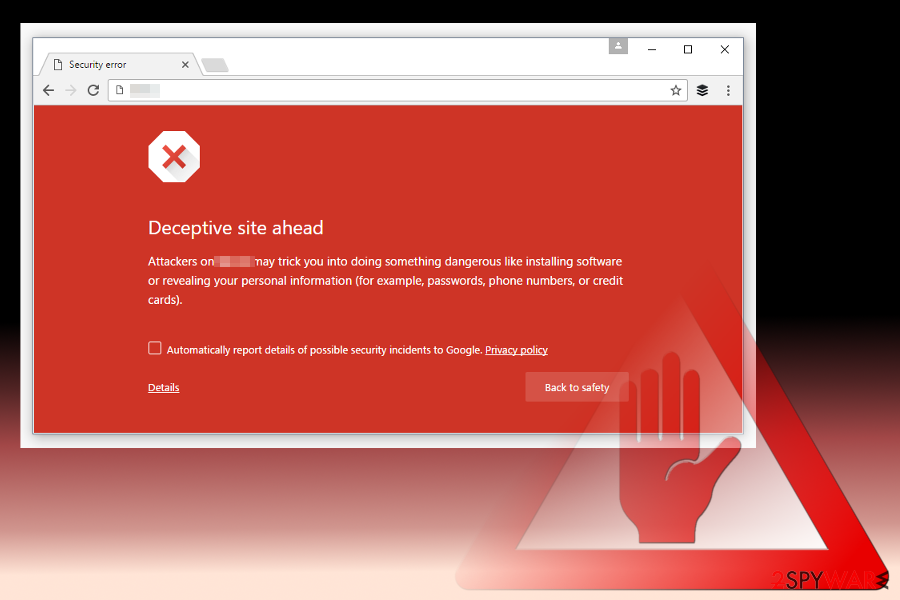 Fix "Deceptive Site Ahead" issue
Even though it is not advisable to remove "Deceptive Site Ahead" filter from your browser, you can do that by following these simple steps:
Start Google Chrome.
Click "Menu" or "More" icon in the upper-right corner.
Select "Settings" and "Show advanced settings".
Go to "Privacy" and deselect "Protect you and your device from dangerous sites."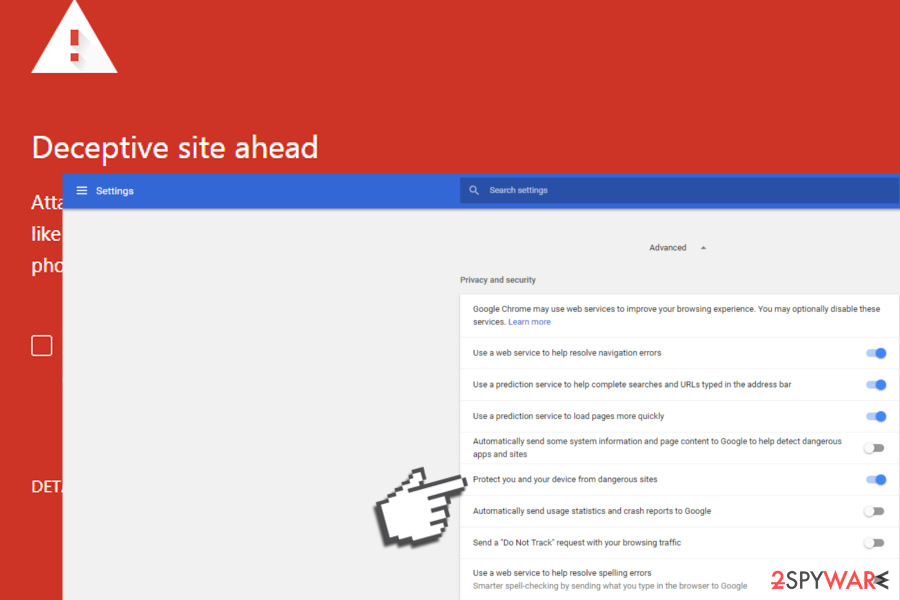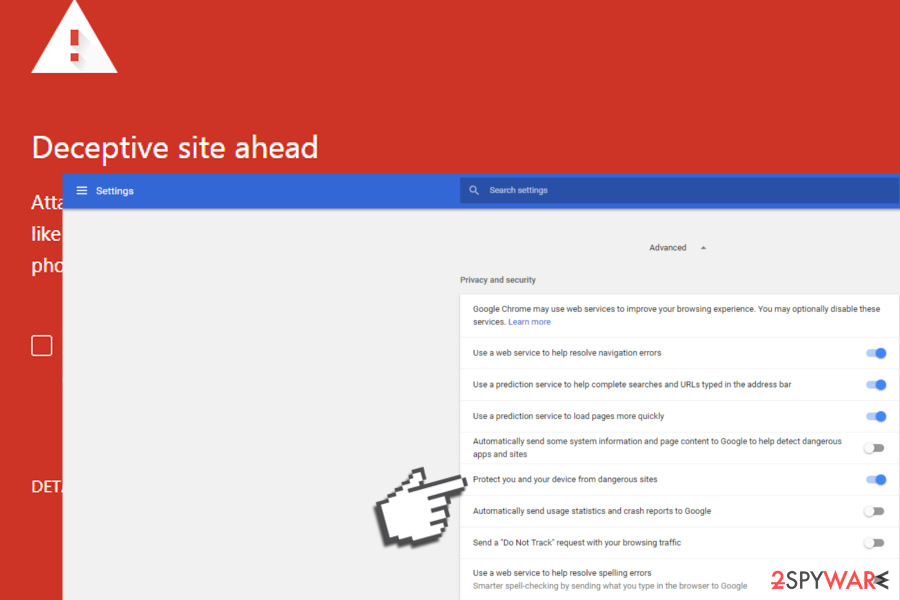 If you follow these instructions, your browser should not display such warning messages anymore. However, you will have to protect your computer from the cyber threats by some other means.
We recommend obtaining a reliable antivirus and anti-malware protection system, which is capable of eliminating viruses from your computer as well as guarding you against these threats in real-time browsing. Take our advice and strengthen your computer's security with Reimage Reimage Cleaner .
Although deceptive site ahead fix makes the described alerts disappear, we would like to remind you that Google Chrome browser displays them for your own good. Therefore, if you see the described message too frequently, ask yourself whether websites you are interested in are trustworthy.
This entry was posted on 2020-02-18 at 08:41 and is filed under System tools, Viruses.