ConsumerProductsUsa is a survey scam that harvests a variety of personal information to spams users with promotional offers via phone and email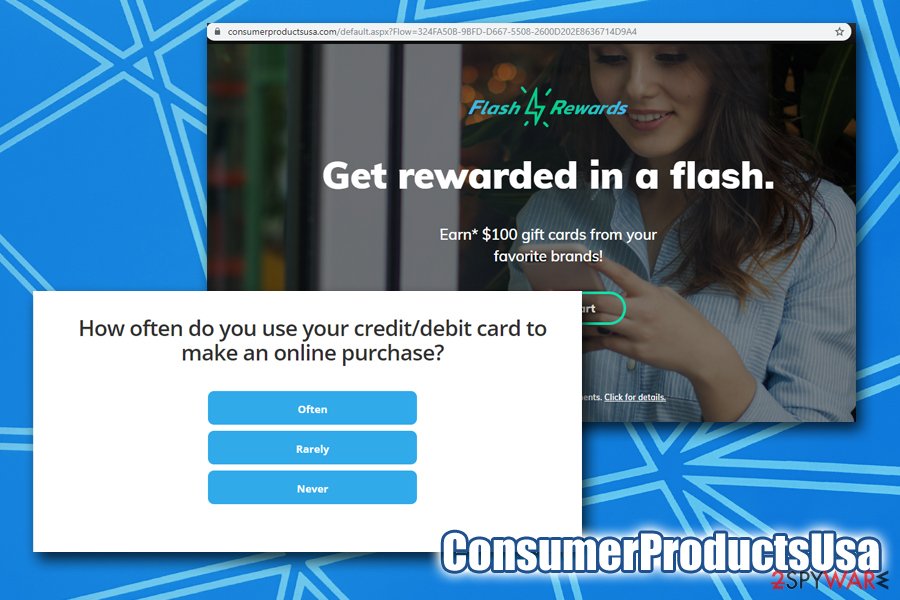 ConsumerProductsUsa is a scam website that tricks users into disclosing their personal data
ConsumerProductsUsa is a website that allegedly allows users to claim Amazon, eBay, Walmart, or Visa Gift cards for free. However, once users try to claim the prize, they are presented with a variety of personal questions (a survey) and then are asked to enter their personal details, including name, home address, email, phone number, and similar information. Even if users agree to provide the required data, they are then forced to visit affiliated sites that could offer to download malicious software or ask to disclose credit card details. Without a doubt, ConsumerProductsUsa is a fraud[1] and should not be trusted.
For their efforts, users are promised to be rewarded greatly: $100 Gift Card and also multiple offers which supposedly meant to save users time and money. However, just as many other ad campaigns, ConsumerProductsUsa fails miserably to deliver what it initially promises and only seeks to use users' personal information in promotional campaigns that spam users with pop-ups, deals, offers, coupons, and other flashy ads. Besides, users might also be offered to install potentially unwanted programs,[2] showed fake Java update notifications, and infect their machines with malware via the insecure ConsumerProductsUsa service.
Name
ConsumerProductsUsa
Type
Survey scam
Developer
Deliver Technology LLC
Related
National Consumer Center
Offers
Users are offered various deals and offers, as well as $100 Amazon, eBay, Walmart or Visa Gift cards for their efforts in completeing the survey
Targeted
ConsumerProductsUsa aims to collect the information from the US citizens
Potential dangers
Disclosure of personal information to unknown parties (possibly cybercriminals), exposure to malicious programs online
Removal
If you installed any applications, you should immediately scan your device with anti-malware software to ensure its security
Further actions
If you entered your sensitive information on ConsumerProductsUsa or any other sites that are were promoted via it, make sure you change all your passwords immediately
Recovery
For best results, perform a full system scan with

Reimage

Reimage Cleaner

to fix virus damage and reset all the installed browsers
The main concern of ConsumerProductsUsa scam is the amount of information it collects – it includes:
Name
Post code
E-mail
Phone number
Gender
Date of birth
IP address
Device ID
Browser-related data
Referring URL
As evident, all the gathered data is carefully aggregated and shared with multiple parties, including parent companies, subsidiaries, and other partners. The problem with this is that ConsumerProductsUsa might connect users to insecure sites, and make them expose even more information, including credit card details. Without a doubt, such extensive information tracking might lead to multiple negative consequences, including identity theft.
We highly advise users staying away from ConsumerProductsUsa Gift Card scams, as well as ConsumerProductsUsa ads in general. One of the worst ideas would be to download additional programs that might be suggested when browsing the deals and offers on the site.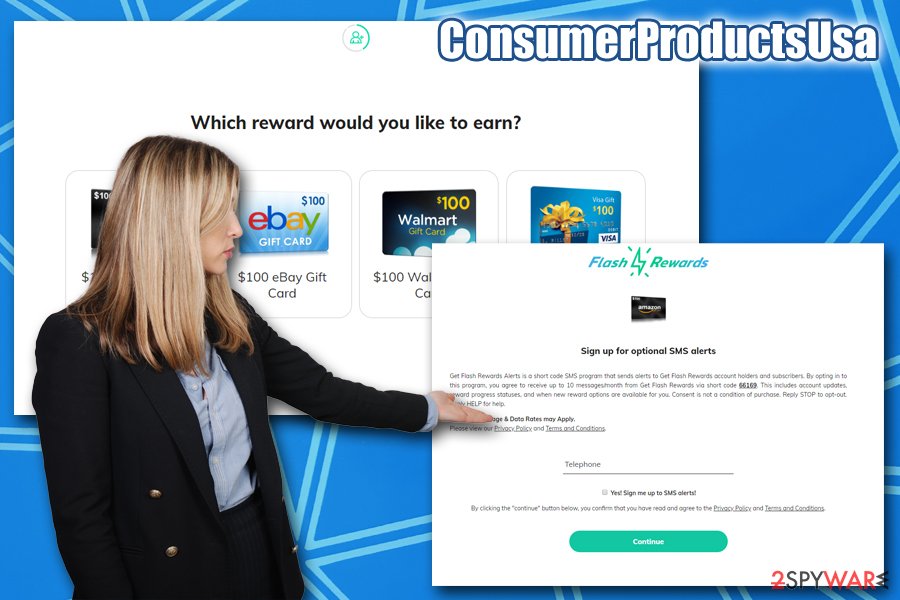 ConsumerProductsUsa is a website that operates a scam scheme that promises users $100 Amazon or other gift cards
If you installed any type of application, there is no guarantee that your computer safe anymore. In such a case, security experts[3] highly advise users to scan their machines with anti-malware software like SpyHunter 5Combo Cleaner to remove ConsumerProductsUsa virus along with other potentially unwanted programs or malware that could be residing inside the computer.
If your security app finds something, we also advise you immediately perform ConsumerProductsUsa removal and also reset all the installed browsers, change passwords of all your accounts and also scan the device with Reimage Reimage Cleaner .
To conclude, many users do not read the terms that ConsumerProductsUsa provides, as they are cleverly hidden within site:
Completion of deals usually requires a purchase or entering a paid subscription program for goods or services. Rewards are limited to 1 reward of any kind per household (persons living at the same address) and you cannot begin earning another reward for 1 year after completing the required deals for a Tier 1 Reward or 2 years after completing the required deals for a Tier 2 Reward.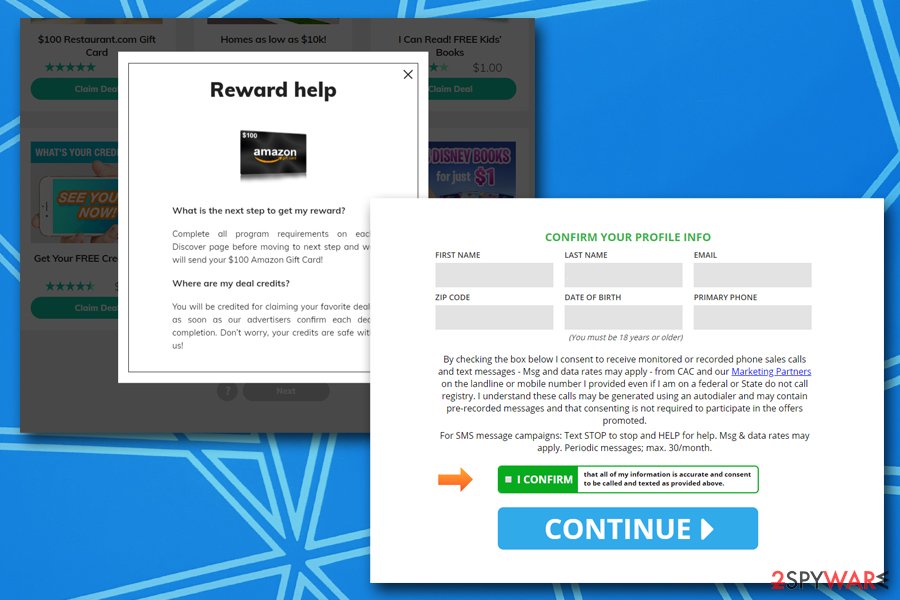 The true purpose of ConsumerProductsUsa is to make users provide personal information that is later shared with third-parties
If it sounds too good to be true – it most likely is. Avoid being tricked by deceptive marketing practices
Advertising is one of the biggest businesses in the world, and it is greatly practiced online, as many users buy and look for new items online regularly. That is why the internet is used by many to expose users to intrusive ads that promote various deals. However, this practice is extremely deceptive, as the coupons and deals are there to make money for various marketing companies (as well as bad actors) that seek to monetize on ads. Unfortunately, the practice brings no benefits to end-users, and they may install unwanted software on their computers after being tricked, or expose their personal information.
Therefore, don't believe everything you see on the internet – the allegedly free Amazon/eBay and other gift cards are not free. By entering your information and providing it to the scam authors, you are allowing them to use that data as they please, meaning that your phone number and email can be used to send you spam messages by various vendors. Usually, redeeming the promised gift cards or free items is impossible, as users are often prompted to provide their credit card details, and would be charged later for unknown service without their permission.
Stay away surveys originating on suspicious websites, as well as those that offer too-good-to-be-true gifts. In the end, you will end up spending the same amount of money on the alleged present costs, and you will also be spammed with unending ads on your computer and phone.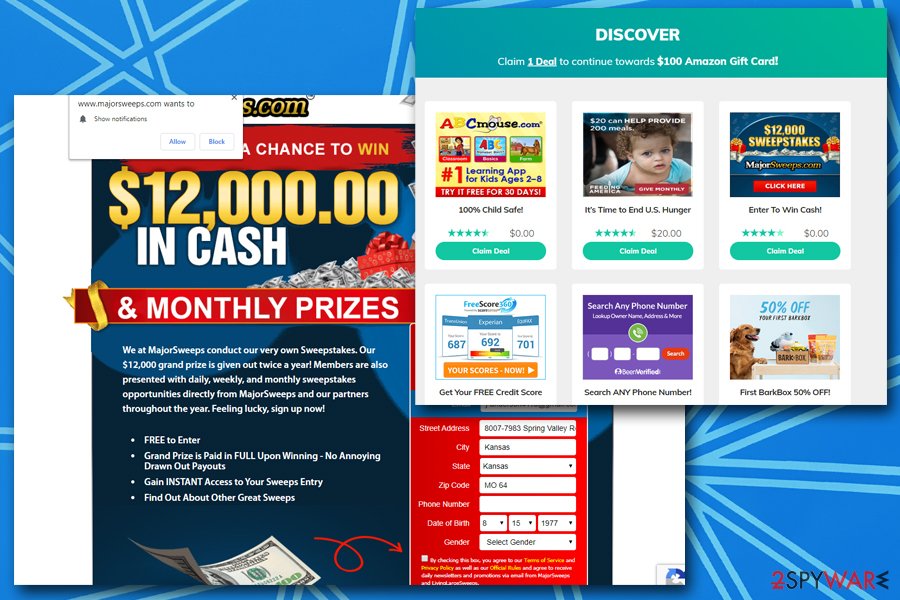 After registering on ConsumerProductsUsa, users are prompted to go to affiliated sites and provide more personal details
Remove all apps installed via ConsumerProductsUsa offers and chance your passwords
Providing information to third parties is quite risky, especially when they are not renown and reputable company. Therefore, provide as little information as you can and never agree to enter surveys unless you are sure that they are coming from reputable parties – ConsumerProductsUsa is definitely not one of them.
When it comes to ConsumerProductsUsa scam, there is a chance that you were convinced to install an application on your computer from an affiliated website. We highly advise you remove ConsumerProductsUsa-related programs from the machine as soon as possible. Additionally, we also recommend resetting all the installed browsers to eliminate implanted cookies, pixels, and other tracking technologies that might be used by the site.
If you entered any personal details on ConsumerProductsUsa or similar sites, you should immediately reset all your browsers as a precautionary measure, as the data that is inadequately protected might be leaked to cybercriminals.
You may remove virus damage with a help of Reimage Reimage Cleaner . SpyHunter 5Combo Cleaner and Malwarebytes are recommended to detect potentially unwanted programs and viruses with all their files and registry entries that are related to them.