Congratulations, you won! — a scam offering valuable prizes for Chrome users in exchange for answering questionnaires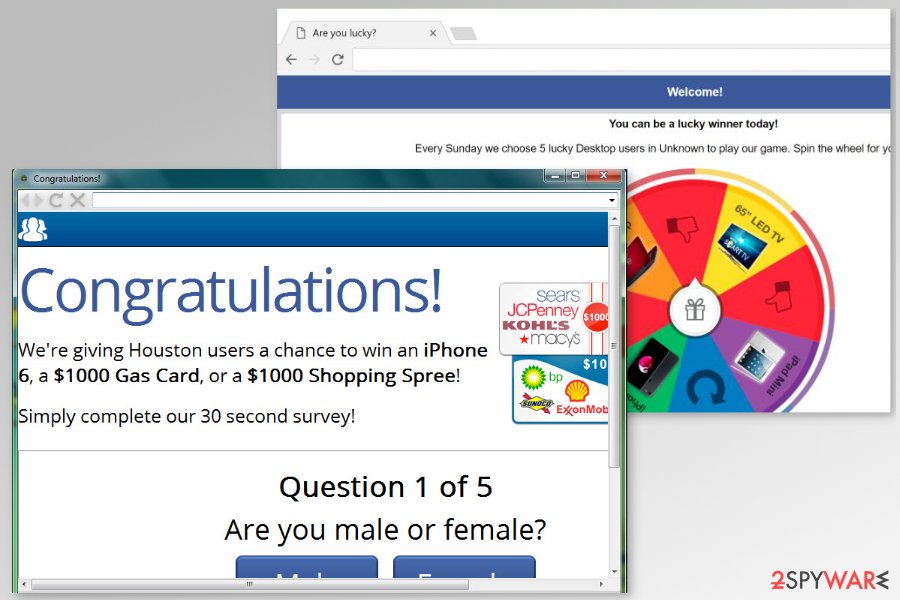 "Congratulations, you won" is a widespread internet scam[1] that has been popular for several years now. These alerts are typically triggered on Android (mostly Samsung), iOS, Windows and MacOS. No matter how harmless such scams seem, keep in mind that their one and only aim is to swindle users' personal information. Congratulations, you won virus poses as a lottery promising tempting prizes (iPhone, Samsung phones, Walmart or Amazon gift cards or other prizes) in exchange for answering a few simple questions. Unfortunately, in the final stage, such surveys lead users to a form suggesting them enter their email address, full name or even credit card information. This information might be used for further crimes, including credential stuffing,[2] identity theft, etc.
Name
Congratulations, you won
Also known as

Congratulations, You have been selected;
Congratulations, Google user! You are our winner today!
Congratulations, Samsung user

Caused by
Potentially unwanted program; adware
Main Aims
To swindle users' personal information; generate income from sponsored content
Main risks
Identity theft, money loss
Symptoms
The continuous reappearance of misleading ads on the web browser offering fake prizes
Ways to fix the problem
Uninstall adware from the system and reset the affected web browsers. Next, scan the system with

Reimage

Reimage Cleaner

to fix virus damage, e.g. system files and other components
Congratulations, you won meme might look believable (especially for inexperienced users) because of the theme used. At first glance, it looks just like any pop-up window from Microsoft Corporation. Please be aware that scammers put a lot of resources and effort to make these type of scams to seem convincing. Thus, the pop up has nothing to do with Microsoft and is designed to deceive unsuspecting users.
Congratulations, you won website might be altered based on the users' location, device, and other browser preferences because adware can track, monitor and collect information regarding your browsing history, most viewed sites and searched items. Fake reward messages may state:
Congratulations, you won a Google gift;
Congratulations Samsung user;
Congratulations, you won $1000 Walmart Gift Card;
Congratulations, you won an iPhone;
Congratulations you have been selected;
etc.
The cyber threat which is hiding behind this scam is stating that you have won an expensive prize that you can claim once you complete a short survey which consists of three questions. However, the Gift Card or an iPhone can be requested after you enter your full name, email address or even log in to your online banking account.
Remember that these specific survey questions given in the Congratulations, you won gif are extremely straightforward and are designed to convince users that it is particularly easy to obtain a valuable gift in just three steps. The following text is displayed in the pop-up:
"Congratulations User!
You have been selected today to receive a FREE iPhone X, PlayStation 4 or Samsung Galaxy S6!
Please click OK to claim the prize before we giveaway to somebody else!"
The time limit can also be given, so you are rushed to complete the survey within two minutes or so.[3] Otherwise, the gift is said to be given to somebody else. This is a common trick used by scammers to catch users at the right moment and lead them to fear of losing the promised free prize. However, as we have already said in this article, get rid of Congratulations, Samsung user without a doubt because it is a scam.

Congratulations, you have won is yet another version of the meme that focuses on getting sensitive data from users
What happens after falling for the scam
If you happen to fall for this scam and proceed with the offer, you will be prompted to enter your telephone number and then has to register for a service (which costs $5 a week) that you certainly do not need. As mentioned many times, decline all offers coming from Congratulations, you won meme. However, note that it doesn't eliminate the roots of the issue. For that, you will have to run a full system scan on your computer.
"Congratulations, you won!" might also:
deliver intrusive ads;
redirect to malicious websites;
gather non-personally identifiable information (URLs visited, IP addresses, search queries, etc.);
sell or share aggregated information with third-parties;
Keep in mind that ads generated by potentially unwanted programs might lead to malicious websites that could download and install various malware. Therefore, you should speed up with Congratulations, you won removal. Also, do not forget that scam messages may appear on various devices with different operating systems.
When trying to figure out how to get rid of Congratulations you won virus on iPad, iPad or another device, use a reputable anti-malware tool for the OS your machine is based on. You can find trustworthy apps in the App Store and some of the programs that we offer below also have mobile versions. Also, recent scam campaigns targeted Android users, you can find removal instructions down below.
Security experts provide two methods to remove Congratulations, you won virus from the system. You can defeat it bare hands by following the guide below. Afterward, scan the system with Reimage Reimage Cleaner to wipe out the leftover changes caused by the virus.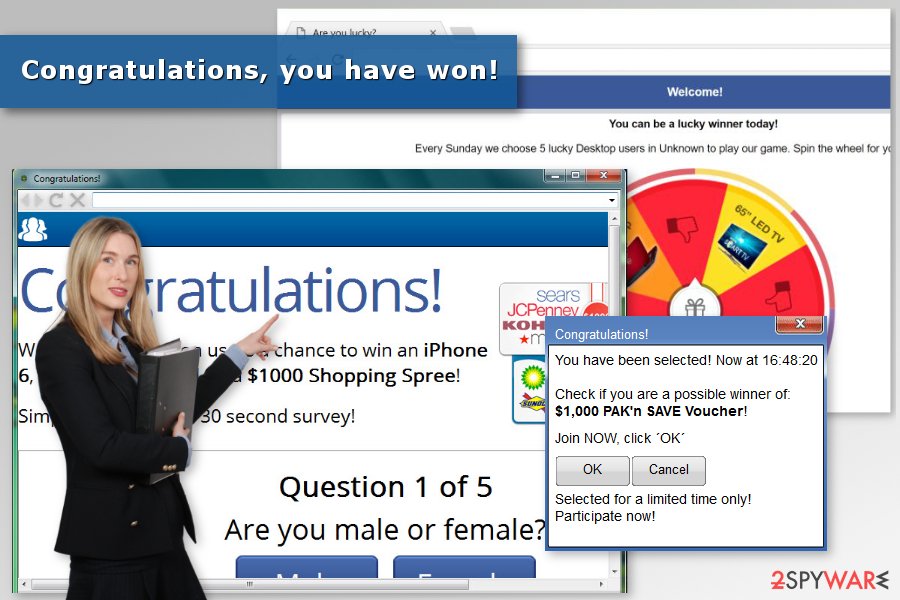 "Congratulations, you won" virus is an adware seeking to trick users into falling for suspicious surveys where they have to enter personal information, such as phone number.
Congratulations, you won virus is an adware spreading with the help of bundling
The most common way of a PUP getting into your system is with bundling. Typically, users tend to install free software from the internet while using Recommended settings and skipping steps. However, if Advanced/Custom modes are not used, PUPs might sneak into the computer. Therefore it is highly recommended to always use Advanced settings and opt-out of any unwanted programs (browser toolbars, optimization utilities, etc.).
To protect yourself, you should also follow these security tips provided by Utanvirus.se[4] specialists:
Download software from official sources and never use third-party or Torrent websites;
If you need to update your software, always visit official websites instead of clicking on pop-ups generated from dubious sites;
While installing software, carefully read through terms and conditions and untick any unwanted programs while in Advanced mode;
Obtain an anti-malware/anti-adware software that offers real-time protection.
Get rid of Congratulations, you won scam from Android or iPhone
Congratulations, you won! virus has been actively spreading on Android and iOS devices. If your iPhone, iPad or other dives has been interrupting you with ads offering the reward or valuable prize, there is a great chance that your system is infected with the Fakeyouwon malware or similar virus.
To uninstall Congratulations, you won from Android, follow these steps:
Scan the device with reputable anti-malware tool for Android.
Reboot the device in Safe Mode:
When in Safe mode go to Settings and click on Apps or Application manager.
Look for suspicious apps and uninstall them.
If the problem persists, perform factory reset:
Go to Settings.
Select Privacy and Factory reset.
Back up your data before the reset.
Reset device to remove the virus.
To get rid of Congratulations you won from iPhone, use the guide given below:
Go to Settings;
Tap on Safari icon;
Select Clear History and Website Data;
Close the window.
Additionally, follow these steps:
Go to Settings -> General;
Tap on Erase All Contents option.
Get rid of Congratulations, you won virus for good
Fortunately, it is relatively easy to remove Congratulations, you won virus from Windows or MacOS. If you are a proficient user, please follow the step-by-step guide below, presented to you by our experts.
Please be aware that you need to follow every step carefully and in the correct order, otherwise the PUP might be re-installed after a restart of your browser/computer.
If you are having issues with manual Congratulations, you won removal, you can use an anti-malware software as it can detect the unwanted program, delete all its registries and related files with ease.
You may remove virus damage with a help of Reimage Reimage Cleaner . SpyHunter 5Combo Cleaner and Malwarebytes are recommended to detect potentially unwanted programs and viruses with all their files and registry entries that are related to them.