ClickPotato – an adware app that appears on computers with third-party software such as the VLC media player and Xvid codec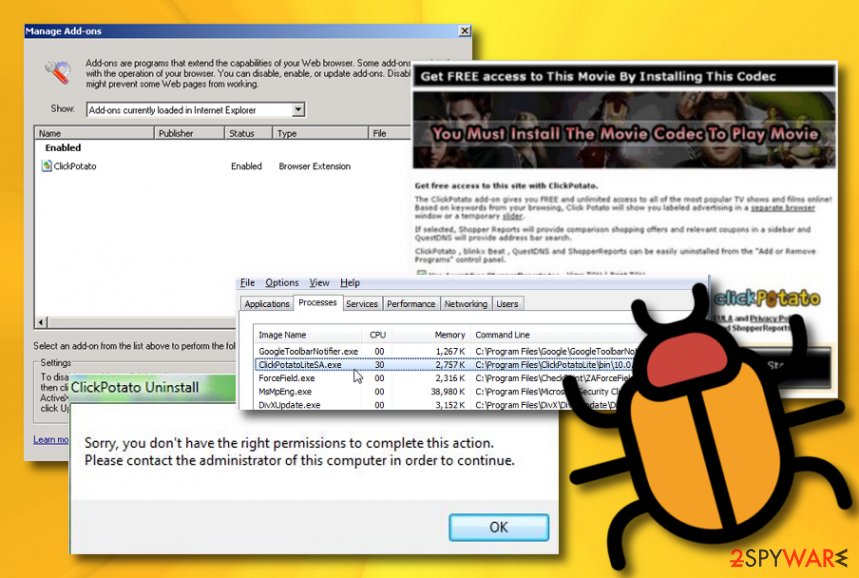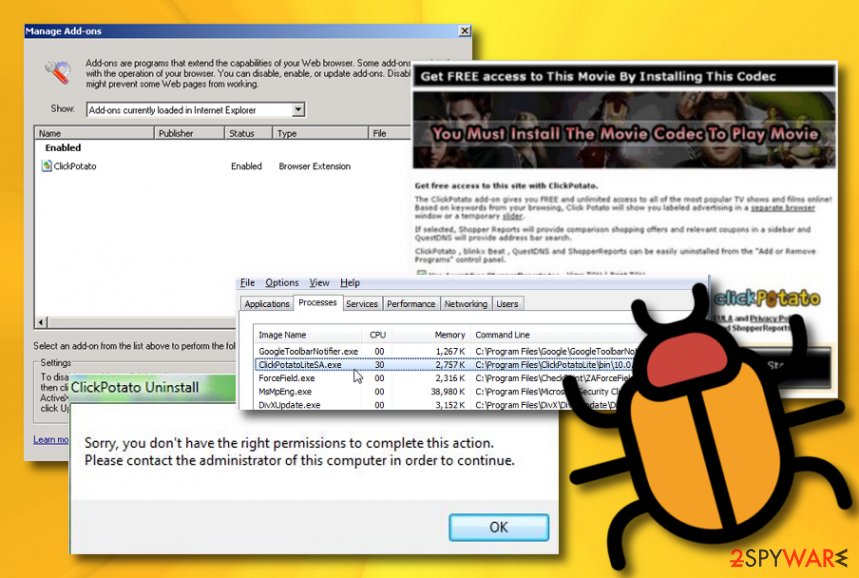 ClickPotato, sponsored by Pinball Corporation, is an adware app that can bring other PUPs[1] such as HotBar, ShopperReport, and Zwangi to the computer. The adware drops pop-ups that encourage users to install some type of Movie Codec tool to watch a movie. According to Microsoft, this type of suspicious product mostly infects web browsers such as Internet Explorer and Mozilla Firefox but can also appear on other browsing apps such as Chrome, Edge, and Safari. Also, ClickPotato virus can bring the ClickPotatoLiteSA.exe process to the computer system and include it in the Windows Task Manager.
It is known that ClickPotato can get downloaded together with other free software such as Xvid codec, VLC media player, Easy Video, FLVBlaster, OpenOffice, Lime Wire, eMule, Audacity, 7zip, and ARES 2010 version. These types of programs can be downloaded from third-party downloading sources such as cnet.com, brothersoft.com, and softonic.com.
Name
ClickPotato/Adware.ClickPotato
Type
Adware app/potentially unwanted program
Sponsor
Pinball Corporation
Goal
This suspicious app provides movie-watching offers that can be accepted by installing some type of Movie Codec tool
Other apps
During the installation process, the PUP can appear together with other adware apps such as HotBar, ShopperReport, and Zwangi
Bundling
The app can come bundled with third-party products such as VLC media player, Xvid codec, Easy Video, OpenOffice, Lime Wire, Audacity, FLVBlaster, ARES 2010 version, and 7zip
Related file
When the adware appears on the computer system, it can bring the ClickPotatoLiteSA.exe process and place it in the Windows Task Manager
Elimination
You can get rid of the potentially unwanted program with the help of reliable antimalware software or by using the manual step-by-step guide that has been added to the end of this article
Fix software
If you have discovered any altered areas on your computer, you can try repairing them with

Reimage

Reimage Cleaner
Adware.ClickPotato can arrive as a browser helper object[2] to your Internet Explorer web browser or as a plug-in on Mozilla Firefox, Google Chrome, and others. Afterward, you are very likely to get loaded with offers to watch some types of movies by downloading the Movie Codec tool. You should not follow this type of suggestion as you cannot know what type of virus you might install on your computer system.
Some users claim that they have been encountering trouble while trying to uninstall ClickPotato from their machines. One person complains that he is not able to get rid of the program even while logging into the administrative profile.[3] This is the type of message that he receives:
Sorry, you don't have the right permissions to complete this action. Please contact the administrator of this computer in order to continue.
Watching movies online for free is a common and highly desired activity for most Internet users. Thus, Click Potato might catch your attention. This program is a potentially unwanted program deemed as adware. It works as an add-on which imprints its toolbar into the browser. It offers users to access the movie streaming website instantly.
Nonetheless, this program might cause more disturbances rather than benefits as it aims to bring profit for the developers only. Find out more about the drawbacks and possible ClickPotato removal options in the following sections of this article.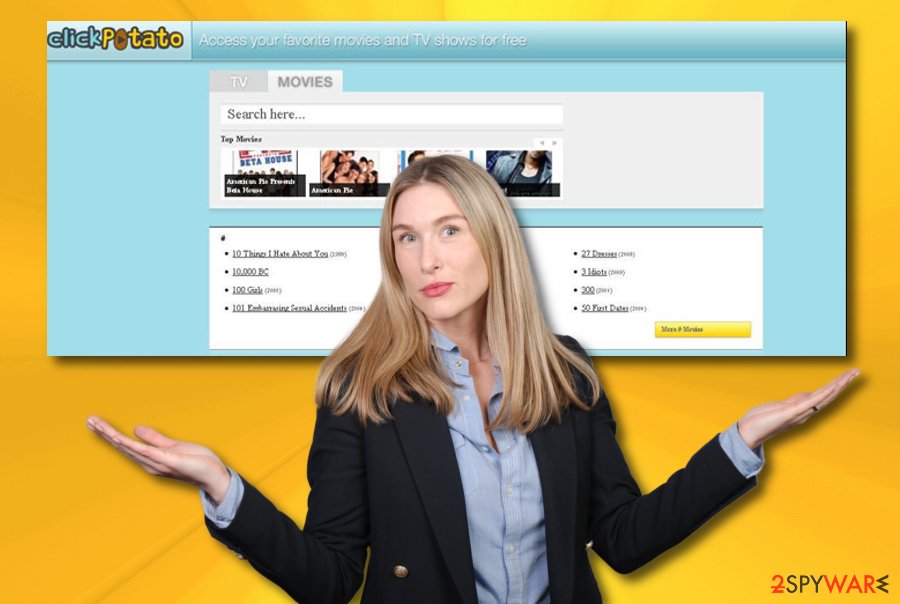 ClickPotato is adware that can bring other potentially unwanted programs to the computer system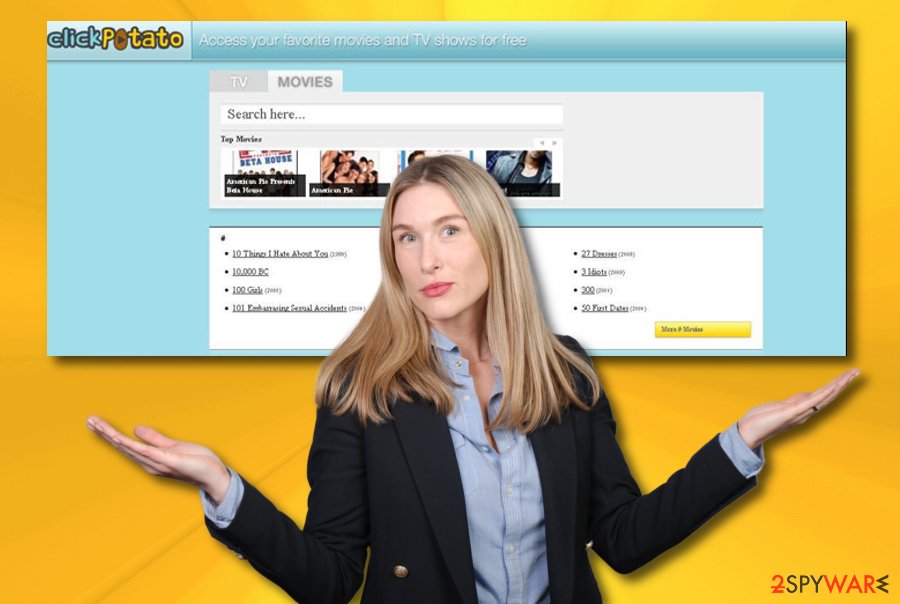 ClickPotato is adware that can bring other potentially unwanted programs to the computer system
Searching for a website where you can watch movies online comprises a significant part of the majority of users' online activities. Thus, the scammers, being aware of this demand, have created this PUP offering such utility. However, this program would not have caused suspicion for IT specialists if not for its excessive advertising. The popping-ads of ClickPotato redirect you to possibly malicious websites.
You might often find yourself on gaming or other movie streaming websites. If you scan your computer after such visits, it might reveal that there are several PUPs residing on your computer. On their behalf, they might supply you with more ClickPotato ads. The emerging advertisements might exceed your patience limits even if you boast about being the most patient person.
Furthermore, ClickPotato might warn you in an additional pop-up window that it tends to collect the information about your commonly visited domains, browsing frequency, and geographical information. Are you wondering who might benefit from this type of activity? Such a compilation of data is of high value for advertising companies that use the gathered information for generating relevant advertisements.
Since they processed the information and identified what is relevant and intriguing for certain groups of users, they try to attract as much attention as possible with their pay-per-click ads. The third-parties which get a hold of your data receive income while you get a vivid stream of commercial offers and banners flooding your browser. Thus, the sooner you remove ClickPotato, the better.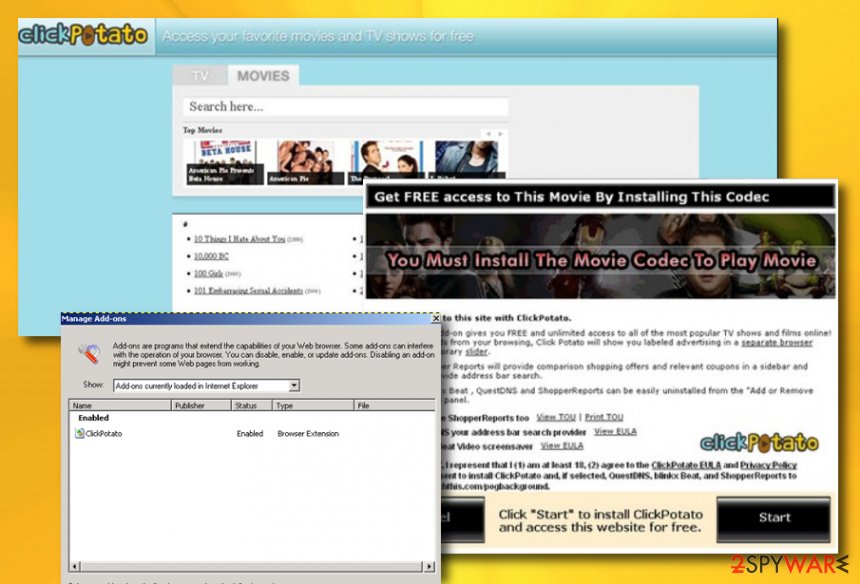 ClickPotato – a potentially unwanted program that installs as a browser helper object in Explorer and a plug-in in Firefox and other browsers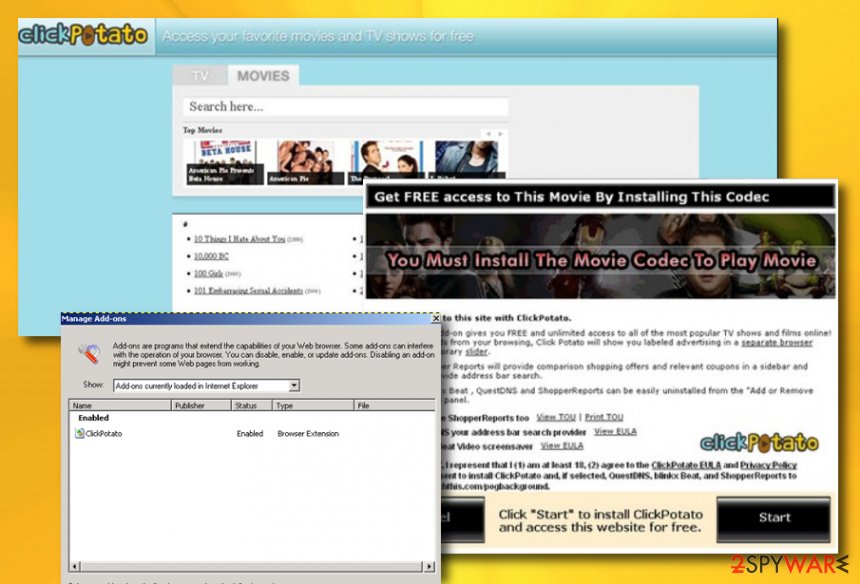 ClickPotato – a potentially unwanted program that installs as a browser helper object in Explorer and a plug-in in Firefox and other browsers
If ClickPotato has appeared only on a couple of untrustworthy networks and websites, there might be no infection residing on your device. To check this possibility, perform a full system scan and view the results. If your AV tool does not find any adware in your system, you can try blocking the incoming ads with the help of AdBlock[4] or Adblock Plus.
However, if the scan results reveal that ClickPotato is an adware program hiding in your computer system, you should definitely remove the app and all the additional products that it might have brought. Also, if you have spotted some altered areas on your Windows or Mac computer system, try repairing them with the help of Reimage Reimage Cleaner .
The transmission of adware programs
Cybersecurity specialists from LesVirus.fr[5] claim that adware viruses are delivered by employing stealth distribution techniques. The most simple way to receive a potentially unwanted program is by downloading freeware and shareware from an unsecured third-party downloading source such as cnet.com, download.com, or softonic.com.
This mostly happens to people who download various VLC players, download managers, PDF converters, and similar products without paying enough attention to the downloading process. So, once you are installing a piece of software, you have to look at each step and opt-out of unknown additional products that you are prompted to download. Besides, always choose the custom or advanced downloading mode only as this one allows you to control all of your incoming products.
Furthermore, adware apps can get delivered as fake flash player updates. If you are browsing on some type of questionable website and you are suddenly provided with an update request, do not rush to agree. Most of the time, update offers will not pop out of anywhere, so you should check if the message is an original one. For this purpose, go to the product's official website and check the latest update releases.
To add, we want to warn you that PUPs such as adware can also be spread through infectious hyperlinks and advertisements that can be placed anywhere on the Internet. For safety, always close all suspicious pages that you have entered, avoid clicking on everything that you see, and download reliable antimalware software that will alert if there is something suspicious waiting ahead.
Get rid of ClickPotato quickly and effectively
ClickPotato virus might show various signs of infection, you just have to recognize them. When the adware appears, you will likely see an increased number of advertisements, constant redirecting, and changes in your web browser settings such as the homepage and new tab URL. This is an accurate sign that you need to speed up the adware elimination process.
To initiate ClickPotato removal, you can employ proper antimalware software that will take care of the task within a few minutes. These types of tools work perfectly for those who lack the required experience in the adware elimination field or just have been running into a lack of time lately. Nevertheless, reliable antivirus products will make sure that all adware-related components have been successfully eliminated and the PUP will not reappear on your computer screen.
However, you can still remove ClickPotato on your own, if you want to. Even though this process requires more of the user's effort, it can still be successful if you know what you are doing. Below we have provided some instructions in order to guide you through this process. Check out the following lines and learn how to uninstall the adware from your Windows, Mac operating system and web browsers such as Google Chrome, Mozilla Firefox, Internet Explorer, and others.
You may remove virus damage with a help of Reimage Reimage Cleaner . SpyHunter 5Combo Cleaner and Malwarebytes are recommended to detect potentially unwanted programs and viruses with all their files and registry entries that are related to them.