Chromium virus is a browser virus misusing the name of the legitimate Google open-source project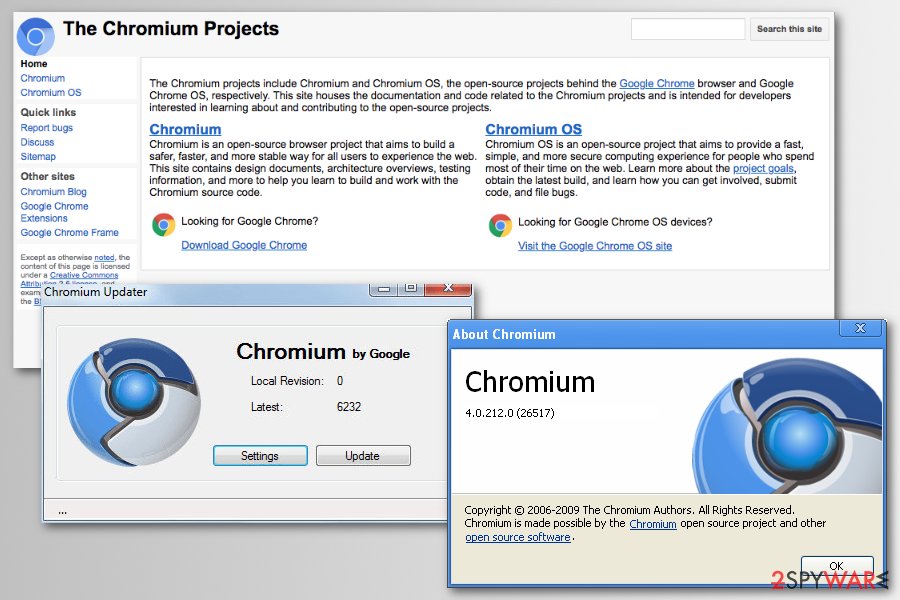 Chromium is a legitimate project by Google. However, the application is often modified to launch malicious examples that can harm end-users.
Chromium virus is a term used to describe malicious browser application that is using the source code of a legitimate project Chromium presented by Google. The list of malicious apps is excessively long, such as WebDiscover, Chroomium, eFast,[1] Citrio, and many others. These apps are engaging in malicious activities that can easily be classified as malicious: infiltrating systems WITHOUT users' approval, rerouting them to affiliated websites, displaying fake search results, harvesting and sharing sensitive information, changing settings without permission, etc. Chromium browser virus is most prevalent in Spain, Italy, Portugal, USA. Both operating systems, macOS and Windows, can be affected.
Name
Chromium virus
Type
PUP/Browser hijacker/Browser malware/adware
Danger Level
From medium to high. Does not damage the system but can alter Windows Registry and browser's settings, redirect to malware-filled websites
Main file
Chromium.exe
Related files
QtWebEngineProcess.exe (not digitally signed)[2]
Symptoms
High CPU usage, replaced the browser's homepage, installation of suspicious toolbars
Types of Chromium browser virus
eFast, Chroomium, Tortuga, Olcinium Browser, Qword Browser, Chedot Browser, BrowserAir Browser, Fusion Browser, BeagleBrowser, MyBrowser, Super Browser, Citrio browser, WebDiscover, Yandex browser
Distribution method
Software bundling, freeware or shareware download websites and networks, ads
Main dangers
Redirects to malicious websites, infected ads, identity theft
How to uninstall
To uninstall Chromium virus, use anti-virus software or a guide provided below
Recovery from virus damage
Perform a scan with

Reimage

Reimage Cleaner

to recover corrupted entries
Note that Chromium browser virus is not related to Chrome and Chromium open-source web project. The latter project[3] is entirely legitimate and doesn't contain any malicious codes. It is open to anyone who wants to create a customized browser, however, just like any other open-source tool, it gets exploited by malevolent people. If you noticed that your browser acts suspicious, check if it isn't replaced by a bogus version.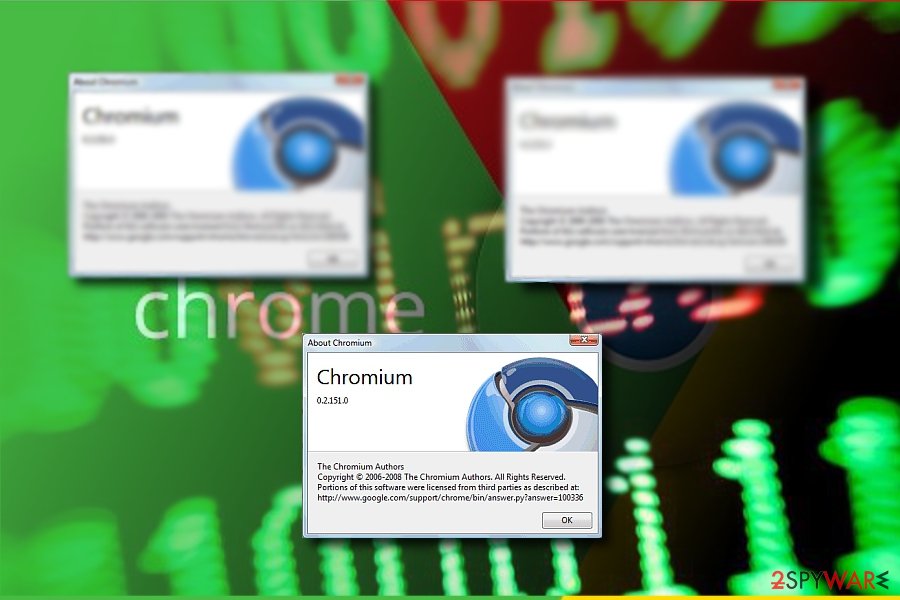 Chromium browser virus is a set of applications that can disturb users with excessive advertisement campaigns, and sometimes even direct them to malware-laden or phishing sites.
Typically, users infected with Chromium virus do not notice anything suspicious because the aim of this shady add-on is to persuade them into thinking they are using the genuine version of the browser. However, suspicious redirects[4] and also annoying pop-up ads shortly reveal that something is wrong with the browser, and users might start looking for suspicious programs or browser extensions on the system.
Sadly, there might be none because the virus disguises its processes well. On the other hand, if you check Task Manager processes, you might notice Chromium.exe process. It stands out by consuming large amounts of CPU memory energy resources. To recover after such a virus and fix system changes initiated by it, use Reimage Reimage Cleaner . You can detect and remove Chromium browser virus from a Mac or Windows operating system with the help of SpyHunter 5Combo Cleaner or Malwarebytes.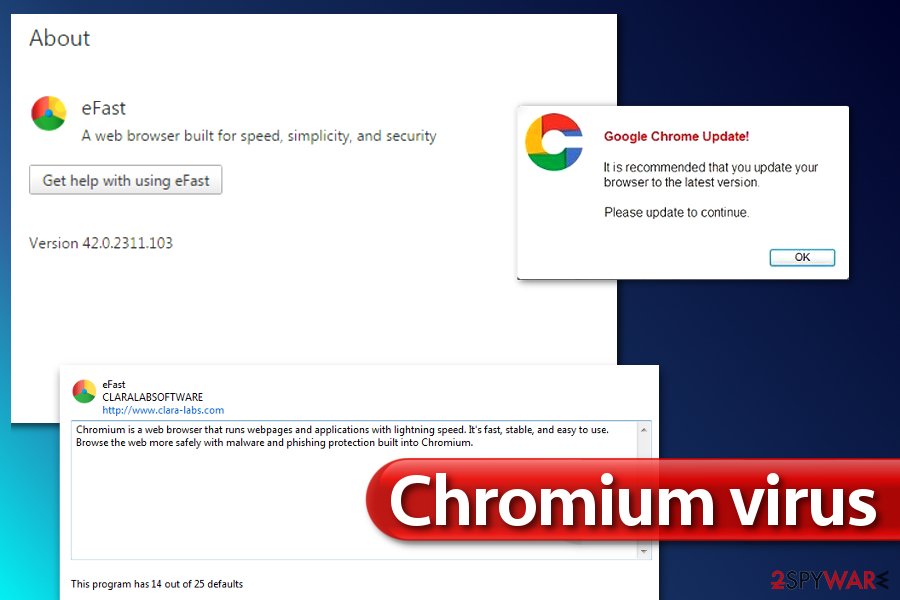 Chromium virus is a term used to describe suspicious, ad-supported, and also malicious web browsers built using Chromium browser source code. In this picture, you can see an example of such web browser and also an example of fake Chrome Update ad.
Main features of Chromium browser virus
It is dangerous to keep Chromium virus on the system as there are numerous unauthorized activities initiated by this unauthorized malware, including the following ones:
tracking the user's online activity and collecting NPII and PII;
redirecting traffic to sponsored sites;
filling websites with the sponsored content;
pushing fake updates, push notifications, etc.
Once you are tricked into installing the malicious Chromium-based website, it starts its activity from tracking your actions online the entire time you use it. Therefore, the virus observes what websites you visit, what ads you click, and entries you type. Such information might be collected by third-parties should reach someone you cannot trust. Besides, the collected data is typically used to deliver targeted advertisements, and it also means that it can be used to serve deceptive, but luring content for you.
Therefore, expect to see a lot of catchy ads offering hard-to-believe deals as well as ads suggesting you check out adult-only websites or install software updates you did not even know you "need."
Be careful if you notice that your browser causes redirects to a particular website every time you launch it. Chromium browser virus might attempt to force you to use a particular search engine just to provide you with a bunch of sponsored search results next to organic ones and then trick you into clicking them.
Furthermore, during its stay, the hijacker may bother you with constant redirects and similar issues. Due to this phenomenon, the browser may direct you to potentially insecure domains[5] or ask to disclose personal information[6]. Avoid staying too long on these websites, and, instead, focus on the Chromium virus removal.
A detailed list of malicious browsers
BeagleBrowser virus
BeagleBrowser by Lollipop Network, S.L. is a potentially unwanted program (PUP) that takes over the victim's computer and starts displaying annoying ads to the victim. Although the developers of the software present it as a browsing tool that helps to "create a clean and safe environment for surfing the web," it proved to be yet another adware-type web browser that seeks to push paid content to its users daily. There is no wonder why so many users try to remove BeagleBrowser shortly after installing it.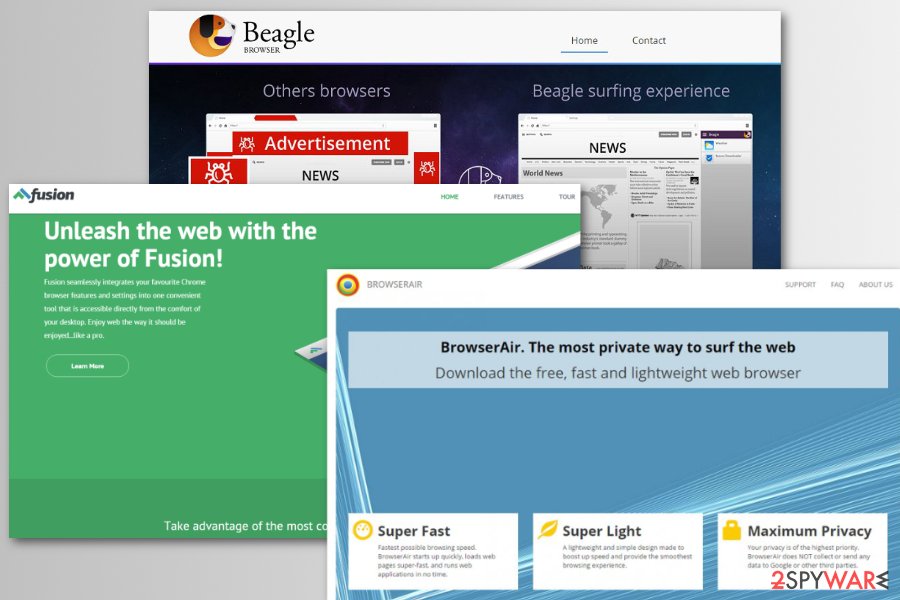 Chromium browser malware is misusing Google's name to make the program look safe to use.
BrowserAir virus
BrowserAir is yet another potentially unwanted program posing as a version of Chrome. This Chromium-based web browser project is hardly useful and should not be used by computer users at all. Although it claims to be "free, fast and lightweight" web browser, it functions as a typical adware program that causes URL redirections triggers pop-up ads and deteriorates browsing experience. It is highly advisable to remove BrowserAir virus to improve computer's performance and secure browsing sessions.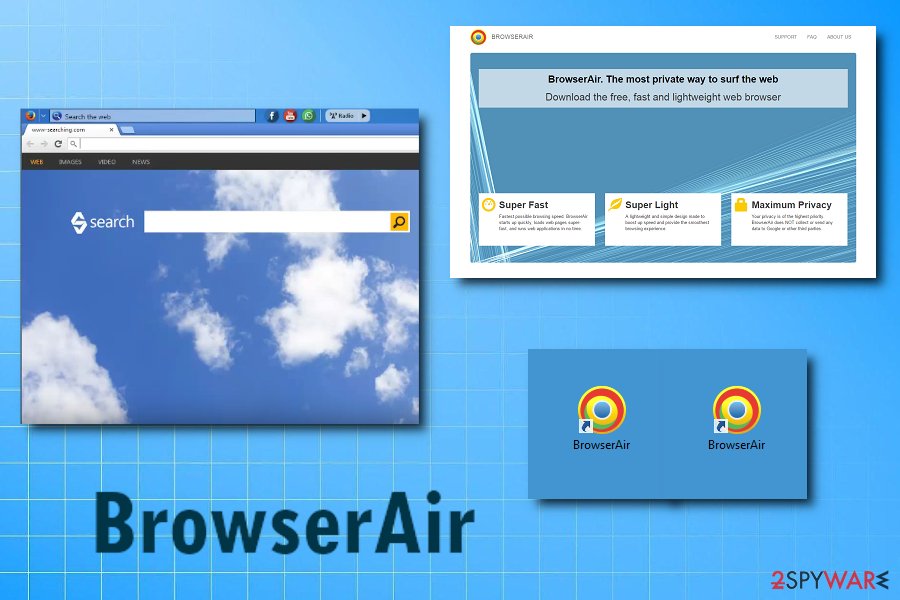 BrowserAir is one of many Chromium virus variants
Chedot
Chedot virus is a highly deceptive web browser that loads search.chedot.com page on startup. This page quickly redirects the victim to a modified version of Google. Such redirection is required to convince the victim that he/she is using the real version of Chrome (since the majority of Chrome users use Google as homepage). However, further activities initiated by this browser hijackers aren't pleasant and should not be ignored.
The suspicious browser is ad-supported, which means that it will test all possible ways of serving sponsored offers and pushing ads to the victim. The user of Chedot Browser might run into ads in search results, see them in pop-up or pop-under ads, banners, or full-screen ads. These ads hardly ever provide useful offers and simply annoy the victim, so it is better to eliminate Chedot.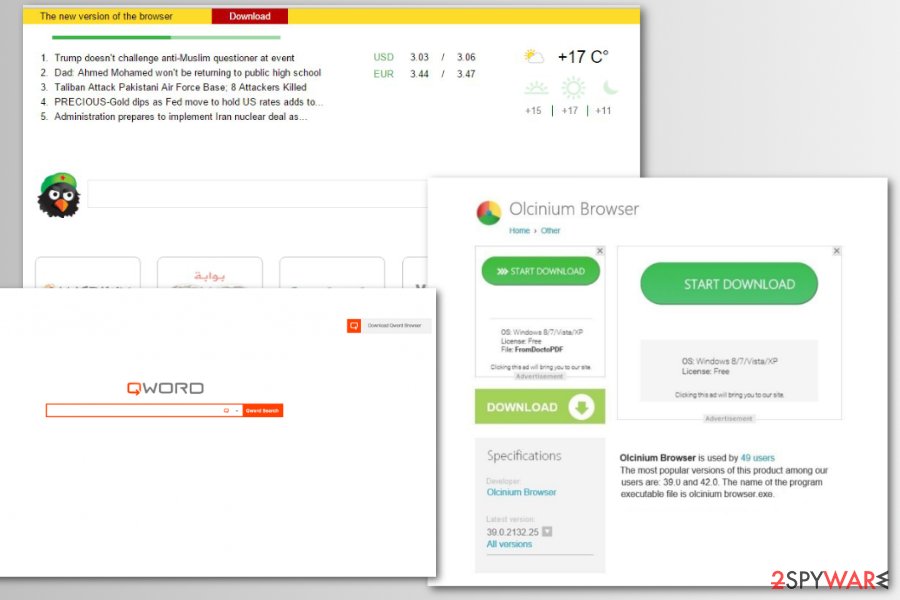 Chromium-malware consists of many browsers that do provide dangerous experience to users.
Chroomium virus
Chroomium browser is yet another malicious adaptation of Chromium project. This highly annoying virus replaces the original Chrome browser and starts displaying commercial offers during each browsing session. The initial sign of Chroomium malware hijack is the slow performance of the browser. Besides, you will notice common browser hijacking signs such as unexpected redirections or an overload of ads in search results during browsing sessions.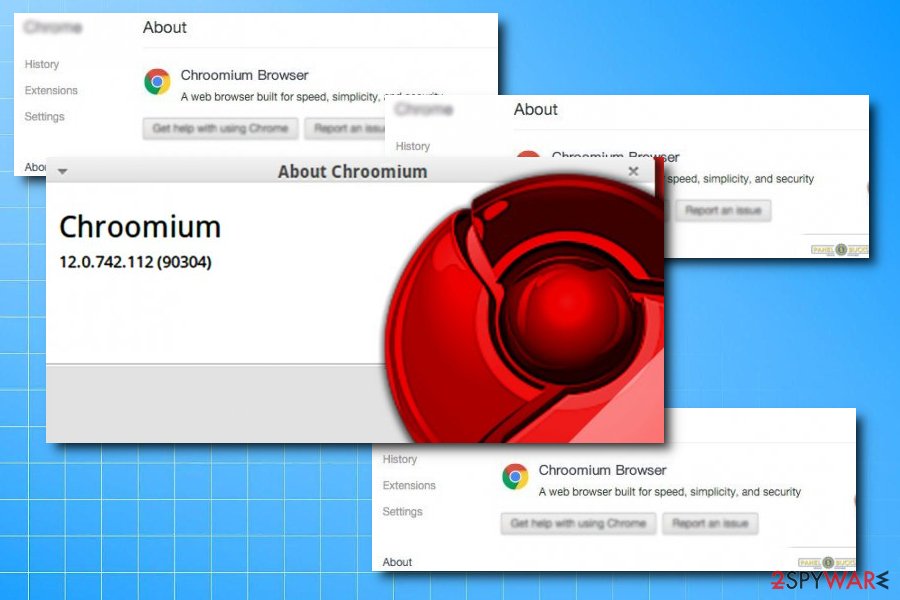 Chroomium is a fake browser that imitates original Google Chrome
Citrio
Citrio Browser. This version of Chromium virus was developed by Epom Ltd. and is classified as a potentially unwanted application that spreads with the help of software bundling, so users rarely notice the entry point. Once installed, Citrio allocates itself as a primary browser with modified settings that are preset by the authors.
Citrio browser allows users to use it as a "powerful download manager" that has implemented the torrent feature. However, they will soon notice that there are several browser extensions or plugins that they never installed. This will lead to excessive ads in forms of pop-ups, pop-unders, in-text links, flashing windows, banners, etc.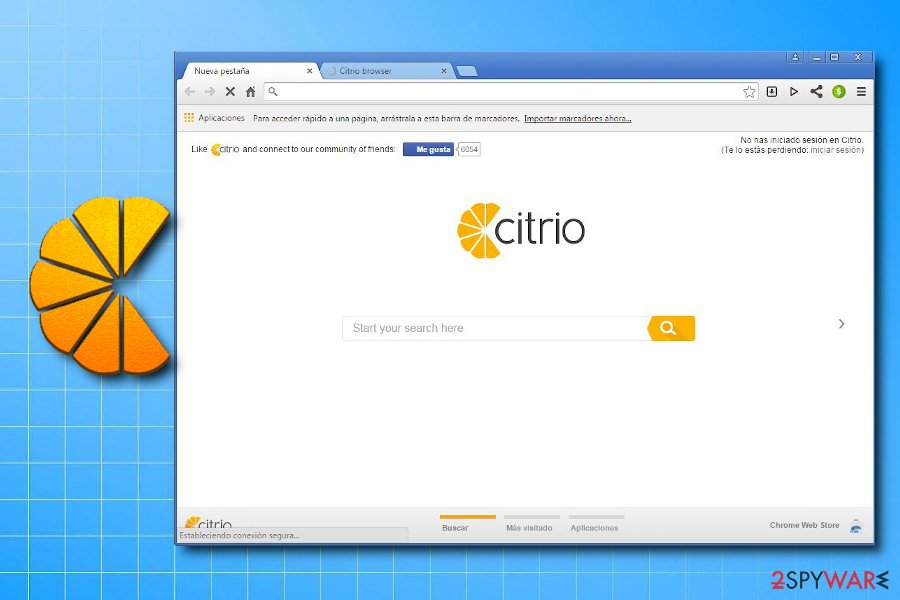 Citrio browser is one of the more common potentially unwanted applications that enter machines without permission
eFast Browser virus
eFast virus is a deceptive web browser that silently replaces Google Chrome and starts generating never-ending pop-up ads, banners, and injecting links into websites that display ads as soon as the victim hovers the cursor over them. This web browser is hard to remove, so experts recommend using professional anti-malware programs for detection and removal of eFast components. If you suspect that Chrome acts suspiciously, it might be eFast virus. Do not ignore the issue and check your system for this browser-replacing malware ASAP.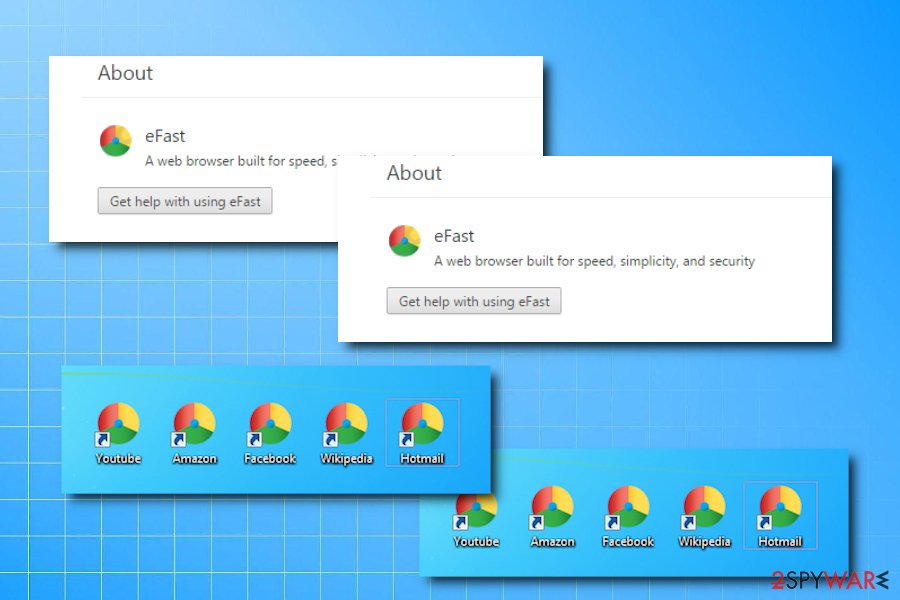 eFast browser is one of the Chromium-based fake browsers the enters machines without users noticing
Fusion Browser
Fusion Browser is merely an ad-supported program that tries to surpass the original Chrome browser. However, it strives too hard to monetize its services, therefore users do not consider it useful. It simply displays too many ads during the user's browsing sessions and even manages to cause URL redirects to generate pay-per-click revenue faster. Sadly, its questionable functionality has convinced cybersecurity experts to add it to the spyware category and rank it as a potentially unwanted program.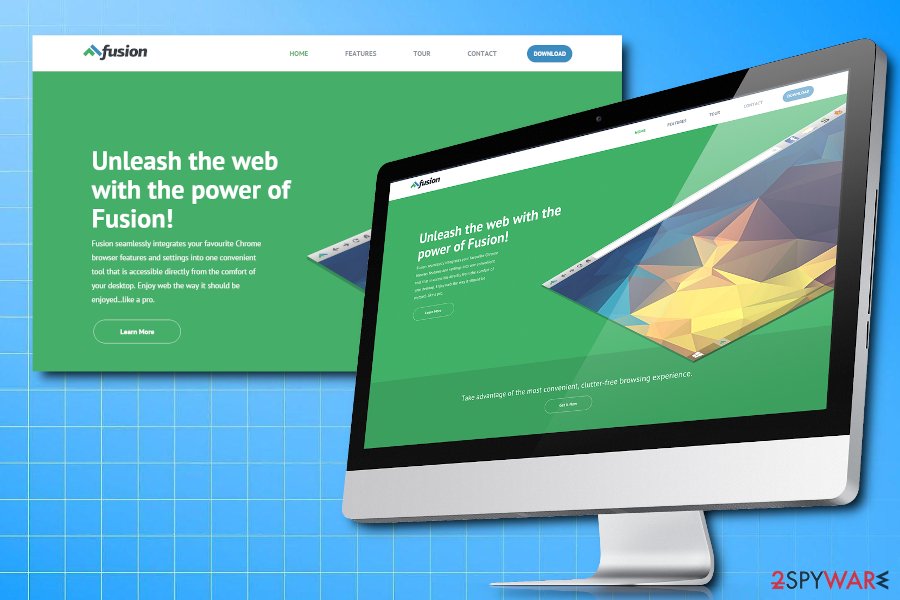 Fusion browser is possibly one of the most intrusive web browsers in the wild, as it displays numerous ads on every page users visit
MyBrowser virus
MyBrowser virus is a questionable program that tries to convince computer users to use it instead of the original Google Chrome browser. Sadly, lack of useful functions and continuous URL redirection issues have earned this fake web browser bad reputation over time. If you spotted this fake browsing tool in your computer, remove MyBrowser ASAP.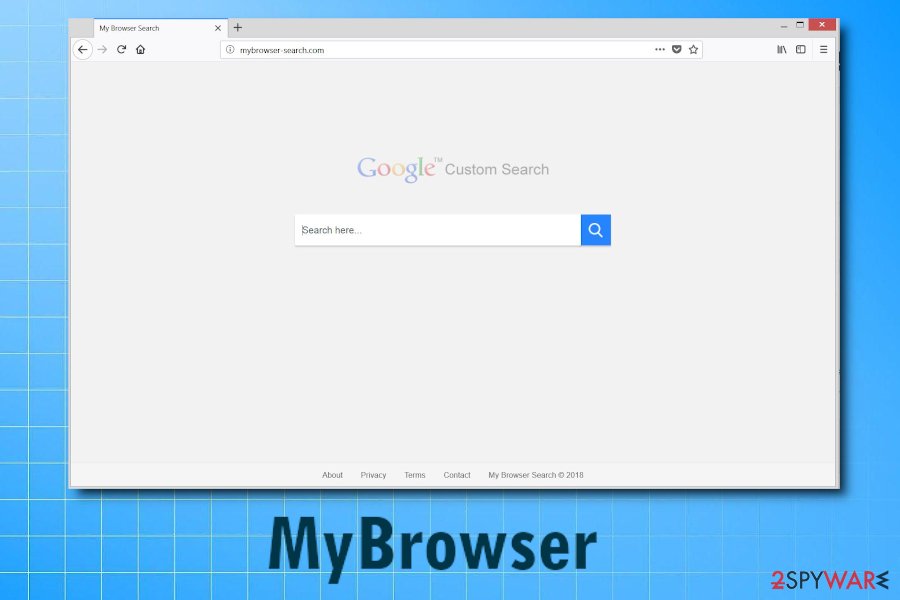 Olcinium virus
Olcinium Browser is a potentially unwanted program (PUP) which is also based on Chromium. It poses as a regular web browser that looks almost identical to Google Chrome. Once installed, it replaces original Chrome shortcuts and starts offering its web-browsing services for the victim. Sadly, these services aren't free – in order to use them, the victim has to encounter hundreds of third-party ads daily, which is really annoying, to say at least.
Besides, ads by Olcinium can hide links pointing to insecure web pages or even instantly install spyware or malware on your PC. If you want to keep your PC secured, remove Olcinium as fast as you can.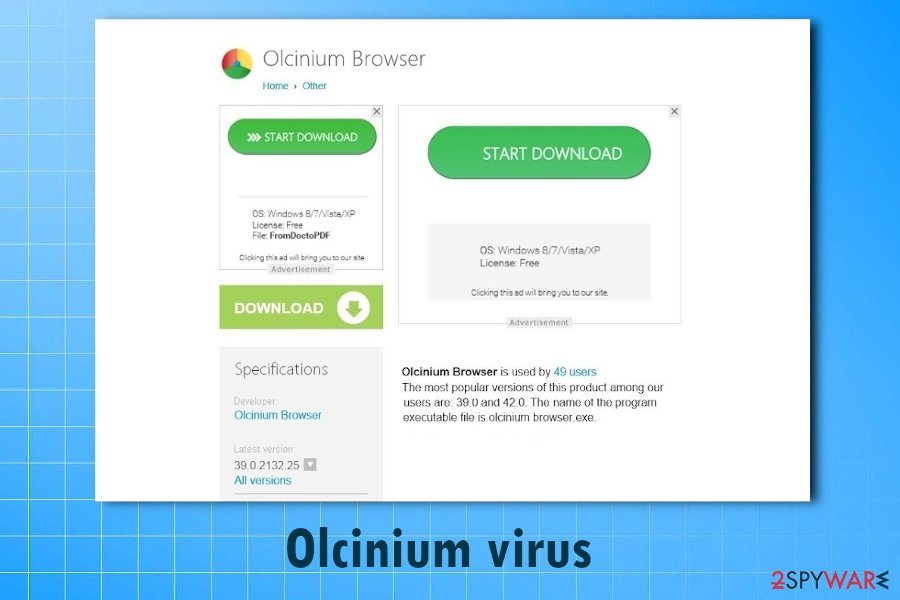 Olcinium browser can be installed intentionally, although it's rarely the case
Qword Browser virus
Qword Browser gets installed on the system with the help of bundling. Once there, the victim starts experiencing adverse effects such as unexpected change of browser's homepage (the deceptive browser loads Qword.com on startup), continuous URL redirects, pop-up ads, and other inconveniences. These problems slow down the browser and prevent the victim from enjoying browsing experience freely.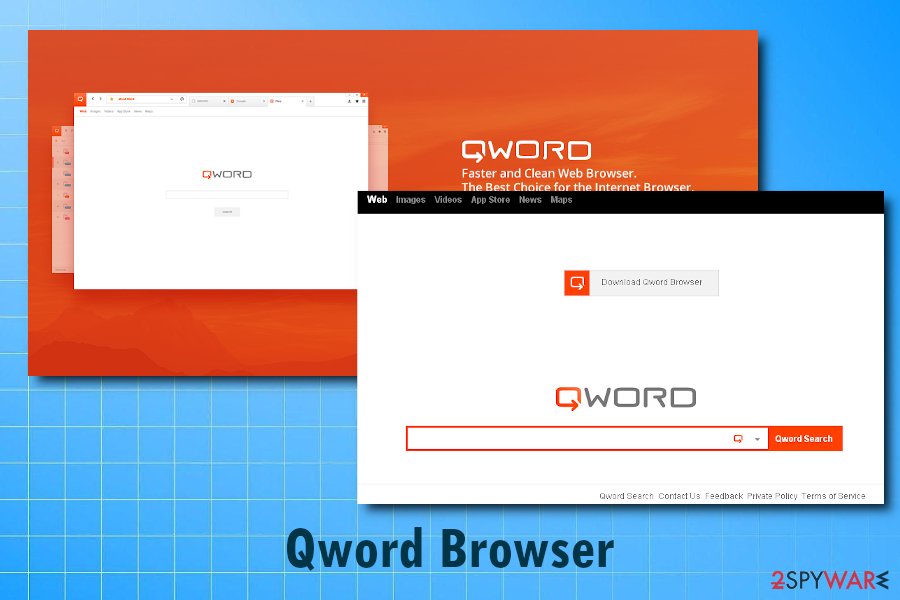 Qword is an attractive looking browser. Unfortunately, it delivers intrusive ad content
Super Browser
Super Browser is probably the most annoying thing that a computer user can run into. Continuous redirects and pop-up ads during web browsing sessions is something that we all would like to avoid, however, computers infected with SuperBrowser simply cannot function differently. Therefore, security experts suggest removing this potentially unwanted software as soon as possible. The quickest way to catch all of its components is to run a security software like Reimage Reimage Cleaner .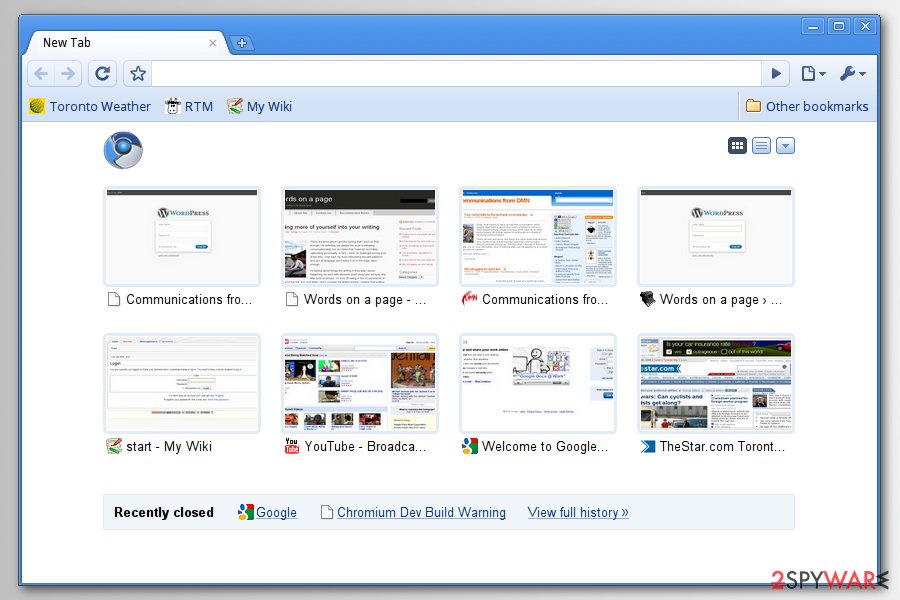 Chromium superbrowser – only one type of Chromium virus that hijacks the start page and displays sponsored links. Typically, malware affects Chrome browser.
Tortuga Browser virus
Tortuga virus is yet another creation based on Chromium. However, its suspicious activities have quickly convinced cybersecurity experts to add it to "potentially unwanted programs" and "spyware" lists. The web browser promotes itself as a secure, fast and optimized web browser that offers interruptions-free browsing experience, it actually creates numerous interruptions (advertisements) and pushes them to the computer user on a daily basis. An immediate Tortuga Browser removal can help to get rid of these issues.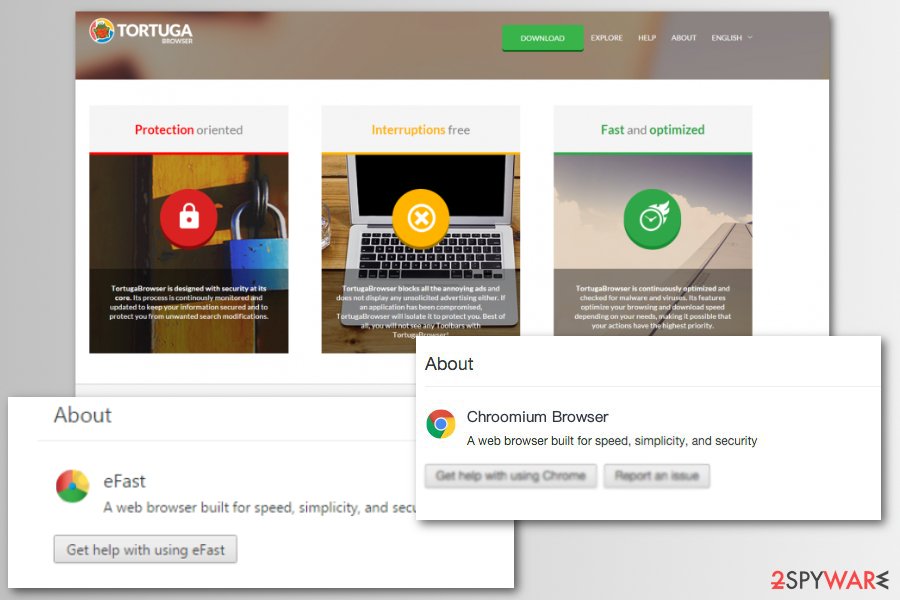 The fake Chromium browser has many types and not all of them are malicious. However, some developers want to monetize regardless of what type of experience the end-user gets.
WebDiscover
WebDiscover is considered to be a potentially unwanted program that gets into systems with other applications from the internet. The developers, the US-based company WebDiscover Media, claim that the program will provide "most convenient, clutter-free browsing experience."
However, those who agree to set WebDiscover as their primary browser will soon realize that their searchers are littered with sponsored links and redirects lead them to sites like Safestsearches.com. As it is typical to PUP authors, what interests them is juicy ad revenue. Unfortunately, it can also direct users to unsafe domains where they could lose money, personal data or get infected with malware.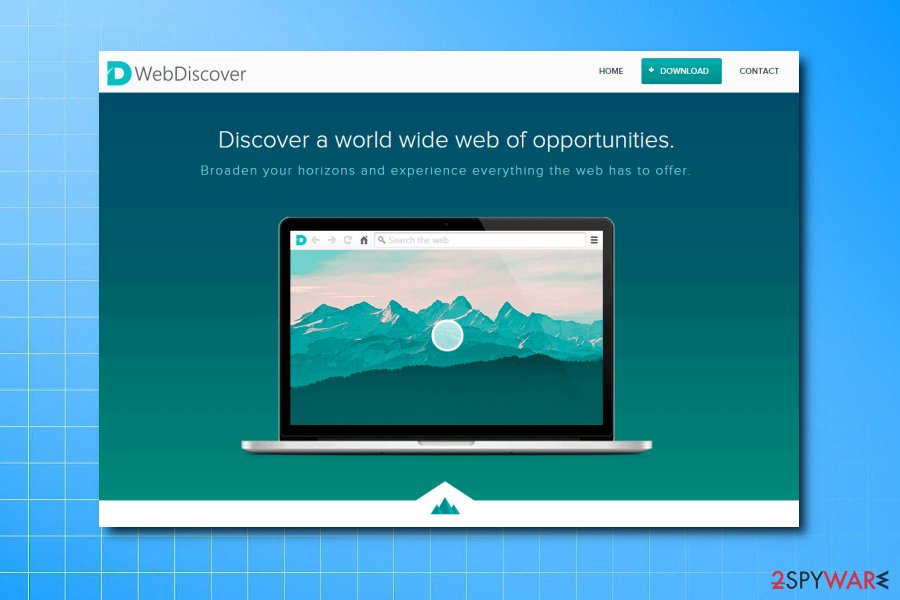 WebDiscover browser can be downloaded from its official website, although users often find it replacing their default browser after the installation of freeware
Yandex browser
Yandex browser is primarily used by Russian-speaking users and is basically an alternative to Google in the region. While the application is known to include several security features to protects its users (such as DNS encryption, file scanning, DNS spoofing protection, etc.), it also replaces Cortana with "Alice" and spawns pop-ups even when the browser is off.
The browser is also supported by often features from the company, such as Yandex toolbar, Yandex.ru redirect, etc. Without a doubt, users will not get accurate search results while the app tampered with various settings, and will end up on sponsored sites instead. Therefore, better remove Yandex browser and use the original Chrome application instead.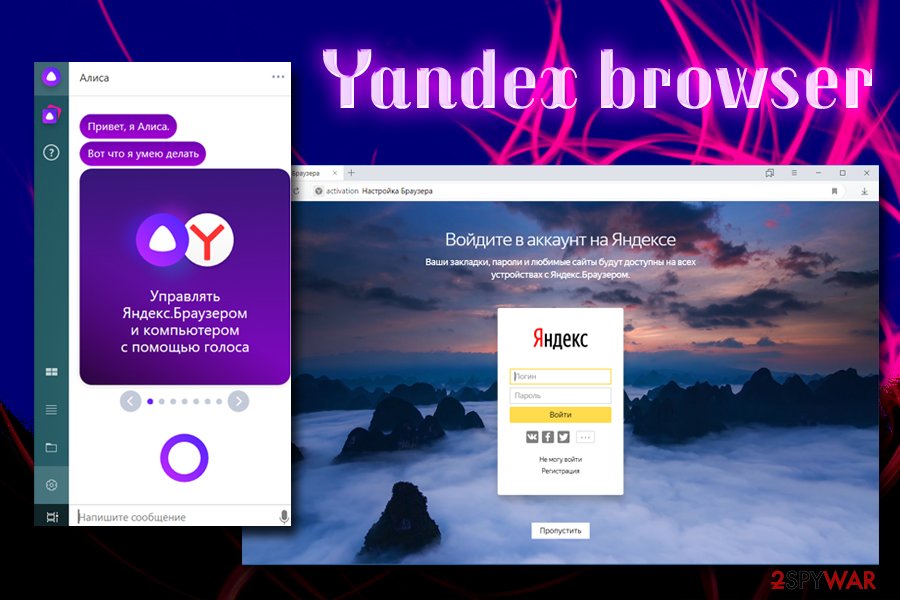 Yandex browser is one of Chromium virus types that is directed towards Russian-speaking audiences.
Ways to install fake web browsers
You can accidentally enable Chromium virus hijack if you tend to install new programs with "Standard" or "Default" mode on. It is of high importance to modify installation settings in order to prevent infiltration of potentially unwanted programs.
All you need to do is to find and configure installation settings the right way – choose "Custom" or "Advanced" installation settings and look for suspicious checkboxes with shady statements next to them.
If you can find statements that grant your permission to install unknown programs, browser toolbars and similar pieces of software, do not proceed with the installation until you configure them the right way. Deselect the ticks from these checkboxes and then continue. Finally, we must warn you that Chromium browser virus can be distributed via "Urgent Chrome Update" ads.
However, some fake versions of web browsers can reach the victim's computer when installed alongside illegal software. We strongly recommend you to stay away from free licensed version packs you can download from torrent sites or other suspicious web sources. Placing them on your system can allow hazardous files to get in as well.
How to remove Chromium virus from Windows and MacOS
Remove Chromium virus windows 10 as soon as you notice that your Chrome browser behaves in a suspicious way. You may want to check the Chrome version via browser settings. However, remember that criminals can make the bogus browser display a fake Chrome version just to convince victims that they are using a legitimate version of the Internet browser, so you shouldn't trust the information provided in Chrome's "About" section.
To find out the truth and complete Chromium removal successfully, we advise you to perform a system check using anti-malware programs. It is likely that Norwegian users[7] might be more targeted by this PUP. Thus, they should be more cautious.
A video guide explaining what is Chromium and how to delete it
To help you delete Chromium virus for good, we decided to prepare a video guide explaining every step that needs to be performed. Make sure you follow the details presented in this video. However, note that Chromium virus keeps changing as it has already been three years of its operation. You may need to find the new malicious process of the virus. If this is a too complicated task for you, use the automatic removal method.
You may remove virus damage with a help of Reimage Reimage Cleaner . SpyHunter 5Combo Cleaner and Malwarebytes are recommended to detect potentially unwanted programs and viruses with all their files and registry entries that are related to them.