Chrome virus is a potentially unwanted program causing fake alerts and suspicious messages to redirect users to questionable websites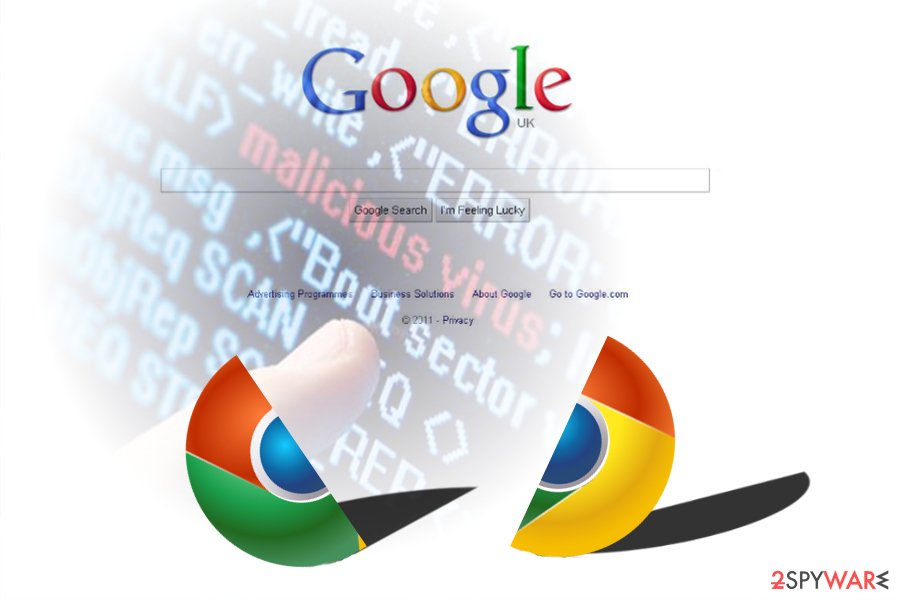 Chrome redirect virus is a set of potentially unwanted programs that use the name of Google Chrome.
Google Chrome virus is a type of malware delivering the fake warning, pop-ups and causing redirects to suspicious pages, so automatic installations of intrusive and dangerous programs get triggered. There are many versions that can even lead to tech-support scams, social engineering attacks or trojan and other malware infiltrations. There is a huge risk of getting your personal details stolen or get tricked into money theft.
This is is a browser hijacker that affects web browser and aims to trick users into visiting questionable websites or installing unsafe apps. Users can also be redirected to compromised websites which are used to collect personal information. This browser infection is similar to Firefox redirect virus, IE redirect virus, Yahoo redirect virus, and Bing redirect virus and many others. However, just like the name suggests, it aims at Google Chrome users.
Name
Chrome virus
Type
Browser hijacker
Danger level
Medium. Browser hijackers cannot pose a direct danger to the computer. However, they can take over the browser and redirect their victims to a malicious website or trick them into installing malware
Symptoms
Chrome redirects to shady domains, an increased amount of ads and pop-ups on the browser, the appearance of questionable browser extensions, browser crashes
Distribution methods
Software bundles, file-sharing websites or networks
Similar viruses
Firefox redirect virus, IE redirect virus, Bing redirect virus, etc.
Elimination
To get rid of Chrome virus, reset your web browser. Use

Reimage

Reimage Cleaner

to double-check for virus damage
Chrome virus has features of the browser hijacker. It means that it cannot cause direct damage to the computer. However, it still can cause numerous changes to the browser and promote dangerous content. This potentially unwanted program (PUP) definitely increases the chances to encounter malicious programs and get the system infected. Typically, this browser redirect virus causes these problems:
slightly altered Chrome search engine logo
the excessive number of pop-up alerts
redirections to gaming web pages or domains containing adult content
Chrome update notifications pop[ing up once you visit a certain website
relation to ClickOnce Chrome malware
Some time ago Chrome redirect extension was seen only on Windows OS, but today it has become a common problem to Mac OS X and even Linux[1] users as well. One of the most negative aspects of the Chrome virus is that it may facilitate Clikconec browser infection.
As the very title suggests, it may be either a link, ad, software or a minor web script incorporated into a site that may download a corrupted file to the computer. Unfortunately, the ClickOnce technology which was developed by Microsoft years ago now serves for cybercriminals' misdeeds as well.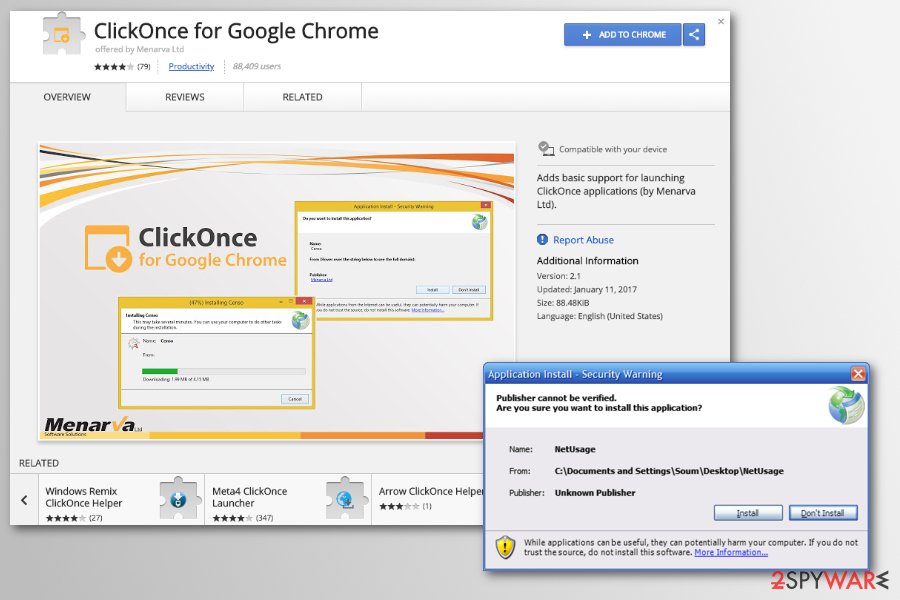 Chrome redirect virus might spread as ClickOnce
Speaking of Chrome virus, it affects the Chrome web browser, however, there are Internet Explorer, Firefox or Safari counterparts of such infection. Unfortunately, due you the flexible shape of the malware, not every infected user may spot such infection straight away.
You should not delay Chrome virus removal as the hijacker collects information about your browsing preferences and may install more plug-ins and extensions on your PC system. However, users report that about difficulties with virus removal:
Every time I use google chrome once in a while a new tab shows up and have a ad in it. I already follow all steps to remove a malware/adware, and I even reformat my OS hard drive.[2]
The problem is that other suspicious apps might accompany the browser hijacker you are dealing with. The only way to find each of them is to opt for the automatic removal option. If you do not enjoy questionable applications piling on your computer, you need to remove this virus on Chrome. To eliminate their damage, use repair application, such as Reimage Reimage Cleaner or Malwarebytes.
Speaking of the peculiarities of the malware, victims are misguided to unknown websites while surfing the Web. One of the biggest PUP's problems is that these sites might be infected with malware. Usually, browser hijackers cooperate with shady users and third-parties which do not care about the cyber protection of their domains.
Consequently, they end up buying cheap servers and do not ensure proper security at all. In most cases, Google Chrome redirect virus starts its activity when a new browsing session starts. In addition, you may notice an excessive amount of pop-ups emerging in your browser.
Usually, browser hijackers cooperate with shady users and third-parties which do not care about the cyber protection of their domains. Consequently, they end up buying cheap servers or do not ensure proper security at all. In most cases, the Google Chrome virus starts its activity when a new browsing session starts. In addition, you may notice an excessive amount of pop-ups emerging in your browser.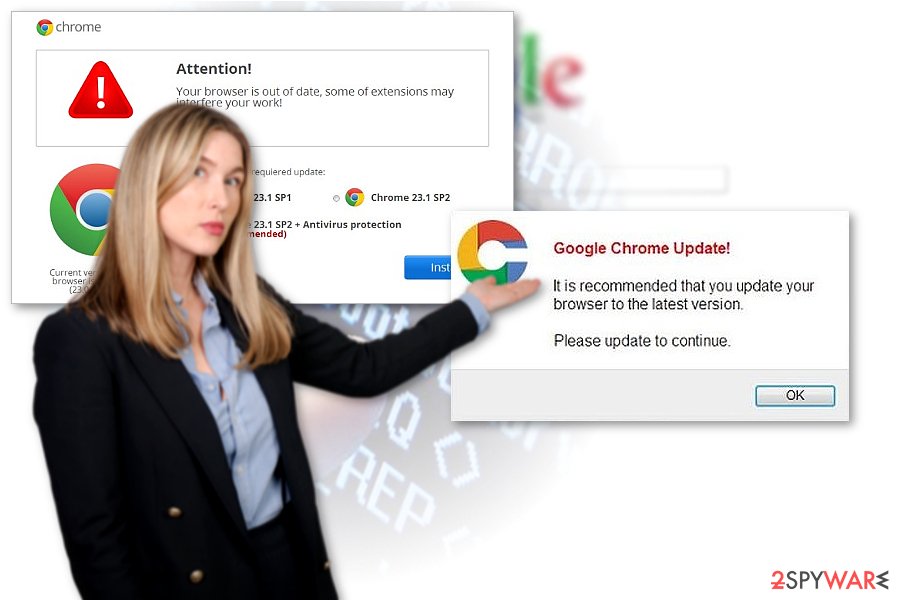 Chrome redirect virus is a PC infection that prompts users to download useless software or reveal personal data to scammers.
This browser threat is mostly used for earning money. Its owners succeed in obtaining delicate amounts of money by promoting the content of mentioned third-party websites. Since they include distracting and intrusive pay-per-click ads, the process goes much faster.
Once you notice popping messages that could also be labeled as Chrome redirect ads, cancel them right away. Even if these ads suggest you reading an intriguing article about the intimate details of celebrity life, bear in mind that such curiosity may cost you the efficiency of the PC.
Furthermore, the Chrome redirect infection spies on your browsing habits. It does so with the help of various tracking tools, such as cookies[3], beacons[4], etc. They reveal not only your favorite domains, but they also indicate the IP address and geographical location.
Though users disregard the importance of this data, in fact, it is of great value for crooks and online advertising companies. After obtaining and processing, they are able to identify particular users' needs and preferences. As a result, do not get surprised if your computer screen or email gets overcrowded with spam notifications. Remove Chrome virus as soon as possible so significant virus damage can be avoided.
Security experts from NoVirus.uk[5] also report that third-parties who got access to your browsing habits might create misleading ads that include malicious content. Hence, you can be easily tricked into clicking on a malware-laden ad.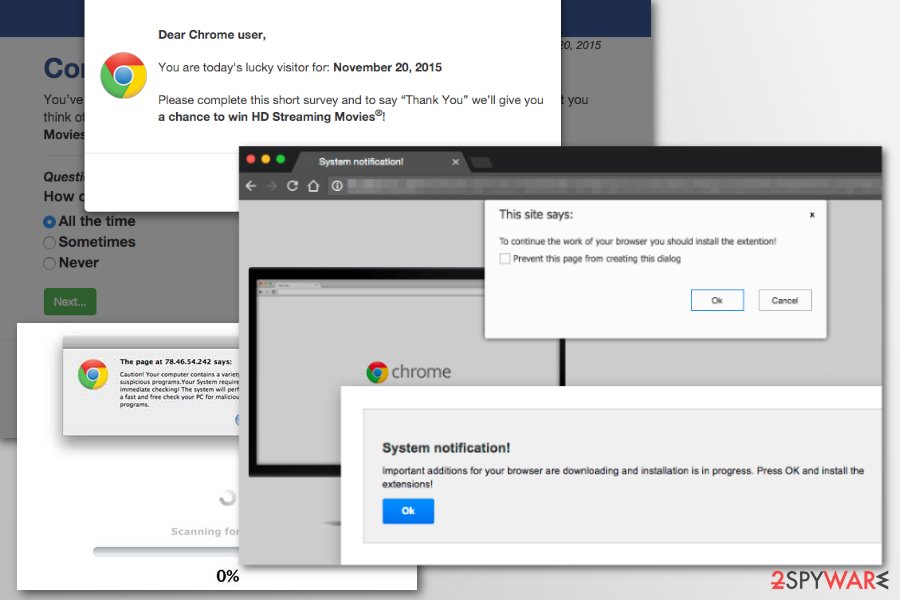 Chrome virus variants
Google Chrome is the most popular web browser in the world, with 61% (as of October 2018) of all internet users using it.[6] In the meantime, the second most popular browser is Safari with 15% of global users. Due to that reason, crooks come up with thousands of scams that use Chrome's name, as it increases the sense of legitimacy.
Google Chrome Critical Error
Google Chrome Critical Error is a tech support scam that displays a red warning message that actually resembles one of Google's legitimate one which warns that users are about to visit a dangerous site. However, this time the fake critical alert displayed for the victim claims that a trojan has infected the victim's PC and his/her personal information is now in danger of being leaked. Criminals then provide the alleged tech support number that users should dial to contact the fake technicians.
While the message itself looks bogus and is littered with spelling and grammar errors, inexperienced users might panic and call the provided number. Users can then can be tricked into providing personal details, lured into buying software they don't need, or giving remote access to crooks.
Critical Chrome Update virus
Critical Chrome Update virus is a scam that besides all the intrusive behavior also pushes trojan named Kovter. As per usual, the scam starts with fake alerts about needed updates or program installations and then continuous redirects lead to commercial content, automatic downloads of PUPs and rogue software. Ad-supported sites focus on filling up the screen with various intrusive and annoying material, so the victim cannot access needed websites.
However, the most dangerous feature of the scam is the second delivery of malicious trojan. Critical Chrome Update suggests installing fake system updates, other applications, and rogue tools that affect the performance of the infected machine.
Chrome Update Center
Chrome Update Center is another program causing fake alerts with messages about needed updates and other issues with the device, or even malware. These pop-ups indicate adware-type intruder running on the machine, but can lead to more serious issues if the user falls for the scam and follows suggested steps of installing rogue applications. This Chrome Update Center scam pushes fake updates, applications that may affect the system more than adware causing these pop-ups in the first place.
It also redirects user's online traffic to suspicious pages as any other version of such a Chrome virus does. This behavior leads to the installation of cyber infections, malware or even exposing the victim to more scams that geared towards money or identity theft. The more time you give for such intruder the more content gets delivered to your screen and the risk to get severe malware infection becomes bigger.
Google Chrome Support Centre
Google Chrome Support Centre is almost identical to Google Chrome Critical Error scam and is also initiated by adware. Victims can see the red warning message on the website which is accompanied by a pop-up. Allegedly, the computer is infected with "adware_pop.exe" virus, and there is a possibility that banking information has been stolen. Crooks then proceed to explain that the internet connection has been disabled until the issue is fixed. And, finally, the number of fake tech support is provided for victims to use.
All users have to do is open another window or tab in their browser to make sure that their internet connection is perfectly fine. As usual, crooks aim to gain financial benefit by tricking users into subscribing to useless services or paying for fake help. Do not be fooled by bad actors, never trust warning appearing on the internet, especially if they urge you to call somebody or download something.
Urgent Chrome Update
Urgent Chrome Update is a fake pop-up message that users might encounter at any time while browsing the internet on Google Chrome or even other browsers. They are then prompted to download what is claimed to be a Google Chrome update – in .bat, .hta, .zip or .vbs file formats. Those who proceed with the execution of the downloaded item will be installing dangerous malware or additional potentially unwanted programs on their PCs.
As usual, users should simply ignore Urgent Chrome Update fake alert and refrain from clicking on the downloaded executable. Instead, the removal of the adware that causes the redirects should be eliminated. The instructions below can be helpful for that. Alternatively, users can rely on automatic Urgent Chrome Update removal with the help of security software.
Updates were released for your version of Chrome
Updates were released for your version of Chrome is another scam that claims that Chrome browser is outdated, and users should immediately download an update for it. Victims are asked to download an extension (such as text translator, file or currency converter) to allegedly improve the browser's functionality.
Updates were released for your version of Chrome scam ensures that some users will fall for it and download the promoted application, which more often than not is a potentially unwanted program that will clutter and slow down the PC. Intrusive redirects, pop-ups, and other disturbances become more prominent, as well as additional components installed without permission. Therefore, never give in to these fake alerts, as the more unwanted apps are present on the computer, the more difficult it is to get rid of them.
You Are Using An Older Version Of Chrome
You Are Using An Older Version Of Chrome is a fake alert engineered by crooks in order to make users download and install unsafe software. The bogus warning claims that Google Chrome is outdated and should be updated immediately. Those who click on the "Update Chrome" button download PUPs such as NetSupport Manager RAT or Browser Updater.
You Are Using An Older Version Of Chrome pop-up appears on users' screens due to adware infection. The ad-supported software usually enters machine with software bundling, so users have no idea about its existence. In order to stop malicious redirects and alerts, users need to remove adware associated with them. The easiest way to achieve that is by scanning the machine with anti-malware software, although the PUP can be eliminated manually as well.
Chrome Security Warning
Chrome Security Warning is yet another scam that is based on a legitimate Google warning "The site ahead contains harmful programs. The tech support scammers claim that the PC was infected with a virus and spyware and the access to the computer will be disabled. Crooks claim that they are from Microsoft, and the only way to solve the problem is to call them via the provided number. They also warn that users only have five minutes to do so, as computer access will be disabled.
Anybody who is a bit tech-savvy will realize that such a scenario is not possible, as Microsoft would never prevent you from accessing your own machine. However, there are plenty of people who do not know how computer infections work and might fall for the trick, and that is precisely what Chrome Security Warning authors rely on. Simply close down your browser and never contact criminals. Check your computer for adware or other PUPs by scanning it with anti-malware software.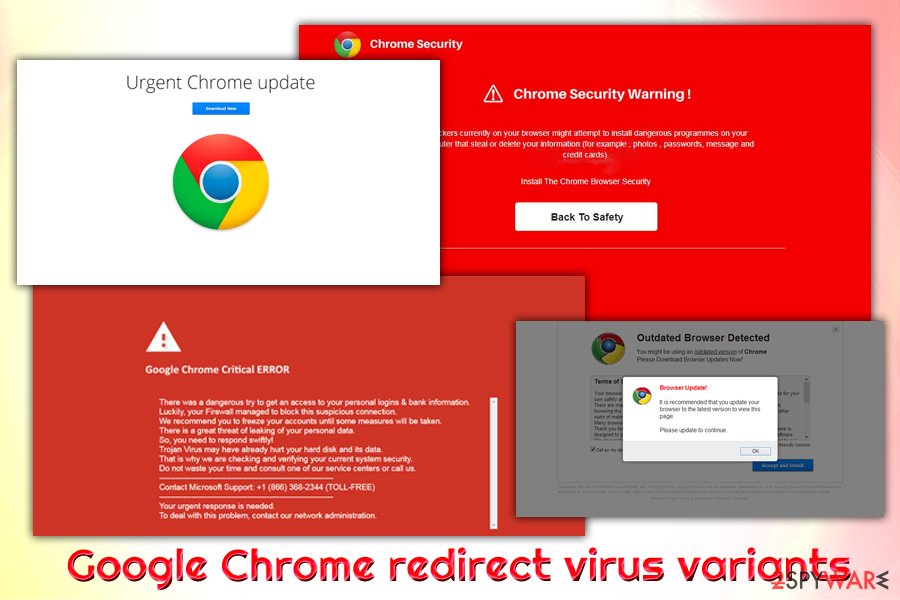 Hundreds of scams were created by using Chrome's name.
Your Browser(Chrome 65) Is Missing A Privacy Extension
Your Browser(Chrome 65) Is Missing A Privacy Extension is a fraudulent security alert that claims that Chrome is missing a privacy extension that can prevent personal information from being tracked and collected. Of course, the statement is not true, and users should not download any extensions. Chrome is a safe browser that implements such security measures like security warnings, automatic updates, and phishing protection. There is no need to download any extra add-ons for it to function.
Everybody should ignore the fake warning, although those who experience redirects regularly should check their system for adware or other potentially unwanted programs.
Google Chrome Fatal Error!
Google Chrome Fatal Error! is a browser ad that tries to convince users that their Chrome browser crashed (although the window reminds that of a Windows XP Blue Screen of Death[7]). It displays several pop-up messages prompting users to call the provided number for the alleged help with the error.
However, it is a tech support scam, the website is fake, and scare tactics are used to make users call the provided number. The fraud is created by unfair people who seek financial gain from not so tech-savvy individuals. Users should not contact criminals behind this ad and merely remove the adware that is related to Google Chrome Fatal Error! appearance.
Bundling is used to promote unwanted content
The chrome redirect virus can hijack your system with your help because it travels with free applications as an optional component. Thus, when users download and start installing new software, they exclude the possibility that legitimate and official applications might disperse questionable tools.
Attentive users might notice that even Adobe Reader might contain unwanted add-ons. Besides, nowadays you can be tricked into downloading a trojan horse that is presented as Adobe Reader Updater[8], so there is no doubt that you must be careful with what you install on your computer.
It is of crucial importance to pay attention while installing a new application. You can prevent Google Chrome hijack by opting for the "Custom" or "Advanced" installation mode of the freeware. Likewise, you will see additional programs, so make sure you unmark the unnecessary ones before they cause trouble.
Get rid of Chrome virus and recover a normal browser operation
In order to eliminate the infection completely, we recommend you to scan the browser and the device thoroughly. Chrome virus cleaner, i.e. an anti-malware tool, will assist you in this process. This program usually requires only a couple of minutes to remove Chrome virus. Therefore, it ensures that no elements or apps of malignant origin remain on the system.
The utility comes in handy warding off more damaging cyber infections as well. Alternatively, you might opt for a manual Chrome virus removal method. Find the instructions below in the article.
However, this option requires more attention and time so users who are in a rush or dislike meddling with cyber threats too long should opt for the automatic elimination solution. Check whether the virus did not append any unnecessary toolbars or extensions. Delete them without a doubt.
You may remove virus damage with a help of Reimage Reimage Cleaner . SpyHunter 5Combo Cleaner and Malwarebytes are recommended to detect potentially unwanted programs and viruses with all their files and registry entries that are related to them.